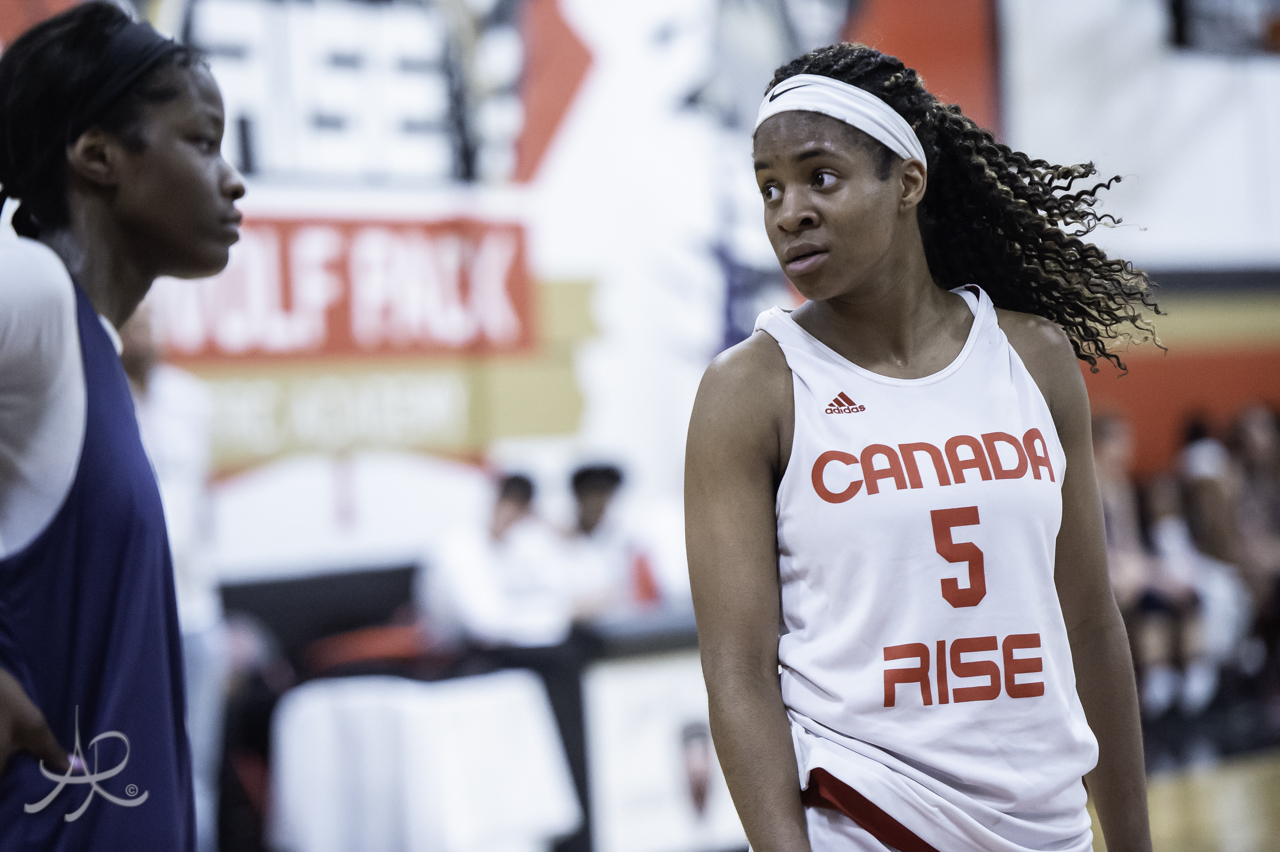 Canadian Girls Basketball; The Last 30 Days
Hello Canadian Girls Basketball Family,
As North Pole Hoops' Women's National Basketball Scout, I will be sharing some of my observations and overall thoughts on what I see on the scouting trail & in the world of Girls and Women's Basketball.
The following article is a brief overview of my last 30 days in Canadian Girls Hoops. The player evals will continuously evolve based on sightings, and the ones in this article reflect the type of content I will be providing to Colleges and Universities across North America. Player rankings will drop at the end of Summer 2018.
Canletes Best in Prep All Star Game
Saturday April 28th
The Canletes Best in Prep All Star game showcased top talent from prep school basketball programs across Canada. Event organizer Kareem Griffin and newly appointed St-FX WBB Head Coach Lee Anna Osei and staff orchestrated a high caliber event featuring some of the following Canadian All-Stars. 
2021 PG/SG Shyanne Day-Wilson; 5'5 Explosive scoring guard with efficient change of speed and direction. Her handles are tight and her crossover is excellent. She'll pop the 3 on a dime; in transition, off the dribble, creating space on step backs – I've seen it all. Consistency and a higher 3pt shot percentage will come with more reps. Her pull up is quick and explosive. She's an excellent passer and has good vision but sometimes needs to know her personnel; a good pass to the wrong teammate is still her turnover. Will penetrate and finish with floaters or will draw contact; gets to the line a lot.
https://www.instagram.com/p/BfcOpa4n2YF/
2021 SF/PF Latasha Lattimore; 6'4 Coordinated, fluid, athletic and long. The first time I watched her play she brought the ball up the floor and pulled up in transition. Solid understanding of the structure of the game so she moves well off the ball. A good catcher with soft touch, court awareness and hand eye coordination; throw it up and she will find it and finish. Likes to work from the elbow. She'll get on the O board but would like to see more of a hunger on the boards. Shot blocker and uses her length well.
https://www.instagram.com/p/Bex2GQUnbLA/?taken-by=sisterskeeperto
Uncommitted Senior G Ivana Twumasi; 5'8 Ivy showed out this game!! Explosive guard with handles and quick change of direction. She gets to the rim with ease; her athleticism and body control allows her to finish over the defense and her floater looks good – doesn't shy away from contact. I've seen her shoot the 3 in transition. Need to further assess passing abilities but I believe she belongs somewhere this year.
Juel Championships
Friday May 11th
The Juel League has two divisions with 14 teams each. The Prep level's athletes are 2022-2020 Classes, and the Juel level with the bulk of it's athletes being 2018-2019 Class, with some underclassmen playing up. 
2020 G/F Aaliyah Edwards; 6'1 Defense generally has a difficulty stopping her. Scores the ball with ease and versatility within 15 ft; pull up or penetration, her jumper & turnaround jumper look good as well. Her length and explosive change of direction could make for a great slasher in the right offense – good hands and court awareness. Her understanding of the game and vision, combined with her length and skillset reflect in her passing ability. Fiercely rebounds on both ends & able to push the ball to start transition off O boards. Defensive presence & utilizes her length in passing lanes. Plays with Kingston Impact.
5'4 PG Rachael Niles; Fairleigh Dickinson Commit I've only briefly seen this player but don't be fooled by her height because her skill set, ball IQ and understanding of timing of the game elevate her value. Small but powerful with deep range and a pull up game. Tight handles, crafty, will penetrate and can finish; floater looks good and timing is excellent; vision allows to also find her teammates for drop passes or kickout. Played with Advantage Titans.
Congratulations to the Juel League Champions SBA Juel coached by Paul Weekes, and Hamilton Transway coached by Ashley Randall.
Across the Border Global Game
Saturday May 12
The second annual ABGG Showcase was held at The Rise Center, home of TRC Academy. An amazing facility with resources to produce well rounded elite athletes with opportunities for athletic and academic success. The three games featured elite Canadian and USA athletes facing off at each level – Futures, Underclassmen, and Upperclassmen. 
2021 F Isaline Alexander; 6'3 Strong and lean athlete who handles the ball fairly well & can deliver some solid passes. Great vision and passing from inside back out to shooters on the perimeter. Strong rebounder who likes crashing O board and gets to the free throw line. Need to clean up footwork and refine skillset in short corner and high post but showing coordination and small forward potential. Need to further assess her shot and foot speed on defense but I've been impressed by her thus far.
🔥Oh Canada 🤷🏽‍♀️ @BCSSPrepBBall duo 👉🏽 6'3 F Isaline Alexander with the assist to 5'9 G Abigail Jegede #SheCanBall @NorthPoleHoops @ABGGshowcase @therisecentre @TRCwolfpack @BallNPrepGirls @aerialpromotion pic.twitter.com/fDoeFW1kzK

— Micaella_ (@Micaella_15_) May 12, 2018
2020 G Merissah Russell; 6'1 Easily the most impressively well rounded and fundamental BALLER I've seen yet. Able to handle under pressure and make good decisions against uptempo defense. Powerful and explosive with clean footwork. Penetrates and finishes well; elevates above the defense, pull up game is crisp and her shot is fluid and quick. Ball IQ and intelligence combined with leadership on the court makes for a great teammate and an excellent player.
🇨🇦 6'1 G 2020 Merissah Russell out the the Nation's Capital 🍁 @CapCourtsInc 🔥 #SheCanBall @NorthPoleHoops @therisecentre @TRCwolfpack @aerialpromotion @BallNPrepGirls @ABGGshowcase pic.twitter.com/ZB1OqIrPYq

— Micaella_ (@Micaella_15_) May 12, 2018
2019 PG Micah Dennis; 5'9 Solid guard who's effort and focus both offensively and defensively hasn't been a question! She handles it with poise under pressure and has good court vision. Elite defender with a high motor and great footwork. Attacks well going left, and has demonstrated various finishing skills, good passing abilities and the pull up jumper as tools in her arsenal. Will shoot the set 3.
🍁 2019 5'9 PG Micah Dennis from @sisterskeeperto with the 🔒 down D even on offense 🔥 #SheCanBall @therisecentre @TRCwolfpack @ABGGshowcase @aerialpromotion @BallNPrepGirls pic.twitter.com/6wPntdvhLh

— Micaella_ (@Micaella_15_) May 12, 2018
Sky is the Limit
Sunday May 13th
The Second Annual Tournament run by Become One WBB is held in honor of Mother's Day with half of proceeds from donations and tournaments receipts for a cause. This year's tournament was competitive and had talent at both the middle school and high school level.
2020 G Aaliyah Arab-Smith; 5'7 High energy uptempo guard with a motor that runs on both ends of the floor. Defensively will lock up with active hands and crash the boards. Has the offensive skillset and ability to be a highly efficient scorer, but would like to see her be more purposeful with her ball handling and more efficient with her movement. Her shot looks good but can seem flat. She gets high off the floor on penetration to finish or kick. Heart and effort translate into big plays offensively and defensively; hustles for loose balls, gets And1's, and can lead her team on a run. Plays with Become One.
🍁 Sky is the Limit Championship matchup👉🏽 @sisterskeeperto vs. @become1WBB 🇨🇦 2020 5'8 G Aaliyah Arab-Smith working early. #SheCanBall pic.twitter.com/pBVhHtpfuC

— Micaella_ (@Micaella_15_) May 13, 2018
2021 G Tineya Hylton; 5'5 Powerful guard with good ball control who looks to push the ball. Delivers timely and accurate passes in transition. Explosive getting to the rim and will use air time and creativity to find a way to finish. Able to stay in front defensively & saw her block a 6'4 kid on a transition layup. Her shot looks good, need to further assess 3's and pull up efficiency. Plays with Become One.
🔥 @become1WBB 2021 5'7 G Tineya Hylton with the power finish in the Sky is the Limit Championship. #SheCanBall pic.twitter.com/upcnZ3I3KO

— Micaella_ (@Micaella_15_) May 13, 2018
2024 G Anaya Johnson; 5'0 Uptempo high speed PG who uses her size and quickness to her advantage to pick the defense apart and distribute the ball on offense. Defensively her foot speed and active hands allow her to get her hands on some balls. Was on a team with a plethora of small similar guards with similar skillsets but she stood out to me this game. Plays with Brampton Warriors.
🇨🇦 @BramptonBBall ➕☝🏽 play by uptempo 2022 G Anaya Johnson feeding teammate 2022 G Jada Bediako. #SheCanBall 🍁 pic.twitter.com/ecLUZX2N6G

— Micaella_ (@Micaella_15_) May 13, 2018
That's a snippet of the assessments I've made on players I've seen so far, and I'm in awe of the caliber of our Canadian hoopers. I'm thankful to all of the great coaches who helped me when I played and are still in the game now schooling me on a different dimension of Canadian Girls Ball.
We haven't even scratched the surface for Canadians making an imprint in the world of girls and women's basketball. I'm very excited to be a part of a generation who can make a difference.
Last year's Brampton Showcase was evidence of the appetite for exposure in girls basketball. Check out last year's MVP feature on T'yanna Todd.
Here is my eval on T'yana based on what I've seen thus far.
2023 G T'yana Todd; 6'0 Stong Athletic strong guard with excellent foot speed and agility on defense – watched her guard 1-5. Her offensive repertoire is extensive; she likes to penetrate and is crafty. Finishes well and in various ways at the rim. Her jumper is crisp and she shoots the 3. She passes well in traffic and pushes the ball in transition. Handles the ball well but I would like to see her keep it tighter.
I'll be back with weekly girls basketball thoughts, and with the upcoming NPH Showcase National camp circuit, I will be learning about talent from coast to coast.
Next up – Windsor, Waterloo, Ottawa, and Toronto, prior to our Western Canada Tour in August. Secure your spot today! Utilize basketball as a vehicle to excel in life and get on the National radar!
In case you missed it…