Keeping Up With the U Sports Classes: Ontario Tech's OUA Expansion Journey
In August of 2018, Greg Francis was put in an incredibly unique position. Francis was hired by the University of Ontario Institute of Technology, better known as Ontario Tech, to lead their expansion basketball program into the OUA.
Although the program was new, Francis wasn't a first time hire in U SPORTS. In a previous stop at the University of Alberta, he led the Golden Bears to the national title game in just his third season as head coach. He also had led the University of Waterloo program for three years and had done extensive work for Canada Basketball.
Simply, Ontario Tech went with experience in their inaugural hire. 
"I know how this goes," said Francis. "In my years of coaching, I've had to deal with a lot of not being good at the beginning."
Taking those early struggles can be difficult, especially for the players, and Francis knows that. 
"It's hard for these players," said Francis. "They don't know that to get good, sometimes you have to be bad and there's no other way to get around being good when you just start a program. It's such a weird situation." 
Ontario Tech's first year in the OUA was no different. The team went 1-21 in their inaugural 2019-20 season, and at times it was really tough. But Francis was proud of the way his guys fought through the long OUA season.
"I think the guys really bought in," said Francis. "They're going to get a lot of their rewards this year. For the long term, the first year of the program was what a lot of players needed to get better." 
After a few months of reiterating the little things it takes to win, Francis could tell it was getting frustrating for his players. Although they were slowly getting better, they weren't getting the confirmation of finishing the job off to validate what they were working towards. That changed in January against Algoma.
It was like a lot of their games where the young team fought hard throughout and remained competitive. This time though, they were able to do something no one else had done in Ontario Tech history: win a men's basketball game.
https://www.instagram.com/p/B7RfWMwpvEP/?igshid=xpstahicai19
"It was just a reminder of how it's a special time for these guys," said Francis. "They're young guys in college and they're putting in so much work and they have to put up with not very good results all year and so when they got a win they went crazy." 
What the Ridgebacks did that day was more than just win the first game in program history, they helped to vindicate their head coach's recruiting pitch. Francis discovered a secret early on about this generation that helped him land some major recruits. The opportunity to make history.
"Usually kids go to a school where you are a flat-out winner," said Francis. "But now, these days a lot of kids are into I want to build this. I want to be the person that puts Ontario Tech on the map… A lot of young people want to be the first person to bring this school to the playoffs, win a playoff game, score the first basket." 
Unlike literally every other program in the country last season, Francis didn't have the benefit of a high school teammate that went there or a family member who played for the Ridgebacks when it came to recruiting. He couldn't even take recruits to a game for their visit. It was all new.
So, Francis had to make a decision. He could raise the floor of his team in year one by bringing in some college transfers or, he could raise the ceiling of the future of the program by taking a series of swings with younger players. With Francis' coaching experience to lean on, he knew it was probably going to be difficult regardless of who he brought in. That allowed him to make the decision to bet on a young group's long term potential over a more veteran group's short term ability.
Early on, it appears Francis' bet is paying off. In year one, Graddy Kanku already became a star, averaging over 20 points a game and making first-team all-rookie in the OUA. Guys with high upside like Kanku are the exact kind of players Francis wanted to build around.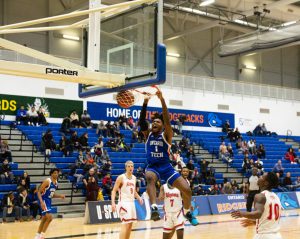 Photo Courtesy: Ryan Hahn/The Chronicle
"You want to start with more young talent that has upside," said Francis. "If you have guys with the right attitude, you can get better very, very fast." 
This year recruiting for Francis was much different. With a roster loaded with young guys with high upsides, Francis wanted to bring in a series of more experienced players to help them reach the heights they were showing the potential to achieve. 
"This year I wanted more guys with experience," said Francis. "We want to get some more guys that are really based on leadership and able to help us go forward with some veteran type of play." 
To do that, he's brought in three post-secondary transfers who are ready to make an immediate impact. It may be just year two, but Francis is starting to see the vision he had for this program when he got the job.
"Now it's starting to take shape," said Francis. "A bunch of young players around some really good recruits that have a lot of the upside. This team has upside."
Francis won't take anything for granted in this league, especially after the first season he just had. Building an established program is difficult enough, let alone one that never existed before. Everyday though is a chance to make history and that's exciting. 
It also helps Francis knowing that as he joked, "The best part about going through the first year is you don't have to do that anymore."
 The Class
| | | | |
| --- | --- | --- | --- |
| Name | Previous | Position | Hometown |
| Djame Ba-Amara Mathurin | Dawson College |  Forward | Montreal, QC |
Coach's Scouting Report: He's a very special player. He's going to be a really big player for us. The one thing for him for me is his ability to pass and one thing he brings to the table is he's probably one of the best finishers in the country.
Name

Previous

Position

Hometown

Tesloch Luk

Canada Topflight

Academy

Guard

Ottawa, ON
Coach's Scouting Report: He's probably our most decorated player from high school that has come to our program. With him, he's another combo guard. Is probably of a scorer, can really shoot the ball and is a tough customer.
Name

Previous

Position

Hometown

Kahleek Bakari-Whyte

Sheridan College 

(CCAA)

Guard

Brampton, ON
Coach's Scouting Report: He can do a lot of different things for us. For me, he's the one guy that's a proven shooter coming onto our team. He's going to really help us.
Name

Previous

Position

Hometown

Anthony Pate

Carleton

(U SPORTS)

Guard

Oakville, ON
Coach's Scouting Report: He's going to be an absolute beast in our league. He's a big-time scorer. He's already changed the culture on our team preseason this year.