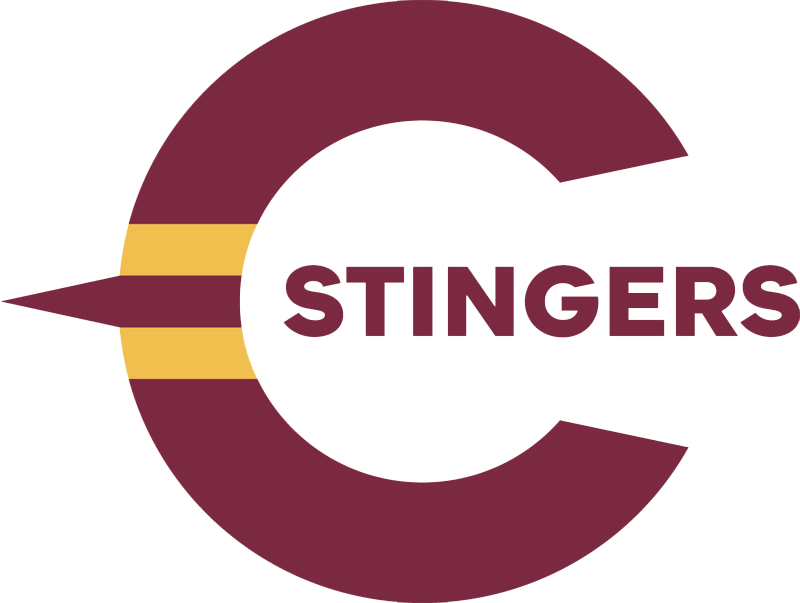 Keeping Up With the U Sports Classes: Concordia's Plan to Reach the Top of the U Sports Mountain
You would be hard-pressed to find a person that knows their university and program better than Concordia Stingers head coach, Rastko Popovic. Popovic is heading into his 20th season at the school after five as a player, nine as an assistant coach and now six as the head coach of the Stingers men's basketball program.
On his staff, he also has former Stingers, Damian Buckley and Jay Prosper. For Popovic, there's only one way to describe how this staff feels about the university it represents. 
"We wear that maroon and gold in our hearts," said Popovic. "We obviously played for the school, so we have a lot of pride when it comes to the Concordia pride. We want to make sure Concordia does well."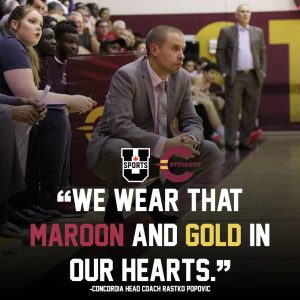 Since taking over from his former coach, John Dore, in 2015, Popovic has experienced a fair amount of success.  The team has finished top two each year in the regular season and earned the school's first bid at nationals in seven years in 2019.
Still though, Popovic is far from satisfied. Playing in arguably the nation's most competitive conference, he's always looking for an edge to separate his program fully from the pack.
 One of the first things he tries to do each season, is build an out of conference schedule that could rival anyone else's in the country. 
"I want to play top ten teams," said Popovic. "I'm not afraid to go out and play these teams because I want our guys to get experience against the best competition because I feel that will prepare us well for the league as well what we may see at nationals."
As we learned in conference rival Bishop's Keeping Up with The U Sports Classes, that experience against topflight teams at nationals can make the difference. Concordia faced an elite Ryerson team when they went in 2019 and Popovic felt his team wasn't quite ready. So, he has continued to build a schedule that will make sure they are when they go back.
"Those are great learning opportunities for our team, and I think that has helped us improve our program over the last few years," said Popovic. "If you look at our NCAA pre-season schedule on top of our U Sports exhibition non-conference teams that we play, sometimes it's better than small division one schools." 
Another way a program can find an edge at this level is when they find a certain player who has the potential to be special. Last season, the Stingers through a series of injuries and opportunities believe they may have just found that hidden gem in Sami Jahan.
"In a small league like that, you've got to find some gems and we believe we found one in Sami Jahan," said Popovic. "I think the kid is going to be an incredible U Sport player by the time he's done."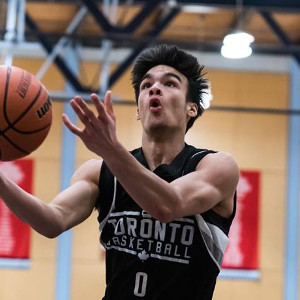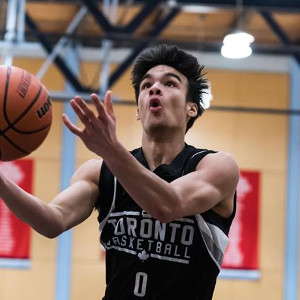 Much like a number of other programs in this series, Concordia is also looking to the transfer market to find some of those potentially elite players. 
"If you look at some of the top teams in the country, they rely on transfers," said Popovic. "This year we were able to get a couple of transfers that will really, really help us in the future." 
Transfers though are more of a newer addition to the Stingers recruiting mechanism. Popovic is a big fan of the transfer market so don't be surprised to see them extremely active in that market going forward. But that isn't what built their title team in 2019.
What did, is more of the bread and butter of this Stinger program: player development.
"We like to develop players," said Popovic. "Four years ago, nobody knew who Adrian Armstrong was and he turned himself into a first team all-star."
 The players with work ethics like Armstrong, transfer or not, are the real players that get the Stingers excited when they're out recruiting.
 "We want guys that want to work, who are willing to change and listen and be coached," said Popovic. "We try to look more for guys now that fit our system and culture than just the best player."
 Great examples of that system fit in this class are obvious. Popovic is a big believer in modern basketball and requires players at all positions with versatility that can move up and down the rotation and shoot, pass and defend.
 "Our goal is to be able to play small or big, whatever it takes," said Popovic. "Talking about Olivier (Koumassou Bernier), Anthony Fisiru and Owen (Soontjens), those three guys in about a year or two I think are going to be the future of our program. They can all play multiple positions, they can all handle, they can all shoot it. I think those are the kind of guys we're looking for."
 The level of importance in finding a way for this program to excel is unique to this coaching staff. They're full of lifelong Stingers that bleed Maroon and Gold. Now, led by Popovic they've built a plan with their schedule, recruiting and development program that is unique across the country.
 After being one of the most consistent programs in the 1990's with seven nationals appearances, they believe they're on the verge of getting back to that level of Stinger basketball.
 The Class
| | | | |
| --- | --- | --- | --- |
| Name | Previous | Position | Hometown |
| Anthony Fisiru | McGill (USPORTS) | Guard | Gatineau, QC |
Coach's Scouting Report: I think Anthony can be a starting guard for us for many years. Somebody who at his size, 6'3/6'4, can put the ball on the floor, shoot the three, can post up smaller guards and defend. 
| | | | |
| --- | --- | --- | --- |
| Name | Previous | Position | Hometown |
| Tariq Armstrong | Southwest Academy | Combo Guard | London, ON |
Coach's Scouting Report: He has a very good work ethic; he's working out with Adrian in London preparing. I think it's going to take him a year conditioning wise to get stronger and used to this physical level, but we feel he can eventually be a good player on our team.
NPH Scouting Report (Mickias Mikre): Tariq's grit stood out running with Southwest Academy last year. One of those guys who is playing all out regardless of the score and isn't afraid to attack no matter how big the defender. Projects as a great program guy.
| | | | |
| --- | --- | --- | --- |
| Name | Previous | Position | Hometown |
| Owen Soontjens | Adelphi (NCAA DII) |  Guard | Corbais, Belgium |
Coach's Scouting Report: Another 6'3 big guard, can really, really shoot the ball. Defends really well, great IQ for the game. After he has to sit out, he's going to be a major part of our program going forward.
| | | | |
| --- | --- | --- | --- |
| Name | Previous | Position | Hometown |
| Alec Phaneuf | Outaouais | Guard  | Gatineau, QC |
Coach's Scouting Report: Alec is very small but he's very, very skilled. Can really shoot the ball, is a very good passer. I like his competitive edge. 
Coach's Scouting Report: We're very high on Olivier. Another 6'3 guard who can play multiple positions. I like his game, he's very unselfish. I think he's someone who's going to play a lot right away.
| | | | |
| --- | --- | --- | --- |
| Name | Previous | Position | Hometown |
| Matthew Zhukas | George Harris Prep | Forward | Burlington, ON |
Coach's Scouting Report: 6'6  skilled forward who can develop into a versatile U Sports player. We are excited to work him and help him get stronger and we believe he can have an impact in our program for next 5 years as our senior forwards Sami Ghandour and Olivier Simon graduate next year.
| | | | |
| --- | --- | --- | --- |
| Name | Previous | Position | Hometown |
| Brandon Luc | College Montmorency |  Guard |   |
Coach's Scouting Report: Brandon is a good shooter and team guy. We anticipate he will need some time to get used to the speed and athleticism of the U Sports game but look forward to see his progress.
| | | | |
| --- | --- | --- | --- |
| Name  | Previous | Position  | Hometown  |
| Olivier Cadieux  | Ottawa U (U Sports) | Guard | Montreal QC |
Coach's Scouting Report: Olivier will sit out this season and will have 1 year of eligibility left. Olivier is a strong physical player that can excel in transition and guard multiple positions. He will add depth to our forward position.