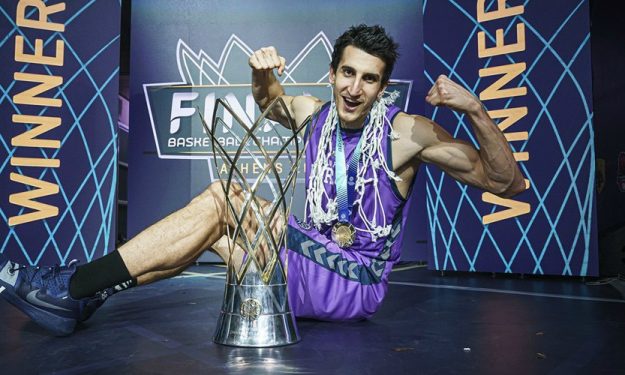 Serbian-Canadian Dejan Kravic Makes European Basketball History
For many, winning Europe's Basketball Champions League (BCL) would be a career defining achievement. The BCL is one of Europe's top continental competitions, featuring some of the best professional basketball talent in the world.  Finding a way to win the season long tournament is a special achievement.
Last month though, Serbian-Canadian Dejan Kravic made BCL history. Kravic became just the second player to win it twice when he helped his new squad, San Pablo Burgos, bring the title back to Spain.
Since leaving Texas Tech in 2014, Kravic has worked his way into becoming a key contributor in some of Europe's top leagues. Now in Spain's Liga ACB (arguably Europe's top domestic league) competing against the likes of Barcelona and Real Madrid, he has proven himself at the top of European basketball.
It wasn't always like this though. Not long ago, the grind of European hoops was wearing on him. Kravic refused to give up on his dream though and now stands rewarded with multiple trophies to his name and a motivation to continue to fight for more success in European basketball.
Overseas Grind- 2014- Present
By Dejan Kravic 
When you hit rock bottom, how do you react? What do you do next? Give up, or go harder? The only way from the bottom is up, and that's the only direction I plan to go.
My name is Dejan Kravic. I live in Canada, but my career takes place across the water, on various basketball courts throughout Europe. I am 30 years young and I am currently in my seventh season as a professional basketball player.
Year One- 2014-15, Rethymno Cretan Kings (Greece)
I graduated from Texas Tech University and began my professional career in Greece. I started off well, but the team decided to bring another big man in, and to put it simply, I got outplayed, and went from a starter to a backup. Instead of blaming myself, I blamed others around me. The biggest benefit that year was adapting and becoming more accustomed to the European basketball system, which is much a much different system in comparison to the North American style.
Year Two- 2015-16, Den Bosch (Netherlands) 
My second pro year, I played in the Netherlands. I had a strong year, but it was a much lower league and I was essentially playing for minimum wage type money. This year did not increase my value too much, and I went back to the same team in Greece.
Year Three- 2016-17, Rethymno Cretan Kings (Greece)
My third year, I started out fairly strong. However, injuries set me back; in a span of 2 months, I sprained my ankle six times. In any normal league, you would think you would rest a few days, do some therapy and strengthening, but that was not the case here. Play at all costs was the main theme, and this did not sit well with me.
We lost a tough game that I should not have been playing in, and I was blamed for the loss. I was told that if I played another game that poorly, I was to not bother coming back with the team, and I could catch my flight to Canada from there. I told them that my injury is not getting better, and requested that the team releases me so I could go home and receive proper treatment.
They allowed it, and that's what I did.
Year Four- 2017-18, Brussels (Belgium) / Panionios (Greece)
Now we move onto my fourth year: Belgium. Let me just be completely upfront about this: I played terrible. Consequently, I got cut for the first time in my career.
When you first think of a professional basketball player, you probably think he or she is someone who makes lots of money playing basketball and also gets to travel the world for free. While I wouldn't change my profession for anything, it certainly is not all sunshine and rainbows, despite what Instagram and social media can have you believing.
All you see is the highlights. The very best parts. What you don't see is the sacrifices and the struggle.
What you fail to see is the grind; the overseas grind.
Welcome to rock bottom. Here I am back in Canada without a job thinking to myself if I even want to continue this. I'm in my fourth year and I've achieved minimal. I've barely seen my family the last four year and for what?
I'm not even sure if I love the game anymore.
Basketball should be about playing the game you love. Now it felt more like a job to me. You don't perform, you get fired. Every day you are working to keep your job. Similar to most jobs, that's how the world of professional basketball goes in Europe. Nothing is guaranteed. When you win, they cheer. When you lose, they boo. One day you are the king of the city, the next you're flying back home. You're essentially dispensable, you're easily replaceable. If you can't get the job done, then goodbye, onto the next one.
It is a cruel business, but my livelihood depends on it.
I have worked too hard, sacrificed it all, and dedicated myself so much only to now throw it all away because things didn't go my way? How much worse can it get? It's time to change my mentality.
I will go out and play the game I love, and give it my all night in and night out. I will control what I can control. A different team called me up from Greece, and it was go time. I had a chip on my shoulder, and failure was no longer an option. No more excuses, and no more pointing the finger at others.
Ki11 Mode.
Funny enough, that new team in Greece had more drama and issues than any other team I've played for. I didn't care. I didn't let anything get to me. I went out and did what I had set out to do.
Year Five- 2018-19, Virtus Bologna (Italy)
Thanks to a successful season in Greece, I tripled my salary, and moved on up to play for a historical team in Italy, where I won my first championship.
Year Six- 2019-20, Obradoiro (Spain) 
From there I moved to play in the second best league in Europe, the ACB, in Spain. That was this past season and it was the best individual season of my career.
Year Seven- 2020-Present, San Pablo Burgos (Spain) 
Less than two months into my time in Spain, my team won another championship. I won this Basketball Champions League in Italy in 2019, and now I have won it in Spain in 2020, making me only the second ever player to win this title.
I still have the same chip on my shoulder, and I have no plans in slowing down. For some, success comes immediately. For me, I took a longer route to get there. I now have a newborn son, a beautiful wife, and the best family one can ask for.  I feel more mentally tough than ever, and I have all the motivation in the world.
Nothing and nobody will take me down now. God willing, the best is yet to come.