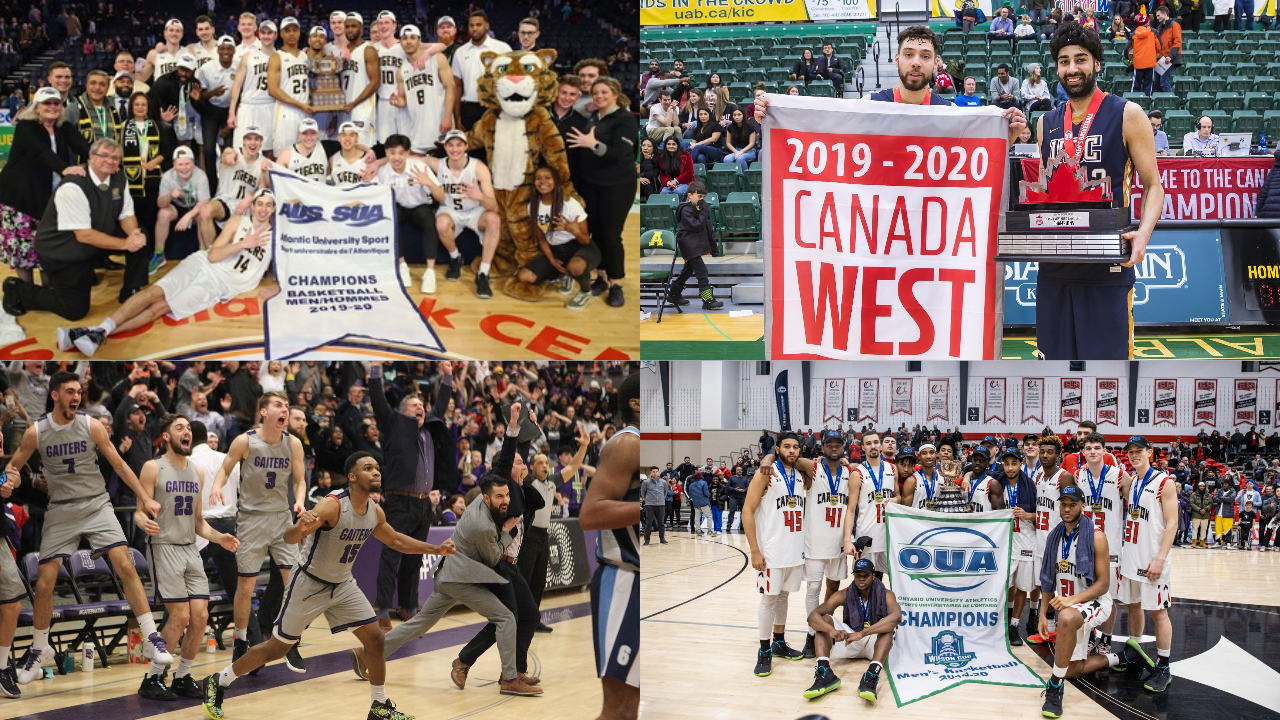 Thunderbirds and Gaiters shock the country while the Tigers and Ravens coronation is complete
Countless buzzers beaten, upsets and surprise champions, it was a week to remember in U Sports basketball. The Final 8 is finally set, let's find out how we got here:
Canada West- Cohee and Clair lead the Thunderbirds to their first conference title since 2013
The duo of Jadon Cohee and Manroop Clair was destined to work for UBC. The two locals from the lower mainland were teammates at Seattle University for two seasons in the NCAA Division-1 and when you watch them, you can just see how well their games fit together. With Cohee the creator and Clair the shooter, it didn't matter that they were on the road Saturday, playing against the number one seed, this was a championship level duo. Finishing third in the regular season may not have been in the overall plan but, Cohee and Clair were meant to play together and maybe more importantly for head coach Kevin Hanson's squad, meant to win together. Time and again in these playoffs, the two seniors made the plays when it mattered most. Saturday's championship game showed their championship mettle once again as they carried a commanding lead throughout most of the game. In the fourth, things tightened up. With just   3:15 to go in the game, Alberta's Tyus Jefferson would finish off a momentum-altering run that gave the Golden Bears their first lead since the first quarter. Most teams would fold in that scenario, leading all game and choking it away in the fourth but this Thunderbird's team isn't one of them. After Hanson called timeout following Jefferson's layup, the ball found its way into Cohee's hands and the senior did what he's done so many times, nailing a cold blooded three to steal the lead immediately back. Not to be outdone, after Alberta regained the lead, Clair used a high screen from Grant Shepard and drilled a pull-up three that would give the Thunderbirds the final points they'd need to win their first Canada West title since 2013. Alberta may have gotten 24 points from Jefferson and had a team featuring star Brody Clarke but, 43 combined points was more than enough from the T-Bird's duo that was meant to be here.
OUA- Mustang magic leads Western to nationals while Carleton brings home another provincial title
Highlights from the 2020 Wilson Cup Championship game 🏀🎥 #FearTheConspiracy

Ravens defeated the Mustangs 90-68 pic.twitter.com/FoDu0o1CeT

— Carleton Ravens Basketball (@CURavensBBall) March 1, 2020
In the OUA's first semi-final, fans were treated to an absolute spectacle. In front of a sold-out crowd, the Western Mustangs and Laurier Golden Hawks put on an absolute show. Thanks to U Sports rules, the OUA gets an automatic bid to nationals for both finalists so this game was doubly important to two programs that hadn't won conference titles in a long time. Ali Sow's 41-points were tremendous but, Eriq Jenkins and Nikola Farkic's two separate buzzer beaters turned out to be the difference in an overtime win for the Mustangs. Out in Ottawa, the Gee-Gees were without star Calvin Epistola and it showed in the Ravens nest. Alain Louis was the high man with 20-points for the Carleton Ravens as they clinched yet another trip to the OUA championship game and nationals. In that championship game, Western gave the Ravens everything they had and through two quarters, they were down just six. Even in the fourth, the Mustangs got as close as 64-60 and a Raven timeout. However out of that timeout, the Ravens reminded the world who they are with a 26-8 run to close the game. With the win, Carleton clinched its third straight title and 12th since 2003. Both teams will now shift their focus to nationals as Carleton plays Calgary in round one while Western matches up with Alberta.
AUS- Tigers coronation complete while Carson, Masters and Nava show out in the conference tournament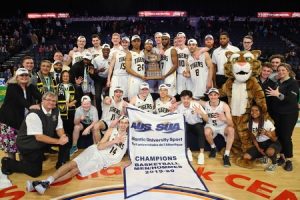 Photo Courtesy: Nick Pearce/Dalhousie University 
The Dalhousie Tigers are once again kings of the Atlantic. For the second straight year and the fifth time in six seasons, the Tigers have won the conference title after a decisive weekend at the conference tournament in Halifax. In their first game, the semi-finals against rival Saint Mary's, regular season MVP Keevan Veinot couldn't find his shooting stroke at all. Lots of teams would've been in trouble but this edition of the Tigers showed the depth that's why this team is a threat to win the national title. With their star struggling, Alex Carson and Sascha Kappos each contributed solid performances off the bench to eliminate their rivals and setup a game with the only team who beat them: StFX. The X-Men got to the final after a tough win against UNB. UNB was already tournament tested thanks to an overtime win over Cape Breton in round one that saw Marcus Masters use every millimetre of the backboard in a layup that eliminated Osman Omar and Cape Breton. StFX came ready to play in the semi-finals and even despite Masters' second straight 20-point playoff game, Avan Nava and Azaro Roker's X-Men squad were headed to the final. In the championship game, although Dalhousie didn't blow it open until late, it was always clear who the better team was. Even with Avan Nava doing all he could, the Tigers were simply just the best team in the Atlantic in 2019-20 and it showed. Veinot found his stroke in the final and to go with another impressive showing from Carson and Kappos sent the nation's number two ranked team to Ottawa conference champions with an earned confidence.
RSEQ- Gaiters and Kamane shock the country in historic playoff week in Quebec
Video is courtesy: Bishop's Gaiters Athletics/RSEQ
For the first time since 2014-15, the Bishop's Gaiters are RSEQ Champions. If I told you this would be the result in November, you probably would've believed me as the Gaiters opened the season as the only nationally ranked team from Quebec. However, their season was the definition of up and down, finishing 8-8 and heading into the playoffs everyone knew the talent was there but no one was sure of the result. In the semi-finals they matched up with a Concordia team that had another strong season. On this day though, led by Abdul Kamane, the Gaiters were able to knock off Sami Jahan and Olivier Simon's team on the road. Their finals opponent was UQAM who upset first seeded McGill. McGill was without star guard Jamal Mayali, out with the flu and the Citadins took full advantage. With Frantson Demosthene and Alix Lochard leading the charge, the Citadins were back in the provincial finals for the second straight season. The final was back and forth in Bishop's home gym that was sold-out. Lochard and Hugo Adin were outstanding all game long but thanks to timely buckets from Nervens Demosthene, Kamane and Ibrahim Ngom, the Gaiters had a chance to win it on the final possession. UQAM guarded the ball well and as it flew around the arc, it appeared they may force the Gaiters to force up a bad shot but seemingly out of nowhere, Joany Castor Thadal appeared in the corner and hoisted up a shot that will be immortalized in Gaiter history forever. It was a bucket that sends the Gaiters to nationals, the Citadins home the second straight year and a constant reminder to all, never forget about the guy in the corner.
Upset Special- The entire RSEQ playoffs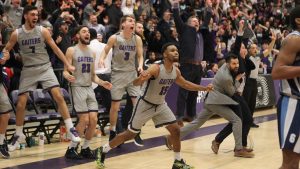 Photo Courtesy: Emery Gbodossou/Bishop's Gaiters
If it wasn't enough that for the first time since 2009-10 McGill and Concordia weren't in the RSEQ final, it was also the first time in league history that the top two seeds got knocked out in the first round of playoffs. For a season defined by randomness and upsets, it only made sense for this to be the outcome in the RSEQ playoffs. Of course the team heading to nationals is the one with the most epic highs and lows of 2019-20. The team representing the RSEQ at nationals is the walking embodiment of this season. Complete and utter poetic justice.
Indeed. It was the first time in the history of the Quebec m. Basketball league that the top two seeds got knocked out in the first round of playoffs

— McGill Athletics (@McGillAthletics) February 27, 2020
Player of the Week- Ali Sow (Laurier) who put up 41 points, seven rebounds and three steals on 14/24 FG and 6/14 3FG against Western
M🏀 – OT | Are you kidding me??? Ali Sow with 38 points tonight! Hawks go up 103-101 with 15.4 seconds left 💜💛 #SoarAbove #WLUvsWES #QuestForTheCup pic.twitter.com/K4tBCaq79M

— Laurier Golden Hawks (@WLUAthletics) February 27, 2020
I usually like to reward winning in this part of the column but when a player performs like Ali Sow did on Wednesday, even in defeat, it deserves recognition. Sow was on another level in this game. It was as if the guard's bag had its own bag with some of the ridiculous dribble move combinations he was pulling off at a moment's notice. His team may have lost but Sow carried himself like a true winner, displaying time and again clutch buckets when it mattered most. Of course they came up short but for Ali Sow, it was a performance anyone who watched won't soon forget. 
         Runners up: Canada West- Jadon Cohee and Manroop Clair (UBC) / AUS- Alex Carson (Dalhousie) / RSEQ- Abdul Kamane (Bishop's)
Why we love USPORTS- Western and Laurier put together the game of the season
Triple to SEND it to OT ✅
Triple to WIN it in OT ✅

A wild finish in the #WilsonCup semifinal last night. 🇨🇦🏀

(via: @WesternMustangs) pic.twitter.com/QaMbJ89RnP

— Tim and Friends (@timandfriends) February 27, 2020
At the end of it, people were calling it the best university game they'd ever seen and the crazy part was, it didn't even seem like a hot take. With an automatic bid to nationals along with a trip to the OUA finals on the line, this wasn't just a regular OUA game. With stars on both sides coming in, people were expecting a great game, but no one was expecting this. Ali Sow had 41-points for the road team in another game that contributed to one of the great playoff runs in U Sport playoff history and it still wasn't enough to get the job done. Western played this game like the team of destiny. To end the fourth quarter, in a game that featured 13 lead changes, Eriq Jenkins made one of the great shots in Western basketball history. Unfortunately for him, the shot from this game that will be remembered forever in London was by senior guard Nikola Farkic who hoisted up an absolute rainbow sized prayer off an inbound that was answered by the basketball gods as it swished home a Mustang trip to nationals. If all of that wasn't enough for you, watch the video in the tweet above with volume for some all-time commentating that tells you everything you need to know about this game.
 The Final 8
Final 8 Championship Preview: @CURavens named tournament favourites, @UCDinos earn at-large berth / Carleton nommée équipe favorite du tournoi, Calgary gagne sa place en qualifications#ChaseTheGlory | #ViserHaut

🔗EN: https://t.co/TUNDs3bs4l /🔗FR: https://t.co/pE0AEgtSy6 pic.twitter.com/mPxv7NMDw8

— U SPORTS (@USPORTSca) March 2, 2020
Check back on Wednesday for my Final 8 preview right here on North Pole Hoops!