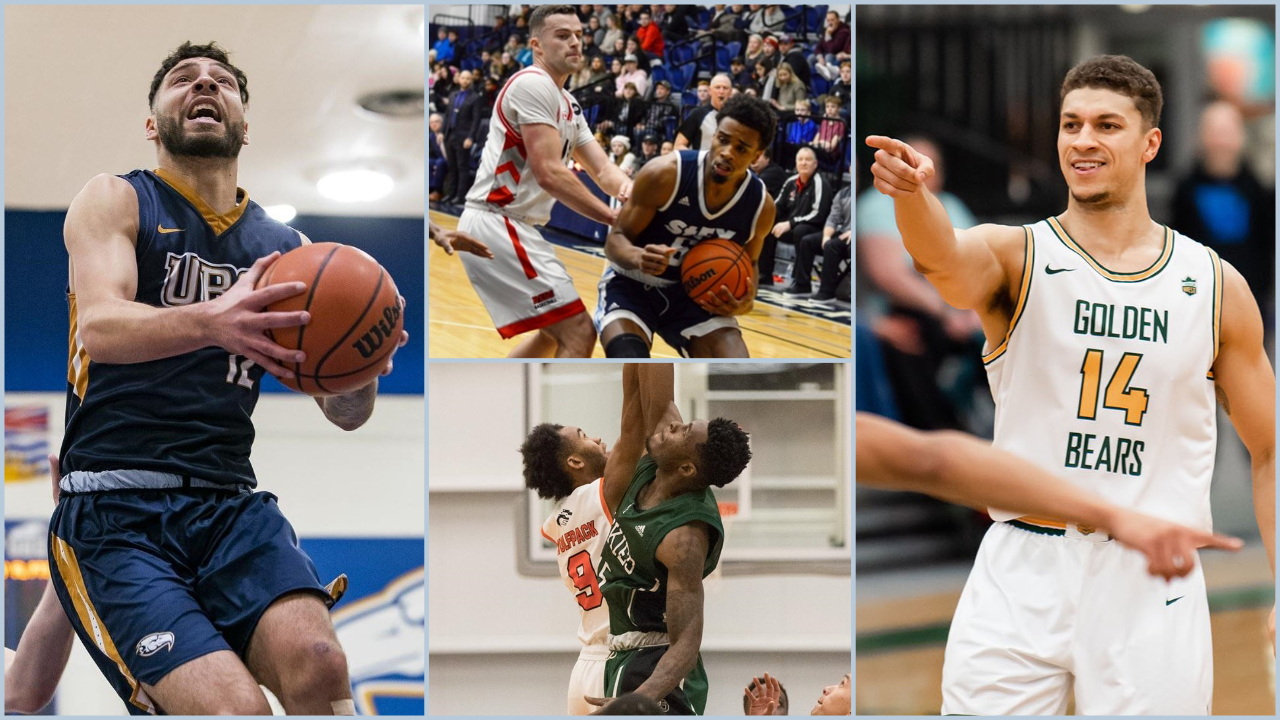 Canada West's final week produces fireworks while Jenkins, Roker and Mayali help position their teams for playoff runs
History was made across the country this week. Seniors said goodbye, regular seasons ended, and the Carleton Ravens even lost a basketball game. It was certainly one to remember so let's catch up on a wild week across the nation.
Canada West- Brandon completes remarkable turnaround while Clarke and Cohee have senior weekends that won't be forgotten anytime soon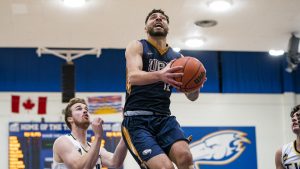 Photo Courtesy: Bob Frid/UBC Thunderbirds
 This weekend a match up between two provincial rivals in the Manitoba capital produced all kinds of history. Coming into the weekend, the Brandon Bobcats needed one win to clinch a playoff spot, something that seemed impossible when they were 1-13. However, led by first-year superstar Anthony Tsegakele's 24 points and 11 rebounds, the Bobcats were able to come up with the massive road upset and lockdown a spot in the playoffs. In game two, in Rashawn Browne led his Manitoba Bison's to their school-record 16th win of the season in his final regular season home game. Manitoba's 16 wins were also good enough to earn a first-round bye, something that Victoria will not get to enjoy. The Vikes, who finished 15-5, will head into their contest with the Bobcats one of the hottest teams in the conference after going 5-1 to finish the season. Their veteran laden squad will be a major problem for the Bobcats, no matter how well they're playing right now. Another veteran team playing their best basketball of the season right now is Alberta. Fresh off leading a sweep of rival Calgary last week, Brody Clarke was far too much for the Saskatchewan Huskies to handle. The back to back losses will likely knock Saskatchewan out of the national rankings, opening a place for UBC in the fight for the potential third Canada West bid at nationals. This became possible thanks to Jadon Cohee's senior weekend for the ages as the guard in his final two regular season home games put up an average of 25.5 points per game in the two-game sweep of Winnipeg that secured Cohee's Thunderbirds third place in the conference. Another team that needed to win both games to secure major playoff seeding was Lethbridge and the Pronghorns did just that against Thompson Rivers. The WolfPack gave it everything they had in both games but headed home losers of their six in a row and improbably, after a 11-3 start, looking at a road game on the opening weekend of the playoffs in Saskatoon. The team that arguably stole that home playoff date was Fraser Valley who managed to finish 13-7 after two tough games against Regina. In an outstanding guard match up between Benjamin Hillis and Parm Bains, both came away with important late season victories. Hillis' win helped the Cougars to a ninth-place finish, setting up a game with a Lethbridge team they've already beaten on the road. Bains and the Cascades meanwhile clinched a home playoff game, thanks to a strong finish to the season after a 3-6 start.
OUA- Ottawa ends Carleton's attempt at perfection while Lakehead stumbles and Gray and Kokko set on collision course
Sometimes you need a little luck! GEE-GEES WIN CAPITAL HOOPS CLASSIC! WHAT. A. NIGHT.

OTT 68 | CAR 67
FINAL pic.twitter.com/bdIlrBzype

— Gee-Gees Men's Basketball | Basketball masculin (@GeeGeesMBB) February 8, 2020
 In his final Capital Hoops Classic (barring a playoff meet up), fifth year senior Calvin Epistola went home a winner. From averaging just 1.8 points per game as a first year to scoring at a 18.9 ppg clip as a senior, the Toronto native will be remembered as a legend of the Gee-Gee program and a win like this against the previously undefeated Ravens, will only help his resume. Carleton put up a valiant second half fight but after narrowly stealing the first meeting from the Gee-Gees, this one was meant to finish an OttawaU victory. Carleton wasn't the only nationally ranked team in the OUA to slip up this weekend. Coming in, Lakehead hadn't lost since November and had risen all the way to number five in the national rankings. However, one statement performance from Omar Shiddo, Eriq Jenkins and Nikola Farkic later and the Thunderwolves were stunned. The win was massive for Western who had been reeling a bit after a tough weekend in Ottawa but a win like this surely will help the West division leading Mustangs put their best foot forward into the postseason. If losing to Western wasn't enough, Lakehead managed to choke away a 14-point three quarter lead on way to a shocking loss in Windsor. The Thunderwolves will look to pick up the pieces of their disastrous weekend next week at home against Ontario Tech and Queen's. Despite knocking off Nipissing, it's hard for the Gaels to not look at this past week as a disappointment after Kadre Gray did what he's done so many times to divisional opponents. In potentially Gray's final game in Kingston, the two-time national player of the year gave his potential goodbye to Gael's fans the only way he knows how, dropping 29 points in a victory. It was a bigtime road win for the Voyageurs who will need a similar type of effort from the superstar senior next week in Toronto against Ryerson. With Gray coming off a dominant weekend against Queen's as well as Ontario Tech (25-points and nine assists) and Tevaun Kokko playing as well as he has been, you'll struggle to find a better individual match up. Kokko's Rams are coming off quite the weekend themselves, as they needed a 26-4 run to finish the game on the road against Guelph to steal a win. The Voyageurs will certainly have their hands full against a Rams team whose only loss since November came against Carleton a couple weeks ago. Much like Gray's Voyageur's massive road test, the McMaster Marauders and Brock Badgers will also embark on a major challenge away from home in the nation's capital. The Badgers are coming off a key 2-0 weekend against Laurier and Waterloo that saw Brock's defence give up just 69.5 points per game. A similar performance will be needed if Brock has any hope of beating one of the teams in Ottawa. McMaster's chances are much different than the Badgers despite having the same record. Jordan Henry is as good as any guard in the nation at scoring the basketball and is coming off a two-game stretch that he averaged 24.5 points. Although Mac lost one of the games to Laurier, their path for success likely will come from Henry having a performance to remember.
AUS- Tigers avenge lone loss, Huskies continue strong team play and Roker and Andrew lead X-Men to crucial win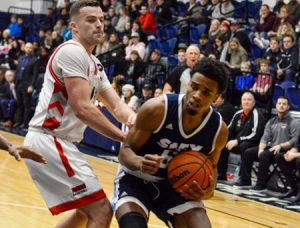 Photo Courtesy: Paul Hurford/StFX X-Men
The Tigers finally got their opportunity to avenge their only loss of the season. With Xavier Ochu leading the way offensively, Dalhousie have now officially beaten everyone on their schedule thanks to this win at home against StFX. Four days later, the Tigers continued their winning ways against Cape Breton. In what has been a season to remember for Dal, they sit 17-1 heading into the final two weeks of the regular season. Meanwhile, the day before their loss to the Tigers, Cape Breton proved they and Saint Mary's just can't get enough of overtime. After both playing to extra time last week, once against the Capers and Huskies couldn't settle a game in forty minutes. Third year forward Sebastian Gray was outstanding for the Huskies in their fourth straight win as they found the way to prevail over a Cape Breton team desperate for a win. After a disappointing first half, SMU finds themselves firmly in fourth place in the conference. Ahead of them is Ibrahima Doumbouya and the UNB Varsity Reds. Doumbouya put up 27 points in a win over UPEI. Unfortunately for him and the Varsity Reds, two nights later StFX came prepared. In a game that was for second place in the Atlantic, StFX's Azaro Roker and Justin Andrew were special in the moments that decided this pivotal contest for playoff seeding.
RSEQ- Mayali and McGill come out with something to prove while Stingers prepare for stretch run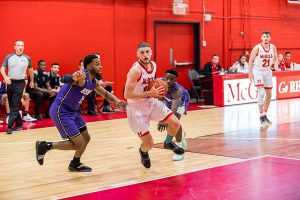 Photo Courtesy: McGill 
In a match up of two of the best players in Quebec between Nervens Demosthene and Jamal Mayali, Mayali was the unquestioned best player in a decisive weekend for McGill. Off since their disappointing winless weekend against Concordia two weeks ago, McGill came out with something to prove against a Bishop's team that continuously teases you with how close they are to finding their preseason, nationally ranked potential. Not to be out done in the second game, Levi Londole was also great for McGill as he and Mayali led the team in scoring. In the other game of the weekend, Oge Nwoko had his best weekend of the season leading the Stingers to two wins over Laval. Next week, McGill will get their wish as they'll get a rematch with the Stingers in a match xfup that features the relatively undisputed class of the RSEQ in 2019-20.
Upset Special- Windsor puts up a fourth quarter run for the ages to stun Thunderwolves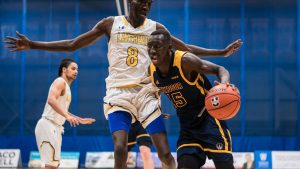 Photo Courtesy: Eva Ou/Windsor Lancers 
Up by as many as 15 in the final frame, a bounce back win for the Lakehead Thunderwolves seemed certain. The night before, a tough loss in London to Western upped the importance of this game and the impending playoff seeding for the Thunderwolves. There was no reason for them to take the fourth quarter lightly, that's why what happened next was so shocking. Windsor scored 21 straight points and ended up with one of their most surprising wins of the season. When the 5th ranked team in the nation blows a 15-point lead in the 4th quarter against a team who has been up and down all year,  that's the type of craziness that earns the Upset Special of the week.
Player of the Week- Brody Clarke (Alberta) averaged 22.5 points, 9.5 rebounds, 4 assists on 64.2 fg% (in two wins over Saskatchewan)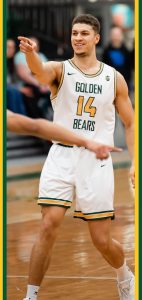 Photo Courtesy: Alberta Golden Bears
All season we waited and waited to see what Brody Clarke would do upon returning from injury. At some point, you'd have to think that missing so much time would affect a player for at least a bit. Well, that wasn't the case for Clarke. The senior has been the best player on the floor for four straight games against nationally ranked opponents. With the playoffs starting this week out west, it's hard to find someone who's even playing on Clarke's level right now.
         Runners up: OUA- Eriq Jenkins (Western) / AUS- Azaro Roker (StFX) / RSEQ- Jamal Mayali (McGill)
Why we love USPORTS- Bobcats to the playoffs
Here's the game ending sequence as well as celebration from our guys and our friends from @VMHS_BSD who made the trip to Winnipeg for the game. pic.twitter.com/aeR5dqRC2U

— Bobcats_GameDay (@Bobcats_GameDay) February 8, 2020
After a 1-13 start, the Brandon Bobcats season seemed lost. However, when it looked at its lowest, the Bobcats found a way to steal a road win in Prince George. A night later they won again and for two more games, they won those too. All of a sudden, the team everyone had left for dead needed one more win to secure an improbable playoff berth. One problem, their final two games were against a Manitoba Bisons team that was one win from a program record. Things got even worse as down by 14 heading into the fourth, it appeared Canada West's final playoff spot would come down to the final day. But, led by first-year star, Anthony Tsegakele, this Bobcats team proved once again how powerful their team's spirit is. When Jaleel Webb's three splashed through the net, it was the peak of a 26-15 run that put the Bobcats in the lead for the first time since 4-3 and gave the team a playoff spot that seemed impossible just three weeks ago.
Game of the week- Saskatchewan hosts Thompson Rivers to open the playoffs
These two teams matched up in November and both teams came away victorious. Although a lot has changed since then, most notably the WolfPacks six game losing streak, both teams are loaded with senior talent desperate to continue their careers beyond this weekend. If you're going to watch any game this weekend, the inevitable intensity from this one should put it at the top of your list. 
USPORTS National Top 10
🏀 U SPORTS Top 10: @CURavens 1⃣@AUS_SUA | @CanadaWest | @OUAsport | @RSEQ1 #ChaseTheGlory | #ViserHaut

🔗EN: https://t.co/Iz8zvdQVQd /🔗FR: https://t.co/Mo9cxoAhUw pic.twitter.com/hS3o5gHD2w

— U SPORTS (@USPORTSca) February 11, 2020
The first and most obvious difference this week to last has to be the fall of Lakehead. After a brutal 0-2 weekend, the Thunderwolves went from the OUA's number two team to fifth! Also of note in the OUA is the matchup of number six and seven this weekend in Toronto on Saturday night. Finally, UBC reclaimed its spot in the national rankings just as playoffs start out west. They may not be the number one team but, absolutely no one should want to play a team with the high end talent they possess.