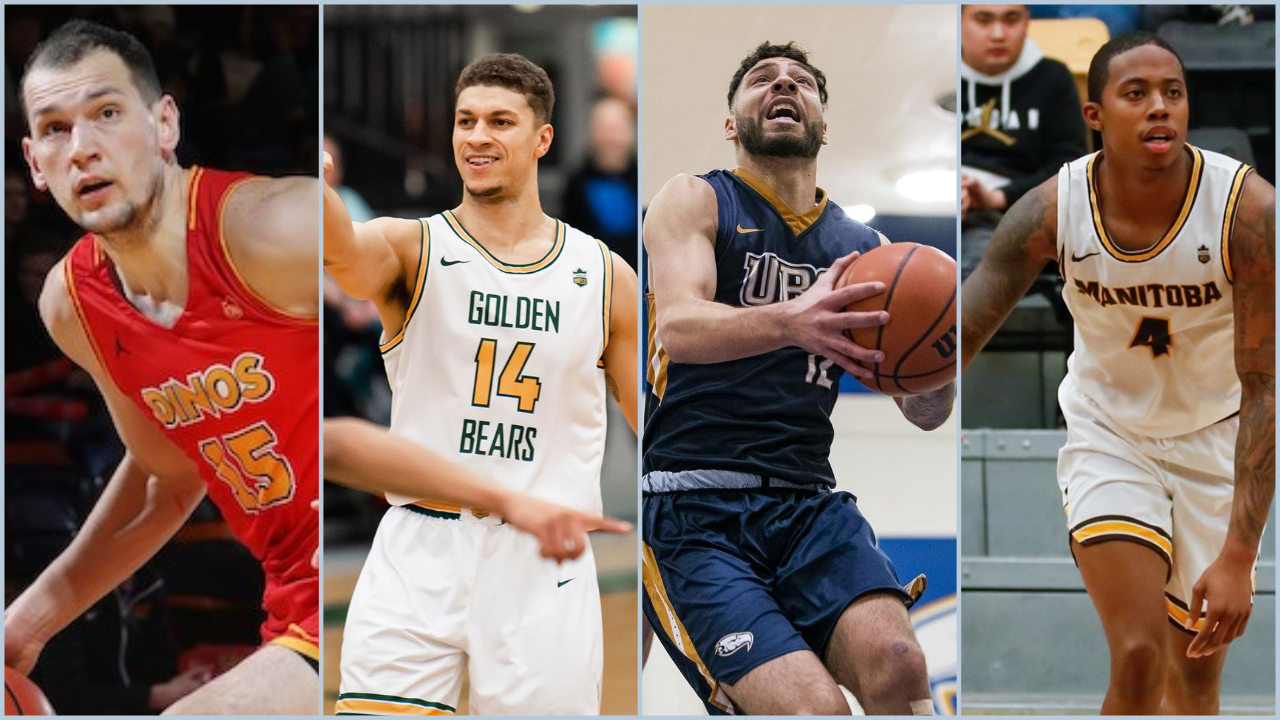 Seniors Layton, Clarke, Cohee and Browne get one last chance for Canada West glory
The regular season has come and gone out west and only 12 teams remain. It's truly now or never for a group of star seniors Brody Clarke, Brett Layton, Jadon Cohee and Rashawn Browne among others to step up and become legends at their respective schools. Playoffs are where legacies are made and hearts broken and in the Canada West, they're officially here… LET'S GO!
Favourites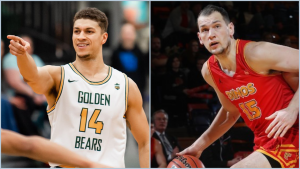 #3 Alberta Golden Bears 19-1 (Bye) 
All season long, the Golden Bears tantalized fans with their potential. Missing their best returning player to an injury, the team rolled through the regular season with relative ease. When Brody Clarke returned it excited people but there was still a question mark on how he'd look coming off of a serious injury. The answer: outstanding. Clarke has returned to all-conference form and helped lead Alberta to one of the most impressive final months of the season, rolling through nationally ranked opponents Calgary and Saskatchewan. Interestingly enough, Clarke's lengthy absence actually helped this team explore their depth and give players a chance to show what they can do with more floor time. Tyus Jefferson and Cole Knudsen are stars while Adam Paige is probably the best sixth man in the country. With the home court advantage in the playoffs they earned, I expect the Golden Bears in the final and don't be surprised if they take home their first title since 2017. 
#4 Calgary Dinos 18-2 (Bye)
The Dinos were rolling, proving all the doubters wrong with every game. Sure, they had lost four of their five leading scorers from the previous season, but one key player remained. Brett Layton, from the start of the season, has asserted himself as the runaway favourite to win conference player of the year and helped carry the bulk of the Dinos offensive load. Helping Layton are returning players Max Eisele and Mason Foreman who have both stepped into larger roles admirably. Throw in first-year Noah Wharton and transfer Ezeoha Santiago and this team has the talent to compete with anyone. Many will forget if the last minute of the Alberta game had a couple different bounces, both teams likely finish 19-1. This Calgary team is the biggest threat to Alberta's title bid and will certainly be a problem for whomever they face in nationals.
Final 8 wild cards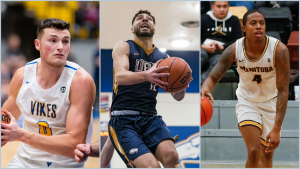 #9 UBC Thunderbirds 16-4 (Bye)
It's now or never for Jadon Cohee's UBC Thunderbirds. Cohee's senior season was supposed to go one way and one way only, with a Canada West crown and a potential shot at a national title. Although both are still possible, for a team that features the likes of Cohee, Grant Shephard, Manroop Clair and Grant Audu, this season as it stands right now has been disappointing. Starting it off getting swept by Calgary was anything but ideal and since then, they've shown both signs of being the best team in the conference and signs of being unable to find their stride. Luckily for them, the playoffs you throw out the records and go play one game to decide it all. For seniors like Cohee and Clair, they have to like their chances since it's hard to find a team in the country with more talent. 
#10 Manitoba Bisons 16-4 (Bye) 
To say it has already been a great year for the Manitoba Bisons would be an understatement, as the team set a program record for most wins in a season with 16. The team is led by a trio of seniors that have the collective talent of anyone in the conference. Rashawn Browne and  Keiran Zziwa are arguably the most dynamic back court in the country while James Wagner is the perfect fit at forward with the two guards, creating an elite big three. Together the three have each won a Canada West player of the week award for us at NPH and will give any team problems. The Bisons have more than enough high-end talent and experience to upset one of Alberta, Calgary or even UBC, the question is will they get enough help from the supporting cast to beat two of those teams and win the conference. Even if they only beat one, the team will likely go to nationals, a huge accomplishment for the program.
Victoria Vikes 15-5 (vs Brandon)
If there's a team with more depth in the country than the Victoria Vikes you'll have to show me. For my money, the Vikes, who had six players average double figure scoring and seven average over 22 minutes per game, are the deepest team in U Sports. Matthew Ellis, Scott Kellum and Hayden Lejeune are probably the main stars but even still, with what's built around them, it's hard to say three players stand above the rest. This could be a major problem starting now in the playoffs as although their depth is outstanding, the Vikes lack the elite talent Alberta, Calgary, UBC and even Manitoba have. Victoria can go as deep in the bench as anyone but for them to win enough games to head to Ottawa or even potentially win a title, someone on this team will have to step up and have a post season to remember.
Talented with holes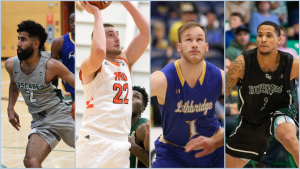 UFV Cascades 13-7 (vs Winnipeg)
The fact UFV is even here hosting a playoff game is an achievement. After a 3-6 start, even a playoff berth at all was in question yet now, the Cascades will welcome Winnipeg to Abbotsford. With Parm Bains and Sukhjot Bains shooting enough three's to make Daryl Morey and the Sloan Conference squad giddy, this team has the potential to become truly dangerous in a one game playoff scenario. With shooting like they have, if the two Bains' get hot, anyone in this conference could be susceptible to a loss.
Saskatchewan Huskies 12-8 (vs Thompson Rivers)
Saskatchewan has been up and down all year. Their three best players, JT Robinson, Alexander Dewar and Emmanuel Akintunde, can score with anyone. However, they all are streaky and perfectly embody a team that could beat both Manitoba and Victoria on one night and then get blown out by the same team the next. If those three can find consistency, don't be surprised if the Huskies find themselves in the Canada West final four.
Thompson Rivers 11-9 (at Saskatchewan)
Thompson Rivers truly could not have picked a worse time for a six-game losing streak. Not long ago, the WolfPack were a senior laden team destined for a program record type season (see Bisons, Manitoba) and instead ended up here, playing the first week of the playoffs on the road in Saskatoon. The fall was startling although lucky for the WolfPack, Anton Bilous and Joe Davis each lit this Saskatchewan team up for over 20 points in a victory in November. If the WolfPack can find that form some time before this weekend the Huskies may be in trouble but if not, a team that started 11-3 may finish the season not winning another game.
Lethbridge Pronghorns 10-10 (vs Regina)
Thanks to RPI, a second half surge and a little bit of luck, the Lethbridge Pronghorns are hosting a playoff game. I'm sure for a team that started the season nationally ranked that's disappointing but nonetheless, any time you win six in a row to close the season you have to be taken seriously. Forward Chad Oviatt has been on a tear since the streak began, averaging over 20 points a game over the streak. With Oviatt and the rest of the Horns playing as well as they are, every team has to take them seriously.
A year away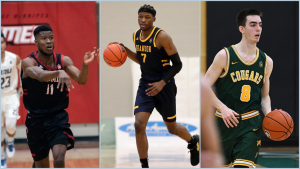 Winnipeg Wesmen 10-10 (at UFV) 
Winnipeg has been one of the quietly solid teams all season long. The reason they remain a secret to many is the team has no signature wins. Well, that is unless you count their first two games of the season when they beat UFV at home. Sure this game isn't in the comfort of their own home court but any time you're the lower seed and you swept your opponent, you have to go into the game with some major confidence. 
Regina Cougars 10-10 (at Lethbridge)
A 6-3 finish has to have the Regina Cougars feeling optimistic heading into their first round match up with Lethbridge. One problem, leading scorer Carter Millar hasn't played since Jan. 11 so with his availability up in the air that will be a major concern coming in. Good news is without him, the Cougars managed a massive win last weekend that not only stopped UFV's nine game win streak but gave them a leg up over Winnipeg in the final standings. Playing without your best player is never easy but the Cougars have at the very least proven they still need to be considered dangerous.
 Brandon Bobcats 6-14 (at Victoria)
When your record is 1-13, to call things less than ideal would probably be a slight understatement. Yet, with that record on their resume, the Brandon Bobcats still managed to squeak into the playoffs with five straight wins. Anthony Tsegakele is one of the brightest young stars in the conference so even though this week's match up with Victoria is tough, the sun is absolutely shining bright on the future of this program.