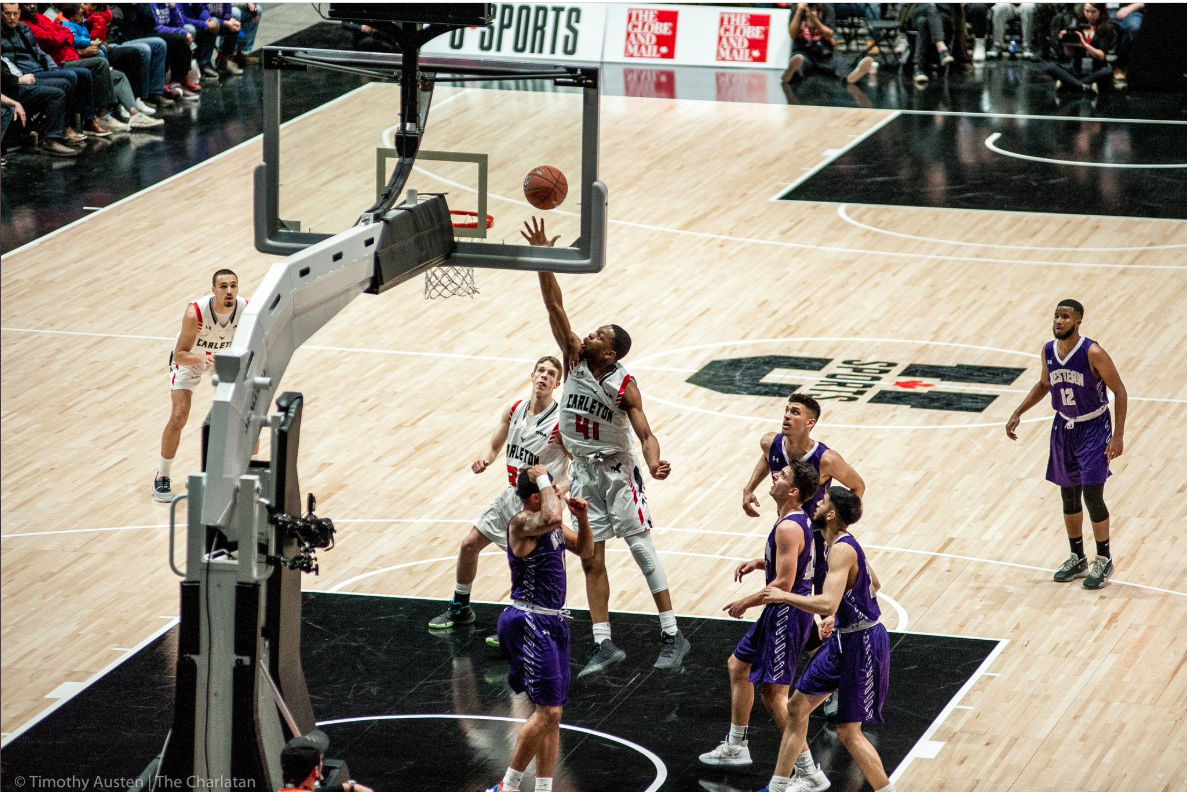 U Sports Final 8- Pandi, Carson and Kappos the stars of semi-final saturday
Photo Courtesy: Tim Austen
It was a historic night in Ottawa. Carleton clinched its 15th appearance in the final in 18 seasons, an unprecedented number while Dalhousie clinched its first. The final will be #1 versus #2, let's find out how we got there:
For a full preview of the final click here
Pandi leads Carleton domination of Western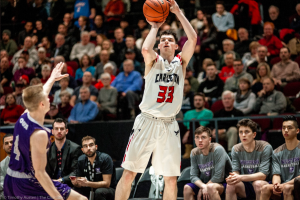 Photo Courtesy: Tim Austen
Lloyd Pandi may only be a first year in age, but his game is that of a veteran. The Ottawa native's entire game was on display Saturday night against Western as he destroyed the Mustangs down low with multiple great moves including a spin move that left a Western player laying on the floor in disbelief. Other Ravens standouts were Isiah Osborne who continued his outstanding tournament with 17-points and senior Yasiin Joseph who had 13-points and played elite defence all night long. The main recipients of that elite defence were Nikola Farkic and Omar Shiddo who each struggled to get any free space as the two Mustang stars combined to shoot 4 for 22 on the day. Eriq Jenkins was the lone player in purple to get it going offensively, finishing with 13-points in the loss. It was the 26th straight time Carleton defeated Western, over a span of 20 years. This one though meant a little more as it sent the Ravens to their 15th final in 18 seasons. Over that time, the program has never lost in the championship game, going 14-0.
Carson and Kappos help Dalhousie end UBC's magical run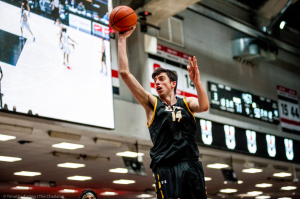 Photo Courtesy: Tim Austen
For the first time in program history, the Dalhousie Tigers are going to the National Championship Game. It didn't matter how well UBC was playing coming into the game, the Tigers were meant to advance to Sunday's final. The leaders in the Tigers historic night were Alex Carson who burned the Thunderbirds from deep all night and Sascha Kappos who outplayed UBC star Grant Shepard from the tip. For the Thunderbirds, their magical playoff run comes to an end. Although they'll still have a chance to medal at this year's tournament, a finals appearance wasn't meant to be. Jadon Cohee and Manroop Clair gave it what they could but unfortunately the Atlantic champions swarming defence was too much to overcome. It was the kind of defence that deserves only one what outcome, a birth in the championship game.
Consolation
Alberta extends season with consolation semi-final win over Calgary
Men's consolation semifinal 1: @BearsandPandas take down @UCDinos / Demi-finale de consolation masculin 1 : Alberta bat Calgary#ChaseTheGlory | #ViserHaut

🔗EN: https://t.co/lYhn4ILZR9 /🔗FR: https://t.co/kf1gSUkFIU pic.twitter.com/jBbf2u214K

— U SPORTS (@USPORTSca) March 7, 2020
Just a day after losing a heartbreaker to the Western Mustangs, the Alberta Golden Bears were able to find a way to bounce back. Golden Bear stars Tyus Jefferson, Brody Clarke and Adam Paige led the team in the victory over rival Calgary. Meanwhile for the Dinos, Brett Layton put up 22-points and 16-rebounds to close out an unbelievable, National Player of the Year season. Tomorrow's consolation final will be the final game of the season for the Golden Bears and, Clarke's final game of his U Sports career.
Ottawa's Epistola won't let his career end
THE GAME CHANGING SHOT 🔥‼️ Take a look at @Pepin1Pepin ending this one from three! 👀#GGnation🐎 pic.twitter.com/Q6QTTV5mMs

— Gee-Gees Men's Basketball | Basketball masculin (@GeeGeesMBB) March 8, 2020
It may not have been the semi-final game Calvin Epistola envisioned playing in, but in the consolation side of the bracket Epistola played his usual game to continue his career one more day. The senior tied for the team lead in points with Guillaume Pépin in the Gee-Gees win over Bishop's. However, neither Gee-Gee led the game in scoring as after a difficult quarter-final versus UBC, Gaiters star Nervens Demosthene bounced back in a big way with 27-points. Demosthene and the Gaiters will head home with nothing to be ashamed of after two hard fought games at nationals. Ottawa on the other hand will have one final game tomorrow to decide fifth place at this year's tournament.