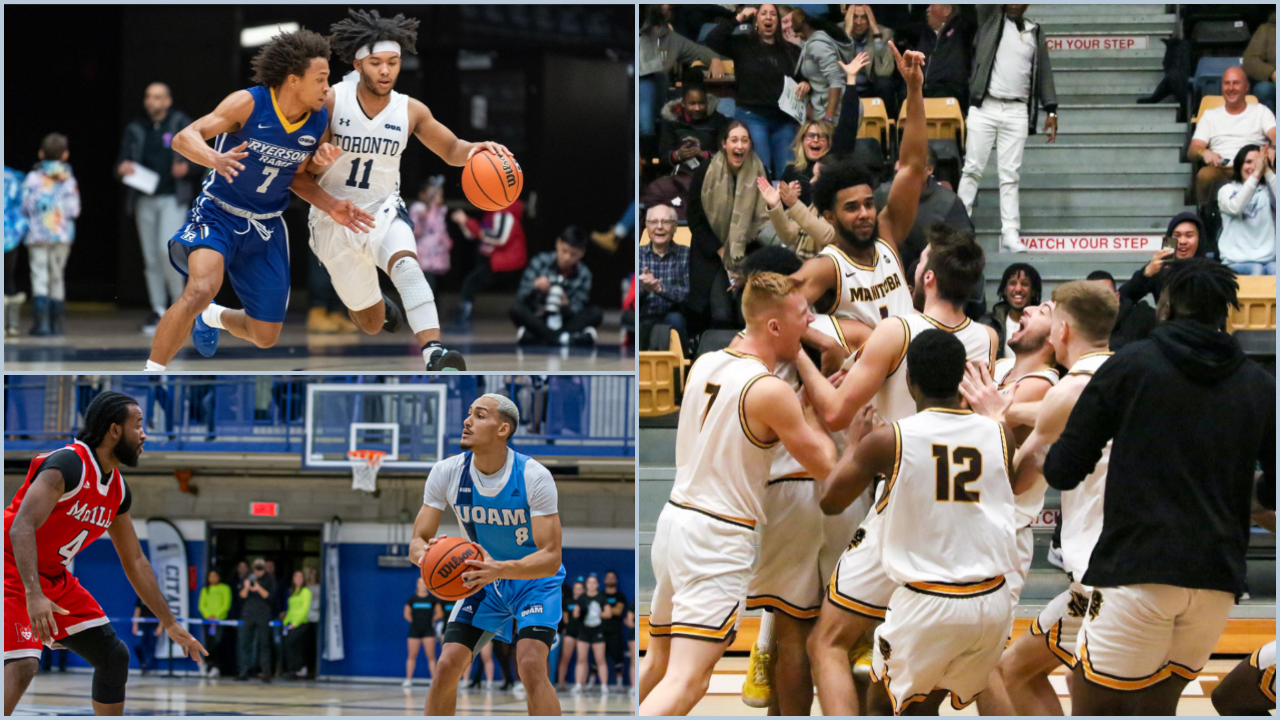 Saskatchewan and Manitoba prove every second counts while Kokko, Legallais and Desjardins take their games to new heights
If you ever needed a reminder every second counts, look no further than USPORTS basketball this week. We saw multiple results turn on a dime with a large reason due to the star power we are blessed with this season across the country. Each conference has their own players worth talking about so, let's get talking about them! 
Canada West- Layton and Bains go off while a pair of matchups see stars dueling for supremacy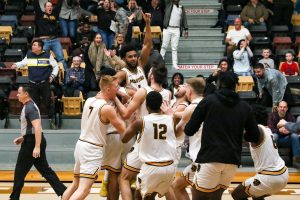 Photo Courtesy: Dave Mahussier, Bisons Sports 
If there was one takeaway this weekend in the showdown between Manitoba and Saskatchewan, it's that a result can change at a moments notice. Each game featured buckets in the final seconds, one by Keiran Zziwa and the other by Emmanuel Akintunde as each team went home with a win. Saskatchewan will look to take the momentum from Akintunde's winner (in overtime on Sunday afternoon) to next weekend in a matchup with the conference-leading Dinos. It was business as usual this past weekend for the Dinos as Brett Layton once again had a 20/20 game (his second of the season) and dominated the other matchup on the road against Winnipeg. Two other stars put up massive games on the road this weekend in Canada West. Matthew Ellis, in game one of the Legends Cup Rivalry, had 39 points and 16 rebounds in a victory in Vancouver against UBC. Not to be outdone, Thunderbirds star Jadon Cohee had 29 points in game two of the weekend set on the Vikes home floor to help his team to a weekend split with their rivals. Another west coast rivalry saw a dominant performance from Parm Bains as UFV is officially on a roll. The Cascades knocked off the Trinity Western Spartans in back to back games this weekend and have now won five in a row including four straight since they upset UBC. The other BC team that continues to defy expectations, the Thompson Rivers WolfPack, picked up two more wins this weekend and will take their 11-3 record on the road next week to Victoria in what will be their first major test of the second half of the season. Finally, the Alberta Golden Bears dominated inner city rival MacEwan and are quietly 13-1 with a matchup against Calgary just two weeks away.
OUA- Stars Gray, Kokko and Shiddo put up video game like numbers in massive wins
M 🏀: FOURTH QUARTER HIGHLIGHTS

8 seconds left on the shot clock and Mustangs lead by 8 against the @McMasterSports, 84-76.

Watch a great play by Farkic and Jenkins, scoring a 2. #WesternMustangs #RunWithUs #westernu #WESvsMAC pic.twitter.com/pWNsLH4xNY

— Western Mustangs (@WesternMustangs) January 18, 2020
Last week, I billed the game of the week as the nationally ranked McMaster Marauders against the Western Mustangs and the game did not disappoint. It was a tight game from start to finish and once again, the Mustangs key players rose above in the moments that mattered most. Omar Shiddo had 35 points and the Mustangs staved off an 0-2 weekend. The reason they came in 0-1 was an outstanding performance from Noah Lapierre (23 points) and the Brock Badgers. Unlike the Mustangs, the Marauders were not able to avoid an 0-2 weekend as Windsor and hometown star Thomas Kennedy knocked them off on Wednesday night. Lakehead is also nationally ranked and after a 2-0 weekend head into a key game against Laurentian next week playing as well as they have all season. Unfortunately for them, Voyageurs superstar Kadre Gray may be playing better than anyone else in the country as the guard had another noteworthy night, this time heading home with a triple-double and a victory. The Thunderwolves and Voyageurs matchup will be one of the best of the next week. The same can be said about Ryerson's back-to-back home matchups against Ottawa and Carleton. Ryerson is as hot as anyone in the country and with a big three of Tevaun Kokko, Jayden Frederick and Tanor Ngom, have the ability to beat anyone when all are healthy. All three teams come into the weekend having dominated their previous games this week and will look to make a statement to the rest of the nation. Watch out for Kokko who is coming off a 30 ppg against U of T and Waterloo. For the Gee-Gees, Calvin Epistola has been one of the OUA's best all year as has the Ravens Lloyd Pandi. With matchups like these and the Laurentian vs Lakehead game, it will certainly help provide some clarity as to who is truly elite in Ontario this season.
AUS- Tigers get back on track while Omar and Legallais have outstanding performances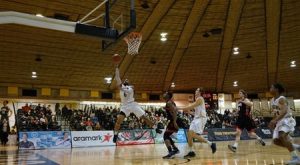 Photo Courtesy: Evan De Silva 
The Dalhousie Tigers regained their winning form this week. After a shocking loss last Sunday against StFX, the Tigers rebounded against Acadia and UNB with Keenan Veinot leading the way. Dal will play Saint Mary's next week in their inner-city rivalry game. The Huskies meanwhile will be coming off a loss to UNB. Two Australians, Daniel Pitcher and Matur Maluach, led the way for the Varsity Reds in the victory. Who now sit in second place. While the team holding down third place, StFX, came away with a big win against Acadia. Mount Allison transfer Thomas Legallais scored a career-high 31 points and was the major catalyst for the X-Men by coming out with 21 first half points. StFX's next opponent is UPEI who suffered a tough road loss to Cape Breton on Saturday Night. The Capers Osman Omar was the star of the show, finishing with 25 points and six steals. At 5-6, the Capers will head to St. John's on Saturday night to take on Memorial.
RSEQ- Mayali and Adin duel in Montreal while Desjardin's leads the Rouge-Et-Ore to win number one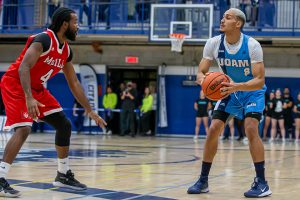 Photo Courtesy- UQAM Citadins Athletics
It was a battle of Montreal this week and after game one, I was calling for McGill to be ranked. They were winners of seven straight and I thought had clearly separated themselves enough from the conference to garner a ranking. But, UQAM had other plans. Jamal Mayali was great for the second game in a row and even despite that, with the help of French national Hugo Adin's 24 points, the Citadins emerged victorious. This wasn't even the most surprising result of the RSEQ this weekend though as Bishop's entered this season ranked and full of optimism. Fast forward to today and they are 2-5 and coming off back-to-back losses to previously winless Laval. Nervens Demosthene gave his usual great effort for the Gaiters yet even still, thanks to Nicolas Desjardins and his Rouge-Et-Or teammates, it was back to back losses for the preseason favourite. Next week hardly gets easier for them as they will take on the Citadins in back-to-back games. While McGill will try and rebound versus Concordia and Laval gets a week off after their first two wins of 2019-20.  
Upset Special- Windsor Beats McMaster
M🏀FINAL:

🚨UPSET🚨

The #BlueAndGold stun the @USPORTSca No. 6 @McMasterSports in Hamilton!! 90-86!! Shak Pryce with the game winner!! #BuiltByCulture pic.twitter.com/n6pOClliLG

— Windsor Lancers (@WindsorLancers) January 16, 2020
At the start of the game, McMaster was ranked #6 in the country and Windsor was sitting with a .500 record yet, once the game tipped off all of that went out the window. By the end of the first quarter the Lancers had the lead and thanks to an outstanding effort from hometown star Thomas Kennedy and clutch shot making from Shakael Pryce, the #6 team in the country went down at home. When a team has a star like Kennedy, they can beat anyone on any night and unfortunately for the Marauders, they found that out the hard way.        
Player of the Week- Tevaun Kokko (Ryerson) 30 points, 4.5 rebounds, 3.5 assists and 1.5 steals
(versus Waterloo and Toronto)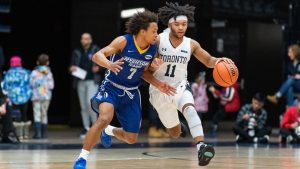 Photo Courtesy: Henry Zhao 
When Tevaun Kokko joined the Ryerson Rams in the offseason, fans weren't really sure what to expect. Although he had some accolades at Laurier, people wondered how he'd fit in the Rams offence. Well, the answer is seamlessly. Kokko is currently third in the OUA in scoring and this past weekend, in which he averaged 30 points, 4.5 rebounds, 3.5 assists and 1.5 steals, was just another indicator of just how good he is. Every time he steps on the floor it seems like a fireworks show. If you want to learn more about Kokko's journey to Ryerson, click here!
            Runners up: Canada West- Brett Layton (Calgary) / AUS- Thomas Legallais (StFX) / RSEQ- Nicolas Desjardins (Laval)
Why we love USPORTS- Huskies and Bisons make every second count
KEIRAN ZZIWA. ❄️❄️❄️

The No. 10 @BisonMBB knock off No. 9 @saskhuskies with this double-clutch dagger on Saturday afternoon!!#WeAreAllBisons pic.twitter.com/oMjbopyY8I

— Manitoba Bisons 🦬 (@umbisons) January 18, 2020
 I mean how can you not pick the battle these two teams went through for why to love USPORTS. Two nationally ranked teams and all that decided their games was buzzer beaters?! It was the type of showing that reminded you not only why to watch games like these, but also, the importance of every second in this sport. Both teams were seconds away from sweeping each other, alternating wins or getting swept, you really couldn't ask for much more.  
👀 Emmanuel Akintunde is clutch! Huskies win in OT#HuskiePride pic.twitter.com/kyFmkHhhKu

— Huskie Athletics (@HuskieAthletics) January 19, 2020
Game of the week- Calgary vs Saskatchewan
Well for starters, the last time Saskatchewan played a nationally ranked opponent, both games ended with last second shots so there's definitely that. But much more is the fact that this is the first time Calgary has faced a major opponent since UBC to open the season. The Dinos have been rolling but is it because of competition or talent? Obviously, Brett Layton is a force unlike anything else in the country this season but the rest of the roster remains largely unproven in big spots. Tune in this weekend against the Huskies to see what exactly this Calgary team is made of.
USPORTS National Top 10
🏀U SPORTS Top 10: @CURavens 1⃣@AUS_SUA | @CanadaWest | @OUAsport | @RSEQ1 | @CanBball #ChaseTheGlory | #ViserHaut

🔗EN: https://t.co/4de4oA8Yjx /🔗FR: https://t.co/nGL1Mf9T9m pic.twitter.com/aptyQBKXfs

— U SPORTS (@USPORTSca) January 21, 2020
The only major change to this week's rankings comes in at number ten as McMaster was able to hang on to their spot despite two losses. Watch out for two games this week that feature top ten opponents as Laurentian heads to Lakehead and Saskatchewan hosts Calgary. It should be another outstanding week across the country!