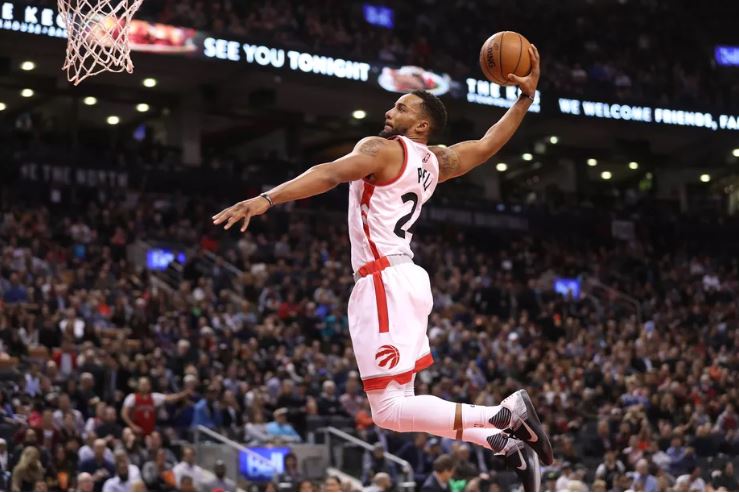 Norman Powell Rising: The NBA's best kept secret
The High 5 – Week in Review – Week
The High 5 is where I review the last week of Toronto Raptors basketball including how the team did, who were the impact players as well as some news and notes from around the league.
The Thumb – How was the week?
The Raptors entered the week nearly at full strength after what felt like months of roster rotations. Fred VanVleet's Saturday night return finally gave Coach Nurse a full deck of cards as he rejoined Gasol, Powell and Siakam in regular duties. It's been so long since the Raptors had such a healthy complement that it's easy to forget how good this team actually is. Despite all their injuries, they have been able to maintain an impressive 2nd ranked defensive rating. As other teams consider roster moves with the impending trade deadline, the Raps are only getting stronger with each passing game. After swapping victories and defeats over these last few weeks, Toronto was poised to go on another win streak.
Week record (3 – 0) Overall Record (28 – 14)
Toronto Raptors v Oklahoma City Thunder – W 130 – 121
The Raptors have recently developed the bad habit of giving up big leads. Although this results in exciting back and forth action, it's not a measure becoming of a champion and it was an issue that Coach Nurse needed to solve quick. His answers did not come on Wednesday night as the Raptors once again coughed up a massive lead to a very dangerous team. Just over two weeks ago, the Thunder gave Toronto a reality check behind the brilliance of Shai Gilgeous-Alexander, since then, the Raptors have been itching for payback. Toronto's offense was locked in, they shared the rock effortlessly resulting in a well-balanced attack. 7 players scored in double figures, 3 of which topped 20 plus. Powell was especially impressive off the bench, hitting 9 of 11 for a team high 23 points. The Raptors built a sizable lead, but the Thunder rallied with furious intent to cut it down to 3 points. In the dying minutes, Lowry came up with a pair of clutch baskets to finally seal the win. Toronto bent but did not break and were able to stave off OKC for a big road victory.
Washington Wizards v Toronto Raptors – W 140 – 111
The lowly Wizards visited Toronto on Friday night for the second time this season. In their first meeting, the Raptors narrowly etched out a 4-point win with a depleted roster. This time around, they were much healthier and excited to take advantage of a vastly inferior opponent. Toronto's defense was immediately suffocating. They ran off every forced turnover with a killer's mentality and a sense of urgency. OG was especially impressive in this stretch highlighting his efforts by setting up Siakam for a huge alley-oop. Toronto's defence was exceptional, they forced 26 turnovers, but the story of the game was their scorching offense. They hummed the ball around the court and made the extra pass for easy looks, finishing the game with an impressive 35 team assists. A finally healthy Gasol lit up the Wizards from beyond the arc while Powell led all players with 28 points. Washington had no answer for Toronto's onslaught, even notable Raptor killers Beal and Smith were held to a paltry 14 and 12 points respectively. The Raptors built a big lead and held it as they stomped out Washington in dominant fashion.
Toronto Raptors @ Minnesota Timberwolves – W 122 – 112
The Timberwolves came into Saturday nights action losers of 4 straight. Toronto, on the other hand, just reeled off two wins and have started to build momentum, once again looking like a well-oiled machine. However, it was the Wolves that set the pace early behind the enigmatic Andrew Wiggins. The Raptors stayed the course and traded punches until mid way through the third. That's when the leagues most dangerous back court woke up. Lowry put his stamp on the game as he dug out loose balls, triggered fast breaks, drove aggressively and hit from deep. A returning VanVleet led all scorers with 29 points in 29 minutes, including 7 – 8 from downtown. With no real guard presence on the Wolves, Lowry, VanVleet and a red-hot Norm Powell went scorched Earth, combining for 77 points. Though Wiggins notched his first career triple double, it was all for naught as the Raptors walked away with an easy victory.
The Index – The Leader – Player of the Week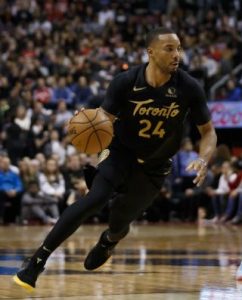 Norm Powell
Powell began his career under the tutelage of DeMar DeRozan, and in his care he learned how to slash to the rim and absorb contact. Last year, he learned how to maximize his intangibles on both sides of the ball from All-World Kawhi Leonard and how to effectively relocate from beyond the arc from sharpshooter Danny Green. This season, he has applied these lessons in what is becoming a career year. Norm has steadily increased his scoring average by evolving into one of the Raptors most consistent shooters. He is an educated defender, automatic from the corners and a menace in the open floor. Norm has been making opponents pay whenever they give him space and when they crowd him, he explodes to the rim with grace and power. Powell has developed into the prototypical 3 and D guy and is one of the leagues most underrated players.
| | | | | | | | | |
| --- | --- | --- | --- | --- | --- | --- | --- | --- |
|   | Points | Rebounds | Assists | Steals | Blocks | FG | 3PT | FT |
| v OKC | 23 | 2 | 0 | 0 | 0 | 9/11 | 3/4 | 2/2 |
| v WSH | 28 | 5 | 2 | 3 | 1 | 10/17 | 4/9 | 4/5 |
| v MIN | 20 | 3 | 4 | 2 | 0 | 8/15 | 1/5 | 3/3 |
| | | | | | | | | |
| Week Avg | 23.6 | 3.33 | 2 | 1.6 | 0.33 | 27/43 | 8/18 | 9/10 |
| |   |   |   |   |   | 63% | 44% | 90% |
| Season Avg | 15.5 | 3.8 | 1.8 | 1.2 | .04 | 51.3% | 40.4% | 83.5% |
| | | | | | | | | |
Honourable Mention: Kyle Lowry
The Middle – The Enemy – Best Opposing Player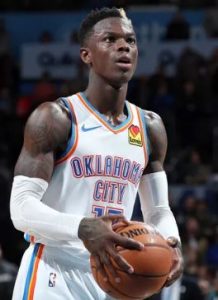 Dennis Schroder
Dennis Schroder, the oft forgotten guard in OKC, had a solid game against the Raptors. He was part of the group that ignited OKC's furious rally as he contributed a collection of smooth triples, knifing drives, open court steals and shiny dimes. His blistering speed puts him among the fastest in the league and his wiry frame allows him to weave into the smallest of spaces. Unfortunately, Schroder has never been able to show this type of effort with consistency, so consider this the exception rather than the norm.
| | | | | | | | | |
| --- | --- | --- | --- | --- | --- | --- | --- | --- |
|   | Points | Rebounds | Assists | Steals | Blocks | FG | 3PT | FT |
| v TOR | 25 | 3 | 6 | 2 | 0 | 10/17 | 5/10 | 0/0 |
Honourable Mention: Chris Paul (OKC), Andrew Wiggins (MIN)
The Ring – The X Factor – Standout Performance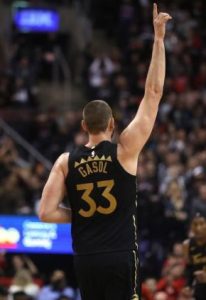 Marc Gasol v Washington Wizards
Gasol turned back the clock for a vintage performance against the Wizards on Friday night. He looked spry and rejuvenated and gave the starting unit a much-needed boost of intelligence and poise. He kept the ball moving from the high post while anchoring the defense and directing players like traffic patrol. He played with confidence and showed excellent lift and pace to his step. Big Spain's jumper was wet, he went 7 – 9 from the field, and made it rain from distance with a career best (tying) 6 triples, for 20 points.
Honourable Mention: Powell v Thunder, VanVleet v Wolves, Lowry v Wolves
The Pinky – The Unsung Hero – Key Contributor
Kyle Lowry
Kyle Lowry continued his All-Star campaign with another excellent week. He carries himself like a champion and his attitude and swagger rubs off on his teammates. Like a true superstar, he has taken over down the stretch of games, dominated his matchup and has elevated the play of anyone that he shares the floor with. He has found his three-point stroke and continues to attack the rim with purpose. Kyle is orchestrating beautiful music while still being the toughest guy in the room.
Honourable Mention: Fred VanVleet, OG Anunoby
News and Notes
Buckets! – The Raptors exploded against the Wizards for 140 points. This is the most the team has ever scored in a regulation game. And this was without Fred VanVleet!
Ma Fuzzy Menu – Ever the food connoisseur, Serge Ibaka released a beautiful YouTube video cataloging some of the best places to eat in the city. Not only does it show the diversity of Canadian culture, but it also shows how much Ibaka has embraced the 6.
 Around the League
Just the beginning – The WNBA announced a new CBA agreement that made significant changes to the benefit of the players. Most notably, a 30% increase to the salary cap, increased endorsement opportunities, maternity leave, and improved travel accommodations.
Marketing Genius – In anticipation of his upcoming sequel to Space Jam, LeBron James is set to debut a Monstars inspired colourway shoe on February 14th followed by a Tune Squad inspired colourway the next night.
Betcha can't eat just one – Anthony Davis has paired up with Ruffles to create his own flavour; Lime and Jalapeno. If it is as good as a chip as he is a player, it may be one of the greatest chips of our generation.

Photo Courtesy: Tommaso Boddi/Getty Images for Ruffles
Up Next
Toronto will visit Atlanta for a rare 2:30 pm Monday afternoon game. The random start time is to recognize Martin Luther King Day celebrations. On Wednesday, the 76ers come to town for what will no doubt be a highly anticipated and well publicized matchup. Friday night sees the Raptors head to the Big Apple to take on the Knicks at the Mecca of Basketball, Madison Square Gardens. They finally end a busy week with a revenge game against the Spurs in San Antonio. You can bet Toronto already has that date circled on their calendars.