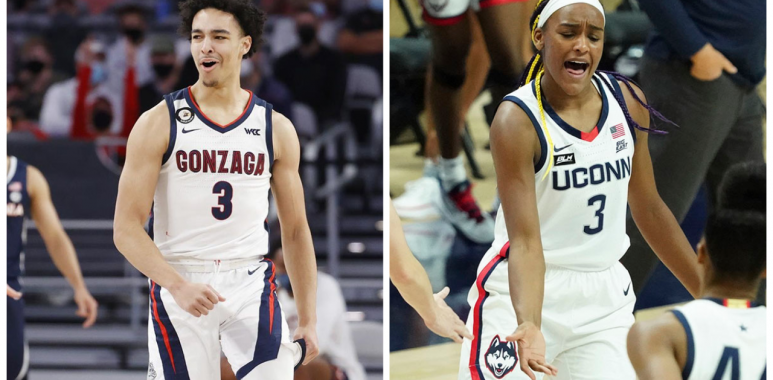 Between both the men's and women's bracket, Canada well represented in March Madness Final Four
For the first time since 2017 when four reached the men's final four, a Canadian will touch the court on college basketball's biggest stage. Nine Canadians entered the weekend with hopes of cutting down the nets and just Andrew Nembhard and the undefeated Bulldogs of Gonzaga accomplished the feat. 
Canadians to make Men's #FinalFour (since 2010):

Noel Jones (2013)
Nik Stauskas (2013)
Nick Wiggins (2013)
Trey Lyles (2015)
Dinjiyl Walker (2016)
Dillon Brooks (2017)
Chris Boucher (2017)
Dylan Ennis (2017)
Duane Notice (2017)
Andrew Nembhard (2021)

— Lukas Weese (@Weesesports) March 31, 2021
It was a weekend full of great moments and raw emotion, with Canadians hardly being left out. Joshua Primo and Keon Ambrose-Hylton's #2 Alabama squad lost a heartbreaker to tournament cinderella UCLA. 
Still in shock that it's over.. each and everyone of the guys on this team left it all on the floor this year. Not how we wanted it to end but looking back we exceeded the expectations of many and proved a lot of people wrong. Beyond grateful I got to be apart of it.. Brothers ❤️ pic.twitter.com/Kky4NOVTA1

— Joshua Primo (@JoshuaPrimo4) March 30, 2021
It's clear Primo like so many before him will head home from the tournament shocked and disappointed. 
Luckily, for the ups and downs of the men's side, the women's tournament delivered time and again. Between high-profile matchups, down to the wire finishes and dominant Canadian performances, once again it seems the women's half of Canada basketball outperformed the men. 
Of the four women in the Final4 three of them were a part of the 2015 FIBA Americas U16 Gold Medal winning team while Aaliyah Edwards will likely be the youngest member of the next SWNT Olympic team. Amazing to see a plan come together for the @CanBball women's high performance👏

— Jason Thom🇨🇦🏀 (@_jasonthom) March 31, 2021
Each of the four programs to reach the final four in San Antonio will feature a Canadian. #1 UCONN has star freshmen Aaliyah Edwards, #1 Stanford has Alyssa Jerome, #3 Arizona has Shaina Pellington and finally, #1 South Carolina has Laeticia Amihere. 
27 Canadian women entered the tournament and these four are the only ones who remain.
Similarly, Nembhard is the last of the 25 Canadian men to crack March Madness. After an undefeated season up to this point, the Zags will look to close out their first national championship in program history in style on Saturday and then Monday night. 
The women's tournament meanwhile will play the semifinals Friday and the national championship Sunday. All games, both men's and women's, can be found on TSN. 
Men's Results
| | | | |
| --- | --- | --- | --- |
| Name | School | Sweet Sixteen  | Elite 8 |
| Keon Ambrose-Hylton | #2 Alabama  | DNP in loss vs #11 UCLA | Out  |
| Maurice Calloo | #12 Oregon State | 6 points, 1 assist, 2-5 FG in win vs #8 Loyola Chicago  | 13 points, 5 rebounds, 4-7 FG in loss vs #2 Houston  |
| Chris Duarte | #7 Oregon | 21 points, 5 rebounds, 6 assists, 3 steals in loss vs #6 USC | Out |
| Quincy Guerrier | #11 Syracuse | 8 points, 5 rebounds, 1 steal, 1 block in loss vs #2 Houston | Out  |
| Nathanael Jack | #4 Florida State | 2 rebounds in loss vs #1 Michigan  | Out  |
| Andrew Nembhard | #1 Gonzaga | 17 points, 4 rebounds, 8 assists in win vs #5 Creighton  | 7 points, 4 assists, 1 steal in win vs #6 USC |
| Eugene Omoruyi | #7 Oregon | 28 points, 10 rebounds, 2 assists, 2 steals in loss vs #6 USC | Out  |
| Joshua Primo | #2 Alabama | 6 points, 2 rebounds, 2-6 FG in loss vs #11 UCLA  | Out  |
| Aher Uguak | #Loyola Chicago | 8 points, 1 rebound, 1 steal in loss vs #12 Oregon State | Out  |
Women's Results
| | | | |
| --- | --- | --- | --- |
| Name | School | Sweet Sixteen  | Elite 8 |
| Laeticia Amihere  | #1 South Carolina | 15 points, 7 rebounds, 1 assist, in a win vs #5 Georgia Tech | 10 points, 8 rebounds, 1 assist, in a win vs #6 Texas |
| Hailey Brown  | #6 Michigan | 6 points, 4 rebounds, 4 assists in a loss vs #2 Baylor | Out  |
| Kiandra Browne | #4 Indiana | 3 points, 2 rebounds in win vs #1 NC State | 1 rebound, 1 assist in loss vs #3 Arizona |
| Rebecca Demeke | #1 NC State | DNP vs #4 Indiana | Out |
| Aaliyah Edwards | #1 UCONN | 18 points, 3 rebounds, 2 assists, in win vs #5 Iowa | 4 points, 7 rebounds, 1 assist in win vs #2 Baylor |
| Alyssa Jerome | #1 Stanford  | 1 assist in win vs #5 Missouri State | DNP in win vs #2 Louisville |
| Shaina Pellington | #3 Arizona | 6 points, 1 rebound, 3 assists in vs #2 TAMU  | 2 points, 1 rebound, 1 assist in win vs #4 Indiana |
| Merissah Russell | #2 Louisville | DNP in win vs #6 Oregon | DNP in loss vs #1 Stanford  |