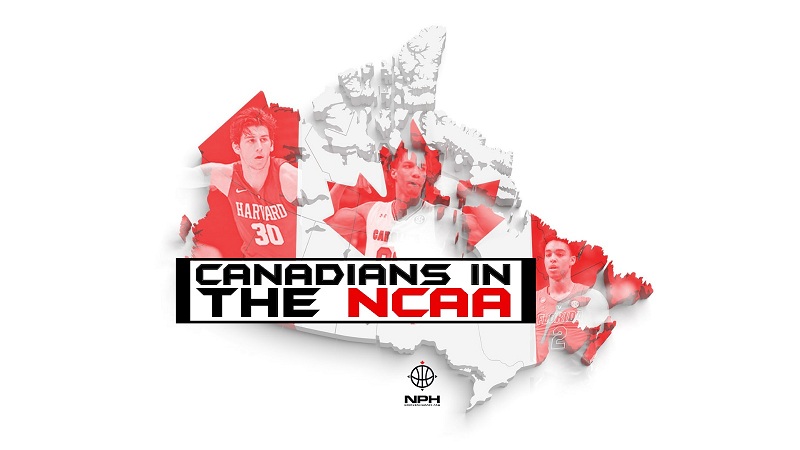 Record 150 Canadians Playing NCAA D1 Men's Basketball in 2019-2020
What a time to be alive for Canadian basketball fans, eh?
First, the Raptors ended the championship drought in Toronto after dethroning the Golden State Warriors in six games. A week later, Canada set an international NBA Draft record with six Canadians being selected at the NBA draft, which saw the likes of RJ Barrett, Nickeil Alexander-Walker, and Brandon Clarke getting selected in the first round.
Now to cap it all off, 150 Canadians are expected to represent the red and white at the Division 1 level in the NCAA, breaking last season's record of 133 Canadians. Like last year's class that featured RJ Barrett, this year will also feature an influx of talented freshmen led by Addison Patterson of the Oregon Ducks. Andrew Nembhard (Florida Gators) and A.J. Lawson (South Carolina Gamecocks) are also returning after toying with the NBA draft following their impressive freshman campaigns.
As usual, Ontario is still producing the majority of the players coming out of Canada. The top three NCAA prospect producing cities for this season are as follows: Toronto, Brampton, and Montreal.
With interest in the sport at an all-time high and NCAA coaches taking regular recruiting trips north of the border, it's only a matter of time before Canada hits the 200 player mark, a feat that might not have been imaginable just a decade ago. Right now the list is at 150 Canadian men playing D1 basketball.
| | | | | | | |
| --- | --- | --- | --- | --- | --- | --- |
| A.J. Lawson | South Carolina | GTA Prep | Brampton | G | 6-6 | So |
| Aaryn Rai | Dartmouth | Orangeville Prep | Markham | F | 6-6 | Jr |
| Abdul Mohamed | North Texas | Gillette College | Ottawa | G | 6-7 | Jr |
| Abu Kigab | Boise State | Prolific Prep | St. Catharines | F | 6-6 | Jr |
| Addison Patterson | Oregon | Bella Vista College Prep | Milton | G | 6-8 | Fr |
| Adham Eleeda | Northern Kentucky | Toronto Academy Prep School | Kitchener | G | 6-5 | Jr |
| Aher Uguak | Loyola IL | Harry Ainlay Composite High School | Edmonton | F | 6-7 | Jr |
| Ahmed Ali | Hawaii | Bigger Than Basketball Prep | Toronto | G | 5-11 | Sr |
| Alex Christie | Stony Brook | MacDuffie School | Oakville | C | 7-0 | So |
| Alonzo Walker | Portland State | Athlete Institute Prep | Brampton | F | 6-6 | Sr |
| Amidou Bamba | Charlotte | High Point Christian Academy | Toronto | F | 6-8 | Sr |
| Amir Gholizadeh | Chicago State | Toronto Basketball Academy | Toronto | F | 6-6 | Fr |
| Andrew Nembhard | Florida | Montverde Academy | Toronto | G | 6-5 | So |
| Anthony Longpre | Saint Josephs | Glenelg High School | Montreal | F | 6-10 | Jr |
| Antoine Vernon | Oregon State | The RISE Centre Academy | Hamilton | G | 6-0 | So |
| Bahaide Haidara | George Mason | Dawson College | Montreal | G | 6-6 | Fr |
| Ben Hendriks | Ball State | Orangeville Prep | Mississauga | C | 6-10 | Fr |
| Ben Krikke | Valparaiso | Jasper Place High School | Edmonton | F | 6-9 | Fr |
| Blondeau Tchoukuiengo | New Hampshire | Cegep de Sainte Foy | Montreal | G | 6-2 | Fr |
| Brandon Cyrus | UC Santa Barbara | La Lumiere School | Oakville | G | 6-5 | Jr |
| Brandon Kenyon | IUPUI | The RISE Centre Academy | Caledon | F | 6-10 | So |
| Callum Baker | Fairleigh Dickinson | St. James School | Toronto | G | 6-0 | Fr |
| Cashius McNeilly | Texas A&M | Thornlea Secondary School | Scarborough | G | 6-4 | Fr |
| Chris Duarte | Oregon | Redemption Christian | Montreal | G | 6-6 | Jr |
| Christian Bentley | Youngstown State | First Love Christian Academy | Brampton | G | 6-3 | Jr |
| Christian David | Butler | Vermont Academy | Milton | F | 6-6 | Jr |
| Christian Rohlehr | St Francis NY | Notre Dame Catholic High School | Toronto | C | 6-9 | Sr |
| Clayton Henry | New Mexico State | Bishop McNally High School | Calgary | G | 6-4 | Sr |
| Cody John | Weber State | Wasatch Academy | Mississauga | G | 6-3 | Sr |
| D'Andre Bernard | Louisiana Monroe | Bill Crothers Secondary | Ajax | F | 6-8 | Sr |
| Dalano Banton | Nebraska | Redemption Christian Academy | Toronto | G | 6-8 | So |
| Damion Squire | UC Davis | Wasatch Academy | Montreal | G | 6-0 | So |
| Dane Quest | Tennessee Tech | Lake Forest Academy | Toronto | G | 6-6 | Fr |
| Daniel Sackey | Valparaiso | 22ft Basketball Academy | Winnipeg | G | 5-9 | So |
| Danilo Djuricic | Harvard | St. Michael's College School | Mississauga | F | 6-8 | Jr |
| Dantai St. Louis | Canisius | Orangeville Prep | Brampton | F | 6-8 | Sr |
| Dario Milojevic | Mississippi Valley State | Herman/Rogers Academy | Brampton | F | 6-8 | Fr |
| Deon Ejim | Illinois Chicago | The RISE Centre Academy | Toronto | F | 6-7 | Fr |
| Devonte Bandoo | Baylor | Faith Baptist Christian Academy | Brampton | G | 6-3 | Sr |
| Dominic Johnson | Buffalo | Catholic Central High School | Windsor | F | 6-5 | Jr |
| Dylan Morrison | Lamar | First Love Christian Academy | Brampton | F | 6-7 | Jr |
| Elijah Ifijeh | Louisiana Monroe | CYM Prep | Montreal | F | 6-7 | Jr |
| Elijah Lufile | Oral Roberts | Clarkson Secondary School | Toronto | F | 6-8 | So |
| Elijah Mitrou-Long | UNLV | The John Carroll School | Mississauga | G | 6-1 | Sr |
| Emanuel Miller | Texas A&M | Golden State Prep | Scarborough | F | 6-7 | Fr |
| Emmanuel Akot | Boise State | Wasatch Academy | Winnipeg | G | 6-8 | Jr |
| Emmanuel Bandoumel | Southern Methodist | Jean-de-Brébeuf High School | Quebec City | G | 6-4 | So |
| Emmanuel Kuac | New Mexico | Kearns High School | Calgary | G | 6-6 | Fr |
| Eric Beckett | Vermont | Tilton School | Ajax | G | 6-4 | Fr |
| Eugene Omoruyi | Oregon | Orangeville Prep | Toronto | F | 6-6 | Sr |
| Eze Dike | Yale | Kimball Union Academy | Montreal | G | 6-2 | So |
| Fahim Jenneto | Delaware State | Thornlea Secondary School | Thornhill | F | 6-7 | So |
| Fardaws Aimaq | Utah Valley | Bridgton Academy | Richmond | F | 6-1 | So |
| FoFo Adetogun | Missouri Kansas City | Edge Prep | Regina | G | 6-1 | Fr |
| Gabe Osabuohien | West Virginia | Southwest Christian Academy | Scarborough | F | 6-7 | Jr |
| Gabriel Gyamfi | Maryland Eastern Shore | Cardinal Leger Secondary School | Brampton | F | 6-6 | Sr |
| Godwin Boahen | Illinois Chicago | The Hill Academy | Toronto | G | 5-11 | Sr |
| Howard Washington | Syracuse | Athlete Institute Prep | Buffalo (NY) | G | 6-3 | Jr |
| Ian Lee | Howard | Dohn Community High School | Toronto | G | 6-1 | Fr |
| Irshaad Hunte | Texas AM CC | Saddleback Valley Christian High School | Toronto | F | 6-8 | Sr |
| Isaac Hippolyte | Coastal Carolina | St. Joseph Regional High School | Richmond Hill | F | 6-7 | So |
| Isiah Jasey | Southern Methodist | Sunrise Christian Academy | Ottawa | F | 6-10 | Jr |
| Isiaha Mike | Southern Methodist | Trinity International | Scarborough | F | 6-8 | Jr |
| Ja'Shon Henry | Bradley | Athol Murray College of Notre Dame | Wilcox | F | 6-6 | So |
| Ja'Shonte Wright McLeish | Maine | College Jean De Brebeuf | Montreal | G | 6-4 | Fr |
| Jace Colley | Chicago State | Holland College via Toronto Basketball Academy | East Preston | F | 6-7 | Jr |
| Jackson Rowe | Cal State Fullerton | Wasatch Academy | Toronto | F | 6-7 | Sr |
| Jaden Bediako | Santa Clara | Ridley College | Brampton | C | 6-10 | Fr |
| Jaelin Llewellyn | Princeton | Virginia Episcopal School | Toronto | G | 6-2 | So |
| Jahbril Price-Noel | Pacific | Gould Academy | Toronto | G | 6-7 | So |
| Jahcobi Neath | Wake Forest | Crestwood Preparatory College | Toronto | G | 6-3 | Fr |
| Jahmal Wright | Maryland Eastern Shore | St. Michael's College School | Toronto | G | 6-6 | Jr |
| Jahvon Blair | Georgetown | Athlete Institute Prep | Brampton | G | 6-3 | Jr |
| Jalen Poyser | McNeese State | Athlete Institute Prep | Mississauga | G | 6-4 | Sr |
| Jalen Warren | Florida Gulf Coast | London Basketball Academy | Milton | G | 6-3 | Jr |
| James Jean-Marie | San Diego | Athlos Leadership Academy | Montreal | F | 6-7 | Jr |
| James Karnik | Lehigh | Orangeville Prep | Surrey | C | 6-9 | Jr |
| Javon Brown | Binghamton | Westminster Classical Christian Academy | Toronto | G | 6-5 | Jr |
| Jeremiah Usiosefe | Western Illinois | The Hill Academy | Hamilton | G | 6-5 | Sr |
| Jermaine Haley | West Virginia | Sunrise Christian Academy | Burnaby | G | 6-7 | Sr |
| Jerome Desrosiers | Princeton | Northfield Mount Hermon School | Saint Hyacinthe | F | 6-7 | Jr |
| Joel Brown | California | Brewster Academy | Brampton | G | 6-2 | Fr |
| Jonathan Kabongo | Virginia Tech | Putnam Science Academy | Toronto | G | 6-4 | So |
| Jordan Lyons | Mississippi Valley State | Athlete Institute Prep | Brampton | F | 6-7 | Jr |
| Jordy Tshimanga | Dayton | MacDuffie School | Montreal | C | 6-11 | Jr |
| Josh Inkumsah | Fort Wayne | London Basketball Academy | Barrie | F | 6-7 | So |
| Josip Vrankic | Santa Clara | Wasatch Academy | Etobicoke | F | 6-8 | Jr |
| Kalif Young | Providence | Orangeville Prep | Toronto | F | 6-9 | Sr |
| Kamar McKnight | Coppin State | St. Benedict's Prep School | Toronto | G | 6-4 | Sr |
| Kaosi Ezeagu | UTEP | GTA Prep | Brampton | F | 6-10 | So |
| Kareem South | California | Kiski School | Scarborough | G | 6-3 | Sr |
| Kasheem Thomas | Cleveland State | Champlain Saint Lambert | Quebec City | G | 6-0 | Sr |
| Keeshawn Barthelemy | Colorado | Athlete Institute Prep | Montreal | G | 6-2 | Fr |
| Keshaun Saunders | Toledo | Orangeville Prep | Brampton | G | 6-5 | Fr |
| Keshon Montague | Western Illinois | Mountain Mission High School | Brampton | G | 6-0 | Sr |
| Kevin Hamlet | Central Michigan | St. Benedict's Preparatory School | North York | F | 6-7 | Sr |
| Kevin Kangu | Oakland | Archbishop John Carroll High School | Burlington | G | 6-4 | Jr |
| Khaleem Bennett | Central Arkansas | Sunrise Christian Academy | Hamilton | G | 6-4 | So |
| Koby McEwen | Marquette | Wasatch Academy | Toronto | G | 6-4 | Jr |
| Kur Jockuch | Northern Colorado | London Basketball Academy | London | F | 6-9 | So |
| Liam McChesney | Utah State | Charles Hayes Secondary | Prince Rupert | F | 6-10 | Fr |
| Luka Sakota | Harvard | King's Christian Collegiate | Etobicoke | G | 6-5 | Fr |
| Luke Howard | Lipscomb | Harding Academy | Abbotsford | F | 6-7 | Fr |
| Malcolm Bailey | Colgate | Ridley College | Stratford | F | 6-10 | Fr |
| Marcus Carr | Minnesota | Montverde Academy | Toronto | G | 6-1 | So |
| Marcus Ottey | Illinois Chicago | St. Benedict's Prep School | Toronto | G | 6-2 | Sr |
| Marquell Fraser | Idaho | Mountain Mission High School | Hamilton | G | 6-4 | Sr |
| Matey Juric | Drexel | Lake Forest Academy | Toronto | G | 5-11 | So |
| Matt Grace | Richmond | The RISE Centre Academy | Hamilton | F | 6-9 | So |
| Matt Neufeld | UC Davis | Sunrise Christian Academy | Victoria | C | 6-11 | Sr |
| Maurice Calloo | Cleveland State | Oak Hill Academy | Windsor | F | 6-8 | So |
| Max Cheylov | UC Santa Barbara | Calabasas High School | Toronto | G | 6-3 | Fr |
| Maxime Boursiquot | Northeastern | Kent School | Ottawa | F | 6-5 | Jr |
| Michael Nuga | Kent State | Brebeuf Jesuit Preparatory School | Toronto | G | 6-2 | Jr |
| Michael Okafor | Manhattan | Wasatch Academy | Toronto | G | 6-4 | Jr |
| Miguel Tomley | Santa Clara | The RISE Centre Academy | Surrey | G | 6-3 | Fr |
| Mychael Paulo | Montana State | Father Henry Carr Catholic Secondary School | Toronto | G | 6-4 | Jr |
| Nate Darling | Delaware | DeMatha Catholic High School | Halifax | G | 6-5 | Jr |
| Nathan Cayo | Richmond | College Jean De Brebeuf | Montreal | F | 6-7 | Jr |
| Nathanael Jack | Florida State | Calusa Preparatory School | Mississauga | G | 6-5 | Jr |
| Nick Ongenda | DePaul | Southwest Christian Academy | Brampton | C | 6-11 | Fr |
| Nikola Djogo | Notre Dame | Athlete Institute Prep | Stoney Creek | G | 6-7 | Sr |
| Noah Kirkwood | Harvard | Northfield Mount Hermon School | Ottawa | G | 6-7 | So |
| Nolan Narain | San Diego State | La Lumiere School | Mississauga | F | 6-10 | Sr |
| Okay Djamgouz | Drake | London Basketball Academy | London | G | 6-5 | Fr |
| Osa Wilson | Southern | Faith Baptist Christian Academy | Toronto | F | 6-6 | Jr |
| Patrick Emilien | Western Michigan | Toronto Academy Prep School | Etobicoke | F | 6-6 | So |
| Prince Oduro | Mississippi State | First Love Christian Academy | Toronto | F | 6-8 | So |
| Quincy Guerrier | Syracuse | Thetford Academy | Montreal | F | 6-7 | Fr |
| Richardson Maitre | Florida Atlantic | West Oak Academy | Montreal | G | 6-3 | Jr |
| Sabry Philip | San Diego | The RISE Centre Academy | Edmonton | G | 6-4 | Fr |
| Sam Rautins | Canisius | Athlete Institute Prep | Toronto | G | 6-3 | So |
| Samuel Chaput | Monmouth | St. Anthony Catholic School | Longueuil | G | 6-0 | So |
| Scott Hitchon | Canisius | Thornlea Secondary School | Whitby | F | 6-8 | Jr |
| Sean Miller-Moore | Oregon State | Thornlea Secondary School | Toronto | G | 6-5 | Jr |
| Shamar Givance | Evansville | First Love Christian Academy | Toronto | G | 5-10 | So |
| Shamiel Stevenson | Nebraska | Hillcrest Academy | Toronto | F | 6-6 | Jr |
| Stef Smith | Vermont | Bill Crothers Secondary | Toronto | G | 6-1 | Jr |
| Stephane Ingo | Maine | Gould Academy | Brampton | F | 6-9 | Fr |
| Steven Levnaic | Niagara | The RISE Centre Academy | Hamilton | G | 6-2 | Fr |
| Taryn Todd | Texas Christian | Findlay College Prep | Vaughan | G | 6-3 | Fr |
| Thomasi Gilgeous-Alexander | Evansville | Potter's House Christian Academy | Hamilton | G | 6-5 | Fr |
| Tre Edwards | Akron | Hamilton Heights Christian Academy | Hamilton | F | 6-6 | Fr |
| Ty Rowell | California Baptist | Walnut Grove Secondary School | Langley | G | 6-2 | Jr |
| Tyler Sagl | Marist | Lincoln Prep | Hamilton | G | 6-5 | Fr |
| Tyrell Gumbs-Frater | Coastal Carolina | St. Benedict's Prep School | Toronto | G | 6-3 | Sr |
| Tyrese Potoma | Cleveland State | Campbell Collegiate | Regina | G | 5-11 | So |
| Tyrese Samuel | Seton Hall | Orangeville Prep | Montreal | F | 6-10 | Fr |
| Wheza Panzo | Stetson | Potter's House Christian Academy | Ontario | F | 6-7 | Fr |
| William Boyer-Richard | Western Michigan | College Jean De Brebeuf | Montreal | G | 6-1 | So |