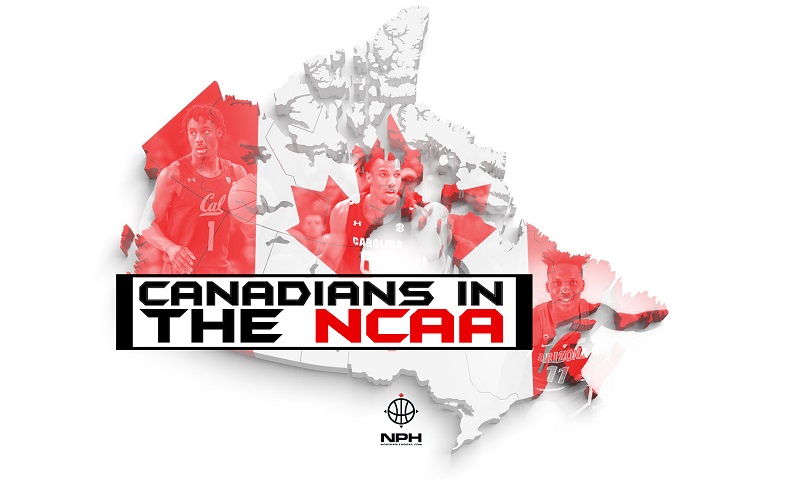 New Record 158 Canadian Men in NCAA D1 in 2020-2021 Season
Another year passes and the numbers of Canadian men on NCAA Division I rosters continues to rise. 158 Canadians will suit up for an NCAA team in whatever is left of the 2020-2021 season. Last year met the anticipated number of 150 on rosters at this respective level and next year should reach just under 200 according to North Pole Hoops' Director of Recruiting, Elias Sbiet.
"The state of emergency with COVID-19 shook up the whole world. Basketball became an afterthought and coaches couldn't make decisions and pull the trigger to offer guys that they had not evaluated enough. Which means naturally, the 2021 class suffered and had less offers and less commitments."
"Take for example a Tre-Vaughn Minott, Muon Reath, Sam Alamutu, Brock Newton…I can go on with a list of guys who are so under recruited simply due to what has taken place over the last 8 months or so."
So COVID-19 caused a downward trend in recruiting, but there is another trend that is more positive and specific to the province of Quebec.
This list has a steadily rising number of prospects coming out of the province of Quebec. There's been a major focus from our scouting team to ensure multiple trips are made to ensure every rock is turned.
Ontario remains a clear number one producer with pockets all over the province reaping the benefits of the prep school system, camps and internal competition.
It makes perfect sense that Quebec is catching up to Ontario quickly. Afterall, it is the province with the second highest population in Canada. It is surrounded by provinces and states in the North-East which is its second advantage.
Our projections tell us that there are around 4o players from this list that will end up playing basketball professionally and a handful that will make it as high as the NBA. Canada remains the fastest growing basketball country in the World!
Data Courtesy: Hasan Alanam
| | | | | | | |
| --- | --- | --- | --- | --- | --- | --- |
| Player | Team | Level | City | Class | Position | Height |
| Tre Edwards | Akron | D1 | Hamilton | R-Fr | W | 6'6″ |
| Joshua Primo | Alabama | D1 | Mississauga | Fr | G | 6'6″ |
| Keon Ambrose-Hylton | Alabama | D1 | Toronto | Fr | F | 6'8″ |
| Bennedict Mathurin | Arizona | D1 | Montreal | Fr | W | 6'7″ |
| Ben Hendriks | Ball State | D1 | Mississauga | So | C | 6'10" |
| Abu Kigab | Boise State | D1 | St. Catherines | Sr | F | 6'7″ |
| Emmanuel Akot | Boise State | D1 | Winnipeg | R-Jr | W | 6'8″ |
| Ja'Shon Henry | Bradley | D1 | Saskatoon | Jr | F | 6'6″ |
| Malachi Ndur | Brown | D1 | St. Thomas | Fr | F | 6'8″ |
| Dominic Johnson | Buffalo | D1 | Windsor | Sr | F | 6'5″ |
| Christian David | Butler | D1 | Milton | Sr | W | 6'6″ |
| Joel Brown | California | D1 | Brampton | So | G | 6'2″ |
| Ty Rowell | California Baptist | D1 | Langley | R-Jr | G | 6'2″ |
| Suraj Gahir | California Baptist | D1 | North Delta | Fr | G | 6'5″ |
| Scott Hitchon | Canisius | D1 | Whitby | Sr | F | 6'8″ |
| Khaleem Bennett | Central Arkansas | D1 | Hamilton | So | G | 6'4″ |
| Olivier-Maxence Prosper | Clemson | D1 | Montreal | Fr | W | 6'8″ |
| Isaac Hippolyte | Coastal Carolina | D1 | Richmond Hill | Jr | F | 6'7″ |
| Malcolm Bailey | Colgate | D1 | Stratford | So | F | 6'10" |
| Sam Thomson | Colgate | D1 | Otterrville | Fr | F | 6'9″ |
| Keeshawn Barthelemy | Colorado | D1 | Montreal | Fr | G | 6'2″ |
| Kobe Antwi | Columbia | D1 | Oakville | Fr | F | 6'5″ |
| Javonte Brown | Connecticut | D1 | Toronto | Fr | C | 7'0″ |
| Aaryn Rai | Dartmouth | D1 | Markham | Sr | F | 6'6″ |
| Jordy Tshimanga | Dayton | D1 | Montreal | R-Sr | C | 6'11" |
| Fahim Jenneto | Delaware State | D1 | Ajax | So | F | 6'7″ |
| Kobey Lam | Denver | D1 | Vaughan | So | G | 6'2″ |
| Kobe Elvis | DePaul | D1 | Brampton | Fr | G | 6'2″ |
| Nick Ongenda | DePaul | D1 | Mississauga | So | C | 6'11" |
| Marquell Fraser | Detroit-Mercy | D1 | Hamilton | Gr | G | 6'5″ |
| Jamar Ergas | Dixie State | D1 | Toronto | Sr | G | 6'4″ |
| Okay Djamgouz | Drake | D1 | Oakville | R-Fr | G | 6'5″ |
| Matey Juric | Drexel | D1 | Toronto | Jr | G | 5'11" |
| Junior Farquhar | Eastern Illinois | D1 | Montreal | Jr | G | 6'3″ |
| Victor Radocaj | Eastern Washington | D1 | Richmond | Fr | F | 6'9″ |
| Shamar Givance | Evansville | D1 | Toronto | Jr | G | 5'10" |
| Thomasi Gilgeous-Alexander | Evansville | D1 | Hamilton | R-Fr | G | 6'5″ |
| Callum Baker | Fairleigh Dickinson | D1 | Oakville | So | G | 6'0″ |
| Pier-Olivier Racine | Fairleigh Dickinson | D1 | Montreal | Fr | F | 6'8″ |
| Jalen Warren | Florida Gulf Coast | D1 | Milton | Sr | G | 6'3″ |
| Nathanael Jack | Florida State | D1 | Mississauga | Jr | G | 6'5″ |
| Justice Prentice | Fort Wayne | D1 | Toronto | Fr | G | 6'1″ |
| Bahaide Haidara | George Mason | D1 | Montreal | So | G | 6'6″ |
| Jahvon Blair | Georgetown | D1 | Brampton | Sr | G | 6'4″ |
| Andrew Nembhard | Gonzaga | D1 | Aurora | Jr | G | 6'5″ |
| Sean Miller-Moore | Grand Canyon | D1 | Toronto | Sr | G | 6'4″ |
| Danilo Djuricic | Harvard | D1 | Brampton | Sr | F | 6'8″ |
| Joshua Hemmings | Harvard | D1 | Toronto | Fr | F | 6'9″ |
| Luka Sakota | Harvard | D1 | Toronto | So | G | 6'6″ |
| Noah Kirkwood | Harvard | D1 | Ottawa | Jr | G | 6'7″ |
| James Jean-Marie | Hawaii | D1 | Montreal | Sr | F | 6'8″ |
| Louth-Mohamed Coulibaly | Holy Cross | D1 | Ottawa | Fr | F | 6'8″ |
| Deon Ejim | Illinois-Chicago | D1 | Brampton | R-So | F | 6'6″ |
| Josh Morgan | Incarnate Word | D1 | Brampton | Fr | G | 6'3″ |
| Kaosi Ezeagu | Kansas State | D1 | Brampton | R-So | F | 6'10" |
| Rudi Williams | Kansas State | D1 | Hamilton | Jr | G | 6'3″ |
| Mike Nuga | Kent State | D1 | Toronto | Sr | G | 6'2″ |
| Tegra Izay | La Salle | D1 | Montreal | Fr | C | 6'10" |
| Tarig Eisa | Lamar | D1 | Toronto | Jr | F | 6'8″ |
| James Karnik | Boston College | D1 | Surrey | Sr | F/C | 6'9″ |
| Ben Li | Lehigh | D1 | Toronto | Fr | F | 6'6″ |
| Dominic Parolin | Lehigh | D1 | Coquitlam | Fr | F/C | 6'8″ |
| Luke Howard | Lipscomb | D1 | Vancouver | Fr | F | 6'8″ |
| Aher Uguak | Loyola (IL) | D1 | Edmonton | R-Sr | F | 6'7″ |
| Ja'Shonte' Wright-McLeish | Maine | D1 | Montreal | So | G | 6'4″ |
| Stephane Ingo | Maine | D1 | Mississauga | R-So | F | 6'9″ |
| Fofo Adetogun | Maine | D1 | Regina | Fr | G | 6'1″ |
| Raheim Sullivan | Marist | D1 | Toronto | Jr | G | 6'1″ |
| Koby McEwen | Marquette | D1 | Toronto | R-Sr | G | 6'4″ |
| Jahmal Wright | Maryland-Eastern Shore | D1 | Toronto | R-Jr | W | 6'6″ |
| Tafari Simms | Milwaukee | D1 | Hamilton | Jr | F | 6'7″ |
| Marcus Carr | Minnesota | D1 | Toronto | R-Jr | G | 6'2″ |
| Samuel Chaput | Monmouth | D1 | Longueuil | Jr | G | 6'0″ |
| Abdul Mohamed | Montana State | D1 | Ottawa | Sr | G/F | 6'7″ |
| Kellen Tynes | Montana State | D1 | Dartmouth | Fr | G | 6'3″ |
| Dalano Banton | Nebraska | D1 | Toronto | Jr | G | 6'9″ |
| Shamiel Stevenson | Nebraska | D1 | Oakville | So | G | 6'6″ |
| Addison Patterson | Nevada | D1 | Milton | So | G | 6'6″ |
| Blondeau Tchoukuiengo | New Hampshire | D1 | Montreal | R-Fr | G | 6'2″ |
| Emmanuel Kuac | New Mexico | D1 | Calgary | So | G | 6'7″ |
| Clayton Henry | New Mexico State | D1 | Calgary | R-Sr | G | 6'4″ |
| Steven Levnaic | Niagara | D1 | Hamilton | R-So | G | 6'2″ |
| Alexander Nwagha | Northeastern | D1 | Milton | Fr | F | 6'8″ |
| Coleman Stucke | Northeastern | D1 | Oakville | Fr | F | 6'7″ |
| Jahmyl Telfort | Northeastern | D1 | Boucherville | Fr | G | 6'7″ |
| Kur Jockuch | Northern Colorado | D1 | London | Jr | F | 6'9″ |
| Adong Makuoi | Northern Illinois | D1 | Edmonton | Jr | C | 6'9″ |
| Trey Robinson | Northern Kentucky | D1 | Hamilton | Fr | G | 6'6″ |
| Adham Eleeda | Northern Kentucky | D1 | Kitchener | Sr | W | 6'5″ |
| Nikola Djogo | Notre Dame | D1 | Hamilton | Gr | F | 6'8″ |
| Kevin Kangu | Oakland | D1 | Burlington | Sr | G | 6'4″ |
| Matthew-Alexander Moncreiffe | Oklahoma State | D1 | Brampton | Fr | F | 6'7″ |
| Elijah Lufile | Oral Roberts | D1 | Milton | R-Jr | F/C | 6'8″ |
| Chris Duarte | Oregon | D1 | Montreal | Sr | G | 6'6″ |
| Eugene Omoruyi | Oregon | D1 | Toronto | R-Sr | F | 6'6″ |
| Maurice Calloo | Oregon State | D1 | Windsor | Jr | F | 6'10" |
| Jahbril Pryce-Noel | Pacific | D1 | Toronto | Jr | G | 6'7″ |
| Matteus Case | Pennsylvania | D1 | Toronto | Fr | G | 6'5″ |
| Ahmed Ali | Portland | D1 | Toronto | Sr | G | 5'11" |
| Clythus Griffith | Portland | D1 | Mississauga | Jr | G | 6'2″ |
| Jaelin Llewellyn | Princeton | D1 | Mississauga | Jr | G | 6'2″ |
| Jerome Desrosiers | Princeton | D1 | Saint-Hyacinthe | Sr | F | 6'7″ |
| Zach Edey | Purdue | D1 | Toronto | Fr | C | 7'4″ |
| Matt Grace | Richmond | D1 | Hamilton | Jr | F | 6'9″ |
| Nathan Cayo | Richmond | D1 | Montreal | Sr | F | 6'7″ |
| Anthony Longpre | Saint Joseph's | D1 | L'Assomption | Sr | F | 6'10" |
| Richardson Maitre | Samford | D1 | Montreal | R-Sr | G | 6'3″ |
| Sabry Philip | San Diego | D1 | Edmonton | So | G | 6'4″ |
| Jaden Bediako | Santa Clara | D1 | Brampton | Fr | C | 6'10" |
| Josip Vrankic | Santa Clara | D1 | Toronto | Jr | F | 6'9″ |
| Miguel Tomley | Santa Clara | D1 | Surrey | Fr | G | 6'3″ |
| Tyrese Samuel | Seton Hall | D1 | Montreal | So | F | 6'10" |
| Steven Lazar | Siena | D1 | Toronto | Fr | F | 6'8″ |
| Michael Matas | SIU-Edwardsville | D1 | Oakville | Fr | F | 6'8″ |
| David Walker | South Alabama | D1 | Toronto | Jr | G | 6'3″ |
| Howard Washington | South Alabama | D1 | Buffalo | Sr | G | 6'2″ |
| A.J. Lawson | South Carolina | D1 | Brampton | Jr | G | 6'6″ |
| Majok Madol | South Carolina State | D1 | | | | |
| Prince Oduro | South Florida | D1 | Toronto | R-Jr | F | 6'8″ |
| Elijah Ifejeh | Southeastern Louisiana | D1 | Montreal | Sr | F | 6'8″ |
| J.D. Muila | Southern Illinois | D1 | Ottawa | Jr | F | 6'8″ |
| Kyler Filewich | Southern Illinois | D1 | Winnipeg | Fr | C | 6'9″ |
| Emmanuel Bandoumel | Southern Methodist | D1 | Quebec City | Jr | G | 6'4″ |
| David Muenkat | St. Francis (NY) | D1 | Brampton | Jr | F/C | 6'7″ |
| Wheza Panzo | Stetson | D1 | Mississauga | So | W | 6'7″ |
| Alex Christie | Stony Brook | D1 | Oakville | Jr | C | 7'0″ |
| Quincy Guerrier | Syracuse | D1 | Montreal | So | F | 6'7″ |
| Shakur Daniel | Tarleton State | D1 | Toronto | Jr | G | 6'6″ |
| Shakwon Barrett | Tennessee State | D1 | Toronto | Jr | G | 6'5″ |
| Dane Quest | Tennessee Tech | D1 | Toronto | So | G | 6'6″ |
| Emanuel Miller | Texas A&M | D1 | Toronto | So | F | 6'7″ |
| Cashius McNeilly | Texas A&M | D1 | Toronto | Fr | G | 6'4″ |
| Taryn Todd | Texas Christian | D1 | Vaughan | R-Fr | G | 6'5″ |
| Brandyn Talbot | Texas-Arlington | D1 | Newmarket | Fr | G | 6'5″ |
| Keshaun Saunders | Toledo | D1 | Brampton | So | G | 6'5″ |
| Christopher Biekeu | Towson | D1 | Montreal | Fr | F | 6'7″ |
| Damion Squire | UC Davis | D1 | Montreal | Jr | G | 6'0″ |
| Emmanuel Tshimanga | UC Irvine | D1 | Montreal | R-Fr | C | 7'0″ |
| Brandon Cyrus | UC Santa Barbara | D1 | Oakville | Sr | G | 6'5″ |
| Max Cheylov | UC Santa Barbara | D1 | Toronto | Fr | G | 6'3″ |
| Thomas Reid | UMBC | D1 | Toronto | Fr | G | 6'2″ |
| Liam McChesney | Utah State | D1 | Prince Rupert | R-Fr | F | 6'10" |
| Fardaws Aimaq | Utah Valley | D1 | Vancouver | R-Jr | C | 6'11" |
| Ben Krikke | Valparaiso | D1 | Edmonton | So | F | 6'9″ |
| Daniel Sackey | Valparaiso | D1 | Winnipeg | Jr | G | 5'9″ |
| Trey Thomas | Vanderbilt | D1 | Toronto | Fr | G | 5'11" |
| Eric Beckett | Vermont | D1 | Ajax | So | G | 6'4″ |
| Georges Lefebvre | Vermont | D1 | Montreal | Fr | F | 6'9″ |
| Stef Smith | Vermont | D1 | Ajax | Sr | G | 6'2″ |
| Jahcobi Neath | Wake Forest | D1 | Toronto | So | G | 6'3″ |
| Jefferson Koulibaly | Washington State | D1 | Montreal | Fr | G | 6'3″ |
| Gabe Osabuohien | West Virginia | D1 | Toronto | Sr | F | 6'7″ |
| Kevin Osawe | Western Kentucky | D1 | Toronto | Jr | F | 6'6″ |
| Patrick Emilien | Western Michigan | D1 | Toronto | Jr | F | 6'6″ |
| William Boyer-Richard | Western Michigan | D1 | Drummondville | Jr | G | 6'1″ |
| Eze Dike | Yale | D1 | Montreal | Jr | G | 6'2″ |
| Christian Bentley | Youngstown State | D1 | Brampton | Jr | G | 6'3″ |
| Shemar Rathan-Mayes | Youngstown State | D1 | Scarborough | Fr | G | 5'11" |