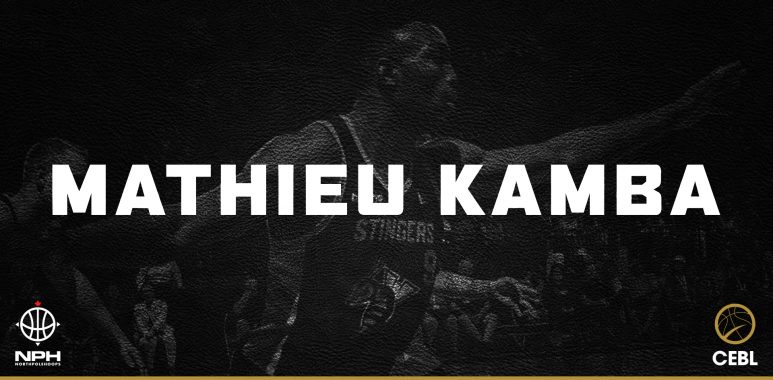 From a relatively unknown high-flyer in Calgary to the NCAA, Europe and CEBL, Mathieu Kamba tells his basketball story
Somehow after being stashed away in high school in Calgary, Mathieu Kamba has turned his basketball story into a Canadian hoops success. The now 25-year-old dominated at Bishop McNally and flew (quite literally) onto the radar at an NPH Showcase, earning himself an NCAA Division One scholarship. 
Since heading to Central Arkansas and succeeding at that level for four years, Kamba has played pro in Europe and Canada since his graduation. The thing is, despite all he has accomplished so far in his basketball story, Kamba is working for more.
In the past two summers in the CEBL, the Calgary native has been a key piece to the Edmonton Stingers, including as a starter for them as they won the championship in 2020. The confidence he's built in Canada has helped him continue to blossom in Spain where he's currently leading Melilla Sport Capital in points per game in the country's second-best league. 
With goals of playing in Spain or a country like France's top league and with the CEBL as a stepping stool, Kamba is continuing to defy the odds and reach levels that would've seemed crazy to say about a guy playing public high school ball in Calgary just seven years ago. For more on how he has gotten to where he is now, how he achieved his dream of getting an NCAA Division One scholarship and what he is working for going forward, Kamba took the time to sit down and talk with me last month about it all. 
Answers have been edited for length and clarity
When did you first hear about North Pole Hoops?
There's two guys in 2014 with some serious springs, Mason Loewen (BC Native) and Mathieu Kamba (Alberta). Check out Kamba Jam from yesterday

— Elias Sbiet (@elias_sbiet) November 3, 2013
It was one of their Northern Exposure Camps. I had missed a couple prior. My grade 11 year was the time I heard about them because that was the first camp I really went to.
What did going to that camp do for you?
It got me nationally ranked, I think I was 14th. It also kind of put my school on the map, Bishop McNally, we were ranked nationally too. Tariq and Elias really spoke to coaches, put me out there, allowed coaches to see my game and what I could do. North Pole Hoops was an outlet for my basketball career. It kind of gave me hope that I could go play in the States because that was a big goal of mine.
So before you went to that camp, were you talking to any American schools?
No, but it was a bunch of interest. You know when they send you those letters in the mail? 'Oh, we'd like you, we like you.' But it was never an actual offer. It was just a bunch of interest. My CYDC coaches would always come back and say this guy talked to me and this guy talked to me but it was always just interest, it wasn't really an offer. But after North Pole Hoops, a lot of teams started offering me and I was getting more spotlight.
How much of it do you think had to do with, because almost all the articles are still up on the website believe it or not so if you ever want to go through memory lane and go check it out, they're all there.
Oh, I'll have to do that one day.
But, how much of the notoriety was based on that dunk you had? Do you know the one I'm talking about?
I think the kid never showed up again. A big guy and I dunked on him, I think he was from Saskatchewan and he never came back the next day. I feel like a lot of it was that it showed off my athleticism, it was displayed throughout the entire camp. There were a couple of highlight plays that I had that were like 'dang this guy can really jump.' That was one of those plays that really opened people's eyes.
It's funny because I actually have your scouting report from that camp and there's a line that goes every time, he attacks the rim, he's looking to create a poster and most of the time does.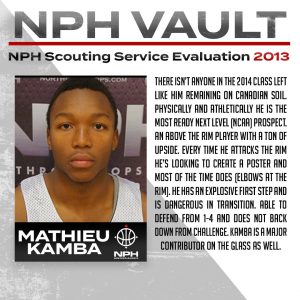 That's dope, I've never read that scouting report, never seen it. 
So those camps really helped solidify your spot with those schools you'd say? 
Mathieu Kamba just woke up the entire gym….POSTERIZING the defence. 2-hand flush. wow, that was special. @NorthPoleHoops

— Tariq Sbiet 🏆🇨🇦🌎 (@Tariq_NPH) November 2, 2013
Those camps were the best players in Western Canada. When I went to those camps, I could kind of show out there, show that I could compete against them. It was kind of like if you go to that camp, Dinos (Trigonis) could see you. I went to that camp and I was kind of known when I went to California. People were scared to jump with me even there.   
Do you feel like part of why you were kind of underrated going into your latter years of high school was because of Alberta and Calgary basketball specifically kind of being under the radar? 
Been telling coaches about @KambaSlice for years. What you waiting on? Mathieu Kamba 2013-2014 http://t.co/EtZRGjyVVq

— Elias Sbiet (@elias_sbiet) April 4, 2014
I'd say exactly that. CYDC was great for exposure. But, my team I'd have to play point forward, I'd have to be the centre at times and I was like 6'4 and a half so it was odd. I was going against 6'9 dudes so I think just that Alberta and not having that height when we went down to the states made it super hard. If our teams did have the height, it would've been so much better for everybody. Competing in the platinum bracket instead of the silver bracket because we had the height to match these teams and the talent too. We had some talented dudes. That was the biggest thing, Alberta wasn't really up there with Toronto and all these other places. 
Do you think that's gotten better? 
I think it's better now. There's a bunch of North Pole Hoops (who do their camps obviously) and teams that came up like Supreme Hoops, Genesis is out there. They're sending kids to California all the time, Eddie (Richardson) has a bunch of connections, Coach John (Hegwood). It's definitely gotten better because a lot of kids don't have to play club basketball, pay all those fees, all that money. Some of them get looks straight out of high school in Calgary so that's a good thing. If you're an elite prospect, your name is going to be heard now.
 One thing that's pretty unique about your story is you went straight from Calgary high school basketball to NCAA Div 1. Did you think about doing a prep year because that's a pretty big jump?
 I started playing basketball seriously in grade eight with CYDC. So I was able to get groomed and put through the fire when I went to a bunch of these tournaments, these camps. People would be like 'Oh, you play like an American, you don't play like a Canadian.' Or, I'd do something crazy in a game and the refs would be like 'Are you on Ballislife, what's your name I want to check you out?' All of that gave me confidence. At the end of the day, me and my pops sat down and he asked, 'Do you want to do this basketball thing because we're all in?' It was Division One or nothing. At the end of the day, it was like, I've got to go Division One. I don't know if I could make it pro from say the University of Calgary. It's possible, but it would be super hard.
 From high school to Division one, I had my athleticism. All of my life I've been taller than most kids. Coaches tried to make me play centre in grade eight, grade nine. But, I'd always be like no, what if I don't grow? I can't be a 6'4 centre at the next level. I had post moves, but I could also dribble the ball and bring it up so that helped. The change when I got to Central Arkansas was just coach has his guys at first. You really have to get him to trust you. The first two years I was there, I thought I was better than some of the guys that were playing. I went in stronger than most of the dudes that came in with me because we had 10 freshmen. The coach came in and got rid of everybody except for one player. So I came in stronger than most of these dudes, but the coach wasn't playing me. I was working, but I wasn't working the right way. In my third and fourth year, that's when I really started working the right way. I got my body right because I was eating terribly. Junk food, I didn't know anything about taking care of your body. In my third and fourth year, I cleaned all that up, started feeling better, jumping like I was in grade 12. 
 You are a Canadian basketball success story. High school to Division One, to pro, you've achieved the goal of most kids. What is your advice to the high school kid right now who essentially wants to be you?
 I think the biggest advice I would give is if they're a multisport guy but they really want to do basketball, focus on it. I played all of volleyball, football all the time and that's all time I could have put into basketball. Who's to say, I can't tell the future, but I feel I could have been at an even higher major, a Ohio State, Baylor, one of those schools if I just put all my time into basketball. So, it's just you've got to work the right way and you need to listen to people that have been there because they know what it takes to get there. But the biggest thing I would just tell them today, you've got to work hard. Always. Hard work will get you places. You might not be the fastest, might not be the strongest but if you work hard and coaches see that, they'll be like 'I want you in my program.'
 So, for picking just one sport, do you mean in high school?
 Yeah, with CYDC, because I was already athletic, a good defender, could get to the rim whenever I wanted to. But if I put that extra time into shooting, I could've averaged like 50 in high school. Looking back on that, if I had worked on my form, worked on my jump shot, I could've been at a whole different place. Maybe I could have been a high major. I could be playing pro at the biggest levels, Spain's top league, all that kind of stuff. So, I just really would say to focus on your goals and work hard towards them. And if you're an athlete, you just have to look at these other sports and say are these worth it if I'm trying to make it big in another one.
 You had a really good career at Central Arkansas. As you said, it took you some time to get on court but by your junior and senior year, you're putting up like 14 a game. You made a real impact there. So, once you graduate as a good college player, how did you end up playing pro? What were the following steps that led you to end up in Spain?
Jordan Howard, Ethan Lee and Mathieu Kamba walk off the court for the final time for the UCA Bears at the Farris Center. Those three have been a part of a rebuild that has brought this program to postseason basketball for the first time. Much deserved standing ovation.

— Andy Robertson (@andy1robertson) March 20, 2018
 The first step was the national team came calling. One of their managers said they liked my game. And he said, come play for the national team and we can help you get your passport. In the professional world, in Europe, if you have an African passport or a South American passport, you don't count as an import. Say, I'm from the States. I get my passport and I'm as good as a full-American, I don't count. So, we could have four Americans plus me, but other teams if they have a guy who didn't have an African passport, they would only have three. So, he was like, come get your passport, it makes it easier to get into better leagues. I took a chance and asked my family, I didn't know. I had just gone to school a couple of hours away but now I'm going to be on a whole other continent? But they convinced me to try. So I did that, went and started with a bunch of guys from the ACB (Spain's top league) and who had played in the NBA, guys who had really cemented a name for themselves. I was starting with them. The General Manager asked to take me under his wing and he became my agent. He talked to teams in Spain and France and got my foot in the door. 
 What's it like being able to come home in the summer and play in Canada after dealing with being on a completely different continent all season?
Welcome back, @KambaSlice! 👏🏼

Mathieu Kamba has re-signed with the Stingers for the 2021 season. Kamba has spent the past three seasons in Spain's LEB Gold League after finishing his college career with the @ucabears. #OurGamehttps://t.co/5gBi31oA00 pic.twitter.com/o5x1MY4HMj

— Edmonton Stingers (@ED_Stingers) February 19, 2021
 Oh, it's two different ball games. Canada's more athletic but for me, my first year with the Stingers I came in and was promised some things and that didn't pan out. So, for a little bit, I was like I'm going to leave, like this is not worth my time. I'm just going to work on my game and get ready for overseas again. But then we had a coaching change and Jermaine (Small) came in and really believed in me. I just kind of started blossoming from there. All of the hard work I was putting in was coming to fruition. Then this past year I went overseas, saw all of the hard work I put in come to fruition, and I was really hooping. So, I was like, hey, if I can do that there then I could definitely do that in Canada. Then in the CEBL season in the bubble, my confidence was on 100. I'm a great defender, I've been in the lab working on my jump shot. Let me just put it all together. It happened. I had a pretty good run this summer, it's all due to the work. Every league is different but at the end of the day, we're all playing basketball.
 When you find success in the CEBL, how does it help you when you go back to Spain?
ICYMI: Yesterday's Elam Ending winning bucket by Mathieu Kamba of the @ED_Stingers💰#OurGame pic.twitter.com/fkzk1uvjlM

— CEBL (@CEBLeague) July 28, 2020
It was a major confidence boost. When you're in the CEBL all that extra work you put in, all the gym times you have, just makes you feel so good about your game so that when you do go overseas, you're just so confident. It builds your confidence but it's still a tough league.
 Is it your goal to make it to the ACB and play in the top levels of Europe?
 My goal is to play in the ACB, play Pro-A France, play in a top league like Russia. Somewhere where I could be really recognized in the top ten per cent of the world, and feel like I really made it. Calgary guy, I really made it you know? That is my goal. This year I have my eyes on the prize, ACB, G-League, everything I'm doing now is to prepare me for the best leagues possible. Then when you get there, you've had all of these roles. You've been a defender, you've been a scorer but now we just need you to play defence. I could play defence, make my money and I'll be happy. Find your role, master it. There are some guys who are fortunate to master a couple. But if you're that person who can master that one thing and do it well, somebody is going to pay you the big bucks.