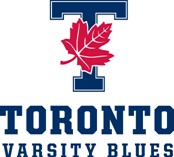 Commitments
NPA
Prep
USPORTS
Keeping Up With The U SPORTS Classes: How U of T Is Trusting The Process to Become One of The Next OUA Powerhouses
The OUA is an unforgiving conference. Just because a program was successful or took meaningful strides in one season, seeing that translate to the league's standings year-to-year is far from guaranteed.
Toronto Varsity Blues Head Coach John Campbell knows this all too well. 
In 2017-18, it looked like the Varsity Blues had turned a corner, finishing above .500 in back-to-back years and making the playoffs for the fourth season in a row. The Blues' playoff streak would end the next season however, as they failed to qualify in the following two seasons.
"The OUA is sort of an unforgiving league in a lot of ways," said Campbell. "The level of competition is very high and if you're not prepared on a night-to-night basis, it's really difficult to have success." 
Campbell is no stranger to building a U Sports program. He won two conference titles with Dalhousie's men's basketball program in 2009 and 2011 before coming to Toronto. Even before that, Campbell helped lead Laurentian's women's team to two OUA championships. 
He's been through the process before and there's one common thing that links his success stories: time. 
"If you look back at the Dal records, certainly there was a process there," said Campbell. "It takes some time to get a program at the competitive level you desire." 
Campbell and the Varsity Blues have an advantage he never had at Dal or Laurentian. They play in the mecca of Canadian Basketball, the Greater Toronto Area.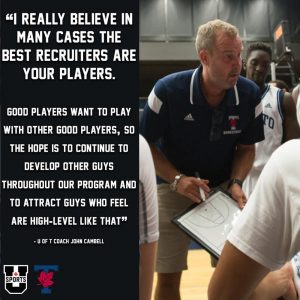 One of the biggest proponents of the GTA's depth and skill is Campbell.
"It is such a great talent hot bed," said Campbell. "Our goal is to be the first choice for the kids who live in the GTA, that's what we've got to strive towards." 
Being that first choice in Toronto isn't guaranteed. With a three-headed U SPORTS rivalry of U of T, York and Ryerson, there's plenty of competition in the city for its best players. That competition is something Campbell is a big believer in. 
"I think for Toronto basketball it would be great for all three programs to be operating at a high-level," said Campbell. "Ryerson set the bar obviously with Dave (DeAveiro) coming in, they have an experienced coach who has had a lot of success. I'm sure they're going to work to be back up in that nationally top five and competing at that level and that's what we strive to compete with."
Because these three programs share a city, it's even more important that they differentiate themselves in recruitment and building out their culture. Much like we learned about Queen's, U of T's prestigious academic record creates its own set of opportunities and challenges. 
"I think Steph's point (in the article last week) is really good," said Campbell. "You not only want to find people who are admissible to the program but can also succeed at the school. So, you want to find guys who'll be able to progress through their academic program and really accomplish their goals from an academic standpoint while also accomplishing their athletic goals."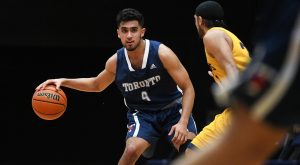 Photo Courtesy: Martin Bazyl/U of T Athletics
Facing this challenge, Campbell has come to a similar conclusion Barrie also has, prep basketball is the way to find their kind of players. With success stories like Evan Shadkami, in his program, it's not hard to see how he came to that conclusion.
Shadkami came right out of the NPA to become an OUA and U SPORTS all-rookie team member and has continued that success by averaging 17 and 19 points per game in his next two seasons. With positive examples like him, it's not hard to see why three of the four members of this class played prep basketball. 
"They come in with a little more confidence," said Campbell. "They've competed at a high level. They've had success but also probably had challenges. I think that helps them as they move into the university game." 
With that in mind, Campbell has big expectations for last year's class and this incoming one.
"For us it's establishing well one, getting high-level recruits in so that it's not a matter of overachieving all the time to have success," said Campbell. "We kind of feel that last year's recruiting class and then this year's recruiting class coming in, we have guys who if we're able to keep them together for the next three, four, five years, then we'll be able to compete at a very high-level."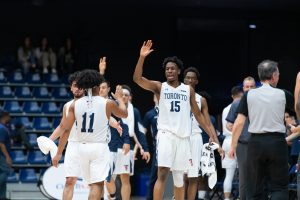 Photo Courtesy: Henry Zhao/U of T Athletics
It can only take one or two special classes to really shift a program forward. Part of why that is according to Campbell, is a hidden skill great players have.   
"I really believe in many cases the best recruiters are your players," said Campbell. "Good players want to play with other good players, so the hope is to continue to develop other guys throughout our program and to attract guys who we feel are high-level like that." 
Along with Shadkami, Campbell credits Iñaki Alvarez and Anthony Daudu as being some of the players on the current roster helping to build the future one. From summer runs, to being former teammates in high school or in AAU to even just being good enough to attract talent, Campbell is a strong believer in the power of the player.
"I think the players and potential recruits put a lot of weight on what their friends say," said Campbell. "They respect those kids and it gives them confidence they can have similar or even greater success."
For a school surrounded by talent, Campbell is convinced the last two years they've found a way to bring in the right talent. Now comes turning success in the recruiting process to success on the floor.
Consistency hasn't happened at U of T for Campbell yet but, with his track record previously, it'll be hard not to believe in the Varsity Blues in the next couple of years.
The Class 
| | | | |
| --- | --- | --- | --- |
| Name | Previous | Position | Hometown |
| Aleer Aleer-Leek | Bill Crothers | Wing | Scarborough, ON |
Coach's Scouting Report: He played at such a high-level at Crothers. He has an ability to score the ball, I think he shoots it quite well, he can guard. I think he's a high-level offensive talent. He reads the game very well, he's a smart tough kid and I think he's going to find a way to playing time right away.
NPH Scouting Report (Mickias Mikre): When Coach Campbell talks about guys that can help create a culture that other good players will want to be a part of, Aleer's name immediately jumps to mind. He's an impactful player off the ball that understands his role and is always willing to sacrifice his body. I once saw him draw 4 charges in a single game. He's a solid 3PT shooter and high-level perimeter defender, making him a great piece to build around.
| | | | |
| --- | --- | --- | --- |
| Name | Previous | Position | Hometown |
| Tomi Johnson | McMaster/Ridley College | Forward | Caledonia, ON |
Coach's Scouting Report: He's a guy we recruited at Ridley coming out. He's a big body with good touch. He's a physical presence. I think one of the things that's been a weakness for us is our ability to defend at the rim and rebound the ball at a high-level and he gives us another body that can do that.
Coach's Scouting Report: Kalyem is a high-level competitor, if you watched those Central Tech team's play he's a big time engine for them. He can play up tempo, he kind of gets up north and south, which for us other than Iñaki Alvarez we haven't been great at getting penetration. He's hard nosed as a defender and I think as he gets used to the university game, he's a guy who you can trust to have the ball in his hands.
Mickias Mikre: Kalyem was at the centre of Central Tech's OSBA semi-final run this past season. The gritty PG has a tight handle and is a natural playmaker that teammates seem to respect and gravitate too. He's seen a lot of improvement in his jumper and can become an All-Conference guy has he continues to become a better finisher.
| | | | |
| --- | --- | --- | --- |
| Name | Previous | Position | Hometown |
| Nathan Bromige | Capilano/Lord Byng Secondary | Forward | Vancouver, BC |
Coach's Scouting Report: He's a guy whose played a lot and had success at the CCAA level. He's long, a good athlete, with lots of skills. I think he can play back to the basket, facing the basket, he can be a pick and roll guy. His athleticism will help us on the glass