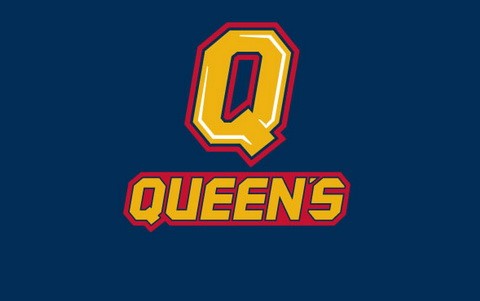 Commitments
NPA
Prep
USPORTS
Keeping Up With The U SPORTS Classes: How Queen's Built On The Court Success With Off The Court Talent
Not all universities in this country are built the same. While many are still working towards growing a prestigious record, some of the schools are already well established in the hierarchy of Canadian post-secondary education.
Kingston, Ontario's Queen's University is a great example of this, as the institution is home to one of the strongest academic records in the country and an equally strong athletic department.
Historically though, the men's basketball team struggled to find the success that the school it represented had come to be known for. While the rest of the university revelled in excellence, the Golden Gaels basketball program had difficulties making the playoffs.
That is, until 2011 when the school hired Stephan Barrie.
Things started out slowly for Barrie as the Gaels went 2-20 in his first season as head coach, but he already knew early on that this was going to be a process.
"Queen's is not one of the school's where you're going to come in and have a huge impact really quickly," said Barrie.
After taking their lumps early, Barrie found a formula for consistency at the school. The Gaels went on to make the OUA playoffs seven times in the nine years since his arrival. Prior to Barrie's hiring, the school had 18 playoff appearances in 49 seasons.
"I think we're at a point now where we've got our feet under us," said Barrie. "We know what's going to be successful in terms of kids that we bring in. We know how we have to play; we know how our league works."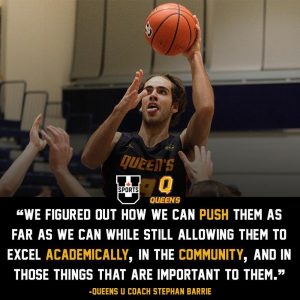 Knowing what type of kids to bring in at Queen's has a different connotation than it does for most schools. Barrie learned that the school's academic standard can really change the profile of kids that can be successful in the program.
 "There's major things that you're looking for in a kid, the potential to be a player at our level is obviously the first," said Barrie. "Then you're looking at the character of the kid. We've always been a team that's been dominated by unselfish, hardworking guys so we've got to make sure kids fit in with that mold."
 After talent and character, there's one final integral piece to becoming a future Golden Gael.
"All of that is great but if there's academic difficulties, red flags, then it's not going to work regardless of how good a player they might be," said Barrie. "There needs to be a lot of motivation in life aside from basketball. Those are the kids that we grow with. What we've found is with those kids oftentimes, they're our best players."
 This has led Barrie to a path of rather unique players to build his program around.
"A majority of our program is guys with huge ambitions beyond basketball career wise," said Barrie, who has seen players with aspirations of being doctors, lawyers and business leaders walk through his locker room doors with maybe even more regularity than players with hopes of going pro.
Obviously, kids with the requisite basketball talent to compete and academic achievement to qualify don't exist everywhere so it became key for Barrie to find the right mix of high-level people on and off the floor.
"Our reality is not the same as everywhere else so if we tried to do it the way other schools did, that would not work at Queen's," said Barrie. "We've just tried to become excellent at what our school offers."
Last season, while on the way to a 14-8 record and a home playoff game, the program also produced 9 U SPORTS Academic All-Canadians.  
A prime example of the type of player Barrie has come to rely on is 2018-19 OUA All-Star and 2019 graduate Tanner Graham. As good as Graham was on the court, his work off of it earned him the prestigious Ken Shields Award which recognizes players outstanding achievement in three areas: basketball, academics and community service.
For Barrie it's the kind of award that showed off the program he had built, and the type of players and people needed to make it work.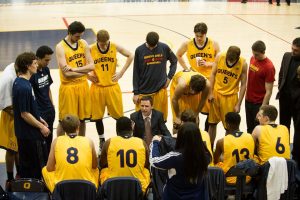 Photo Courtesy: gogaelsgo.com
"We figured out how we can push them as far as we can possibly push them while still allowing them to excel academically, in the community, and in those things that are important to them," explained Barrie.
To find the right players for his program, Barrie has come to rely on prep basketball. This year's class features three NPA and one OSBA alumni while the current roster is full of other former prep players.
One of the most obvious reasons why, is the dynamic education the prep players get. As the level of play has developed in recent years, so has the education, which is something extremely enticing for Barrie.
"I think we all know the prep experience has worked as hard as they can to replicate the university experience," said Barrie. "I find that the prep kids they have a little more of that comfort zone with coming in and that routine."
Beyond the academics, the prep schools also play at a level that gives the Gaels much more of an advantage recruiting. Unlike old days of heading to high school games and seeing one or two U SPORT-level prospects, Barrie can go to a gym full of them. As university recruiting budgets remain a challenge to maneuver around, convenience and efficiency can't be overlooked.
"Recruiting at the high school level, you're not always getting the greatest return on your investment," said Barrie. "I think it's very obvious that we identified LBA early as a team that had a ton of U SPORT level guys… It was a no brainer for us once we saw how many guys they had."
Now that he's built his program to mirror his school's consistency, Barrie is looking to push to match its prestige. It's not going to be easy though, which I guess you could say is just what Barrie and his team is looking for.
Adversity, no matter what kind, is not something that people with such strong ambitions in life are afraid of. 
The Class 
| | | | |
| --- | --- | --- | --- |
| Name | Previous | Position | Hometown |
| Isaiah Owen | London Basketball Academy | Wing | Edmonton, AB |
Coach's Scouting Report: He came so late in the season so we didn't see him as much as the other guys but what we noticed was in the short time we did see him just how well he fit in and kind of adjusted to what they needed in such a short period of time, that really caught our eye. He was someone who showed a lot of potential. We think he needs development in certain parts of his game but we feel he's a kid by the time he gets to third year well that's a guy that can make an impact in our league.
NPH Scouting Report (Mickias Mikre): Owen's selflessness and feel for the game should help him fit in pretty quickly with the Gaels. He's a smart cutter on offence that can knock down the 3 and make plays in transition. His athleticism, IQ, and high activity levels helps him cause a ton of disruption in the backcourt on D.
| | | | |
| --- | --- | --- | --- |
| Name | Previous | Position | Hometown |
| Isaac Krueger | London Basketball Academy | Forward | Guelph, ON |
Coach's Scouting Report: Definitely one of the guys that impressed us the most. The more we saw Isaac it was like every time we see this kid, he seems to be their toughest guy. He's the guy they seem to keep on no matter what because they can rely on him in terms of getting rebounds, defending hard, showing some flashes of some offensive ability. He just I felt was the consistent rock on that team. He's a tough nosed kid, not afraid of anybody, not afraid of the moment, opponent of any kind, we definitely love that about him.  
| | | | |
| --- | --- | --- | --- |
| Name | Previous | Position | Hometown |
| Ryan Heim | London Basketball Academy | Forward | Orillia, ON |
Coach's Scouting Report: We look at Ryan that has many of the same traits that Harry Range had. He's a high IQ player, he's a skilled guy, he can shoot the three well and is a very good passer. He's savvy, like he's not a guy that's going to beat you with athleticism but he's certainly going to beat you by understanding the game, systems and what's going on. Another guy that we really took too early in the recruiting process.
| | | | |
| --- | --- | --- | --- |
| Name | Previous | Position | Hometown |
| Scott Jenkins | Lincoln Prep | Guard | Hamilton, ON |
Coach's Scouting Report: One of the best shooters in the province. At the end of the year we knew we had to get better shooting so Scott became really important for us. It was funny because as we saw him play, we knew he could shoot but what we noticed when we saw him play was the other parts we were almost concerned, is his height going to be an issue, how's he going to translate in other parts of the game and that's actually what we fell in love with. He's just a tough kid, he battles.
Disclaimer: Due to the COVID-19 pandemic the Gaels will actually be able to run a prolonged training camp featuring a few first years attending the school as students with a chance to make the roster as walk-ons. Barrie expects that some of the guys not listed here could eventually end up making the team and making an impact in these unique circumstances.