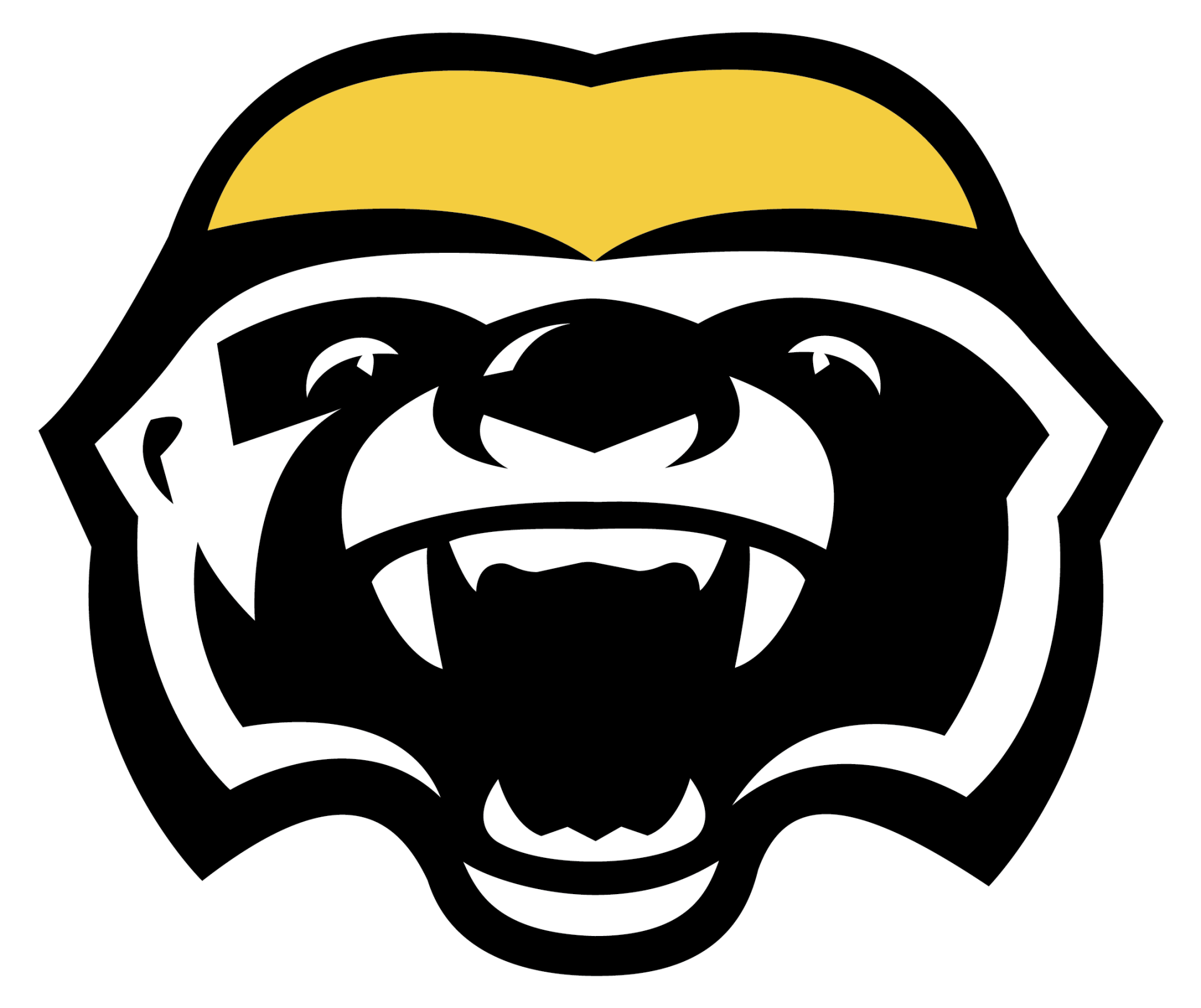 CEBL Summer Series Preview: Hamilton Honey Badgers
Put people first.
Thirty years ago, it was a rarity for many professional sports teams to do just that.
But it's the primary focus for the Hamilton Honey Badgers and it starts at top with Team President John Lashway.
"I've worked with professional and world class amateur athletes for four decades and have always seen the person before I noticed the uniform," said Lashway. "We all want to be valued for who we are more than what we do.  We are building this organization around the core values of respect, loyalty, fairness, integrity and ethics.  I have always surrounded myself with people who live those values professionally and personally."
Lashway's career speaks for itself including over two decades at senior level NBA management and being a part of the founding group that brought the Raptors to Canada.
In the business world it's often thought that a take-no-prisoners, produce-or-your-gone mentality is what you need to succeed.
Lashway has taken a different approach.
"Nobody loves to win any more than I do, but I will always take finishing second with exceptional people over finishing first with people who don't have high character and the values I prioritize."
That mindset was reflected in Lashway's hiring of first time General Manager and long-time Canadian Senior Men's National Team point guard Jermaine Anderson fresh off completing his MBA.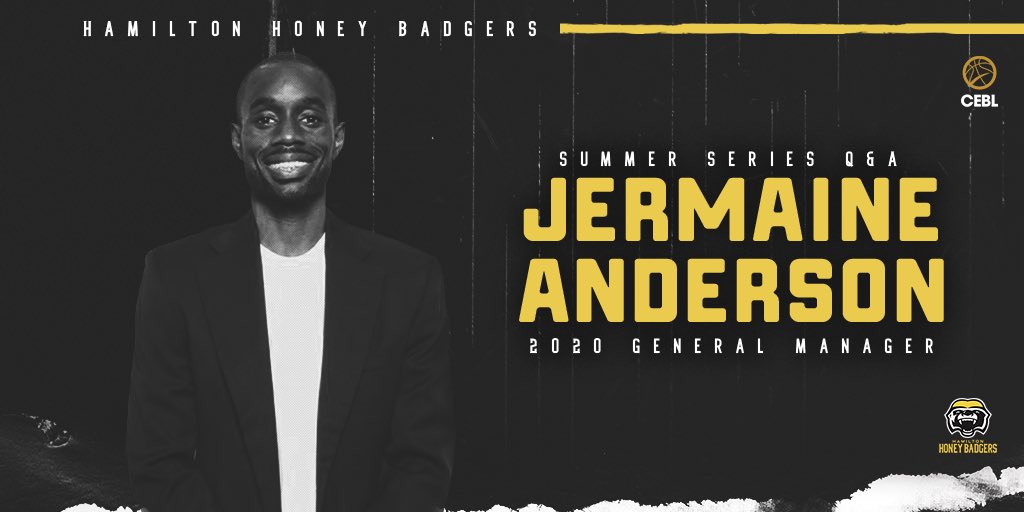 Graphic Courtesy: @HM_HoneyBadgers and CEBL
Anderson is one of the most well-respected players from the Toronto basketball community who followed up his time in the NCAA with a pro career that took him to almost a dozen different countries across the globe.
Through his travels Anderson picked up valuable pieces of the puzzle that he knew he would use once his playing days were done.
"I knew I wanted to get into business and now with the CEBL this amazing opportunity presented itself faster than I would have imagined, " said Anderson.  "I still think the game as a player, but I talk to John every day and it's amazing to be able to learn the business side from him and immediately apply it to how I knew I wanted to build this team."
In the mid-2000's Anderson was given the impossible task of becoming the floor general who took over the reigns from Steve Nash when it comes to Canada's international competitions.  It's a title he held until this nation's young talent started to emerge in what many called the 'golden age of Canadian basketball'.
While there was some turnover in the coaching ranks of the national program, Anderson was the one constant that remained to usher in the new blood of Canadian basketball players.  Whether it be in uniform, on the bench, or on the practice court the man they call "Rock" was always there.
It was in his role as one of the lead trainers at Canada Basketball's Men's National Training Center where he met new Honey Badgers Head Coach Ryan Schmidt.
The two would then continue their working relationship with the Raptors 905 where they would work out players on-court before the game.
Then come game time, both would be in suits. Ryan on the bench as an Assistant Coach and the Head of Player Development while Anderson was learning the business side of the game behind the scenes.
It was during this close working relationship that the similarities between the two became evident.  And they were same values coveted by their new boss with the Honey Badgers.
"Anybody that knows Ryan, knows that he has a player first mentality," said Anderson. "Not only does he have a player development focus on the court, but also in his relationship with the player off the court. In this business players move on quickly but he still is in contact with them, checking in with them and seeing how they are doing in life. That goes a long way."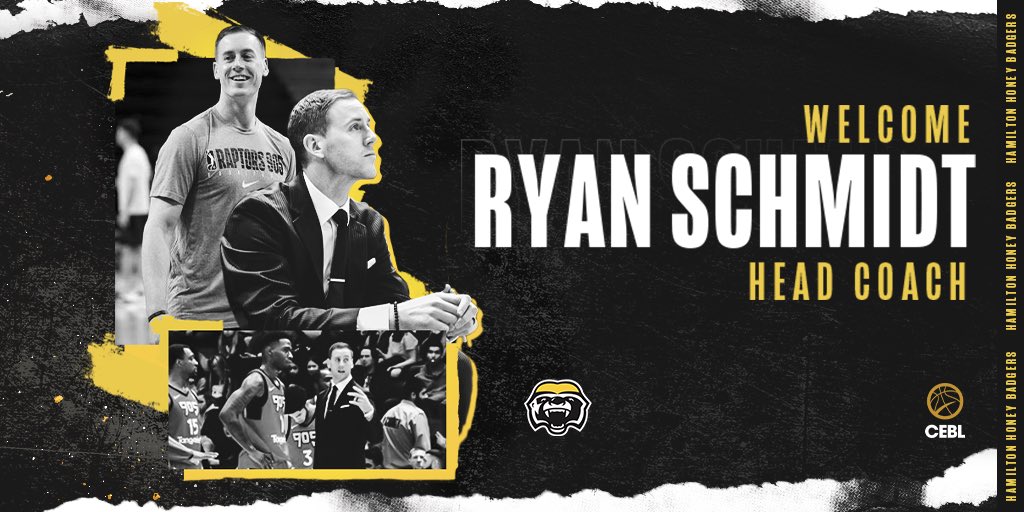 Graphic Courtesy: @HM_HoneyBadgers and CEBL
Schmidt, an Oregon native and former collegiate player got his first coaching position at the high school level with the prep basketball academy 22ft Academy in South Carolina where he coached, and coached against, a number of young Canadian players.
Starting his coaching career by mentoring young men is something Schmidt carried over to the pro ranks working with players like Chris Boucher who parlayed his GLeague MVP and DPOY awards into an NBA Championship with the Raptors.
"It's just who I am as a person in my nature, I value genuine relationships and knowing people on a deeper level," said Schmidt. "It's not all about pick and rolls and defensive coverages, I want to know what makes them tick, why do they get up in the morning? It can't only be about coming in and doing two hours of drills, what do they really want out of this sport and in life after all the work that they put in?"
Not surprisingly, Hamilton's roster of players reflect the history both Anderson and Schmidt have with Canada Basketball and the 905.  That personel also mirror the values of the front office staff which will then be evident in their style of play.
"High character, competing at a high level, sharing the ball and playing a team game," Schmidt listed off without hesitation.  "No one I have spoken to is saying they're trying to come in here to average 30-points a game."
Anderson echoes those sentiments.
"Defence first, having guys who can guard their position one on one and play unselfish basketball because the ball has to move. No one wants to come in for a summer to watch one guy dominate the ball."
Also don't be surprised to see a Canada Basketball and Raptors organization slant to the coaching style.
Schmidt says the entire Raptors coaching staff has helped him prepare for his first time at the helm in one way or another over the last few months. While his personal relationship with both Jay Triano and Roy Rana has helped him have an idea how to navigate the FIBA rules  and tournament style that the CEBL Summer Series provides.
But what about the newly announced Elam ending?
"I took this job to be able to grow and the more different experiences you are put into as a coach the better you're going to be in your profession," said Schmidt. "My entire life in basketball I've always preparing for last second, sideline out of bounds plays.  Now I just have to sit down and think outside the box in a different situation. I look forward to that challenge."
A first time Head Coach, a first time General Manager and a long-time basketball executive all looking to get a new look roster back to the CEBL Championship Game.
But considering everything that has happened in 2020, just getting back on the floor for will be a huge win for the Honey Badgers and the league in general.
"From what I have seen, we have some amazing people involved in the CEBL," Schmidt explained. "That in itself bodes well for the success of the league because I am a big believer that you win with people."