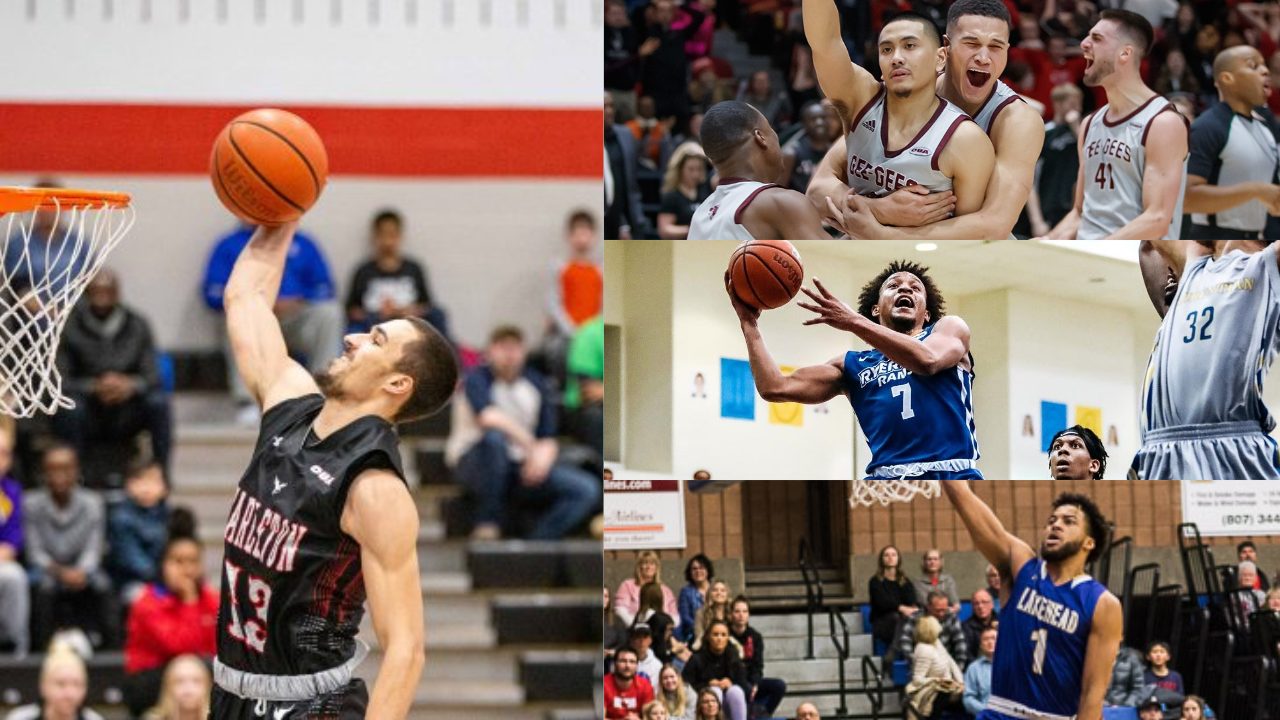 OUA Playoff Preview: Star guards Epistola, Kokko, Traylor and Gray get their chance to end Carleton's run
With the bracket set, it's time for the OUA playoffs to begin! Here is a complete breakdown of Ontario's playoffs and my power rankings heading in to the time of year that matters most:
The path to the #WilsonCup 🏀 is set, but which of these 1️⃣2️⃣ playoff teams will end their #QuestForTheCup with a 🏆?#WeAreONE pic.twitter.com/iXTfgSRgBk

— Ontario University Athletics (@OUAsport) February 16, 2020
Carleton Tier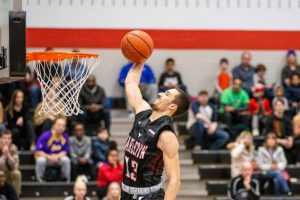 Photo Courtesy: Valerie Wutti
 (1)  #1 Carleton Ravens 21-1 (Bye)
I think it's safe to say the Carleton Ravens have earned their own tier in the OUA playoff picture. Dave Smart may not be on the sideline anymore but Taffe Charles has this senior laden team playing unselfish Ravens basketball. Lloyd Pandi, Yasiin Joseph and Munis Tutu may be the best-known names, but this Ravens team has about 7 other players who can go off at a moment's notice for 20. The only real concern is that at times the offence can run stagnant without the usual go-to scorer they have had in the past. However with this team's depth of experience, they have more than enough shooting to get through any tough stretches when it matters most.
Challengers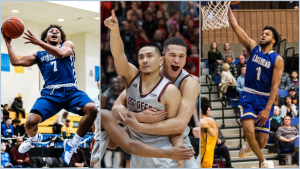 Photos Courtesy: (Left:Hung Le/Ryerson Athletics) (Middle: Ottawa Gee-Gees Athletics) (Right: Jarron Childs/Superior Images)
(4) #5 Ottawa Gee-Gees 18-4 (Bye)
If there's any favourite to take down Carleton, it has to be the crosstown rival Ottawa Gee-Gees who handed the Ravens their only loss of the season. This year's national championship hosts have not only beat Carleton once, but were just two minutes away from sweeping both games of their season series. Led by senior Calvin Epistola, one of the nation's best playmakers, the Gee-Gees will be a tough out for anyone. With their best chance to bring home an OUA title since they last did it in 2014, this OttawaU team is a serious threat to beat anyone both in the conference playoffs and at Nationals. 
(5) #6 Ryerson Rams 16-6 (vs Guelph)
In their first season without Roy Rana at the helm, the Ryerson Rams experienced some major ups and downs. However, with the regular season finished, you'll be hard-pressed to find a team playing better basketball right now than the Rams. Stars Tevaun Kokko, Tanor Ngom and Jayden Frederick anchor arguably the team with the highest ceiling in the country outside Carleton. They've blown out Ottawa, Laurentian, Western and McMaster in the last month, trust me, this team is coming for their sixth final eight bid in seven years and they probably will need an OUA championship game appearance to do so. Look out.
(2)  #8 Lakehead Thunderwolves 17-5 (Bye) 
Lakehead is one bad weekend from being second in my OUA power rankings and tops in this tier. They swept Ryerson (which is impressive, even if the Rams were without Ngom) while also knocking off Ottawa and Laurentian. To say this team is dangerous would be a gross understatement, there's a reason they have the #2 seed in the best conference in the county. Led by Isaiah Traylor's dynamic offence and Lock Lam's unbelievable rim protection, this is a Thunderwolves team that could easily not only play in the conference title game but win it as well. It has been nine years since the Thunderwolves brought home the title to Thunder Bay. I'm sure head coach Ryan Thomson, who was on that team, would love nothing more than to bring provincial superiority back home.
Can beat anyone (except probably Carleton)
Photos Courtesy: (Left: Laurentian Voyageurs Athletics) (Right: Western Mustangs Athletics)
(6) #7 Laurentian Voyageurs 16-6 (vs Windsor) 
Kadre Gray and the Laurentian Voyageurs got more than a break with their loss on Saturday night to Ryerson. Instead of being in a bracket that features both Ottawa and Carleton, the Voyageurs have only Windsor and Western (who they beat earlier in the year) between them and a conference semi-final game. Gray is far from the only talented member of this squad as both Sam Ivey and Joseph Hlady can go for 20 at any time. The problem though is much like Ivey and Hlady, the rest of the roster outside Gray lacks the consistency to feel fully confident about a title run for the number seven team in the country.
 (3)  Western Mustangs 16-6 (Bye)
 It is now or never for the Western Mustangs. The Mustangs depth chart is as full of veterans as anyone, if there was ever going to be a breakthrough year for the program, this is it. Seniors Nikola Farkic (the conference's assist leader) and Eriq Jenkins are two of the conference's best at their position while fourth-year Omar Shiddo and third-year Julian Walker complete a core of players with top level talent. It has been almost two decades since Western won an OUA men's basketball title, this core may have the talent to do it but, it will take them playing their three best games of the season for that to be a reality.   
Quarter-Final Ceilings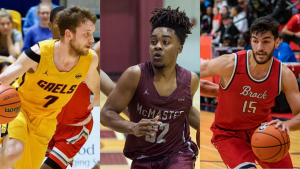 Photos Courtesy: (Left: Robin Kasem/Queen's Gaels Athletics) (Middle: Rick Zazulak/McMaster Marauders Athletics) (Right: Mackenzie Gerry/Brock Badgers Athletics)
(7) Queen's Gaels 14-8 (vs Laurier)
Queen's has to be one of the most interesting teams in the conference. They beat all the teams they're supposed to beat but, outside of Ryerson in November, have lost each time as an underdog. Guard Quinton Gray is an outstanding scorer, but he'll need a significant amount of help if the Gaels are going to be this year's Cinderella.
(8) McMaster Marauders 12-10 (vs Brock)
If McMaster had any other potential quarter-final matchup than Carleton, Jordan Henry's squad would be a fun one to pick to be the surprise team that reaches the final four. Unfortunately, with a Carleton team that beat them by 54 and a quietly difficult first round matchup against their rivals from St. Catharines on the schedule, it's hard to see Mac getting out of the first weekend this season.
(9) Brock Badgers 12-10 (at McMaster)
 This season's edition of the Brock Badgers have had more than its fair share of ups and downs. Boasting wins over Ryerson, Lakehead and Western, one would think they're a threat. Although, with blowout losses to Ryerson and both Ottawa schools in the three weeks, it's hard to know which Badgers team will show up on Wednesday in Hamilton. Even if Brock can manage an upset in round one, I'm sure the Carleton team that beat them by 58 would welcome a quarter-final rematch.
One and done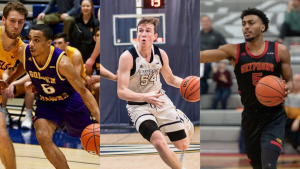 Photos Courtesy: (Left: Robin Kasem/Laurier Golden Hawks) (Middle: Eva Ou/Windsor Lancers Athletics) (Right:Aaron Nugent/Guelph Gryphons)
(10) Laurier Golden Hawks 11-11 (at Queen's)
Laurier has had a bizarre season. Through suspensions, injuries, poor play and everything in between, the Golden Hawks experienced it all in 2019-20. With the conference's leading scorer Ali Sow on the roster they have a player who could carry them far or, they could flame out in the first round. At this point with this team, it's best not to guess.
(11) Windsor Lancers 11-11 (at Laurentian)
Windsor boasts one of the most tantalizing match up problems for most teams in the conference. Forward Thomas Kennedy can score in the post, from three and even pass a bit as well. If the rest of the team plays well, this very well could be a team in the quarter-finals you didn't expect to see there.
(12) Guelph Gryphons (at Ryerson)
For a team that lost three or more games in a row three separate times, making the playoffs can be considered a win. Although they'll be massive underdogs on Wednesday against Ryerson, Malcolm Glanville's squad was a blown 16-point fourth quarter lead away from beating the Rams just two weeks ago.