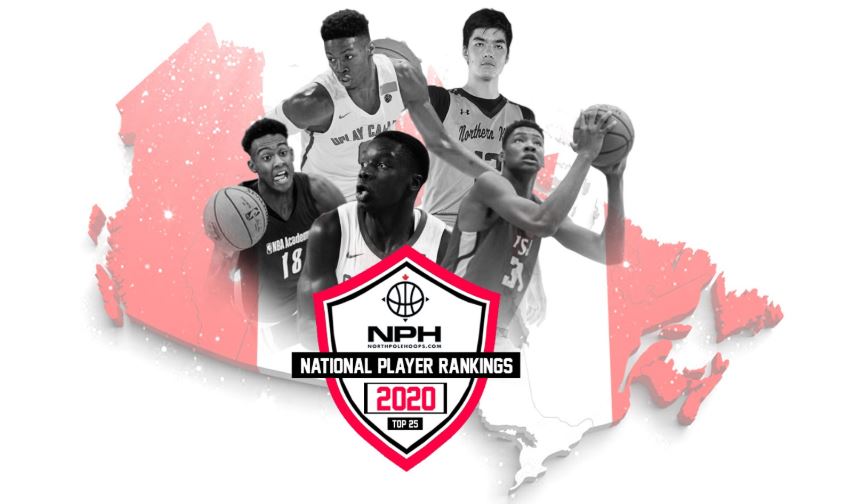 High school
Player Rankings
Canadian 2020 Top 25 National Player Rankings by North Pole Hoops
Three of the top five prospects in the 2020 class have came in and reclassified from 2021 infusing this group and bolstering the overall talent in this graduation year. Six of the top 10 are playing in Canada, this is a new trend that is sure to continue as the infrastructure for a competitive high school level continues to be built. Karim Mane, who is the lone ranger playing in the CEGEP system in Quebec is even being projected as a NBA Draft pick for 2020.
If we look at patterns in previous North Pole Hoops rankings, it's usually the top 5-10 who end up being really impactful as freshman and then as pros.
Here's a look at what 2020 looks like for the Canadian Top 25.
COLLEGE AND UNIVERSITY COACHES LOOKING TO GET ACCESS TO THE TOP 100, WITH PLAYER EVALUATIONS AND PROFILES CONTACT ME AT ESBIET@NORTHPOLEHOOPS.COM
1. Karim Mane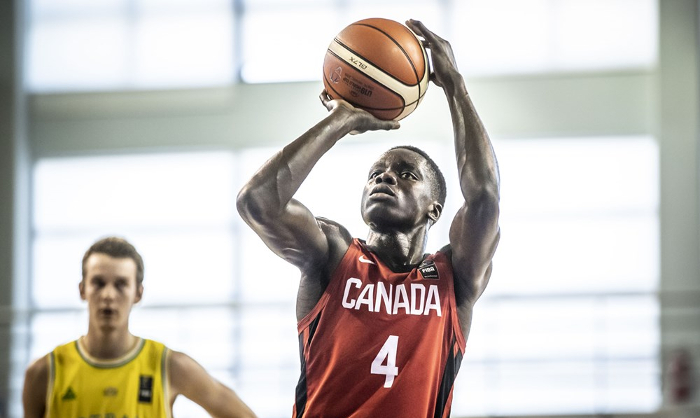 With great size for position, a strong guard package and a high IQ, Karim Mane stands above all. Last season at Vanier he was a massive piece to a CEGEP championship and throughout the summer represented the National Team and the province of Quebec with the U19 group in Greece. That group also featured other projected NBA guys in AJ Lawson, Jahcobi Neath and Charles Bediako.
A lot of his buzz came in the summer while suiting up for Canada Elite on the Under Armour Circuit. Some analysts from ESPN have him listed on their Draft board.
He's currently has narrowed down his list from over 35 school to these 10: Marquette, Memphis, Michigan St, Georgetown, Alabama, Illinois, Kansas, Maryland, Cal, Wake Forest.
2. Keon Ambrose
Keon Ambrose is upside, production and then some. He capped off his summer at the NCAA Basketball Academy Camp in Houston, Texas on a high note. Safe to say he was the talk of the town while we were down there; coaches were buzzing about him and his performances in scrimmages. His extended range from the three point line while standing at 6'8 presents more intrigue, especially when matched with his off the dribble ability to get to the rim in minimal steps and dribbles.
He and his mom, Michelle, have been touring across America doing official visits with the likelihood of coming to a commitment on a college decision in the Early Signing Period.
Arkansas, Dayton, USC, NC State, and Alabama is what it's down to.
3. Olivier-Maxence Prosper
Clemson's newest commit Olivier-Maxence Prosper recently reclassified from 2021 as a result of certainty in the fit at with the Clemson Tigers for the 2020-2021 season.
On both ends of the floor he brings a great deal of versatility combined with great feel and knowledge for the game. What I love about him personally is the level of maturity he brings. That's another reason why the reclass works in his favour. He comes with his hard hat and lunch box and is ready to go to work, there's no baggage, no ego.
Over the summer in Atlanta he was thoroughly impressive at the NBA Basketball Academy games; scouts from all over the world were eager to learn more and see him perform again. Many rescheduled their flights in order to get another look at Prosper.
4. Javonte Brown-Ferguson
When Bill Self is visiting you, you know you're doing something right. Kansas, UConn and Texas A&M are Javonte's top three schools. And again, he is another prospect that opted to re-class and get out without a post-grad year.
There is no clear cut leader from the three but he has expressed that he will be making a decision soon.
This Canadian big man plays out of  the high post and has a nice passing touch and overall court sense. There's still plenty to learn with him as his body matures and packs on muscle. As a 5/4 there is certainty that he will be a steady producer in college.
5. Zach Edey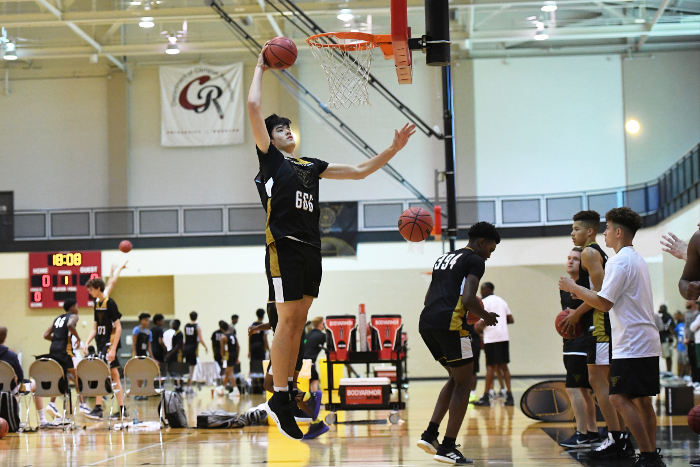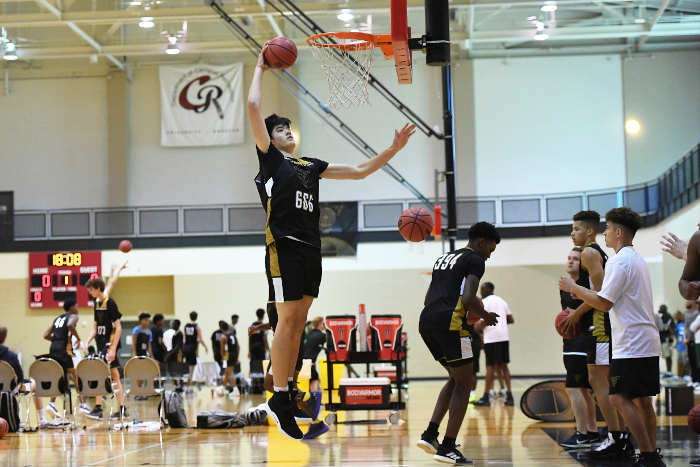 Seven footers are hard to come by. They make up for less that 1% of the human population. At 7'3 Zach Edey carries high stock for college and pro scouts. At the college level his list is down to Baylor, Purdue and Santa Clara.
At this time, Edey is the most motivated he's ever been according to his parents Glen and Julia, and then later confirmed by Zach himself. The staff at IMG Academy are seeing much of the same.
Yes he's a true post, your back to the basket specialist, yet he can also step out and show off his three point shooting from time to time. I consider him an elite passer as a big man as well.
Edey will decide between Baylor, Purdue and Santa Clara on or before November 13.
6. Matthew-Alexander Moncrieffe
Still loaded with upside and turning the corner in terms of developing a skill set off the wing. Matthew-Alexander Moncrieffe is arguably the most athletic or at least has the highest vertical from this group.
He seems very locked in and focused this year. We anticipate him averaging a double-double on the season with points and rebounds, while still putting up poster type dunks. He is in position this year to be a leader as a senior, his team will look for him to have big games nightly.
M-A is another one with all the makings of a high major prospect. He will look to sign in the later period as other schools get involved.
7. Amir Rahimzad
The class' biggest sleeper is Amir Rahimzad. We believe he is a pro. He's not Canadian but he's been playing his prep ball in Canada. The Iranian national team member has received his VISA and is fully eligible for the NCAA.
Rahimzad has had a flurry of offers come in from Texas A&M, Creighton, Bradley, Montana St and The Mount. He hasn't even played a game in a whole year since he was recovering from a knee injury.
Keep an eye out as he's sure to be featured in multiple highlight reels this season.
8. Joshua Hemmings
Another Harvard commit in Joshua Hemmings marks another elite student-athlete from Canada. The Crimson have been banking in on Canada and getting points on interest.
Hemmings' potential is so high at his size and length. There's really no telling what position he ends up playing as a pro. We've seen him play from 1-5 throughout his career. He's probably best suited as a point forward long term. With his ability to relieve pressure, handle the ball and see over the defense, he can be a real problem on the wing.
Harvard currently has Noah Kirkwood, Danilo Djuricic, and Luka Sakota, next year Joshua will be the fourth Canadian on the roster.
9. Louth-Mohamed Coulibaly
IVY League grades, check. Motivation level, check. Skill and strength for position, check. Louth-Mohamed Coulibaly checks all the boxes and will be ready to produce at the next level when his time comes. This year he suits up for one of the Nation's premier prep basketball programs in Canada Topflight Academy in Ottawa.
The stone cold look on his face shows his composure. He is a soldier on the hardwood and does not take opportunity for granted. At 6'8 he is the type to bruise you down low then step out and shoot the mid range or attack all the way off the rip and punch it.
Delaware State and Youngstown State are the two most active in recruiting him as Boston U received a commitment already, taken them off the board. This will be Louth's one and only prep school season and will be the one that's sure to make his recruitment explode.
Definition of a sleeper.
10. Kobe Elvis
Nobody rose as quickly and as loudly as Kobe Elvis did. His consistency holds him to a high standard. The mid-high major levels of college basketball have been aggressively recruiting, calling and texting. They want to know if they can get an official visit.
For now, it seems like Kobe Elvis' signing well be in the latter signing period between April and May. He's going to keep the coaches on edge until then.
For those who haven't seen him. He is Kyrie-esque. A super tight handle and a quick change of direction, he's been known to make defenders dance and/or drop.
British Columbia's Hidden Gem – Dominic Parolin
Dominic Parolin is easily the biggest sleeper in the class. For a big man as strong as him, athletic, smart and skilled to go so under the radar is laughable. His grades are through the roof, his SAT score is over 1400. What more does a guy got to do.
It's shocking and it's not that his recruitment is low. He plays in British Columbia at Centennial High School and does not get the same attention as the kids East of B. C. If he were playing in Ontario he's have a list of 15 schools on him. In every graduating class since we started compiling rankings in 2011, there has been someone like him. A school finds him late and realizes that they have a steal of a prospect.
This is a freebie. If you're a school that is looking for real strength in the post and a guy that is going to protect the paint and score on the other end this is your guy. DOMINIC PAROLIN.
Parolin had to get his just due. Now without further ado, North Pole Hoops' Canadian Top 25 Player Rankings.
#
Player
POS
School
HT
WT
Commitment