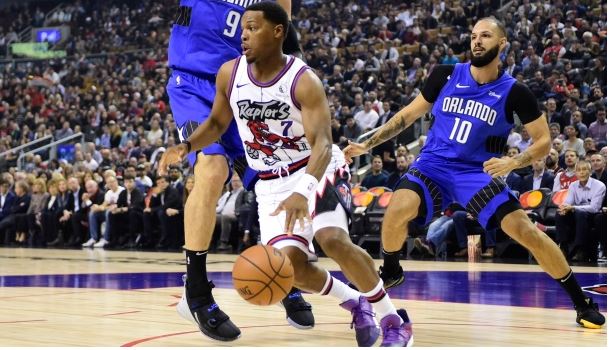 THE HIGH 5 – WEEK IN REVIEW – IN LOWRY WE TRUST – WEEK 2
The High 5 – Week in Review 
Week record (2 -1) Overall Record (4-2)
The Thumb – How was the week?
Despite a solid start to the season, it feels as though the Toronto Raptors are being overlooked and underappreciated by the rest of the league. While other teams get the hype and publicity, the defending champs have yet to be included in the conversation of which teams are among the leagues best. It is as if the NBA community has forgotten how dangerous the Kawhi-less Raptors can be. This week gave Toronto a good opportunity to send the league a reminder. In their way were 3 teams hungry for retribution. As mentioned in Week 1's High 5, all 3 opposing teams had built in motivation to take down the Raptors, aside from the positive credibility gained by knocking off the defending champs.
Orlando Magic @ Toronto Raptors – W 104 – 95
This was the first of Toronto's throwback nights as they played in their original threads in front of a raucous home crowd. Although the Magic kept the game relatively close for a half, the outcome of this contest was never really in doubt. This was a big game for Kyle Lowry who attacked again and again, earning multiple trips to the foul line and ending up with a 26-point night. His contributions were nicely complimented by Siakam's 24 and 9. The Magic have a deep collection of talent but lack leadership on the court. They still haven't found their identity or a player that can take them to the next level. The only concern coming out of this game (and this early season) is the number of minutes logged by Toronto's main players. Fred VanVleet, Pascal Siakam, Kyle Lowry and OG Anunoby all played 36 + minutes. Coach Nurse will need some other bodies to soak up some of that time, especially against such an inferior opponent.
Detroit Pistons @ Toronto Raptors – W 125 – 113
Like the Magic, the Pistons were able to keep up with the Raps until half. That's when Spicy P said, 'enough of that' and turned the heat way up to explode for 19 points in the third quarter alone. The young power forward ended up with another 30 point night. Toronto also got their first good game of the year out of Serge Ibaka who contributed with 19 points, while OG Anunoby added to his strong start of the year by grabbing 8 rebounds; a new career high. On the other side, Coach Casey smiled through his teeth and said all the right things about Toronto's championship season, but you know he wanted this one bad. Andre Drummond did all he could to help by scoring 21 points and pulling down a mind boggling 22 rebounds while former MVP, Derrick Rose, came off the bench for 16 and 10. In the end, the Raptors played a solid game to finally break the 'Casey curse'.
Toronto Raptors @ Milwaukee Bucks – L 115 – 105
The Raptors traveled to the Fiserv Forum for a marquee matchup against the Bucks on Saturday night. This was a game that was no doubt triple circled on Milwaukee's calendar. The Bucks started the game scorching hot, they blitzed Toronto with deadly shooting, at one point mounting a 26-point lead and seemingly putting the Raptors away early. The Bucks suffocated Siakam, keeping the Raptors primary option out of his comfort zone all night. However, Milwaukee has developed an early season habit of giving up big leads and Kyle Lowry was keen to pick up on this trend. Lowry went full KLOE mode in the third quarter, scoring 17 points and bringing the Raptors to within 5 heading into the fourth. It felt like every Raptor not named Kyle struggled to find a rhythm. The Raptors still fought valiantly down the stretch, picking up fouls and grinding through tough sequences. Credit to Coach Nurse and especially Lowry for orchestrating a comeback but the Raptors needed someone else to step up. At least for one game, Giannis got some revenge.
The Index – The Leader – Player of the Week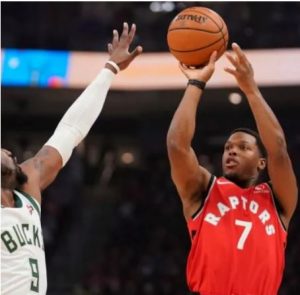 Photo Courtesy: Morry Gash/The Associated Press
Kyle Lowry
Kyle Lowry offset a marginal dip in assists in favour of a strong uptick in the scoring department, stepping up as Toronto's shooters have yet to find their form. Kyle often gets criticized for not appearing in the best shape, but he has looked great so far this year playing much younger than his age would suggest. Hopefully some other players can find their game soon so that the Raptors don't have to lean on their aging vet so heavily.
| | | | | | | | | |
| --- | --- | --- | --- | --- | --- | --- | --- | --- |
|   | Points | Rebounds | Assists | Steals | Blocks | FG | 3PT | FT |
| v ORL | 26 | 5 | 6 | | | 7-18 | 3-11 | 9-10 |
| v DET | 20 | 5 | 8 | 2 | | 7-13 | 2-6 | 4-5 |
| @ MIL | 36 | 4 | 6 | | | 11-18 | 5-9 | 9-9 |
| | | | | | | | | |
| Week Avg | 27.3 | 4.6 | 6.6 | 0.6 | 0 | 25-49 (51%) | 10-26 (38%) | 22-24(91%) |
| Season Avg | 24 | 5 | 6.8 | 1.0 | 0.5 | 47.3% | 39.3% | 89.5% |
Honourable Mention: Pascal Siakam
The Middle – The Enemy – Best Opposing Player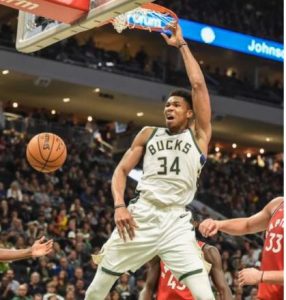 Photo Courtesy: Benny Sieu/USA TODAY Sports via Reuters
Giannis Antetokounmpo
Giannis was out for Raptor blood on Saturday night. He has been vocal about how much last years Eastern Conference finals loss has motivated him to take his team to the next level. Giannis is the prototypical NBA player and will set the league on fire as soon as he learns how to shoot from distance. The Alpha-bet was a monster for the Bucks, he led his team to a huge early season statement win.
| | | | | | | | | |
| --- | --- | --- | --- | --- | --- | --- | --- | --- |
|   | Points | Rebounds | Assists | Steals | Blocks | FG | 3PT | FT |
| v TOR | 36 | 15 | 8 | 1 | 4 | 14-20 | 1-2 | 7-10 |
Honourable Mention: Andre Drummond
The Ring – The X Factor – Standout Performance
Kyle Lowry v Milwaukee Bucks
This week's standout performance for the Raptors was provided by Kyle Lowry on Saturday night. He looks to be in All-Star form and has been proving some of his early season doubters wrong. He came up on the short end of a superstar duel with Giannis but was still able to show that he is one of the league's elite guards. The best part about his 36-point scoring night was that he went 5-9 from deep showing that his deadly range is in fine form.
Honourable Mention: Pascal Siakam v Detroit Pistons
The Pinky – The Unsung hero – Key Contributor
Fred VanVleet
Steady Freddy has been asked to step up as a starter and has done an underrated job thus far. He isn't putting up the gaudy numbers that he did in Game 1 but has settled in nicely as a peripheral scoring option and ball handler. He averaged 13 points, 4 rebounds, 8 assists and a steal in 36 minutes per for the week. His shooting percentage has taken a dip, but hopefully space will open for him when his teammates find their comfort zones.
Honourable Mention: OG Anunoby
News and Notes
Taking it back to '95 – The Toronto Raptors debuted their throwback 1995 inaugural season court on Monday night against the Orlando Magic. Somehow this terrible logo has transcended to "it's so bad it's good" territory. The design is juvenile, the colours are adolescent, but does it ever look fresh!

Photo Courtesy: Twitter/@Raptors

Off season help? – We have seen limited play from off season acquisition Stanley Johnson and Rondae Hollis-Jefferson. It is disappointing to see how little they have contributed to the team so far.
Have you seen this man? – Marc Gasol has struggled to start the year. Toronto needs the Big Orca to find his form and take some of the pressure off their thin front court.
Foul trouble – This is the 2nd time in 6 games that Pascal has fouled out. Siakam will need to learn how to adjust to the officials to stay on the floor.
Around the League
The Fight – By now we have all seen the fight that broke out between Joel Embiid and Karl Anthony Towns. Personally, I think 2 games each was not much of a suspension and Ben Simmons probably deserved some punishment after trying to choke KAT out from behind. The social media battles have almost been just as exciting as the fight, but I think my favourite part of this story is the picture that I presumed started the whole melee.

Photo Courtesy: Mitchell Leff/Getty Images

The Fall of the Warriors – It was an incredible run, but it looks like the reign of the Warriors has come to an end, at least for this year. On top of Steph Curry's broken hand, Draymond Green tore a ligament in his hand to add to the growing list of injured players.
Numbers – There have been some incredibly high scoring games and exciting individual performances so far this year. The NBA has reached the point that the once rare 20/20 nights and triple double games have become pretty common.
Up Next:
The Raptors will welcome the young Sacramento Kings on Wednesday night before heading out for a revenge game against the Pelicans in New Orleans. They will end their week with another big matchup, this time in Los Angeles, on Sunday night against the new showtime Lakers. West coast games always pose an interesting challenge but, if they play the right way, the Raptors may get through this week with a winning record.