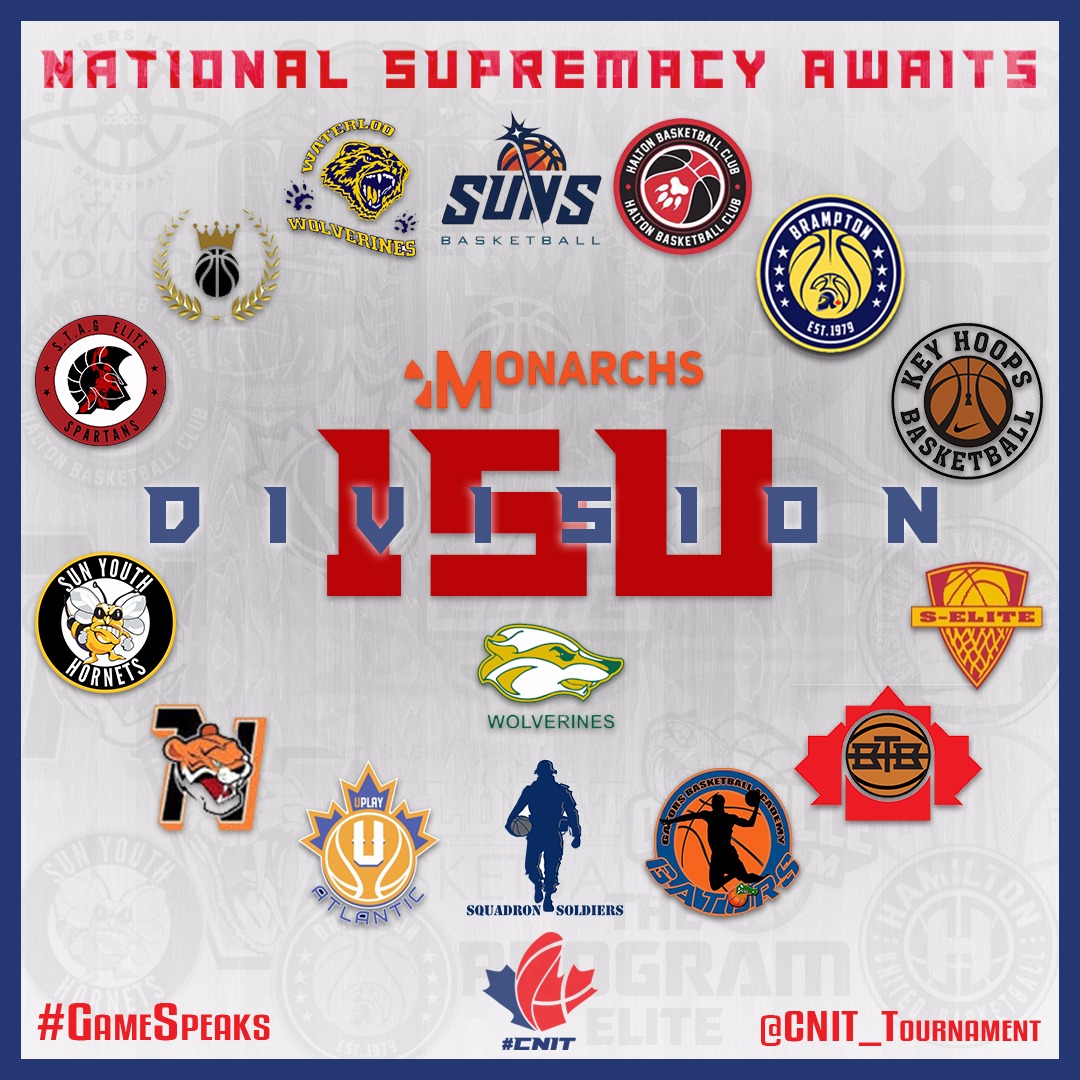 CNIT: 15U DIVISION PREVIEW
15U (2002)

Rankings

Teams

Rankings

Teams

1

Keyhoops

9

UPlay Atlantic

2

Gloucester Wolverines

10

Squadron Soldiers

3

Mississauga Monarch – Richardson

11

Brampton Elite

4

Waterloo Wolverines

12

Niagara Tigers

5

S-Elite

13

Sun Youth

6

STAG Elite

14

Halton

7

Gators Basketball

15

Triumph 204

8

BTB Elite

16

WPA Suns
The 15U division has representation from Ontario, Nova Scotia, Quebec and Manitoba making it the most diverse pool at the CNIT.
will be highlighted by Keyhoops as they take their place as the number one see in the tournament. The team is lead by in the scoring department by the 6'0 sharpshooter Jahlil Scott, who has put up some big time performances. 6'5 Jahshawne Joseph is a prime time playmaker while 6'3 Sam Alamutu will bring the defensive punch for this squad.
At 2, the Gloucester Wolverines come in as the 2018 division 1 OBA champions. Behind the stellar play of 6'2 Isaiah Premberton and 6'0 Sacha Gauthier they will make the case for one of the best backcourts in the entire tournament. 6'8 Zachary Stone will be the defensive anchor in the paint for the Wolverines.
Mississauga Monarchs Kerr come in as your Signature League finalist this year and have a great team first mentality. 6'3 Yohan Axel-Sam will be one of the most versatile pieces within the age division, while 6'1 Riley Curtis could be the most fundament. 5'11 Dalano Dumbar was Signature League MVP for his age division and is a good scorer with sneaky bounce.
The Waterloo Wolverines come in as Hoop City champions behind the league's MVP 6'6 Brock Newton who will suit up at the shooting guard position. 6'3 Waterloo Junior High School MVP Damien Nath will also be a good option for the Wolverines, as will 6'6 forward Trent Johnson.
S-Elite will be a big sleeper in the division as they bring a unique blend of size, speed and shooting ability. 6'9 Marko Milivojevic will be a beast on both the defensive glass and shot blocking department. 6'2 and 5'10 Dimron Philps and Kevonte Marksmen will be one of the most athletic back courts in the division.
STAG Elite and their aggressive, assertive style of play will really have a bunch of teams of balance. With a relatively small team, watch out for the multiple traps and high pace play that this Windsor team will bring. 6'3 Galdo Tutu and 6'2 Ardell Scott Jackson will be able to run the wings with velocity and force, especially with 5'10 Gabriel Rossette running the point. 6'3 and 6'1 Marc Galipeau and Aboudi Hijazi are the STAG's three and D options.  
Gators Basketball will enjoy playing a fast pace with a ton of good ball handlers and shot makers. Look out for 6'1 Matthew Li as he is a very solid option at the point guard position with his IQ, physicality and shooting ability.
BTB Elite claim the 8th seed and have some relative skill and size at all positions. 6'7 Nicolas Ciccolini will be key for this squad as the Mississauga native currently living in Ottawa will look to make a name for himself this weekend with his unique skill set. 6'5 Shakir Yakuba is a versatile shooting guard with good on ball instincts.
UPlay Atlantic brings the Nova Scotia flavour to the forefront as their players will look to attack the ball on the defensive end and shoot the ball on the other end. 
Squadron Soldiers will have a chance to shock some top teams, especially behind 6'1 Darren Clarke and his elite skill set at the lead guard. 6'1 Baron Bayne will be the teams knock down shooter, and 6'7 Osezua Ibhawoh is an athletic wing.
Brampton Elite will come into the CNIT with one of the most explosive athletes in 6'3 David Usomon who is consistently able to finish at or above the rim. 6'1 Victor Arigbe-Osula is also a stand out as this Brampton product is coming off of a Junior basketball Championship with St. Marguerite D'Youville.
The Niagara Tigers come in and will look to shock some teams in pool play as they bring a very deliberate style with some notable snipers, especially 6'0 Andrew Zezela. 6'4 Noah Monteforte and 6'7 Kayleb McLaughlin will bring some size and length to the team.
Sun Youth come in as having won both the NBL provincial league in Montreal this year as well as the St. Laurent Express tournament. 5'10 Malakai Whittaker is a scoring point guard who can put up points in bunches, including 34 in the Express tournament finals. 6'2 Devone White is also a good scoring option, a slasher that gets to the basket. Forward 6'6 Elijah Roye files out the squad as a big with a very soft touch around the rim.
After a 4-1 finish in the Grand Nationals in Ohio Halton basketball comes into the CNIT looking to continue their strong summer. 6'3 Ranique James and 6'2 Lord Antoh are beasts physically that love to get their noses in their and be tough. 6'4 forward Michael Douglas from Georgetown is a good shooter and rebounder. 5'8 Jayven Ramlakhan and 6'2 Rudaine Currie will be the primary ball handlers.
Triumph 204 out of Manitoba will be a tough match up for anyone at the CNIT as they have mainly competed in tournaments down south, especially Minneapolis. Lead by a core group of guys that have been together look out for 6'3 Emmanuel Ugbah and his 6-8 wingspan expect a lot out of this Winnipeg native and he is an exceptional player and a terrific passer. 6'1 Samuel Kayinde brings his 6-5 wingspan and is a strap up defender. 5'9 Edgerren Capuno is a shifty lefty with tons of good floor leadership, and gets hot quickly. 
WPA round out the division as each will bring a toughness, team play, and good fundamentals into the CNIT. At 6'2 Desmond Pryce is their lead guard and will be an explosive scoring option and will razzle and dazzle all weekend long.