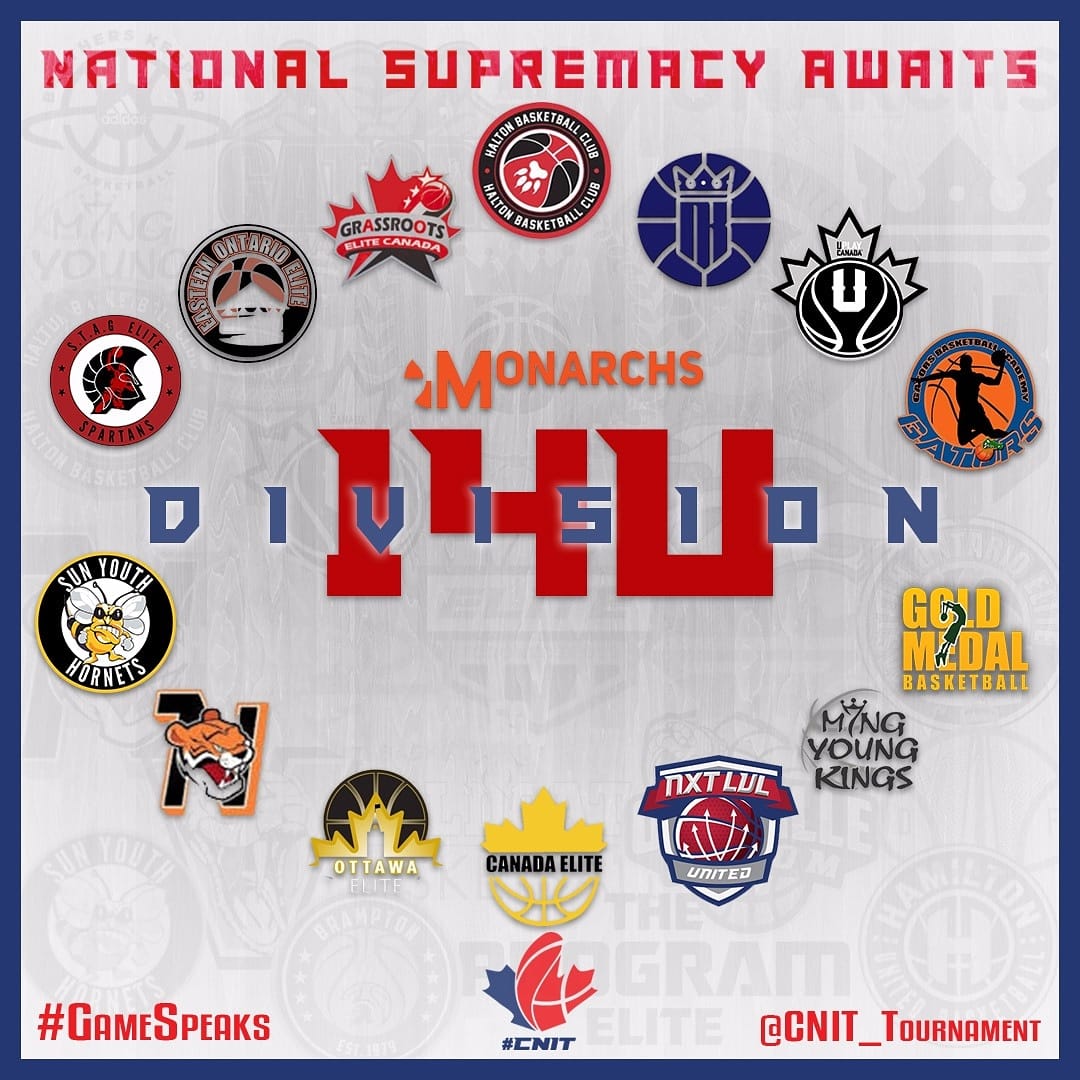 CNIT: 14U Division Preview
| | | | |
| --- | --- | --- | --- |
| Rankings | Teams | Rankings | Teams |
| 1 | Canada Elite – Lloyd Dixon | 9 | Ottawa Elite |
| 2 | UPlay | 10 | Gators Basketball |
| 3 | Grassroots Elite (Blue) | 11 | Northern Kings |
| 4 | UPlay Blue | 12 | Next Level United |
| 5 | London Gold Medal | 13 | Niagara Tigers |
| 6 | STAG Elite | 14 | Halton |
| 7 | Miss Monarchs – Patterson | 15 | M7NG |
| 8 | Sun Youth | 16 | Eastern Ontario Elite |
The 14U Division looks to be extremely promising as budding new talent from Ontario, Quebec and Nova Scotia look to duke it out and crown a national champion.

At the top of the Totem pole is Canada Elite – Lloyd Dixon your OBA champions that boast the likes of 6'6 athletic wing Dylan Kalambay, 6'6 forward D'Angelo Cortese-Affoon, and 6'5 Tye-riq Blake. This squad looks to have the most size in the pool and also have two very exciting guards in 6'2 Ose Okojie and 5'10 Tyler Garcia.
UPlay follow behind closely as a another top squad that is very viable to take it all, especially after their great run the Signature league, where they played a year up capturing the grade 10 championship. 6'8 Caleb Atewe will man the middle, as UPlay also has great length with 6'5 David Ononiwu and James Wani. 6'1 Josiah Davis is an electric player along with his back court mate 6'2 Noah Otshudi. This roster also features 6'1 Nathan Barrett, brother of Canadian star and the #1 prospect in the 2018 class duke commit RJ Barrett.
Grassroots strongly comes in at 3 as this squad is the reigning CNIT champions from last years grade 8 division. 6'3 DJ Jackson will bring his scoring touch to the table along with 5'10 Kole Scott, creating a formidable backcourt.
UPlay Blue had a good run this year making it to the Signature League finals this year behind some impressive play from a number of different contributors. 6'6 Nigel Hylton will highlight the team with his impressive shooting, while 6'3 Autrey Dawkins is a scarpy lead guard who brings a little bit of everything.
Southwestern Ontario will have great representation from London Gold Medal as the Signature league Champions have a high flying stud in 6'3 Shaedon Sharpe, one of the top players in the class. 6'4 wing Keenan Thompson brings great length and IQ, while 5'10 Imran Armstrong is as tough as they get on both sides of the ball at the PG position for Gold medal.
STAG Elite representing Windsor will be a very scrappy and tough team at the CNIT espically with 6'2 and 6'0 Liam Gilbert and Muftah Ageli leading the charge. Look for this team to fight on every possession and shock some teams.
Mississauga Monarchs Patterson Finished have a ton of budding stars that are just ripening up in time. 6'1 Will Hatcher will impress with his shooting ability and sneaky athleticism, while it is hard to find a higher IQ player than combo guard 6'0 Myles McArthur. 6'1 Manvir Virdi is the certified sniper on this squad, and 5'11 Jahlijah Grant is one of the Monarchs most versatile pieces.
Sun Youth while represent Quebec in the division with their firesty on ball defense, uptempo style and ability to get to the rim and finish. Watch out for this squad and its array of solid athletes from top to bottom.
Ottawa Elite represented well this past season in the CYBL, as well as finishing second in the OBA's U16 division. Watch out for Bryaden Mongeon-Duplain, Bryanden O'Connor and Pierre Mukandila as they look to put on a show this upcoming weekend.
The Markham Gators and Northern Kings are serious sleepers in the group as their strong huard play could take them very far in the tournament. Kayden Thompson representing the Gators is a good scorer and distributor of the ball, while NK's Kyree Thompson claimed the BioSteele futures all star MVP out of Nova Scotia this year.
Next Level United represent the Barrie and the surrounding regions which is very exciting as their has been ton of talent that in the area that is looking for exposure opportunities.
Halton Basketball is a hard working, fundamental squad that will rely on the great scoring, especially shooting stroke of their combo guard Aiden Wilson.
M7NG, representing Halifax Nova Scotia will be relentless in their approach with 6'0 Ethan Karabanow running the point. Look out for his smooth game all weekend long. 6'10 Ali Ragab will also be in attendance making his official appearance on the circuit. 
Eastern Ontario Elite will display Kingston, Ontario and the surrounding regions behind coach Duncan Cowen. 5'10 Sam Playter is a budding star at the guard position and has a ton of potential to break out in this years CNIT.