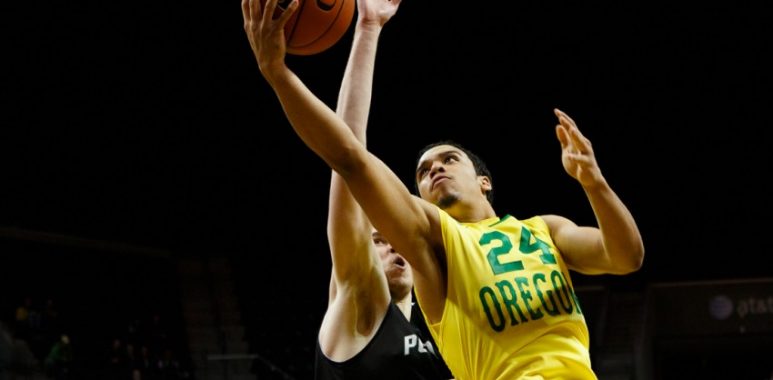 Canadian Men in the NCAA Post Season
Here are the Canadian men who'll be heading to post season tournaments this year …
The NCAA Tournament
South
Southern – D'Adrian Allen
Hawaii – Stefan Jankovic
Buffalo – Jarryn Skeete, Rodell Wigginton, Stefan Duric (Redshirt)
West
Oregon – Dillon Brooks, Chris Boucher, Dylan Ennis
Green Bay – Tevin Findlay
Oregon St – Malcolm Duvivier
Oklahoma – Dinjiyl Walker
East
Providence – Junior Lomomba
Kentucky – Jamal Murray, Mychal Mulder
Weber St – Cody John
Midwest
Virginia – Marial Shayok
Ark-Little Rock – Kemy Osse
Iowa St – Naz Long (Recovering from surgery, will not play)
Seton Hall – Braeden Anderson
Gonzaga – Kyle Wiltjer, Dustin Triano
Dayton – Dyshawn Pierre
The Player to Watch:
Jamal Murray – The likely first round NBA Draft pick come June needs to show that he's 1) able to play the point; 2) can put up big scoring numbers more efficiently.  Other than that, this stage was what he was made for.
Dillon Brooks – After his incredible season for Oregon, there will be plenty of scouts watching him closely.  It's not unreasonable for him to test the Draft waters after the Tournament and a good run here could put him in a position to see his name on the big board.
Chris Boucher – The problem with very good defensive players with O game is that teams will usually play to the D first. This could be his way to play into an NBA summer league team, if he doesn't get that fourth year of eligibility that is.
Stefan Jankovic – Jankovic has been playing on a mid-major stage all year and now he has a chance to really show out to the biggest audience he can.  As the Big West Conference player of the year he could play himself into a favorable position (think second round spot), even if he's not coming up on mock Draft boards.
Kyle Wiltjer – I wouldn't call it a fall from grace but it's safe to say that Wiltjer has come down to basketball earth this season.  He was outshined by teammate Domantas Sabonis about two-thirds of the season and the NCAAs, which he's really showed how good he was in the past, could be his shot at getting a few looks at a possible NBA spot.
Others to Watch:  Dyshawn Pierre, Junior Fortunat
National Invitational Tournament
Region 1
St Bonaventure – Nelson Kaputo
Region 2
Valparaiso – Tevonn Walker, Max Joseph
Florida St – Xavier Rathan-Mayes
New Mexico St – Matthew Taylor, Jalyn Pennie, Tanveer Bhullar, Rashone Browne
Region 3
South Carolina – Duane Notice
Washington – Matthew Atewe
San Diego St – Teki Gill-Ceasar (Transfer Student), Nolan Narain
Region 4
Bucknell – Kimball Mackenzie
Players to Watch:
Xavier Rathan-Mayes – Last year, he was considering entering the NBA Draft.  This year, it would be crazy for him to.  Despite playing in the NIT, XRM should be able to remind folks that he was good enough as a freshman to consider the jump.  That and he passes the ball more too.
Duane Notice – Notice is good enough to start on half the Southeastern Conference teams but has been coming off the bench most of the season.  Expect him to start the first game and stay in the starting lineup if South Carolina advances.
Others to Watch: Tanveer Bhullar, Tevonn Walker
College Basketball Invitational
Duquesne – Jordan Robinson
Albany – Richard Peters
Seattle – Jadon Cohee, Manroop Clair
UNC-Greensboro – Jelani Moford
Western Carolina – Haboubacar Mutumbo
Vermont – Trae Bell-Haynes, Drew Urquhart
Player to Watch:
Trae Bell-Haynes – Bell-Haynes has had a somewhat inconsistent season it seems playing well for stretches and then seeming to look more average others.  It will be interesting to see how he plays in this environment now.
Others to Watch:  Jadon Cohee, Drew Urquhart, Haboubacar Mutombo
College Invitational Tournament
Grand Canyon – Grandy Glaze
Sam Houston St – Marc Andre Fortin
Furman – Isaiah Watkins
Ball St – Francis Kiapway
Fordham – Joseph Chartouny, Nemanja Zarkovic
Columbia – Grant Mullins, Chris McComber
Texas A&M – Corpus Cristi – Kareem South
Players to Watch:
Joseph Chartouny – If his rookie year is any indication Chartouny is going to be a star in the Atlantic-10 next season.  This tournament should open people's eyes to how good he is now.
Grant Mullins – This is Mullins' last run for the Lions since he will be transferring after this season for his senior year.  Expect lots of points.
Others to Watch:  Grandy Glaze, Francis Kiapway