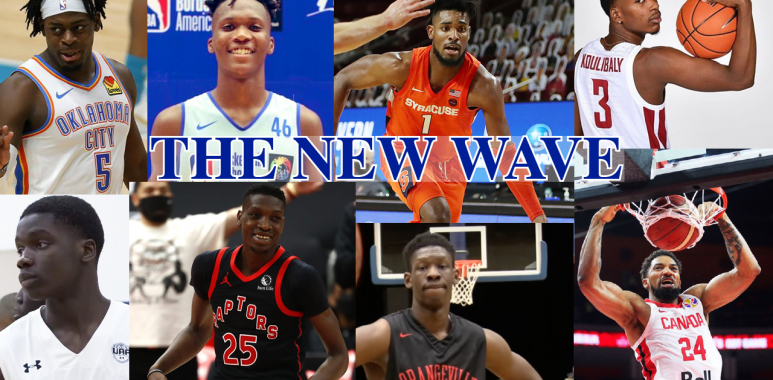 Underdogs no more: How Montreal's new generation of hoopers is putting their city and province on the basketball map
Photo Courtesy: Getty Images, USA Today Sports, the Associated Press, Washington State Athletics, Syracuse University Athletic Communications
The first time Quincy Guerrier really started to play the game of basketball, it wasn't on a school team. It wasn't on a community or AAU team either. He wasn't even playing on a proper indoor court.  
Instead, Guerrier found his love for the sport in a place many before him have and continue to today: the streets and parks of Montreal.
He remembers the countless hours spent out there. They played 5-on-5, 3-on-3, a game called "American" and more. 
"It's really one of my favourite memories from my childhood," he said.
Of course, during the peak of Montreal's summer months, the games wouldn't start until the early evening. The extra heat bouncing off the pavement was too "annoying" for Guerrier and his friends. To make up for lost time though, they would often stay after the park's curfew into the night. 
 Last month, Guerrier declared for the NBA Draft. The Syracuse sophomore is a part of more than just the explosion of Canadian elite basketball talent. He's also part of a wave of ability from Quebec's biggest city; a generation of players that are putting Montreal and the province on the basketball map in a way only Toronto and Ontario have accomplished so far in Canada. 
In the 2020-21 NCAA Division One men's basketball season, 23 Montrealers were on school's rosters. The city also has seen four players raised within it touch the NBA court this season.
 Three of them happened to be in the same game on April 18 when the Toronto Raptors and Oklahoma City Thunder matched up.
 In the game, the Raptors started both Chris Boucher and Khem Birch, an All-Montreal frontcourt, against Montreal-Nord's Luguentz Dort and the Thunder.
 Dort would score 29 points against his home country's team. Unfortunately for him and the Thunder though, Boucher was a man on a mission scoring 31 points in the Raptors' win. It was a classic NBA duel that even caused Raptors play-by-play man Matt Devlin to exclaim at one point, "Montrealer's trading buckets in the NBA."
Montreal stand up!

Lu Dort and Chris Boucher are trading buckets. 🇨🇦🔥 pic.twitter.com/gOIPCJG5G2

— Tim and Friends (@timandfriends) April 18, 2021
If you ask people from the city who either play the game or now coach it, Dort and Boucher quickly come up as the personification of Montreal basketball: hard-working, tough and constantly competitive, a style that the hoopers of the area take pride in.
"In Montreal, if you're not like that, you won't survive," said Jefferson Koulibaly, a freshman at Washington State who was a top ten member of the 2021 Canadian High School Class before he reclassified to 2020.
"Back home when I was a kid, when I was playing against kids and I saw a slight weakness, I'm going at him," Koulibaly explained. "We feed off that. We're mostly all immigrant kids, coming from immigrant families and we're not rich. Most of us are middle class or lower class, we want to win, we're trying to make it out. We're just conditioned that way."
Guerrier credits this mentality coming from a couple of places. Firstly, the park where he said, "I know Luguentz, Chris, most of us we were just playing in the street, in the park."
View this post on Instagram
He also thinks it comes from a fight to prove that Montreal's players are just as talented as the rest. "We have to play with a chip on our shoulder because people from America and people from Toronto, sometimes they don't respect us."
The idea of being overlooked by Toronto and Ontario basketball is nothing new to players from La belle province. 
Will Archambault played at Davidson from 2006 to 2010 and felt the sense of doubt when he was playing as well. 
"I think we're all raised with the notion that Ontario thinks that they're better than us, that's for sure," Archambault said.
He was part of a generation of players inspired by the "Vince Carter Effect." Though we may be seeing more players from the area now producing at the game's highest levels, according to Archambault talent was never the issue, it was just a matter of being found.
 "The thing is, back in the days when I used to compete against those guys in CEGEP, the talent was actually exceptional," he said. "It was just very difficult for guys, the Canadian guys, to go to the states or the prep school circuit."
Despite it being difficult, some players like Archambault did find a way through. Even in the NBA, Montrealer's Samuel Dalembert and Joel Anthony had long careers in the league with Anthony even winning a couple of NBA championships with LeBron James and the Miami Heat.
Still though, it wasn't what we see now with a yearly wave of talent in each class. Alexandre Victor, the head coach of Dynasty Sports Institute and a National Preparatory Association member since 2019-20, thinks a big reason is a newfound structure in the community's basketball landscape.
 "I think it just hasn't been done with rigour and with a strategy to make it happen and I think that's what's turning around," Victor said. "Now there are people that are actually trying to make this happen on a consistent basis instead of just trying to be lucky."
 Another thing Victor pointed to as a reason for the new generation's success is the achievement of their rivals to the west.
 "Ontario has been successful, I think it kind of helps pave the way for the rest of the country," Victor said. "I think as long as Ontario wasn't as successful, everybody had an excuse [to what?]. But once Ontario became that hub for talent, that took Quebec's excuse away."
 Victor's program is working to keep the home-grown talent, homegrown. Another person that's part of the new infrastructure working to help this generation is Nathan Grant.
 Grant has been a head coach of the province's under-15 or under-17 boys' team since 2016. In his work both provincially and at the U Sports level (he's the head coach at Laval), he's seen how people within the community have an understanding of what it takes.
 "There are a few major players in the basketball community that have a handle and a pretty good understanding of what it takes to get to that level," Grant said.
 In his work on the ground with the players, Grant has noticed a shift in confidence from when he was coming up in part due to the success of so many Canadians making it to the highest levels.
 "What happens there, is there is another level of confidence that kind of materializes because now you're saying that I'm as good as this kid," Grant said. "So, even though he's got a reputation early or whatever and he's there now, I'm as good as this kid is."
Congrats to Quebec Basketball @BasketballQc for running the table @ Nationals winning all 4 Championships, boys&Girls 15&17U. Happy for all the people that make up program, lots of hard work put in over the years. Sign of things to come. Quebec's got now #GameSpeaks #RespectTheQ pic.twitter.com/mN9rSL8tC0

— Tariq Sbiet 🏆🇨🇦🌎 (@Tariq_NPH) August 11, 2019
In 2019, Quebec's four provincial teams, both boys and girls under-15 and under-17, won gold at Nationals. It was a moment he called the "icing on the cake" after all the work the program has put into growing the sport in the province. Nevertheless, he finds that despite the success, his city and province aren't getting the love they deserve.
"Talking with these kids on a regular basis, they feel kind of overlooked in the sense that Canada's getting all this recognition but really, it's Toronto," Grant said. However, this can have a positive impact on how hard players are willing to work.
"The fact that these kids are having to get in the gym and put in more hours because they want to get better, they want to be seen," Grant said. "Those hours are turning them into tough, tough, tough kids. They're hungry, they start becoming dogs because the work becomes second nature to these kids. They're not afraid of getting into the gym and outworking the next kid."
That hard work and intensity are felt throughout the area's basketball culture. Koulibaly credits it with shaping who he is as a player.
 "Montreal is a grimy type of playstyle, we play defence, we play hard," he said. "I just feel like it shaped my game in a way where I'm tougher than most people because of where I'm from."
 Koulibaly is a prime example of a Montreal hooper in the way he plays, according to Tyrese Samuel of Seton Hall. To him, Koulibaly is one of the players he most associates with Montreal basketball in terms of style of play.
 "Luguentz, Jefferson Koulibaly, Karim (Mane) and Damion Squire. Those people right there like you can see them and you can just tell he's from Montreal," Samuel said. "I feel like you can point out someone if they're from Montreal or not."
 One of Samuel's favourite parts about being from Montreal is the close connection of the basketball community.
"Everyone knows each other and we're all good friends with each other so that's one thing too. We're all kind of trying to win too, one up because you will see each other outside if it's not on the basketball court," Samuel said. "It's kind of like a family thing out there."
 That family atmosphere is something that's really important to the former Orangeville Prep star. Being from Montreal and remembering what that area meant to his development as a player and person is something he thinks about often.
 "I think it's probably the most important thing," Samuel said. "For me not to forget where I came from, how I've got to where I am today, being from Montreal and being from Canada. Trying not to change up who you are as a person."
Most people wouldn't consider Montreal native 🍁 @quincyguerrier an underdog, when he averaged 24.7 PPG & 6.2 RPG at @Team_Thetford Academy, he was named MVP of the 2018 @BioSteelAllCdn , a member of the Signature ACS game & one of 10 🇨🇦 selected for @NBA Americas Team Camp pic.twitter.com/UfCuCTPqUM

— NPHScouting 🇨🇦🏀🇺🇸 (@NphScouting) March 24, 2021
Guerrier is also proud of his roots and how they shaped his basketball career.
"I think it really helped my mental toughness," Guerrier said. "I don't want to be scared of anything. When it's time for me to play these guys, I need to show that I'm the best one. That was the mentality for me and a lot of guys from Montreal too."
 Of course, for him, that mentality was formed in the parks as a kid. His introduction to the sport was one of constant competition.
 Fouls weren't easy to come by and neither was the court with as many as fifty or sixty showing up to play regularly. A loss could mean a long time off to the side waiting and even though he was years, sometimes decades younger than his opponents, Guerrier loved it.
 "I would go back home [after school], eat something, probably study a little bit then go to the park until 8:30, 9:00, 9:30," he said. "And then on the weekend, I was probably going there until 11:30, 12:00. The curfew for the park was like 11:00 but we were always staying an hour more."
 At times it got rough, there were fights and as often one of the youngest guys there, there was only one real way to play. "You just had to go there and play hard."
 When he went to Thetford Academy, 230 kilometres northeast of Montreal, for high school, he never forgot where he came from. A couple of years into his time at Thetford he came back to the park in Montreal to showcase his development, no longer the youngest guy there.
 "When I was 16 or 17 after my second year at Thetford I came back and I was just killing everyone," he said, chuckling to himself. "It was really bad."
 For Guerrier, seeing the success of friends and peers like Boucher and Dort is nothing but exciting and something he is working to as well.
 "It's fun, I think everyone, we are grateful for what we are doing right now and for them, right now they're playing at the highest level in the NBA," Guerrier said. "They grinded their way up to being a good player and put them in position to be in a starting five… I think it's just the beginning, the skies the limit for them and me, we've just got to keep working."
 If one thing's for certain, it's that none of these guys are afraid of hard work. They're Montreal hoopers, raised as underdogs and working to put themselves and their city on the map.
 Seeing the growth and the success at the game's highest levels is encouraging, exciting and an obvious example of potential being realized. However, according to Guerrier, his area is far from done.
 "I think Quebec is rising right now," he said. "It's just the beginning."