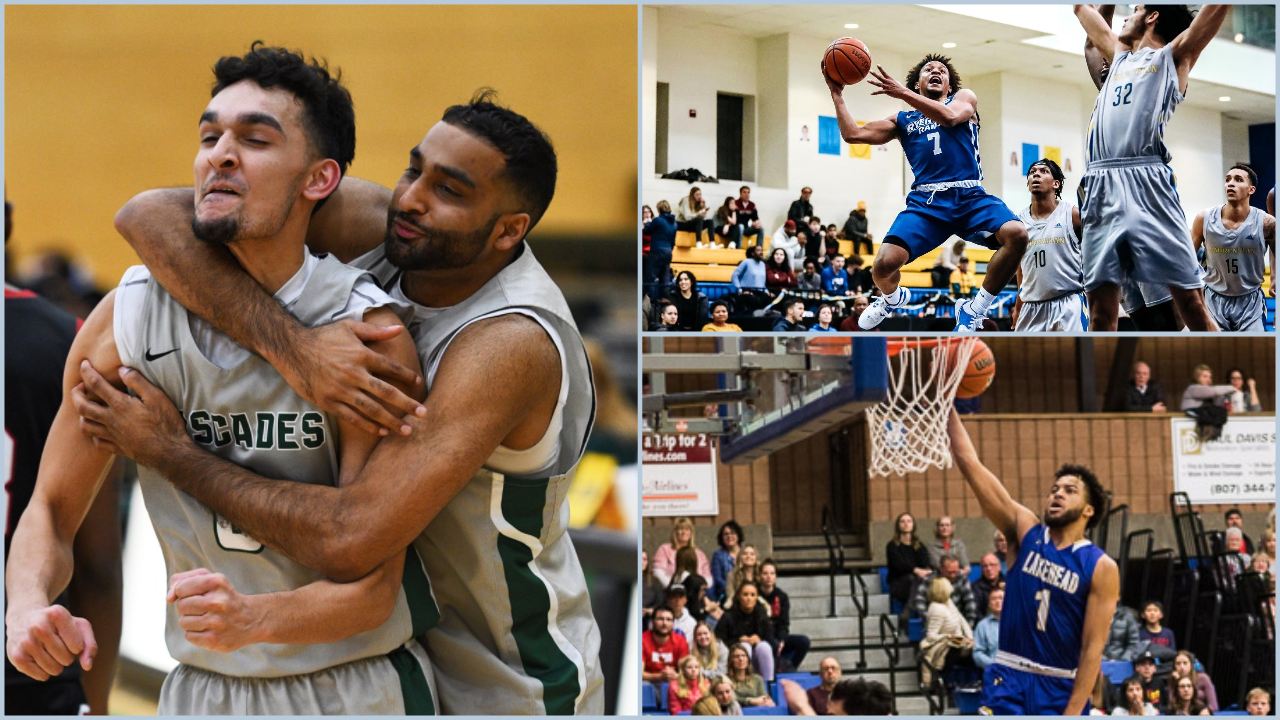 UFV's season is saved by a buzzer beater, Traylor puts on a show and Dal and McGill lock up first place
The playoffs are underway out West while Ontario finally wrapped the regular season up. Meanwhile, in the Atlantic and Quebec, one final weekend remains. Across the country, U Sports teams are playing the most important games of the season so, let's see how they fared: 
Canada West- UFV's season is saved by a buzzer beater, Brandon pushes UVic to the limit and Dewar and Akintunde help Saskatchewan move on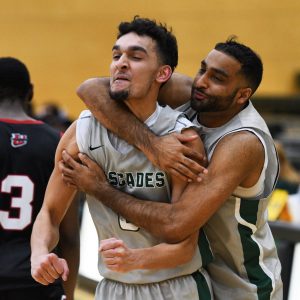 Photo Courtesy: Dan Kinvig/UFV Athletics 
If there's one thing the 2019-20 UFV Cascades men's basketball team will be remembered for, it will have to be their never say die attitude. Down late in the fourth with stars Sukhjot and Parm Bains not in the game due to fouling out and an injury respectively, the Cascades needed something special to happen. It did. With just 4.4 seconds to go, Jordyn Sekhon knocked down the definition of a clutch three that had shades of Miami's Ray Allen all over it to save his team's season. In overtime, the Cascades were too much for the visiting Winnipeg Wesmen, who, led by Narcisse Ambanza and Donte Makazu were admirable in defeat. Next week the Cascades will head to Calgary to take on the Dinos while the other team joining them there to take on UBC will be Saskatchewan. With Alexander Dewar and Emmanuel Akintunde leading the way, the Huskies were able to end Michael Rouault and the Thompson Rivers WolfPack's season. Rouault for his part was spectacular with 23 points in his final university game. Hayden Lejeune was also facing the prospect of having his final season ended despite playing for the heavily favoured Victoria Vikes at home in their 5 vs 12 match up with Brandon. However, Lejeune and fourth-year forward Matthew Ellis said enough is enough and led the Vikes to a 10-3 run in the final 3:10 to eliminate the scrappy Bobcats. BU were carried once again by first-year Anthony Tsegakele as the forward reminded everyone why he'll be one to watch for years to come in Brandon. UVic will take on Manitoba in what is sure to be one of the best games of the quarterfinals. After that game, the Lethbridge Pronghorns will take on the conference-title favourite Alberta Golden Bears. Lethbridge earned their place in the capital of Alberta next weekend thanks to a dominant team effort at home against Regina. Keanu Funa, Kyle Peterson, Chad Oviatt all scored 20 points for a Pronghorns team that will have their hands full on Saturday night. For a complete preview of the entire conference's playoffs and the outlook of the remaining teams after this weekend, click here.
OUA- Kokko, Traylor, Walker and Shiddo put on shows in preparation for the playoffs while McMaster and Brock receive a rude awakening in Ottawa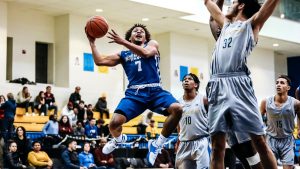 Photo Courtesy: Hung Le/Ryerson Athletics
It was billed as the must see match up of the week between Laurentian's Kadre Gray and Ryerson's Tevaun Kokko and after forty minutes, there was one resounding winner. Kokko continued his hot stretch of play with 28-points while Gray was hounded by a Rams defence that is playing as well as anyone heading into this week's playoffs. The Rams will host Guelph on Wednesday in the 5 vs 12 game while Laurentian will head home for a date with Windsor in the 6 vs 12 game. With the win, the Rams positioned themselves on a side of the bracket that features both Ottawa teams while the Voyageurs side features Lakehead and Western. For the third seeded Western Mustangs, they head into the playoffs on a high, winners of three in a row (including at Lakehead last week). Saturday's game was the latest reminder of how good Julian Walker and Omar Shiddo are as Walker put up 28-points while Shiddo had 25 in a tight win at home against Windsor. Western heads into next weekend poised to contend for a shot at an OUA Championship game berth along with a possible final 8 bid as well. Potentially keeping them from that championship game is the highest seed on that side of the bracket, Lakehead. After losing back-to-back games last weekend and getting past by Laurentian and Ryerson in the U Sports national rankings, the Thunderwolves were in need of a great weekend to rebuild momentum heading into the postseason and it came on the back of Isaiah Traylor who averaged 35.5 points in wins over UOIT and Queen's. The Queen's win was particularly impressive seeing as the Gaels came into Thunder Bay as one of the dark horses in the conference. Queen's life won't get any easier this coming week in the playoffs against another star guard in Ali Sow. Sow is the kind of guard who can explode in any given game for 30 and in a one game situation, that is not exactly something you'd sign up to play against. Another guard who fits that description is McMaster's Jordan Henry. Henry and the Marauders will host rival Brock this week on Wednesday in a game featuring two teams who came home from the nation's capital with their tails between their legs. Carleton was most impressive of the two Ottawa teams after their first loss of the season last week, the Ravens slapped McMaster and Brock by a combined 117 points. Meanwhile, OttawaU handled both easily and head into the playoffs a true title threat after their fourth-place finish. They will take on the winner of Ryerson's date with Guelph while Carleton will (gladly) welcome back the winner of McMaster and Brock. For a complete OUA Playoff Preview, CLICK HERE!!
AUS- Johson's Huskies officially rolling while UNB and Dal assert themselves with playoffs not far away
MBB: Among his 22 points in Sunday's 85-64 win over @MUNathletics was the 900th point of Chris Spurrell's @AUS_SUA regular season career.

Well done, Chris.#goredsgo pic.twitter.com/YEb00EehCD

— UNB Reds (@UNBAthletics) February 16, 2020
With the playoffs coming up after next week, this weekend was more than integral for seeding in the Atlantic. That's why when the Saint Mary's Huskies took two straight in a home and home with StFX, it sent a message to the rest of the conference the Huskies are back. Winners of six in a row and led by stars like Johneil Johnson and Qyemah Gibson, the Huskies are positioned as well as anyone going into the postseason. StFX meanwhile, with the two losses, fell out of second place and will have to win next week against Cape Breton and get some help in order to get their spot back. The team who passed the X-Men are UNB as carried by Chris Spurrell, took care of business at home versus Memorial. Their focus will now shift to next week and a game with Dalhousie. Dal will be coming off a weekend that saw them utterly dominate UPEI. The Tigers are playing their best basketball of the season, having won nine in a row. With the playoffs finally in sight, now may be the worst possible time to face the number two team in the country. Finally, Cape Breton pulled off back-to-back wins on the island at home versus Acadia and clinched a playoff spot. The two wins propelled the Capers into a position to clinch thanks to some much-needed separation from Acadia and Memorial. Acadia will have their own chance to clinch next week when they faceoff with Saint Mary's in a final weekend four-point affair.
RSEQ- McGill and Concordia battle for forty minutes while Frantson Demosthene has a game against his former school to remember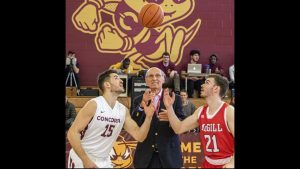 George Lengvari (centre) performs ceremonial tip-off between team captains Olivier Simon (R) and Sam Jenkins (Photo Courtesy: Kyran Thicke, ConU)
There is only one word to describe McGill and Concordia's rivalry game this past week: slugfest. With the Lengvari Cup on the line as well as a shot for McGill to clinch first place, the two teams proceeded to combine to shoot 35% from the field. Like many games where two teams struggle from the field, turnovers were the difference with the Stingers being forced into 23 by the road team's defence. For McGill, the win clinches them their seventh first place finish in eight seasons, something the far and away most consistent team in the RSEQ this year has absolutely earned. Their final regular season opponent will be another inner-city rival, UQAM who is coming off quite the showing. Laval transfer Frantson Demosthene put a hurting on his former team, dropping 20 points and 20 rebounds on route to victory. If that loss wasn't a hard enough pill for Laval to swallow, two nights earlier, despite Sidney Tremblay Lacombe and Vladimir Thomas each scoring over 30 points, the Rouge-Et-Or lost to Bishop's. The Gaiters had five players in double-figures in the game and with the win clinched at least fourth place going into the final week of the season while Laval's last place season will mercifully come to a close next week at Concordia.
Upset Special- Saint Mary's sweeps StFX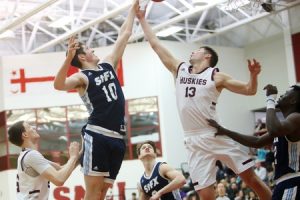 Photo Courtesy: Saint Mary's Huskies Athletics
 Coming into the weekend, it was well known that StFX needed to keep winning in order to help themselves in the race for second place. With UNB right behind them, it was imperative for the X-Men to pick up some points against a Saint Mary's team that has disappointed most of the season. However, by weekend's end, the Huskies had swept the X-Men in two games that could completely change the conference's playoff seeding. SMU has now won six in a row and is starting to look like they've found themselves at the time when it matters most. With the playoffs right around the corner, it is very possible in a month these games will be remembered more for being a litmus test of SMU's playoff potential rather than the upset it seems to be now.
Player of the Week- Isaiah Traylor (Lakehead) averaged 35.5 points, 5 rebounds, 2 assists on 51.1 FG% in wins over UOIT and Queen's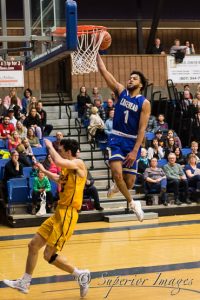 Photo Courtesy: Jarron Childs/Superior Images
Last week was disappointing to say the least for the Lakehead Thunderwolves. Losing two straight any time isn't ideal but just two weeks before playoffs had to be the exact opposite of the plan for a team with conference title dreams. It's moments like this where stars are needed most and Isaiah Traylor took that to heart this week with two superb performances against UOIT and Queen's, helping the Thunderwolves clinch the second overall seed in the OUA playoffs. Traylor has found another gear heading to the playoffs, the kind of gear that could spell trouble for the rest of the OUA.
         Runners up: Canada West- Chad Oviatt (Lethbridge) / AUS- Johneil Johnson (SMU) / RSEQ- Frantson Demosthene (UQAM)
Why we love USPORTS- Jordyn Sekhon saves the Cascades' season
🏀 MBB | @jsekhon23 FOR THREEEEEEEE!!! HE TIES THE GAME WITH 4.4 SECONDS LEFT AND WE'RE GOING TO OVERTIME! 🔥🔥🔥 #WeClimbWeConquer pic.twitter.com/EKFg4l6Mvi

— UFV Cascades (@UFVCascades) February 15, 2020
Down three with 11 seconds to go, things were not looking good for the UFV Cascades. But after a wild sequence saw Jordyn Sekhon with the ball at the top of the key. The third year guard would then do his best Ray Allen impersonation, stepping back behind the three point line and splashing a shot that would've made the basketball hall of famer himself proud. With 3.9 seconds to play, improbably, the UFV Cascades had found a way to tie the game. From there the Cascades would dominate overtime and ultimately clinch a playoff win the will go down as one of the most memorable in school history and certainly another reminder of why U Sports is special.
Growing the game- Kathy Shields feature story
So this week I got the opportunity to write about a U Sports legend, if you have the time I promise it's worth the read! Kathy's impact on the sport will last forever🙏⬇️ https://t.co/Y7qrXEWwIH

— Will Baldwin (@Will_NPH) February 13, 2020
 Last week I got the opportunity to write about U Sports legend Kathy Shields. While on the surface it may seem her impact is felt only on the women's game, it actually extends far beyond that into all aspects of the game of basketball. If you're a fan of U Sports or Canada Basketball I highly recommend you read it, her story is absolutely worth your time. If interested, click here!
 Game of the week- the Canada West Semi-Finals
Saturday and Sunday will be fun in Alberta. On Saturday, the winner of UFV/Calgary will battle the winner of Saskatchewan/UBC in what is sure to be a fascinating game to decide who heads to the final of the conference. Meanwhile in the province's capital on Sunday, Alberta and Lethbridge's winner taking on Manitoba and Victoria's (the best quarter-final game) winner will be interesting to say the least. Will both home teams prevail or will a Manitoba or UBC be able to upset the apple cart and shock the rest of the country? Either way it'll be worth watching.
 USPORTS National Top 10
🏀 U SPORTS Top 10: @CURavens 1⃣@AUS_SUA | @CanadaWest | @OUAsport | @RSEQ1 | @CanBball #ChaseTheGlory | #ViserHaut

🔗EN: https://t.co/PuG8pa9S52 /🔗FR: https://t.co/GfZUH56ofA pic.twitter.com/x8Up537MNn

— U SPORTS (@USPORTSca) February 18, 2020
Heading into the OUA playoffs, U Sports has Ottawa, Ryerson, Laurentian and Lakehead neck and neck. It will be truly fascinating to see how they handle the conference's wild card bid and how much the playoffs, head-to-head matchups and regular season performance is taken into account. Out west, by the end of this weekend one of UBC or Manitoba or maybe both depending on the next couple days seasons will be over. Lots is on the line as the playoffs are now officially in fullswing!