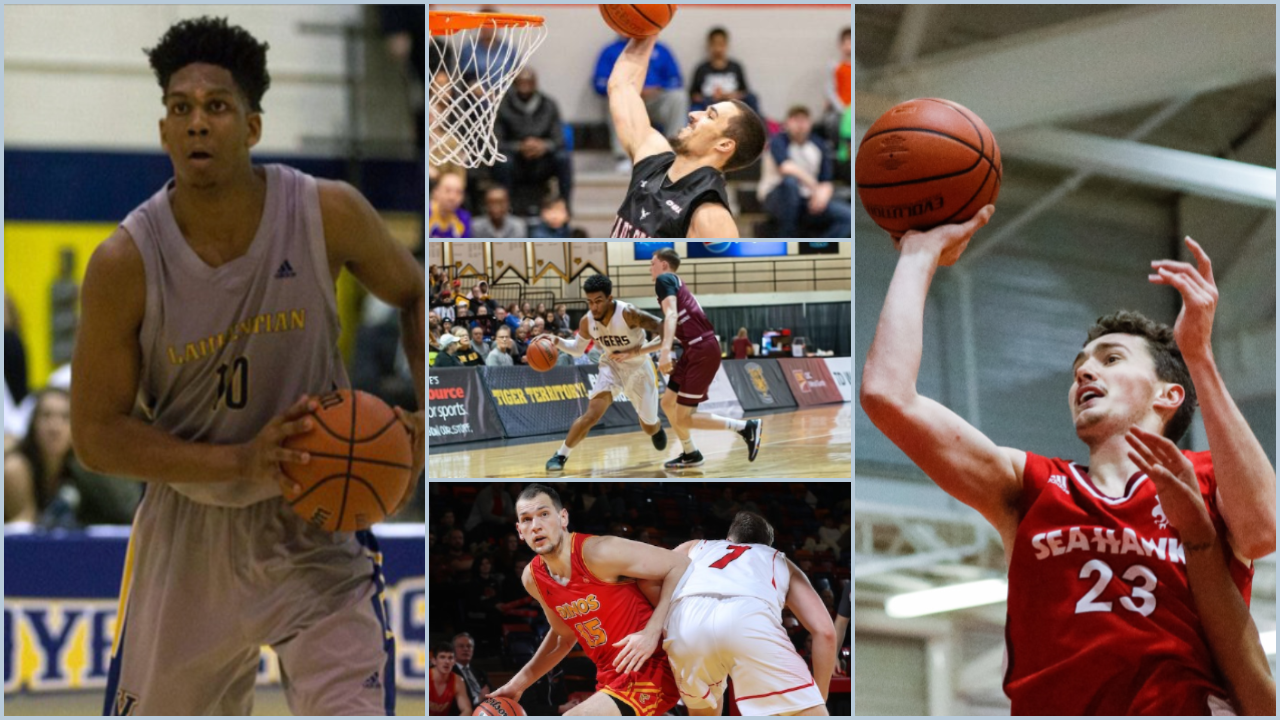 Who are the top performers in USPORTS? A mid-season report
With the first half now come and gone, it only seemed fitting to recap the entire country and look ahead to the second half. As exam break settles in, here is everything you need to know about USPORTS heading into the new year. 
Canada West- Lead by Layton Dinos continue to reign supreme while Gilbreath, Browne and Pluzhnikov impress
Video Courtesy: Canada West TV Powered by SnappyTV
Despite losing so many key contributors from last year's team that made the National title game, the Calgary Dinos are off to an outstanding start. After an 8-0 start, including sweeping a top ten team (UBC), it is safe to say the Dinos will be just fine. Another team who has had to fight through adversity from losing key contributors is Alberta as despite Brody Clarke having not played yet, the Alberta Golden Bears are in first place with a 9-1 record. Depth has been the key as the team has no one in the top-25 in the conference in scoring and should get Clarke back at some point in the new year. In terms of surprises, Lethbridge has disappointed after starting the season ranked while Thompson Rivers behind the play of Anton Bilous are off to an impressive 7-3 first half record. If anyone will upset one of the teams from Alberta in the playoffs it will likely come from either Manitoba, Saskatchewan and UBC as all have had strong starts and have the potential to threaten the conference's elite in the postseason.
OUA- Carleton continues to dominate after Smart while Epistola, Gray and Farkic lead potential threats to the dynasty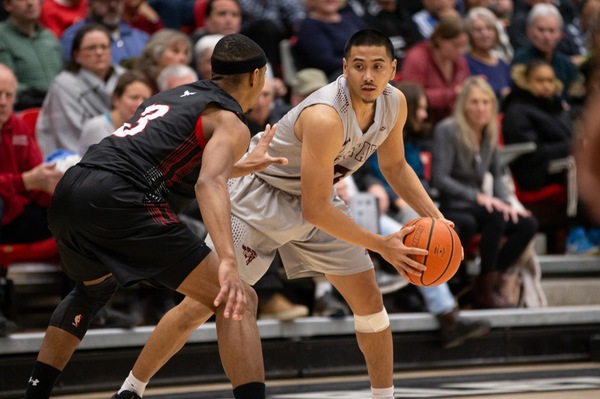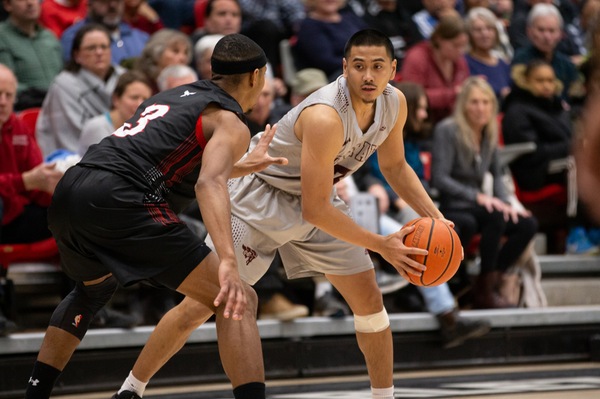 Photo Courtesy: Greg Mason 
Even without Dave Smart at the helm, the Carleton Ravens have been dominant. Sitting at 11-0, the Ravens are the clear national title favourites in December. That being said, the last three weeks have seen outstanding players such as Calvin Epistola, Isaiah Traylor and Kadre Gray head to the Ravens nest and push the favourites to the limit. Although none came away with wins, the outstanding performances of Ottawa, Lakehead and Laurentian showed the nation how competitive the conference is this season. This is of course not acknowledging Western and McMaster who are both outstanding teams full of elite talents like Omar Shiddo, Nikola Farkic and Jordan Henry that is good enough to beat anyone in the conference. Although it appears the OUA is on track for another year ending with a Raven victory, the conference is full of worthy adversaries heading into the new year.
AUS- Dalhousie is a powerhouse and Cole Long has Memorial looking dangerous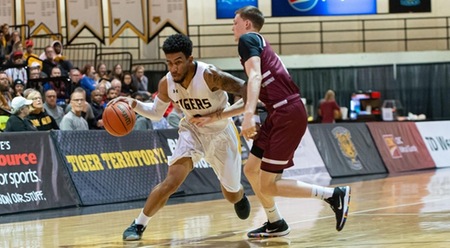 Photo Courtesy: Trevor MacMillan
Sitting at number two in the national rankings, the Dalhousie Tigers look as good as anyone in the country. The team has an absurd five players averaging double figures, the type of depth virtually everyone in USPORTS dreams of having. It will be a big surprise if anyone knocks off the Tigers before the Final 8 in Ottawa. If anyone could do it though, it may just be Memorial. The Seahawks are lead by conference player of the year front runner Cole Long and whose talent can carry his team to a win at any given time. Meanwhile, Saint Mary's and UNB got off to slow starts but if history is any indication, they surely can threaten Dalhousie's quest for a conference title.
Quebec- McGill the class of Quebec so far as Bishop's disappoints and Concordia looms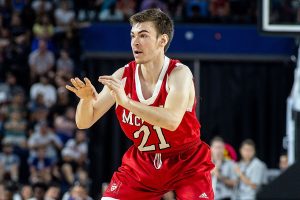 Photo Courtesy: Matt Garies
You will be hard pressed to find a team who had a more impressive first half than McGill. Sitting atop the conference, they have knocked off last year's champion Concordia and, Bishop's (twice) who started the season nationally ranked. The team that seems most prepared to unseat McGill is Concordia. The Stingers only loss came on the road against their in-city rivals and lead by Olivier Simon and Adrian Armstrong look like they can beat anyone in the conference. Meanwhile, Bishop's is full of talent but so far not results. The Gaiters have yet to beat either McGill or Concordia despite having three chances. It won't be until February that they get another chance at either team but when it happens everyone will be watching to see if their opening national ranking was a huge mistake. 
What team has surprised the most this season- Lakehead taking the nation by storm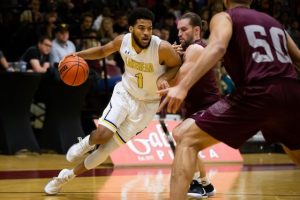 Photo Courtesy: Greg Mason/uOttawa Sports Services
Coming into the year, expectations were mixed on the Lakehead Thunderwovles but now at the first half break, they have some of the country's most impressive wins and have climbed up to third in the national rankings. Lead by Isaiah Traylor, Lakehead will be a formidable opponent for anyone in the second half and have proven themselves to be a true OUA title threat in March.
Canada West- Thompson Rivers- The WolfPack had an outstanding first half and find themselves in fourth place with a 7-3 record heading into the second half
AUS- Memorial- Behind the play of conference of the year front runner and hometown kid Cole Long, the Seahawks are firmly in second place in the Atlantic.
RSEQ- McGill- Widely considered the third best team in Quebec coming into the year, McGill swept Concordia and Bishop's on the way to a first-place spot at break.
What players have taken home the NPH player of the week awards so far?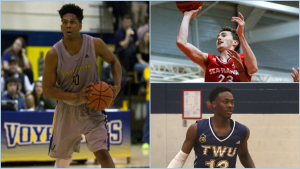 The first half was full of outstanding individual performances. From triple doubles to forty-point games to clutch buckets when it mattered most, the stars below showed out and earned the recognition. 
Canada West- Vova Pluzhnikov (1 National/1 Canada West) / James Wagner (1 Canada West) / Brett Layton (1 Canada West) / Ja'Qualyn Gilbreath (1 National/1 Canada West)  / Rashawn Browne (1 National/1 Canada West)
OUA- Kadre Gray (2 National/2 OUA) / Calvin Epistola (2 OUA) / Thomas Kennedy (1 OUA) / Nikola Farkic (1 OUA)
AUS- Cole Long (1 National/2 AUS) / Azaro Roker (1 AUS) / Chris Spurrell (1 AUS)
RSEQ- Sam Jenkins (1 RSEQ) / Frantson Demosthene (1 RSEQ) / Jamal Mayali (1 RSEQ) / Quarry Whyne (1 RSEQ)
Why we love USPORTS- ByTownBattle lives up to the hype
Video Courtesy: Carleton Ravens Athletics
Every time OttawaU takes on Carleton it is must watch and last weeks game was no exception. The Ravens were able to escape with a narrow four point win, once again showing the mental fortitude that makes their dynasty so special. If this game was any indicator, the next time these two meet will be another instant classic. 
USPORTS National Top 10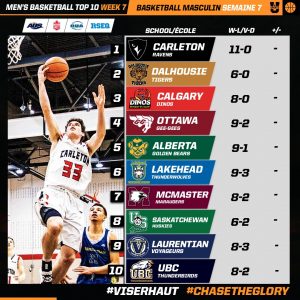 In the final rankings before the new year, Ottawa remained in the top four despite their loss to Carleton on Wednesday. Due to Ottawa not moving, the rankings are the exact same as last week as their game against Carleton was the only one that featured top ten opponents. If you're curious what I said about the rankings last week, check here.