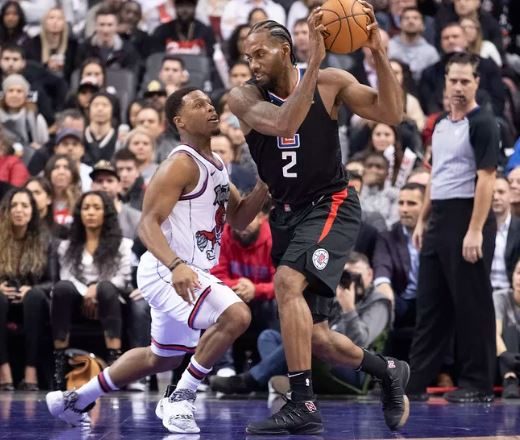 Did Kawhi's statement in Toronto wake up the Raptors?
The High 5 – Week in Review – Week 8
The High 5 is where I review the last week of Toronto Raptors basketball including how the team did, who were the impact players as well as some news and notes from around the league.
The Thumb – How was the week?
The Toronto Raptors were looking for answers after losing 3 straight games for the first time since November of 2018. They have beaten up on weaker opponents this season going 9 – 0 against teams under .500, but they have struggled against stronger competition, only amassing a 6 – 7 record against teams expected to be in the playoffs. Though the Raptors headed into the week leading the league with 19.2 fast break points per game, their offense was slumping. Pascal Siakam was out of sorts and despite having solid numbers, Kyle Lowry had not led his team to a win since his return. The Raptors were also without Fred VanVleet who picked up a knee injury which opened the door for Norm Powell to step up as a starter. With the schedule showing no signs of letting up, Coach Nurse turned to his vets to carry them through this tricky stretch.   
Week record (2 – 1) Overall Record (17 – 8)
Toronto Raptors @ Chicago Bulls – W 93 – 92
With no real defensive presence on the Bulls, the Raptors were licking their chops at the chance for an easy victory in Chicago. This was the perfect game for Toronto to find their rhythm and rekindle their potent offense. However, the Bulls are hungry and, though they are lacking in many areas, one thing they have in spades is hustle and energy. Powell and Siakam started with excellent pace to set the tone. But the Bulls brought their best defensive effort, mucked up the game and grinded the Raptors into another poor offensive performance. The young Bulls took a lead going into the fourth quarter and showed no signs of letting up. As the Raptors looked to each other in confusion, the Bulls were blocking shots into the front row and streaking for rim rocking alley-oops. Late in the game, and I mean very late, Toronto finally regained their composure to take a modest lead. In the end, the Raptors rode their defense to steal a game they had no business winning.
LA Clippers @ Toronto Raptors – L 112 – 92
You could make an argument that this was the biggest game of this season for the Raptors based on the emotional weight that it carried. The Toronto media glorified the accomplishments of the Kawhi-led Raptors with video tributes and accolades in the days leading up to the game. Before tip, the Raptors held a ceremony to give Kawhi Leonard his ring and bring closure to what was an incredible year. But when the game started, it was all business between two of the league's strongest teams. Kawhi was dominant in the first half, he put defenders in the weight room with physical post play, while Lou Williams did what he always does and put up points in a hurry. The Clips took a commanding lead into the break with Toronto's only bright spot coming from the energetic play of OG Anunoby. Norm Powell, another player quietly heating up, came alive in the third to help close the gap to 5 points. But the Clippers immediately responded with a 12 – 0 run to re-establish their commanding lead. It was academic from there as the Clippers waltzed their way to an easy 20-point win. The Raptors may have peaked too soon with all the Kawhi hype, they didn't seem to have the energy to compete with the Western Conference powerhouse.
Brooklyn Nets @ Toronto Raptors – W 110 – 102
Toronto closed their week with a matchup against their Atlantic division rivals, the Brooklyn Nets. Even without two of their better players, the Nets are still a dangerous team with Spencer Dinwiddie leading the way and Coach Atkinson behind the bench. The Raptors came out on fire, they connected on 9 of their first 12 shots from deep in the first quarter. Pascal had one of his best starts in weeks as he attacked the Nets in a variety of ways en route to a strong first half. The Nets kept the game relatively close, but they could not handle Toronto's stingy defense who forced them into 20 turnovers. Toronto's trio of big men, Pascal Siakam, Serge Ibaka and Marc Gasol controlled the paint, each had a double-double with points and rebounds. Gasol was especially impressive with a 17/15 line; a throwback to his Memphis Grizzlies days. The Nets played well but the Raptors looked much sharper and won this game off their defense and timely shooting. This was a quality win against a good team, one that Toronto sorely needed.
The Index – The Leader – Player of the Week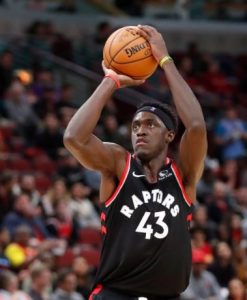 Pascal Siakam
Pascal Siakam fought through inefficiency to narrowly edge out Norm Powell for the Player of the Week honours. Norm has been an exceptional scorer over these last few weeks, but much of the open space he gets is a result of opponents locking in on Siakam with aggressive double teams and traps. Pascal put up strong numbers, but he looked fatigued as he struggled to navigate these loaded defenses. Now that Lowry is back and has assumed some of the playmaking pressure, Siakam's seems to be returning to a much more confident style of play. He is showing less hesitation with the ball and he is recognizing mismatches early and how to take advantage. Siakam still brought it on the defensive end, unafraid to get on the floor for loose balls, he also had a couple of big-time blocks against the Clippers and Nets.
| | | | | | | | | |
| --- | --- | --- | --- | --- | --- | --- | --- | --- |
|   | Points | Rebounds | Assists | Steals | Blocks | FG | 3PT | FT |
| @ Bulls | 22 | 6 | 1 | 1 | 1 | 7/18 | 2/6 | 6/8 |
| v Clippers | 24 | 4 | 3 | 1 | 3 | 9/20 | 1/4 | 5/5 |
| v Nets | 30 | 10 | 5 | 3 | 3 | 10/26 | 3/5 | 7/10 |
| | | | | | | | | |
| Week Avg | 25.3 | 6.6 | 3 | 1.6 | 2.3 | 26/64 | 6/15 | 18/23 |
| |   |   |   |   |   | 40.6% | 40% | 78% |
| Season Avg | 24.7 | 8.3 | 3.6 | 1.0 | 0.9 | 45.4% | 36.8% | 81% |
| | | | | | | | | |
Honourable Mention: Norm Powell, Marc Gasol
The Middle – The Enemy – Best Opposing Player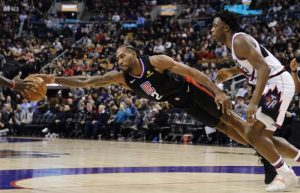 Kawhi Leonard
What can you say about arguably the best two-way player in the league? Kawhi has the uncanny ability to make the game look so easy. Leonard was excellent against his old team, he was always in the right spots and never looked like he was exuding any real effort at all. He measured his defenders and found the best way to attack with the precision of a surgeon. Kawhi was a jack of all trades with no obvious weakness, on defense he was covering every position, there were some possessions that he tracked Lowry and others where he bodied Gasol. He was the definition of poise and led his team to a comfortable win.
| | | | | | | | | |
| --- | --- | --- | --- | --- | --- | --- | --- | --- |
|   | Points | Rebounds | Assists | Steals | Blocks | FG | 3PT | FT |
| v TOR | 23 | 5 | 6 | 2 | 0 | 8/14 | 2/4 | 5/5 |
Honourable Mention: Lou Williams (LAC), Spencer Dinwiddie (BKN)
The Ring – The X Factor – Standout Performance
OG Anunoby v Chicago Bulls
Though both Serge Ibaka and Marc Gasol played exceptional games against the Nets, this week's standout performance came from OG Anunoby for his strong second half, especially on the defensive end, against the Chicago Bulls. Toronto struggled to get anything going in that game as they seemed largely disinterested in Chicago. Their focus was, presumably, on their Wednesday night meeting with the Clippers and as a result, the Bulls were annoyingly scrappy and threatened to take the win. That changed in the third quarter when OG ratcheted up his defensive effort. OG used his strong frame to box out, create space and out muscle Chicago's thin forwards. His quick feet and long arms helped him stay with his defenders. He had a couple of hustle steals leading to fast break points and a massive block on Zach Levine. OG's frantic defense helped the Raptors find their footing until they were finally able to put down the Bulls.
Honourable Mention: Marc Gasol v Brooklyn Nets, Serge Ibaka vs Brooklyn Nets
The Pinky – The Unsung Hero – Key Contributor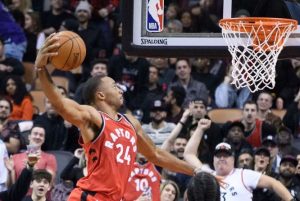 Norm Powell
Norm Powell has quietly stepped up his play since Fred VanVleet left the starting lineup. Over his last 10 games, he has scored over 17 points per game, while shooting 51% from the field and 44% from deep. Some of those numbers may dip when VanVleet returns, but for now, the Raptors are loving Powell's contributions. Norm has improved on his decision making, something that was highlighted by Coach Nurse after the Raptors defeated the Nets on Saturday night. His scoring prowess has also improved, he always seems to free himself on leak outs and he is making teams pay when they leave him open in the corners. Norm showed no fear against the Clippers, he grabbed big rebounds and shot with confidence. He helped drag the Raptors to a win against the Bulls and he showed off his deep bag of tricks with a big scoring night against the Nets.
Honourable Mention: Marc Gasol, Kyle Lowry
News and Notes
McCaw Back – Three-time NBA champion Patrick McCaw made his return to the line up after a long stint on the injured list on Wednesday night. He may not be the most familiar name, but he has earned his place on this team.
First Doubles – In their win against the Nets, Serge Ibaka (12/12) and Marc Gasol (17/15) had double-double's in the same game for the first time.
Around the League
Houston, we have a problem – NBA Commissioner Adam Silver denied Houston's protest after they suffered a double overtime loss to the San Antonio Spurs on December 3rd. In that game, the referees missed a made basket by James Harden. Despite admitting fault, the NBA has ruled that the error did not decide the outcome of the game.
Vintage Carter – Vince Carter has climbed to number 4 on the NBA's all-time games played list. This is an incredible accomplishment for ½ man ½ amazing. He should be number 3 on that list by seasons end.
Worth the Wait? – Dion Waiters troubles in Miami continue as he has now been suspended for the third time this season. This time it was for failure to adhere to team policies. Not only is Waiters losing out on his game cheques, but with so many suspended games, he also misses out on a "games played" bonus that was included in his contract which would have payed him another million plus. How much longer until Miami cuts ties?
Prayers Up – Thoughts and prayers goes out to former NBA commissioner David Stern who had to undergo emergency brain surgery this week. Here's hoping for a quick recovery.
Prodigal Son – Kawhi Leonard made his only regular season appearance north of the border on Wednesday night. As a classy gesture, New Balance and Leonard's team put up a large 'Thank you' billboard at the centre of Younge and Dundas. Kawhi has reached legendary status in the city, he was the one that brought home a championship and he will forever be loved as one of our own.

Photo Courtesy: Nathan Denette/The Canadian Press via AP
Up Next
The Toronto Raptors will welcome the bottom feeding Cleveland Cavaliers on Monday night. The Cavs are a mess and Toronto should take that game easily. On Wednesday, Toronto travels to the Motor City to visit the Detroit Pistons. The Pistons are an edgy bunch with an All-star front court. Coach Casey will most certainly have his team motivated to take on his old squad. On Friday night, the Raptors welcome the also terrible Washington Wizards. Bradley Beal is a star for the Wizards, but he is a man alone on an island with very little support. Toronto finally ends their week with a Sunday afternoon game against the Mavericks. This one would have been must see if Luka Doncic did not pick up a recent ankle injury. The Mavs still have Kristaps Porzingis, but the Raptors will be hungry to avenge the loss they took in Dallas a few weeks ago.