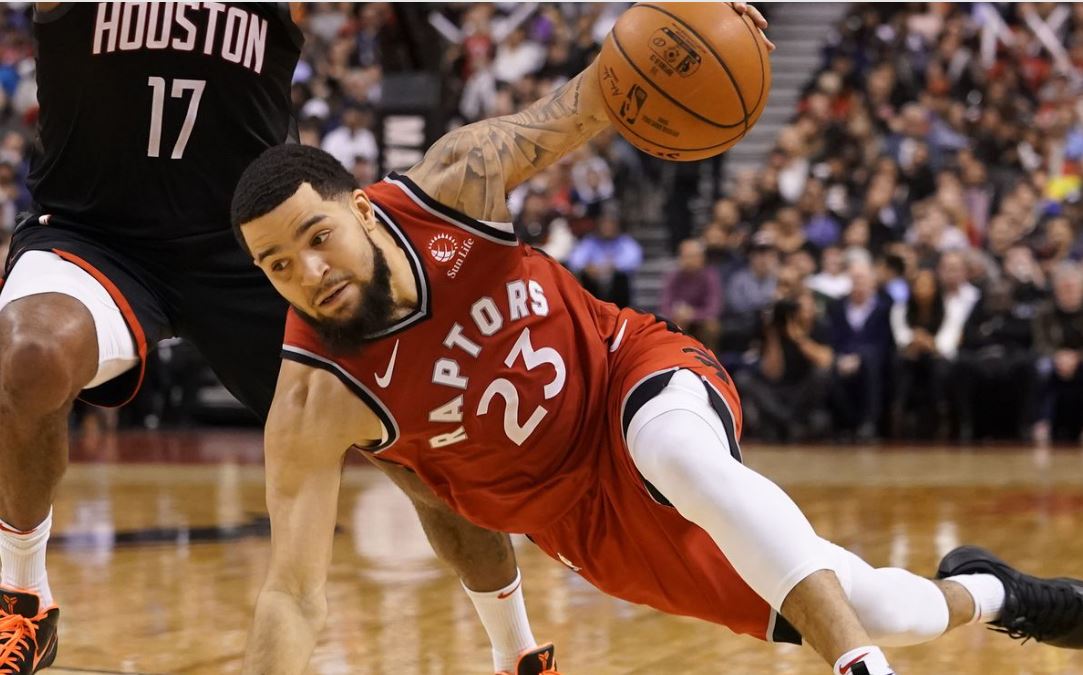 Kyle Lowry's return not enough as the Raptors stumble through a tough week
The High 5 – Week in Review –– Week 7
The High 5 is where I review the last week of Toronto Raptors basketball including how the team did, who were the impact players as well as some news and notes from around the league.
The Thumb – How was the week?
The Toronto Raptors are finally starting to get some buzz around the league, coming into Tuesday's action winners of 7 straight. However, this week they faced stiff competition as they went up against three elite teams. Kyle Lowry made his much-anticipated return and tried to reintegrate himself with his teammates without taking away from the positive chemistry developed in his absence. The scouting reports are out, and the play of Pascal Siakam and Fred VanVleet should not surprise anyone anymore. I expect teams to come prepared to slow them down now that they've had a good look at their body of work. The schedule is starting to turn, and with Toronto at full strength, we will get a true litmus test for Coach of the Month Nick Nurse and his staff. This stretch will show how Toronto really compares against the leagues best. Time to step up.
Week record (0 – 3) Overall Record (15 – 7)
Miami Heat @ Toronto Raptors – L 121 – 110 (Overtime)
Toronto and Miami are gaining the reputation of having well established developmental systems and scouting departments. Both teams play disciplined defense, are well coached and like to run in the open floor. The Raptors led the league with an average of 19.6 fast break points per game and with Kyle back in the lineup, they felt confident. Miami has impressed so far and behind renowned Raptor killer Jimmy Butler, will be looking to challenge for top 4 seeding all season. Heat big man, Bam Adebayo, was a wall on defense, he kept Siakam in check and held the Raptors star to 15 unimpactful points. In fact, Miami's defense caused all sorts of headaches for the Raptors as they struggled to get any rhythm going. Kyle's shot looked completely broken, he went 0/11 from deep and 2/18 from the field. Despite his poor shooting, Kyle was able to secure a double-double with 12 points and 11 dimes. Norm Powell shot well from distance (4/8), including a key 3 down the stretch to help Toronto force overtime. But in the extra frame, Jimmy Butler showed his All-Star pedigree as he blitzed Toronto for 8 straight points in under a minute to lead his team to victory.
Houston Rockets @ Toronto Raptors – L 119 – 109
The Raptors hoped to avoid dropping two home games in a row when they welcomed the high scoring Houston Rockets on Thursday night. Lowry wanted to bounce back after his lacklustre outing against the Heat, but he and VanVleet were stuck with the unenviable task of trying to slow down two of the leagues most electric players. Russell Westbrook and especially James Harden have been nightmares for opposing backcourts. Ever the innovator, Coach Nurse countered with hard double teams as soon as Harden crossed half to reduce the amount of time he had the ball in his hands. This was somewhat effective as the Beard was held to only 11 shots, significantly below his season average. But tag teaming Harden meant more space and time for other players and this night it was PJ Tucker and Ben McLemore who took advantage. Both hit timely 3's to snuff out any Raptor momentum with McLemore connecting on a career high 8 3-pointers. The Raptors struggled to keep the Rockets off the glass, Houston's Capella and Westbrook combined for 14 offensive rebounds. Credit to the Rockets, they defended Siakam tightly, Pascal only converted on 9 of his 22 attempts. Kyle and Fred played well together, and Marc Gasol stepped up his defense (4 steals, 2 blocks) but it wasn't enough. Toronto mustered a 16-point comeback to make the game interesting, but the Raptors just couldn't keep up with Houston's high-powered offense.
Toronto Raptors @ Philadelphia 76ers – L 110 – 104
The Raptors headed to the city of brotherly love to play the 76ers on Sunday night. In their back to back losses, the Raptors were unable to match the intensity and urgency of their opponents for 48 minutes, seemingly fading away throughout the contest. This game started out in the same fashion as Toronto's offense sputtered and the Raptors seemed a step slow. The Gasol/Embiid matchup still favours Toronto, but Embiid feasted whenever Marc was switched off him. This was the most animated that we have seen Coach Nurse and Kyle Lowry who both vehemently argued for calls, you could hear Lowry's displeasure with the game officials from the on-court microphones. For the third game in a row, Pascal was a nonfactor and Fred VanVleet left early after sustaining a knee injury. Without their two best players, the rest of the Raptors could not put anything together as the game got away from them in the third quarter. Philly dominated the night and despite Toronto scrapping in the dying seconds to narrow the lead, the 76ers delivered the Raptors another humbling defeat.
The Index – The Leader – Player of the Week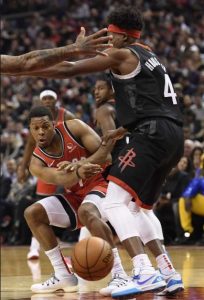 Kyle Lowry
Kyle Lowry is clearly struggling to regain is pre-injury form, but its not due to a lack of effort. If anything, Kyle may need to slow down a bit and allow the game to come to him. But even when not at his best, he is still one of the craftiest players on the floor. His shot is starting to come around and his competitive spirit hasn't dropped one iota. The reason why he gets the Player of the Week honours is because he carried himself with the right attitude needed when going up against top teams. He was engaged and locked in, he remained active and stayed aggressive, always looking to push the pace. It is only a matter of time until he syncs back up with his teammates and we get the full return of KLOE.
| | | | | | | | | |
| --- | --- | --- | --- | --- | --- | --- | --- | --- |
|   | Points | Rebounds | Assists | Steals | Blocks | FG | 3PT | FT |
| v Heat | 12 | 6 | 11 | 1 | 1 | 2/18 | 0/11 | 8/8 |
| v Rockets | 19 | 5 | 8 | 1 | 0 | 5/8 | 3/5 | 6/6 |
| @76ers | 26 | 6 | 5 | 2 | 0 | 7/14 | 4/8 | 8/9 |
| | | | | | | | | |
| Week Avg | 19 | 5.6 | 8 | 1.3 | .33 | 14/40 | 7/24 | 22/23 |
| |   |   |   |   |   | 35% | 29% | 96% |
| Season Avg | 20.5 | 4.5 | 7.1 | 1.1 | .40 | 43.9% | 38.% | 91.1% |
| | | | | | | | | |
Honourable Mention: Fred VanVleet
The Middle – The Enemy – Best Opposing Player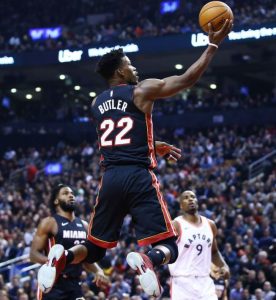 Jimmy Butler – Miami Heat
This week's best opposing player goes to Jimmy Butler of the Miami Heat. Butler has shown growth in both maturity and leadership with his new team. He no longer forces the action but instead, he lets his teammates carry more of the load throughout the game which allows him to come alive and take over late. That is exactly what happened against Toronto as Butler stepped up his game in the fourth, and especially in overtime, to steal a hard-fought victory in the 6. His numbers may not be the most gaudy but he still earned a triple double, played lock down defence, attracted a whole lot of attention and was the difference in overtime.
| | | | | | | | | |
| --- | --- | --- | --- | --- | --- | --- | --- | --- |
|   | Points | Rebounds | Assists | Steals | Blocks | FG | 3PT | FT |
| v TOR | 22 | 13 | 12 | 1 | 0 | 7/16 | 2/4 | 6/7 |
Honourable Mention: Ben McLemore (HOU), Duncan Robinson (MIA), Ben Simmons (PHI)
The Ring – The X Factor – Standout Performance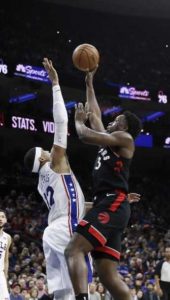 OG Anunoby vs Philadelphia 76ers
OG quietly had a strong game against the 76ers on Sunday night. He stepped up his play where Siakam's dropped off. He carried himself with poise, played his role well and made positive decisions both on and off the ball. OG received some praise from the Philadelphia broadcast as their commentators were impressed by his athleticism and tenacity. Anunoby had an efficient night going 8/14 for 19 points while adding 10 rebounds to earn a double-double. He also played solid defense coming away with 4 steals and a block. Strong effort from the young forward.
Honourable Mention: Norm Powell v Houston Rockets
The Pinky – The Unsung Hero – Key Contributor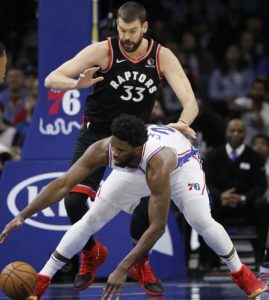 Marc Gasol
The days of Marc Gasol putting up 25 point plus per game are long gone but, despite losing a step, he remains in the top tier of NBA centres. His basketball IQ is off the charts and he has undoubtably been the anchor to Toronto's stingy defense. Gasol's contributions do not jump off the stat sheet, but his presence is undeniable, just ask Joel Embiid. The Big Orca has always been unselfish with the ball, but it looks like he is hunting his own shot more often. It will open another wrinkle to Toronto's offense if he can regain his ability to knock down shots from distance with consistency. Until then, Coach Nurse and his staff are more than happy to take what he brings to the defensive end every night.
Honourable Mention: Norm Powell
News and Notes
Congrats Coach! – Raptors Head Coach Nick Nurse was named Eastern Conference Coach of the Month after he led his undermanned team to a 14 – 4 record in October and November.
Trading Places? – There are rumours of impending changes to the organization. The Knicks seem to be actively poaching Raptors President Masai Ujiri, while trade rumours are starting to swirl including names like Tristan Thompson and DeMar DeRozan, yes DeMar DeRozan.
Around the League
Hot Seat – The New York Knicks have been awful this season and after a 4 – 18 record to start the year, they finally pulled the trigger and fired Head Coach David Fizdale.
Mo' Melo – Carmelo Anthony has played well enough in his return to earn Player of the Week honours but more importantly, a fully guaranteed contract for the rest of this season with the Trailblazers. This is a testament to his hard work and a credit to his reputation.
Buck Wild – Can anyone stop Milwaukee? They sit comfortably as the number 1 seed in the East, winners of their last 14 games.
Up Next
The Raptors go into the Windy City on Monday night to play the Bulls on the second leg of their back to back. From there, it will be the return of Kawhi Leonard as the Raptors face off against the Clippers in a huge Wednesday night game at the Scotiabank Arena. Expect Kawhi to receive a lot of love in what will no doubt be an exciting matchup. Finally, Toronto will welcome the Brooklyn Nets on Saturday night for what will be another tough game.