Gilbreath has historic week while Bilous, Henry, Farkic and Whyne continue to dominate
In the final full week before the semester break, we saw exciting action across the country. From dominant performances to historic wins to long streaks coming to an end, it was a week USPORTS fans won't soon forget. 
Canada West- Ja'Qualyn Gilbreath and Anton Bilous carry teams to huge wins while the favourites keep on rolling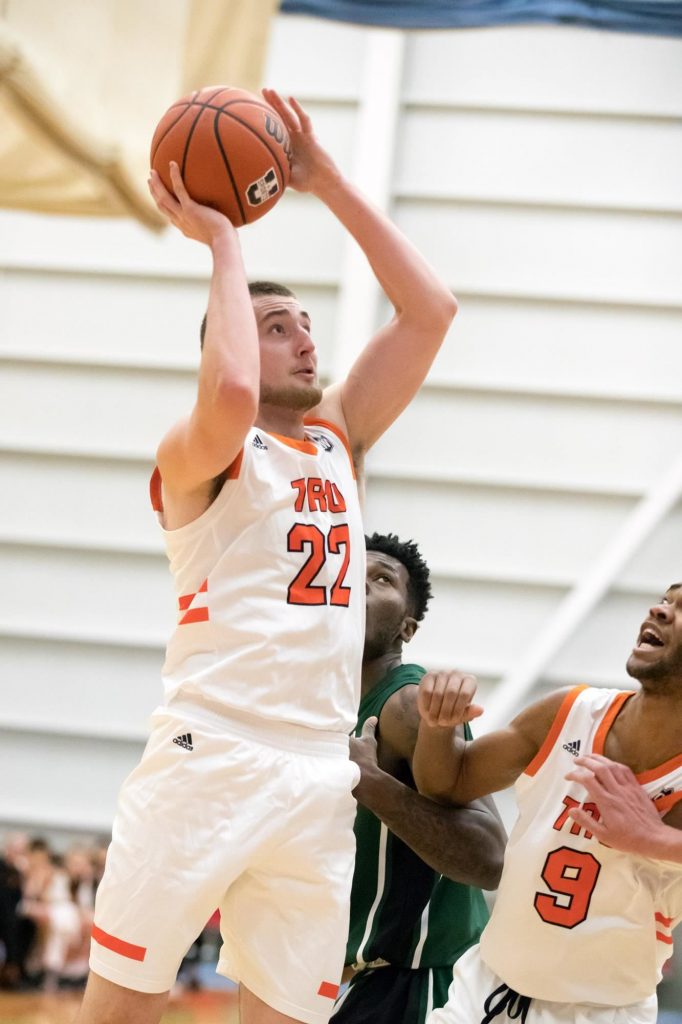 Photo Courtesy: Andrew Snucins
For the second week in a row, the Saskatchewan Huskies dropped a tight second game of a back-to-back but this time it felt a little different. Thompson Rivers is led by Anton Bilous, who once again had an outstanding weekend for the veteran laden WolfPack. Kamloops' finest will head into the break with a 7-3 record and appear to be a legitimate playoff threat in the conference. Another team quietly on a roll is Victoria as the Vikes have won 5 in a row but, they  may have the most difficult second half schedule in the conference; luckily, the team has six players averaging double figures, depth like that will be a huge advantage for them going forward. Meanwhile, conference favourites, Calgary looked outstanding in Kelowna while Manitoba and UBC dominated their weekends as well. All three teams head into Christmas break playing as well as anyone in the country. That being said, Alberta sits in first place in the conference with their nine wins. The Golden Bears were pushed almost to the brink this weekend but thanks to some championship type mettle, survived Regina with two wins by a combined six points. Finally, this week's player of the week in Canada West was obvious as Ja'Qualyn Gilbreath put on a show, averaging 35 points for Trinity Western in their first two wins of the season. Gilbreath will take the conference's scoring lead into the break as the fourth-year guard is averaging over 24 points per game. 
OUA- Varsity Blues end streak while Jordan Henry, Isaiah Traylor and Nikola Farkic all have huge weeks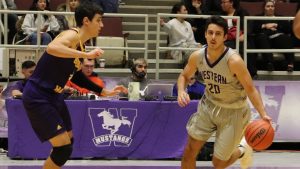 Photo Courtesy: The University of Western Ontario Mustangs Athletics
For the first time in six years, the U of T Varsity Blues beat the Ryerson Rams, thanks to great performances from Chris Barrett and Evan Shadkami, the battle for the six is an actual battle once again. However, good news for Ryerson came on Saturday when the Rams faced the reeling Laurier Golden Hawks. Laurier has lost five in a row, two of which came to the surging Western Mustangs. Western has won six in a row and lead by a core of Nikola Farkic, Omar Shiddo and Julian Walker will be incredibly dangerous come playoff time. Another team playing great basketball heading into the break is McMaster. The Marauders are playing extremely well as a unit and lead by an elite player like Jordan Henry, continue to prove why they're as good as anyone.  Heading into the weekend, two teams had unexpectedly caught the national eye. Lakehead used another high-level weekend from Isaiah Traylor to go undefeated while Laurentian went through the vaunted Ottawa back-to-back. On Friday the Voyageurs gave Carleton their first true test of the season as they held a lead throughout much of the first half before the Ravens took control in the second half. Then on Saturday, despite Kadre Gray's 38 points, the Gee-Gees managed to defeat the Voyageurs. This week, the whole nation's focus turns to Ottawa once again as the Gee-Gees and Ravens face-off for the first time this season.  
AUS- Already on break 
RSEQ- With Whyne taking the lead, McGill stays rolling while Armstrong carries Stingers scoring load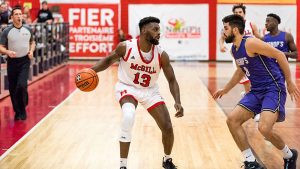 Photo Courtesy: Derah Onuorah/McGill Athletics
As the RSEQ heads to Christmas Break, two Montreal teams sit on top of the conference. The team in first had a 2-0 week including another win over preseason conference favourite Bishop's. McGill has shown all year that they are the type of team with depth that is a night to night proposition on who may kill you. This week for example, Quarry Whyne was the main star but Jamal Mayali and Sam Jenkins have each had weeks of their own on top. The other Montreal team on a roll is Concordia who after a 25-point effort from Adrian Armstrong head to the break firmly entrenched as a top two team in Quebec. The conference is far from decided heading into Christmas, but one thing seems clear: the road to Ottawa and the final 8 will go through Montreal.
Upset Special- U of T ends drought against Ryerson
BLUES BEST RAMS FOR THE TIME SINCE 2013!

📊:
Chris Barrett: 24 PTS, 7 AST, 2 REB
Evan Shadkami: 24 PTS, 4 REB, 3 AST
Anthony Daudu: 9 PTS, 6 REB, 1 AST

Q4 | TOR 80 | RYE 73

WE ALL #BLEEDBLUE | #WeAreTO pic.twitter.com/dxJ90CJA4D

— U of T Varsity Blues (@Varsity_Blues) November 28, 2019
In a rivalry called the "battle for the six", the last 13 meetings hadn't exactly been a battle. But, on Wednesday night, for the first time since February 15th, 2013, the Toronto Varsity Blues reigned supreme over the Ryerson Rams. The Blues were led by great performances from Chris Barrett and Evan Shadkami and will look to continue their now win streak against the Rams at home on January 18th.
Player of the Week-Ja'Qualyn Gilbreath (Trinity Western)- 35 points, 7.5 rebounds, 5.5 assists and 2.5 steals per game this weekend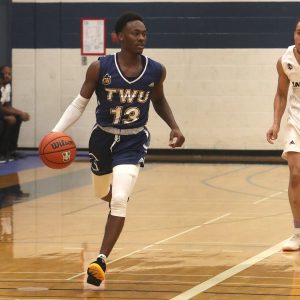 Photo Courtesy: Trinity Western Spartans Athletics 
In large part thanks to the absolute heroics of Ja'Qualyn Gilbreath, the Trinity Western Spartans won a game for the first time since 2018. Gilbreath put up a ludicrous stat line of 35 points, 7.5 rebounds, 5.5 assists and 2.5 steals per game this weekend against MacEwan in what was one of the better two game stretches we've seen in USPORTS this season.
        Runners up: OUA- Nikola Farkic (Western) / RSEQ- Quarry Whyne (McGill)
Why we love USPORTS- Alberta wins in Double OT on the road in Regina
Video Courtesy: Canada West TV via the University of Regina Cougars Athletics
In probably the games of the weekend, Regina and Alberta treated fans to something special in the Queen City. Both teams were missing key players but it didn't matter as each game came down to the wire, culminating in a Double-OT classic on Saturday night. The game was won thanks to Alberta's Dwan Williams sneaking through the Regina defence for a layup with just six seconds remaining to put Alberta up by one. Matchups like these ones and the competitiveness despite the records is what helps to make USPORTS special.
Game of the week- #4 Ottawa vs #1 Carleton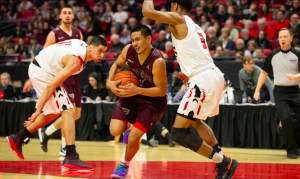 Photo Courtesy: Greg Mason / University of Ottawa Gee-Gees Athletics
Need I say more than Carleton versus Ottawa? Arguably the best rivalry in USPORTS will take place for the first time this season on Wednesday night as the two perennially ranked national powerhouses will collide in a game that will surely be one to remember. 
USPORTS National Top 10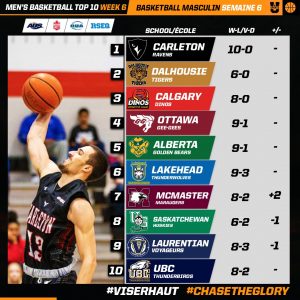 Despite their losing weekend, Laurentian managed to stay in the rankings coming in at number 9. Saskatchewan for the second straight week lost a game and for the second straight week fell in the rankings, this week down to eight. McMaster was the main beneficiary of the Voyageur and Husky stumbles as the Marauders climbed up to number seven. After another successful week, McGill has to be wondering when they will finally crack the rankings as for the second week in a row Quebec is without a representative in the top ten.