Siakam, VanVleet and the Raptors send a message to the league
The High 5 – Week in Review – Week 6
The High 5 is where I review the last week of Toronto Raptors basketball including how the team did, who were the impact players as well as some news and notes from around the league.
The Thumb – How was the week?
The Raptors were among the hottest teams in the league coming into the week, yet they found themselves slighted by ESPN's power rankings when they were left off their weekly top 10. This egregious misstep reflects how much the Raptors are being overlooked by the critics and pundits that cover the NBA. With a good mix of opponents this week, this was Toronto's opportunity to put the league on notice.
Week record (4 – 0) Overall Record (15 – 4)
Philadelphia 76ers @ Toronto Raptors – W 101 – 96
The Raptors were looking to assert themselves as a dominant force at home when they welcomed the surging Philadelphia 76ers, winners of 4 straight, to start their week. Philadelphia was foaming at the bit for an opportunity to revenge last years dramatic playoff defeat, but the Raptors have proven to be a formidable foil for Coach Brown and the 76ers. Philly fortified their bigs by adding Al Horford who, along with Joel Embiid, pose an intimidating frontcourt. However, Toronto still employs one of the best centres in the league in Marc Gasol and he was not looking to give up an inch on the defensive end. Big Spain put on a masterclass of defensive effort to absolutely erase Embiid from any meaningful contribution to the game. For the first time in his career, Embiid was held to 0 points, a result that still has me befuddled.  Meanwhile, Toronto's VanVleet and Siakam both put up 20 plus with 4 others scoring in double digits. Hollis-Jefferson was especially impressive in this game, earning another double-double (16, 10) off the bench. This was an exciting game that saw Toronto reel off a 10 – 0 run in the closing moments, ending with a breakaway Siakam dunk at the buzzer. The crowd cheered in unison as Siakam stood with his hands outstretched, basking in the glory.
New York Knicks @ Toronto Raptors – W 126 – 98
The Raptors broke out their City Edition black and gold jerseys which, admittedly looks better live than in pictures, to take on the struggling New York Knicks. This was the Canadian debut of blue chipper RJ Barrett, currently the face of the Knicks franchise and the next big hope for Canadian basketball. He was representing hard for his country and received a lot of love for it. As for the game, there was not much to see. The Raptors toyed with the Knicks in the first quarter until blowing the doors off in quarters 2 and 3. Chris Boucher and OG Anunoby had twin lines, both finishing with 13 points and 12 rebounds respectively. Siakam led the way with an impressive 31 points (5-8 from deep) without needing to play a minute in the fourth.
Toronto Raptors @ Orlando Magic – W 90 – 83
Toronto entered their game against the Magic as one of the hottest shooting teams in the league. They have been scorching from distance and among the league leaders in fast break points. You wouldn't have believed it after watching this game. The Raptors sloughed their way through 48 ugly minutes of basketball, full of sloppy turnovers and terrible shot selection. Orlando, wearing their City Edition jerseys, were just as inefficient, adding a plethora of errant passes and poor decisions to their game. The one saving grace was the spectacular performance of Norman Powell who, single handedly, dragged Toronto to this victory behind his career high 33 points. Fred VanVleet chipped in as well with 22 points, but he was especially impressive on the defensive end, coming away with 7 steals. After suffering 3 losses to the Raptors, the Magic must be relieved to know that they don't face Toronto again until the last game of the season.
Utah Jazz @ Toronto Raptors – W 130 – 110
Even without two of their top 8 rotation players, Toronto hasn't skipped a beat, they came into Sunday nights game against the Jazz as the number 2 seed in the East. Though the injured Lowry and Ibaka have been showcasing their style on the bench, Coach Nurse would be much happier to see them back in uniform. Luckily for him, Serge was healthy enough to suit up and Kyle's return seems imminent. The Raptors were ignited by the strong effort from Marc Gasol who continues to play well, this time not only leading on D but also knocking down 3 early 3-pointers to set the tone. Siakam made sure that the Orlando game was an anomaly as he went off for 19 points in the first quarter on 8-10 shooting. Despite Utah's impressive third quarter run, Toronto rode their stellar defense to a record setting half and coasted the rest of the way to a comfortable victory.
The Index – The Leader – Player of the Week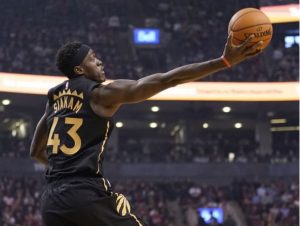 Pascal Siakam
If we can ignore Siakam's terrible performance in Orlando, it was business as usual for Toronto's budding superstar. His numbers were on par for the season, and even in the Orlando game, he found other ways to contribute like attracting double teams and pulling down a team high 13 rebounds. His 31-point performance against New York came in 3 quarters of work and showcased his improved 3-point accuracy. On Sunday night, he put a cherry on an undefeated week with another superstar performance.
| | | | | | | | | |
| --- | --- | --- | --- | --- | --- | --- | --- | --- |
|   | Points | Rebounds | Assists | Steals | Blocks | FG | 3PT | FT |
| v PHI | 25 | 7 | 3 | 1 | 2 | 9/19 | 2/6 | 5/6 |
| v NYK | 31 | 8 | 2 | 1 | 0 | 12/22 | 5/8 | 2/3 |
| @ ORL | 10 | 13 | 5 | 1 | 1 | 4/22 | 1/7 | 1/3 |
| V UTA | 35 | 5 | 5 | 2 | 0 | 14/22 | 5/9 | 2/2 |
| | | | | | | | | |
| Week Avg | 25.25 | 8.25 | 3.75 | 1.25 | .75 | 39/85 | 13/30 | 10/14 |
|   |   |   |   |   |   | 46% | 43% | 71% |
| Season Avg | 25.6 | 8.4 | 4.0 | 0.9 | 0.7 | 47% | 39% | 81.1% |
| | | | | | | | | |
Honourable Mention: Fred VanVleet, Norman Powell
The Middle – The Enemy – Best Opposing Player
Josh Richardson – Philadelphia 76ers
While everyone is lamenting on the poor showing from Joel Embiid in the 76ers game against the Raptors, one storyline that has quietly gone unnoticed was the strong game from Josh Richardson. Richardson is the sometimes-forgotten player that was meant to shore up, at least in part, some of the numbers left behind by a departing Jimmy Butler. Josh is loaded with potential that he is only starting to realize. While his teammates drew the attention of Toronto's defenders, he was able to connect from deep with consistency. Josh can develop into a nice player surrounded by all that talent in Philly.
| | | | | | | | | |
| --- | --- | --- | --- | --- | --- | --- | --- | --- |
|   | Points | Rebounds | Assists | Steals | Blocks | FG | 3PT | FT |
| v TOR | 25 | 6 | 1 | 0 | 1 | 9-19 | 5-9 | 2-5 |
Honourable Mention: Ben Simmons (PHI)
The Ring – The X Factor – Standout Performance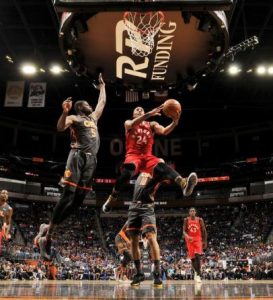 Norm Powell vs Orlando Magic
Norm was the only bright spot in an otherwise dismal outing for the Raptors against the Magic. In a game where neither team could hit the broad side of a barn, Powell emerged as the lone sharpshooter. Norm caught fire early in the third and erupted for 19 points, outscoring the Magic by 7 in that quarter. He scored Toronto's first 10 points in the second half, sparking an early 13-0 run. He found himself open again and again from behind the arc and cashed in on 7 of his 9 shots including back to back to back three pointers. He mixed up his game nicely, adding in a few drives and an emphatic baseline one handed dunk. This was easily Norm's best game of the season; Coach Nurse will be looking to get more performances like this throughout the year.
Honourable Mention: Pascal Siakam v New York Knicks, Pascal Siakam v Utah Jazz
The Pinky – The Unsung Hero – Key Contributor
Rondae Hollis-Jefferson
I feel as though Rondae will find himself in the Pinky spot often throughout this season. He may not get the attention of some of his teammates, but he certainly deserves some recognition for what he brings every night. Aside from a seemingly endless motor, Rondae does so many of the intangibles needed to earn a second or third possession. He regularly beats defenders to their spots, he times his rebounds perfectly and has shown great awareness of his teammates in the open floor. Rondae has made up for a lack of shooting ability with sheer determination and relentless hustle. He has also proven to be a reliable defensive presence, fitting in perfectly amongst Toronto's elite core of wing defenders. Masai found another gem in Hollis-Jefferson.
Honourable Mention: Chris Boucher
News and Notes
We the North – Toronto set an NBA record with 33 straight home wins against division rivals. This is a streak going back to 2015 and is a testament to how well the Raptors play at home.
Lockdown D – You can add Joel Embiid to the list of superstars that the Raptors have successfully shut down. Toronto's coaching staff does not get nearly as much recognition as they deserve for their defensive strategy.
Give me 40 – The Raptors set a record with a franchise best 40-point half time lead against the Utah Jazz on Sunday night.
Around the League
Tribute to the 6 – I wanted to take some time to show how beautiful RJ Barrett's Toronto inspired Puma kicks were. Not only did they have Canadian colours, they also showcased Toronto's iconic skyline with the words, 'Made in Canada', scrolled along the side.

Photo Courtesy: @nyknicks/Twitter

Scoring Machine – James Harden is a scoring magician. He went 16-24 on Saturday with 8 3-pointers for a mind boggling 60 points.
Legendary Company – The incredible career of Lebron James seems to know no bounds. King James has now reached number 4 in the All-Time scoring list, amassing 33 000 total points (and counting). He may even surpass Kobe Bryant to take number 3 on that list before the end of the year.
Up Next
Kyle Lowry's return can't come soon enough as the Raptors face a trio of elite teams this week. First up are the Miami Heat on Tuesday night. The Heat have had an impressive start to their season, they have always been well coached and will be prepared to play. On Thursday, the Raptors welcome James Harden and the Houston Rockets. Harden has been scoring at an outwordly pace and will be a menace to slow down. The Raptors close out their week with a revenge game against the 76ers in Philadelphia on Sunday night. You can bet that Joel Embiid has that one circled on his calendar. This should be an exciting week of competitive basketball.