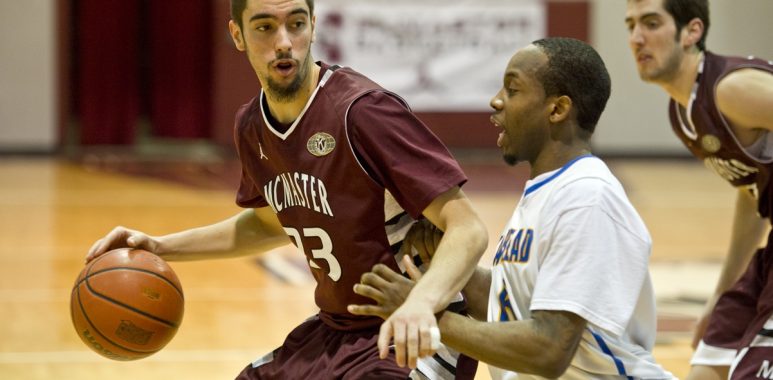 Aaron Redpath Off the Bench with 20pts as McMaster Wins Second of Back-to-Back over Lakehead
 Hamilton, ON – In the second game of a back-to-back versus Lakehead, McMaster did not show any implications that they had lost the night before, this was more about pride going into the playoffs. The Marauders got got out of the gates early on a night when three players were honoured on senior night, and it would be topped off with a 92-82 victory.
The game was some what lackadaisical for it being the final game of the regular season, and only a week prior to OUA playoffs starting. Both Coach Amos Connolly and Coach Scott Morrison went into their bench very early on in the game, and often.
Both teams had their moments to go on runs, but the Marauders managed to control the game and lead throughout, but Lakehead would cut the lead to single digits late in the fourth quarter.
McMaster and Lakehead each had multiple players scoring in double figures in the game. The Thunderwolves were led by Joseph Nitychoruk (18pts 4rbs) off the bench, along with Greg Carter (11pts 5ast) Joe Hart (11pts), Matt Schmidt (10pts) and Ryan Thompson (10pts).
The Marauders were lead by Aaron Redpath (20pts on 6-8 shooting and 9-10 from the foul line) off the bench, followed up by Adam Presutti (15pts 4rbs 4ast) Taylor Black (11pts 6rbs) and Nathan Pelech (10pts 6rbs).
With it being senior night, Coach Connolly made the decision to start graduating senior Nathan Pelech in place of Taylor Black, and it was the right decision, as Pelech opened the game with eight straight points.
When it comes to playoffs Coach Connolly and the Marauders are wok as usual, as the second semester saw most of their games played on a Wednesday/Saturday split. He spoke about preparation and the guys getting ready to host the Warriors.
"We have a routine that we follow with our games being on Wednesday and Saturday within our division. We will stick to that plan this week. Ultimately, the implications are different but that shouldn't impact our prep. We will be business as usual. We clearly addressed the potential to look beyond Wednesday in out post game discussion. Waterloo will come to battle and we are focussed on the first step."
With the loss Friday night, McMaster placed third in the OUA West at 13-8 and will host the Waterloo Warriors Wednesday February 20th, at McMaster in an OUA West Quarter FInal game. The winner of which will go on to play Saturday February 23rd.
After the win Friday night by Lakehead over McMaster, it locked them into second place in the OUA West at 14-7 for the Thunderwolves which would give  them a bye until Saturday February 23rd, where they will face the winner between Waterloo (6th) vs. McMaster (3).
NPH Top Performers
Lakehead
Joseph Nitychoruk 18pts 4rbs *off the bench*
Greg Carter 11pts 5ast
Joe Hart 11pts *off the bench*
Matt Schmidt 10pts
Ryan Thompson 10pts
McMaster
Aaron Redpath 20pts on 6-8 shooting and 9-10 from the foul line *off the bench*
Adam Presutti 15pts 4rbs 4ast
Taylor Black 11pts 6rbs *off the bench*
Nathan Pelech 10pts 6rbs