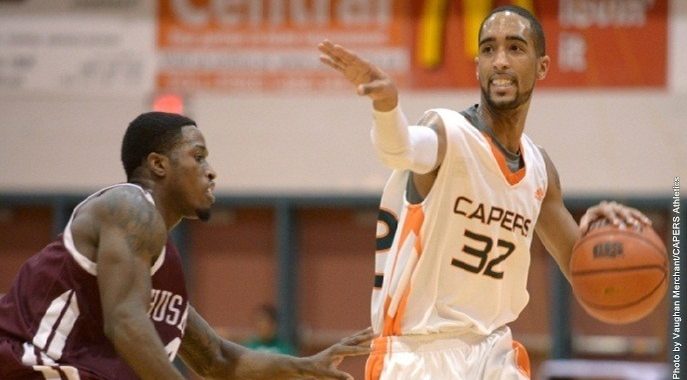 James Dorsey's Brilliant 37 Point Game Puts Capers Past Acadia In Weekend Split
WOLFVILLE, NS–On the second to last weekend of the AUS regular season, the first place Cape Breton Capers who are Nationally ranked #3, rolled into second place (AUS) and #4 CIS ranked Acadia.
With the AUS first round byes locked up, each team was looking to secure themselves as the dominant team going into the AUS playoffs March 1.  Well the teams just gave us more "food for thought" as each won a game in convincing fashion.
On Saturday, the Acadia Axemen were the more physically dominant team and took Cape Breton out of the game.  Anthony Sears came off the bench to score 18 points and lead Acadia to a 73-49 win.
Speaking to NPH following Sunday's game Coach Matt Skinn spoke about Saturdays loss saying "they are a physical team and they pushed us around the gym last night so we came out today and looked to match that."
Match it they did, as the story of the game outside of Jimmy Dorsey's extraordinary play was CBU's hard play and how they attacked the offensive boards for a 27-13 edge.  With none more important than Cedric Kasongo's O board with under two minutes left with a late shot clock rush, which he converted for a quick 2 to gain a 63-59 edge with Acadia vying for a late game surge.
Jimmy Dorsey echoed coach Skinn's words saying "they bullied us last night beat us up on the boards, so we wanted to show we could bang it out with anybody," Dorsey backed up what he said tying for a team high 11 boards from the point guard spot.  With under 2 minutes to go in the first quarter Dorsey decided to exert himself offensively nailing a corner three to give CBU a 15-13 lead.
And for the remainder of the game Dorsey was the story as he carved Acadia up.  When they stepped up and guarded him tight he broke them down off the bounce for lay-ups and pull ups, when they backed off him he walked into triples.  From a basketball standpoint the Acadia D funnelled toward Dorsey and the Capers would exploit this and slip in for easy block lay-ins and some of those 27 offensive boards.  Also impressive about Dorsey's game is his high ability to slip an angle to make a complicated shot look relatively routine for him.
Cape Breton really locked down defensively and contested Acadia's shots and forced them into a dismal shooting display which resulted in a 4/23 performance from behind the arc.  The lone bright spot for Acadia was point guard Sean Stoqua who capitalized on his 7 shoots to score 16 points for the Axemen.
Coach Skinn remarked, "going into playoffs you want to be playing your best basketball of the year, and today we took a good step toward that."
After the game Dorsey also spoke about the teams growth and maturation from the weekend series, stating "Yesterday we faced some adversity and we just didn't handle it well, and today win or lose we wanted to play hard and stay together and face that adversity."
So that being said the Capers have more than locked up 1st place in the AUS. With two home games left against 7th place UNB they should be able to close out the season 19-1 and as the AUS title favorite.
NPH Top Performers – Saturdays Game
Acadia 
Anthony Sears – 18 pts, 2 stl
Sean Stoqua – 16 pts, 3 stl
Brad States – 11 pts, 11 reb
Cape Breton
Shaquille Keith – 15 pts
Jimmy Dorsey – 10 pts, 10 rebs
NPH Top Performers – Sundays Game
Cape Breton
Jimmy Dorsey – 37 pts, 11 rebs, 4 asts
Meshack Lufile 13 pts, 5 rebs
Acadia
Sean Stoqua – 16 pts, 5 reb
Owen Klassen – 16 pts, 12 reb