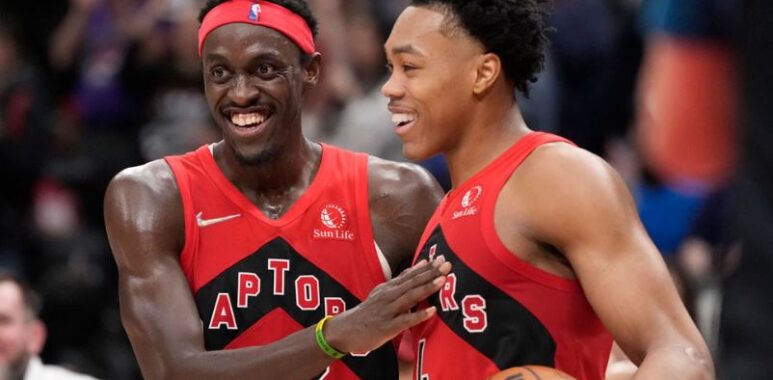 Jurassic Express – The Raptors play their best basketball to end the season, focus shifts to playoffs
The High 5 – Week in Review – Week 25
The High 5 is where I review the last week of Toronto Raptors basketball including how the team did, who were the impact players as well as some news and notes from around the league.
The Thumb – How was the week?
Toronto had one bad season in Tampa and suddenly the league forgot how much of a model franchise the Raptors are. They forgot how Toronto's coaching tree has bore fruit around the league or how their system developed role players into impact performers. How they raise the ceiling of anyone that joined the team or how their scouts continue to find gems no matter their place in the draft.
They said the Raptors wouldn't top 35 wins. They said the Raptors were in rebuild mode. They said the Raptors wouldn't make the play in tournament.
Play in for what?
Masai built this team with 6'9 vision in mind and though some called him crazy, here we are. A 5th seed nipping at the heels of the 4th. The Raptors may not be prototypical, but their design may actually be built for the playoffs. When the game is slowed, defenses tighten up, and mismatches are exploited, Toronto will have the balance and switchability to blow up offensive strategies. Their length and energy is going to be a problem.
Toronto ended their campaign with a message to the East that they are none to be trifled with. They took down the Hawks, 76ers, and Rockets to solidify their seeding. On Sunday, they rested VanVleet and Siakam and ate a meaningless loss against the Knicks. They now head into the playoffs with confidence while other teams limp their way into the post season with questions and injuries.
The stars are aligning, and the opportunity is there. It's far too early to start planning a championship parade but it is certainly time to make some noise.
Week Record (3 – 1)                       Season Record (48 – 34)
Atlanta Hawks v Toronto Raptors                             W           118 – 108
With only a handful of games left, playoff contenting teams are jockeying for position including both the Raptors and Hawks. In a word, the Hawks were pesky. Trae Young was as good as advertised; he immediately made his teammates better. The Raptors countered with hyper athleticism with a focus on the offensive glass and winning 50/50 balls. Precious threw down two tomahawks that shook the rafters and Siakam was wheeling and dealing. Toronto used tough 4th quarter defense to secure the win.
Philadelphia 76ers v Toronto Raptors                     W           119 – 114
It was all about the vibes in this one as Danny Green, former Raptor, current 76er, finally got his 2019 Championship ring in front of the hometown fans. But after the pregame festivities were over, it was all business. Toronto absorbed a serious haymaker from Philly and responded by stealing the lead off an 18-4 run. In the 2nd half, the two countrymen from Cameroon, Embiid and Siakam, put on a clinic with a showcase of skill. The Scotiabank arena came unglued with each Raptor basket. Siakam was absolutely marvelous. This was an exciting preview of the post season.
Houston Rockets v Toronto Raptors                        W           117 – 115
With only two games left, all Toronto wanted was to stay sharp and healthy. Houston looked like the perfect team to beat up on, but they had other plans. The Rockets were not intimidated in the slightest, they played freely and scored with ease. The Raptors did not find their footing until midway through the 2nd quarter. By then, they were looking up at a 24-point deficit. In the 2nd half, Siakam put his hard hat on and went to work. Houston buckled but held firm until the final seconds where Trent Jr. hit a soft jumper to win it.
Toronto Raptors v New York Knicks                        L              105 – 94
Toronto started the game just going through the motions without any purpose to their action. The Knicks built a modest lead but once Coach Nurse subbed in Thad Young, things started to settle. The Raps proceeded to reel off a 27-9 run to get back in the game. The teams traded punches throughout the second half with tepid enthusiasm. Toronto just wanted this one over while the Knicks were playing for next season. New York picks up the feel good win while the Raptors look to prepare for the playoff.
The Index – The Leader – Player of the Week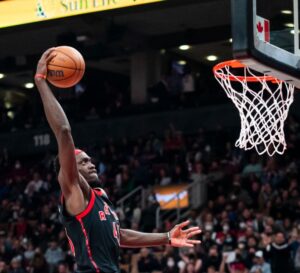 Pascal Siakam
Siakam may be the NBA's most unrecognized and underappreciated superstar. He is rarely included in the conversation over the league's elite even though his numbers would suggest otherwise. And while others stars like Jimmy Butler and LeBron James (yea, I said it) get a reputation boost, Pascal has been putting in the work. He is who people think they are. Siakam ended his season in emphatic fashion with massive performances. He toyed with the Hawks, had an enormous triple double against the 6ixers, and outclassed the Rockets before resting on the final day of the season. Not only did he fill up the scoreboard he was also an incredible defender with some key blocks at crucial moments. He did all this without a reliable 3-point shot. I feel sorry for opposing coaches if and when he finds his range again. When it is all said and done, people will look back at Pascal's season in astonishment. Those that do not have him on their All-NBA ballot simply haven't been paying attention.
| | | | | | | | | |
| --- | --- | --- | --- | --- | --- | --- | --- | --- |
|   | Points | Rebounds | Assists | Steals | Blocks | FG | 3PT | FT |
| v ATL | 31 | 13 | 6 | 1 | 1 | 12/23 | 1/4 | 6/8 |
| v PHI | 37 | 10 | 12 | 2 | 0 | 14/28 | 1/7 | 8/10 |
| v HOU | 29 | 12 | 7 | 3 | 1 | 12/24 | 0/2 | 5/6 |
| v NYK | – | – | – | – | – | – | – | – |
| | | | | | | | | |
| Weekly Avg | 32.3 | 11.6 | 8.3 | 2 | 0.6 | 38/75 | 2/13 | 19/24 |
| 3 Games |   |   |   |   |   | 51% | 15% | 79% |
| Season Avg | 22.8 | 8.5 | 5.3 | 1.3 | 0.6 | 49% | 34% | 75% |
| | | | | | | | | |
Honourable Mention: G. Trent Jr., S. Barnes
The Middle – The Enemy – Best Opposing Player

Trae Young/Joel Embiid/Kevin Porter Jr.
There were some outstanding games from the opposition this week. Even a couple of New York players put up numbers, but since that game didn't matter to the standings, they were omitted (Shoutout to NY's Obi Toppin for a new career high).
Trae Young reaffirmed his status as one of the leagues top stars with an All-Star performance. He led his squad in scoring while also elevating his teammates with savvy passing and playmaking. Young was like a mosquito that would continue to buzz until he had the Raptors attention. By then, they were chasing him around the floor, swiping at shadows and stinging from his bite.
Joel Embiid was the living embodiment of power and finesse. His hulking frame carved acres of space where he scored with skill and a surprisingly soft touch. His presence towered over everyone like an ominous shadow but like David taking on Goliath, Toronto had no fear.
Kevin Porter Jr. may be the most unlikely nomination this season, but his numbers were undeniable. He scored at an impressive clip and did a little bit of everything on both sides of the ball. He was like a loose fire hose that Toronto struggled to contain and with a little more help, he could have easily stolen a win for his team.  
| | | | | | | | | |
| --- | --- | --- | --- | --- | --- | --- | --- | --- |
|   | Points | Rebounds | Assists | Steals | Blocks | FG | 3PT | FT |
| Young | 26 | 4 | 15 | 0 | 0 | 10/23 | 3/8 | 3/4 |
| Embiid | 30 | 10 | 2 | 1 | 1 | 10/22 | 0/4 | 10/12 |
| Porter Jr. | 35 | 10 | 4 | 2 | 0 | 12/23 | 4/9 | 7/7 |
Honourable Mention: B. Bogdanovic (ATL), J. Harden (PHI), J. Christopher (HOU), O. Toppin (NYK), I. Quickley (NYK)
The Ring – The X Factor – Standout Performance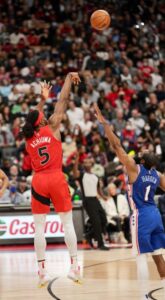 Precious Achiuwa v Philadelphia 76ers
When the Kyle Lowry trade happen, expectations were low for Precious. His athleticism jumped off the page, but did he have the skill to make him anything more than a rim runner? He answered that question with a resounding, Yes! Over the last few months, we have seen him grow from a Kenneth Farid light into a knockdown 3-point shooter, a staunch defender and a fountain of energy. Whether that is a testament to his determination, the Raptors developmental program or both, the results are there. Precious was the perfect complimentary piece in Toronto's win over Philly. He held his own on the defensive end, dove on the floor for loose balls, threw down some hammers and even busted out a Steph Curry-like pull up 3 in transition. Speaking of 3's, Precious nailed 5 of them, each one landing with a splash, a smile and an eruption from the crowd. Achiuwa has leveled up and made Toronto stronger.
| | | | | | | | | |
| --- | --- | --- | --- | --- | --- | --- | --- | --- |
|   | Points | Rebounds | Assists | Steals | Blocks | FG | 3PT | FT |
| v PHI | 20 | 4 | 2 | 1 | 1 | 7/11 | 5/7 | 1/2 |
Honourable Mention: S. Barnes v ATL, P. Siakam v ATL, P. Siakam v PHI, Trent Jr. v PHI, Trent Jr. v HOU, P. Siakam v HOU
The Pinky – The Unsung Hero – Key Contributor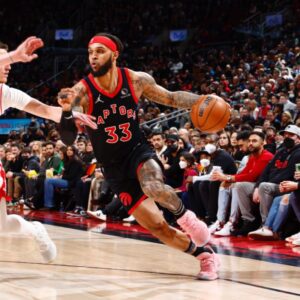 Gary Trent Jr.
After a few weeks of shooting blanks, the Starboy has quietly returned to form. The Raptors appreciate Gary's defense and his ability to space the floor, but his true value is through his knack for scoring. This week, the young gunslinger showed how effective he can be and how much more dynamic Toronto's offense can get when he is hitting. He had a supporting role in their win against Atlanta and their loss in New York, but he lit up the 6ixers and Rockets. In those games he went 5/8 from deep and scored over 25 points. Gary's scoring will be crucial in the playoffs, especially with an injured VanVleet likely getting more attention than he did in the regular season. Throw in the gravity imposed by Siakam and Gary should be left with space to fire at will. If there is one thing Gary has in abundance, it's confidence. He plays with an edge and has the swagger to take any shot presented his way. Watch out if he starts to heat up, Gary has the makings of a dangerous playoff X-factor.
Honourable Mention: P. Achiuwa, C. Boucher, S. Barnes    
News and Notes
Oh Danny Boy – Congrats to former Raptor sharpshooter Danny Green who finally got his championship ring from 2019. Green was a pivotal piece of Toronto's championship run and will always be beloved by fans. He waited 1030 days for that moment.

Photo Courtesy: Getty Images

Green with Envy – In a surprising yet supportive move, Danny Green gifted his 1 of 1 OVO championship bomber jacket to Scottie Barnes when the young rook asked him for it. Barnes rocked the jacket with pride when Toronto faced Philly.

Photo Courtesy: @Raptors/Twitter

Monopolize – In an effort to bolster Fred VanVleet's All NBA chances, the team sent voters some supporting propaganda. People can debate if these efforts should have been for Siakam instead, or that VanVleet should be trying for the All-defensive vote. However, no one can deny that this is a seriously cool marketing strategy.

Photo Courtesy: @theScore/Twitter

Elevate the Rest – Not to be outdone, the Raptors also pushed Gary Trent Jr. for Most Improved and Scottie Barnes for Rookie of the Year.

Photo Courtesy: @theScore/Twitter
Around the League
A Fish for a River – Notable actor Laurence Fishbourne has been cast to play Doc Rivers in an upcoming TV show called "The Sterling Affairs." This show will focus on Donald Sterling, the disgraced former owner of the Clippers, and his impact on the league and players during his tenure.
Are You Jokic Me – Denver's Nikola Jokic has become the only player in NBA history to score over 2000 points, 1000 rebounds and 500 assists in a single season. For reference, Pascal Siakam set a franchise record with over 1500 points, 500 rebounds and 300 assist. As incredible as Siakam has been, Jokic has been much better.
Score the Process – Congrats to Philadelphia's Joel Embiid who became the first center in 22 years to win the scoring title.
Up Next
82 games are in the books and now that the dust has settled, the playoff picture has become clear. After the play in tournament, Toronto will prepare for what will no doubt be an absolute war against a familiar rival. Game 1 will be in Philadelphia with the times and dates yet to be released. This is where the fun begins. After a season worthy of applause, it's time for the encore.