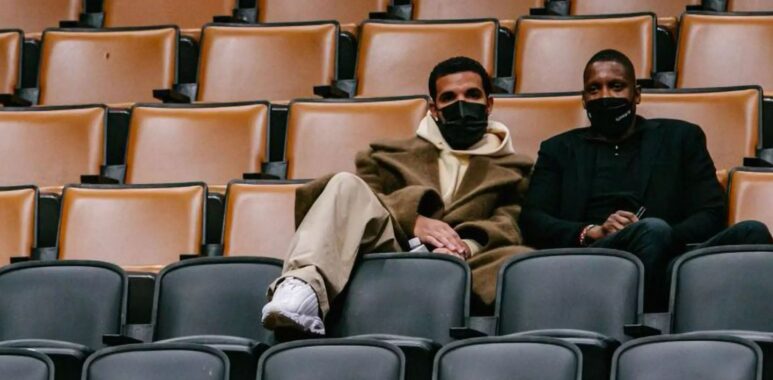 God's Plan – Masai's machinations are coming into fruition, the Raptors are a problem
The High 5 – Week in Review – Week 16
The High 5 is where I review the last week of Toronto Raptors basketball including how the team did, who were the impact players as well as some news and notes from around the league.
The Thumb – How was the week?
Up until now, this team had only existed in potential. A collection of 6'9 players that were more limbs than man with a couple of deadeye shooters to flank them. Now, that potential is being realized.
Somehow, the Raptors have become one of the most diverse offensive teams in the league. Their transition game has always been top notch, but now they are starting to incorporate sophistication to their half courts sets. Fred and Gary are becoming the 'Splash brothers' of the East while Toronto's forward core is a nightmare of length that keeps other coaches up at night.
On top of all that, they have created more turnovers than a baker while employing one of the leagues best late game defensive closers, OG Anunoby.
This week the proof was there. Two monster wins against the conferences top teams while also picking up 2 more dubs against a red-hot Hawks squad. Toronto is for real, and opponents can't figure them out.
The Raptors put the East on notice.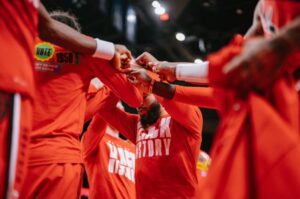 Week Record (4 – 0)                       Season Record (28 – 23)
Toronto Raptors v Atlanta Hawks                            W           106 – 100
The Raptors, coming off their best game of the season, were in the 'A' to challenge the streaking Hawks, winners of 7 straight. The story of this game was the continued elite play of Siakam, and the suddenly scorching Trent Jr. Siakam did excellent work facilitating out of the paint, his offensive game is a glutton of options. Trent Jr. led the scoring with what would end up being a career night from distance. Toronto took control in the 3rd with great interior D and transition offense. OG stuck a dagger in the late comeback attempt to seal the win.
Miami Heat v Toronto Raptors                                   W           110 – 106
The Raps were back home to fend off a challenge from the vengeful Heat. The accumulation of a string of tough games wore down on the Raps, they looked tired out of the gate. They stuck with the plan and relied on what has been successful. The Heat are no joke, the Raptors had to work diligently to overcome a 15-point deficit. The game became akin to battle between two dogs fighting over a bone. Trent Jr. was barking loudest with backbreaking triples. Toronto should feel uber confident after picking up two wins off the Heat within a week.
Chicago Bulls v Toronto Raptors                                W           127 – 120
Just over a week ago the Bulls handed Toronto a loss in Chicago. The Raps, with improving health, had a chance for retribution on Thursday. They got an emotional lift when minutes before tip, VanVleet was announced as an All Star. Toronto sent quick doubles to DeRozan, they made him uncomfortable on every touch. Siakam was omnipresent, VanVleet hunted tough buckets and Boucher was a fountain of energy. The game was tight down the stretch, each team traded punches like a heavyweight bout. This one needed overtime where Trent Jr. knocked down a cold-blooded triple to end it.
Atlanta Hawks v Toronto Raptors                             W           125 – 114
For the second time this week, the Hawks took on the Raptors, this time with Trae Young back in the lineup. Toronto asserted themselves off stingy defense and Siakam's dynamic arsenal, he had 21 points in the 1st quarter. But Toronto's offense dried up in the 2nd allowing the Hawks to peck their way back into it. After the break, the Raps kept the pressure on with solid contributions from Achiuwa and Boucher along with the expected production from the usual suspects. Toronto closed the game with outstanding two-way action.
The Index – The Leader – Player of the Week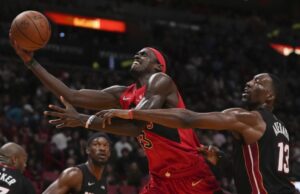 Pascal Siakam
Pascal missed out on an All-Star selection but that didn't derail his current ascension. It feels there is nothing on the offensive end that he can't do. He must travel with a lot of luggage because he is carrying a big bag of tricks, and it runs deep. Unlike previous seasons where Siakam relied on his athleticism, this year, and this week especially, we have seen wrinkles of maturity in his offense. He was methodical in his approach. He read defenses quickly and determined the best way to attack.  His rebounding has been exceptional, his unselfishness builds camaraderie and his defense is staunch. Pascal's two blocks on Jimmy Butler in the dying seconds of their win against the Heat was chef's kiss. Forget the All-Star team, Pascal is gunning for All-NBA.
| | | | | | | | | |
| --- | --- | --- | --- | --- | --- | --- | --- | --- |
|   | Points | Rebounds | Assists | Steals | Blocks | FG | 3PT | FT |
| v ATL | 25 | 6 | 4 | 2 | 2 | 9/17 | 1/2 | 6/8 |
| v MIA | 16 | 14 | 4 | 3 | 0 | 5/14 | 1/3 | 5/7 |
| v CHI | 25 | 13 | 7 | 2 | 1 | 9/22 | 1/4 | 6/7 |
| v ATL | 33 | 9 | 4 | 0 | 0 | 11/16 | 3/3 | 8/9 |
| | | | | | | | | |
| Weekly Avg | 24.75 | 10.5 | 4.75 | 1.75 | 0.75 | 34/69 | 6/12 | 25/31 |
| 4 Games |   |   |   |   |   | 49% | 50% | 81% |
| Season Avg | 21.4 | 8.6 | 5.1 | 1.3 | 0.8 | 48% | 35% | 74% |
| | | | | | | | | |
Honourable Mention: G. Trent Jr., F. VanVleet
The Middle – The Enemy – Best Opposing Player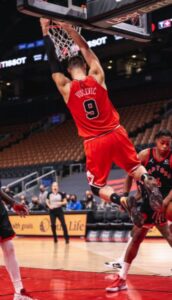 Nikola Vucevic – Chicago Bulls
In their previous meeting, Big Vooch gave his team a win off a heartbreaking triple. This week Nikola nearly gave his team another with a supersized stat line. He was frustratingly effective in the paint. He would outmuscle smaller players for rebounds and putbacks. Despite having the grace, size, and swiftness of Frankenstein's monster, Vooch had a surprisingly soft jumper. He posed a matchup problem for Toronto that they struggled to solve.
| | | | | | | | | |
| --- | --- | --- | --- | --- | --- | --- | --- | --- |
|   | Points | Rebounds | Assists | Steals | Blocks | FG | 3PT | FT |
| v TOR | 30 | 18 | 4 | 1 | 1 | 13/21 | 4/6 | 0/0 |
Honourable Mention: K. Huerter (ATL GM1), B. Adebayo (MIA), D. DeRozan (CHI), T. Young (ATL)
The Ring – The X Factor – Standout Performance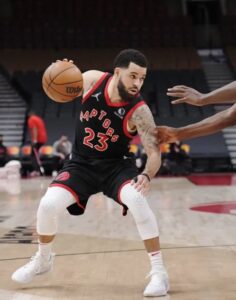 Fred VanVleet v Atlanta Hawks (GM2)
Now that the Raptors have so many players stepping up, it no longer rests on VanVleet's shoulders to carry the squad. However, that doesn't mean Toronto's lone All Star didn't have time to get his. To cap his strong week, VanVleet outdueled Trae Young, the player selected ahead of him as an All-Star starter. He was expectedly masterful at the point, sharing the ball and striking when necessary. He found shooters in their pocket (an underrated skill), and he did it repeatedly for high percentage looks. When the Hawks pressured the ball out of Siakam's hands, it was VanVleet that took advantage. He worked the pick and roll to keep them slipping and detonated triples for the knockout blow.
| | | | | | | | | |
| --- | --- | --- | --- | --- | --- | --- | --- | --- |
|   | Points | Rebounds | Assists | Steals | Blocks | FG | 3PT | FT |
| v ATL | 26 | 4 | 11 | 0 | 0 | 10/18 | 5/10 | 1/1 |
Honourable Mention: Trent Jr. v ATL (GM 1) C. Boucher v CHI, P. Siakam v ATL (GM 2)
The Pinky – The Unsung Hero – Key Contributor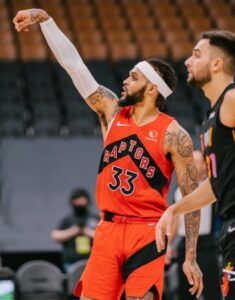 Gary Trent Jr
With each passing game, Toronto's trade of Norman Powell for Gary Trent Jr. feels more and more like a steal for the good guys. While Powell has already moved on from the Blazers, Trent Jr seems to only be getting more comfortable with the Raptors offensive systems. He set a new career high in 3's against the Hawks (9), he tied a Raptors record with 5 consecutive games with 5 or more 3's and he nailed the game winning triple over the mighty Bulls. This stretch has shown that there hasn't been a shot Gary didn't like. Whether defenders get a hand up or not, Gary is letting it fly. His emergence has been a huge part of Toronto's recent success. Right now, his game is as unique as his fashion sense, on another level.
Honourable Mention: C. Boucher, P. Achiuwa, OG Anunoby          
News and Notes
Freddy All Star – Lots of love goes out to Fred VanVleet for his first All Star selection. He is more than deserving and with any luck, he will have teammate Pascal Siakam join him as an injury replacement. There are also whispers that VanVleet may take a shot at the 3-point competition.

Photo Courtesy: Yahoo.com

Rising Stars – Shout out to Scottie Barnes and Precious Achiuwa who will both make the trip to Cleveland to represent Toronto in this years Rising Stars competition.

Photo Courtesy: @MarcJSpears/Twitter

Mystery Bounce – By now everyone has seen Coach Nurse make his acting debut in an episode of Murdoch Mysteries. However, what did not get as much attention were the other moments in the episode that had a Raptor connection. The episode even recreated the infamous Kawhi 'bounce' along with the celebration.

Photo Courtesy: @cbcgem/Twitter
Around the League
Dunkers Unite – The Slam Dunk contestants have been selected. This year will feature Houston's Jalen Green, Orlando's Cole Anthony, Golden States Juan Toscano-Anderson, and New York's Obi Toppin.
Sir Charles – For better or worse, Charles Barkley will be on the call for this years All Star game replacing the departing Marv Albert. Charles will most certainly bring honesty and entertainment.
Put a Ring on It – The NBA will recognize their All Stars by giving players a commemorative ring. It is unclear if this is only for the 75th anniversary or if this will be a new standard going forward.

Photo Courtesy: Andrew Kenney

Where the Ladies At? – Big news for the WNBA. They were able to secure an additional 75-million-dollar investment to help grow and support the brand. What's notable is that there are a handful of former players and personalities that contributed to the investment including Nike, Baron Davis, and Pau Gasol.
In Recognition – The NBA revealed their all new All Star MVP trophy. This reimagined design pays respect to Kobe Bryant and his All-Star accomplishments.

Photo Courtesy: Andrew Kenney
Up Next
The Raptors are back on the road on Monday to take on the Hornets in the Queen City. The Hornets will be out for blood after Toronto smacked them around in their last meeting. From there, it's onto OKC on Wednesday to challenge the sneaky Thunder. They face the terrible Rockets in Houston the next night on what looks like a winnable back-to-back. Finally, they will be home on Saturday to take on the visiting Denver Nuggets. This could be a trap week. Those two middle games may give the appearance of scheduled wins, but in a heated Eastern conference race, Toronto is in no position to take anyone lightly.