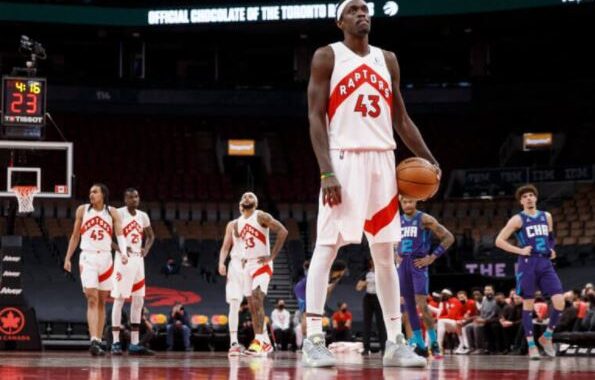 All grit, no quit – Toronto snuffs out the Heat with a triple OT win to cap a strong week
The High 5 – Week in Review – Week 15
The High 5 is where I review the last week of Toronto Raptors basketball including how the team did, who were the impact players as well as some news and notes from around the league.
The Thumb – How was the week?
Toronto entered the week coming off an embarrassing loss to the Blazers. That must have awoken something because they looked like a completely different team against Charlotte. Their competitive spirit carried throughout the week as they also put up a solid effort in Chicago, albeit in defeat.
If those two games were the delicious appetizers, then the main course was Toronto's game against the Miami Heat.
Toronto pulled off a truly Herculean effort when they marched into enemy territory and took a win off the Conference leaders in triple, yes, triple overtime. That game ranks up there with the best in regular season history.
The Raps are now in the midst of an odd scheduling anomaly where they will face the same 4 teams twice in an 8-game stretch.
Toronto needs to come up with a more sustainable way to remain competitive. At the moment, they are heavily relying on their starters. Fred missed 2 games due to creaky knees and in the Miami game, each of the starters logged over 54 minutes played (NBA record) whereas the highest minute total for a bench player was Precious Achiuwa at 16.
Somethings got to give.
Week Record (2 – 1)                       Season Record (24 – 23)
Charlotte Hornets v Toronto Raptors                      W           125 – 113
Only days after professing his appreciation for heavy minutes, VanVleet was forced out of this one to rest his legs. Barnes was a late scratch as well. This left the Raptors to roll out an unconventional 1 guard 4 forward lineup against maybe the most exciting team in the league. Fouls and a Champagnie ejection left Toronto even more shorthanded. Credit to the home side, the players who played came correct. Pascal moved the ball expertly, Boucher was active, and Trent Jr. was an assassin. This win will build confidence and trust.
Toronto Raptors v Chicago Bulls                               L              111 – 105
It's tough to ask anyone to go into the Windy City to try and steal a win, but the Raptors, boosted with a returning Barnes were up to the challenge. They carried their momentum from their last win and held their own early against the hyperathletic Bulls. In the 2nd, Chicago started running away with it, Toronto desperately needed halftime to regroup. They rallied, as they always do, behind an inspired Siakam. Their defense was suffocating. They fought and clawed into the final minute but faltered in the end. It felt like they were fighting uphill all night.
Toronto Raptors v Miami Heat                  `              W           124 -120 (3OT)
Toronto was in Miami to take on the Lowry-less Heat on Saturday. VanVleet was back from injury, Trent Jr. was still holding the hot hand and Siakam has rarely looked better. This was a squad ready to take on the top team in the conference. Toronto stayed focused, hunted mismatches and played stubborn D. But all of that was window dressing for the spectacle of the final minutes. Miami thought the Raptors would give in, but Toronto would not die. They forced overtime, and then another and another. It took all their moxie, but the Raps made a statement in, perhaps, their best game of the season.
The Index – The Leader – Player of the Week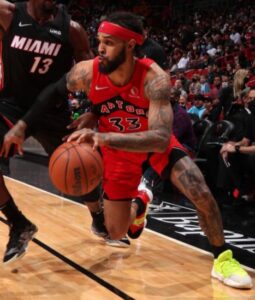 Gary Trent Jr.
Gary's eyes went wide when he saw that VanVleet would be out for two of the three games this week. That meant more opportunities for the young gunner, and he was not shy in taking them. Outside of Siakam and VanVleet, Trent Jr. is Toronto's best scorer. He can seemingly get off any shot he wants, whether it be a soft midrange jumper or a contested triple. He takes them as if there is no defender in sight. There is no lapse on defense either, he has been just as reliable there. The most important thing Gary has brought the Raptors is something they have been missing all season, an edge. He doesn't just drain jumpers in defenders faces, he also made sure to talk enough smack so that they don't forget it.
| | | | | | | | | |
| --- | --- | --- | --- | --- | --- | --- | --- | --- |
|   | Points | Rebounds | Assists | Steals | Blocks | FG | 3PT | FT |
| v CHA | 32 | 2 | 2 | 1 | 0 | 11/21 | 5/10 | 5/5 |
| v CHI | 32 | 1 | 2 | 1 | 0 | 11/22 | 6/10 | 4/5 |
| v MIA | 33 | 5 | 1 | 5 | 0 | 13/28 | 5/15 | 2/2 |
| | | | | | | | | |
| Weekly Avg | 32.3 | 2.6 | 1.6 | 2.3 | 0 | 35/71 | 16/35 | 11/12 |
| 3 Games |   |   |   |   |   | 49% | 46% | 92% |
| Season Avg | 17.4 | 2.7 | 2 | 1.9 | 0.3 | 42% | 38% | 84% |
| | | | | | | | | |
Honourable Mention: P. Siakam
The Middle – The Enemy – Best Opposing Player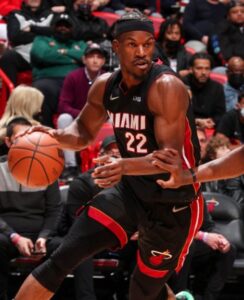 Jimmy Butler – Miami Heat
If not for the triple overtime marathon in Miami, this week's accolade would have most certainly gone to Chicago's Nikola Vucevic for putting up big stats and knocking down a game winning 3. However, its hard to ignore the monster triple double put up by notable Raptor killer, Jimmy Butler. Butler did yeoman's work leading Miami's offense. Most of his damage came from the midrange and the line which speaks to his ability to cause chaos among Toronto's defenders. He was their everyman and the only player the Raptors had no success in containing.
| | | | | | | | | |
| --- | --- | --- | --- | --- | --- | --- | --- | --- |
|   | Points | Rebounds | Assists | Steals | Blocks | FG | 3PT | FT |
| v TOR | 37 | 14 | 10 | 3 | 2 | 14/26 | 1/5 | 8/11 |
Honourable Mention: L. Ball (CHA), N. Vucevic
The Ring – The X Factor – Standout Performance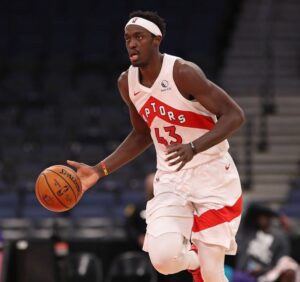 Pascal Siakam v Charlotte Hornets
No point guard? No problem. Pascal tied his career high in assists and came one rebound short of a triple double as Toronto's lead guard against the Hornets. He was a true overall threat. He worked his way into the paint and drew so much attention that it was easy for him to find the open man. Outstanding performances like this are the reason why some are considering him for the All-Star team despite missing a good chunk of the season. He is coming for VanVleet's title as Toronto's best player.
| | | | | | | | | |
| --- | --- | --- | --- | --- | --- | --- | --- | --- |
|   | Points | Rebounds | Assists | Steals | Blocks | FG | 3PT | FT |
| v CHA | 24 | 9 | 12 | 0 | 1 | 9/16 | 1/2 | 5/5 |
Honourable Mention: Trent Jr. v CHA, CHI, MIA, OG Anunoby v MIA, S. Barnes v MIA
The Pinky – The Unsung Hero – Key Contributor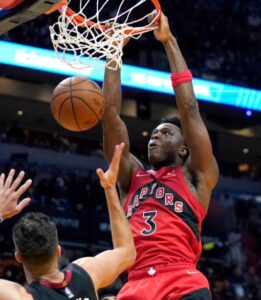 OG Anunoby
OG quietly had himself a solid week. He scored 20 plus points in each game, and he has been collecting rebounds like they were going out of style, including 14 against the Heat. He still isn't the most graceful scorer, but his physicality and surprisingly soft touch has made him consistently effective. On a team loaded with good defenders, OG is arguably the best. He is becoming the perfect complimentary piece, overlook him at your peril.
Honourable Mention: F. VanVleet, P. Siakam, C. Boucher  
News and Notes
Justin sane – Toronto's Justin Champagnie and Charlotte's PJ Washington were both hit with $15000 fines after their scuffle and subsequent ejections on Tuesday. That's a hefty price for Champagnie who will net roughly $450000 this season.
Broke Baynes – ESPN released an incredible story about how former Raptor and Aussie big man, Aaron Baynes, mysteriously fell at the Olympics and almost never got back up. His near paralysis and difficult road to recovery is certainly one to check out. He may not have been the most beloved Raptor, but we send him nothing but prayers and support. Read about it here: https://www.espn.com/nba/story/_/id/33153946/the-mysterious-fall-harrowing-story-nba-center
Around the League
Jaxed – New Orleans' Jaxon Hayes was involved in an ugly domestic incident last summer at the home of his then girlfriend in Los Angeles. This week he was assessed 12 misdemeanor charges over the incident including domestic violence and resisting arrest.
Kick Ball – Dallas' Kristaps Porzingis was fined $15000 for punting the ball into the crowd in the Mavericks game against the Warriors.
New York Minute – New York's Julius Randle had a Knick fan ejected for heckling him when the Knicks played the Heat, in Miami. Randle continues to show signs of buckling under the New York pressure, even away from home.
No Ball For You – A couple of Sixer fans were ejected for inappropriate player taunting when the Sixers played the Lakers. Carmelo Anthony took exception to what they were saying, and whatever it was, it was enough to get the fans banned from the Arena. The line between fan and fanatics is becoming increasingly blurred.
Fine With Me – In a classy move, Philadelphia's Joel Embiid offered to pay for the technical fines that he and New Orleans undrafted rookie Jose Alvarado picked up in their game against each other.
Maple Jordan – No news here, just wanted to give some love for first time All Star, Andrew Wiggins. Wiggins got a huge boost in fan votes when K-Pop star BamBam tweeted out his support for the Canadian star to his 9.6 millions followers.

Photo Courtesy: @SportsCenter/Twitter

Rising Eyebrows – The NBA is introducing an all-new format for the Rising Stars challenge at All Star weekend. This change includes a mini tournament between 28 players on 4 teams. G league players will be used to fill the rosters which is a way to get some recognition for that league and a nice gesture for the players.
Clutch – Another addition to the weekend will be a "Clutch Challenge". This is where players have to hit jumpers from locations on the court where an iconic playoff shot occurred. I wonder if Kawhi's 'bounce' will be an option.
Fashion Faux Pas – The NBA released this years All Star Jerseys. Ooof.

Photo Courtesy: @TheHoopCentral/Twitter
Up Next
This week the Raptors are served up with not one but two tricky back to backs. On Monday night the Raptors will be in Atlanta to take on the Hawks. On Tuesday, it's off to Toronto where the Raptors will take on Miami, this time in the cold. Thursday night the Raptors will host the Bulls and on Friday they will continue their home stand with another game against Atlanta.