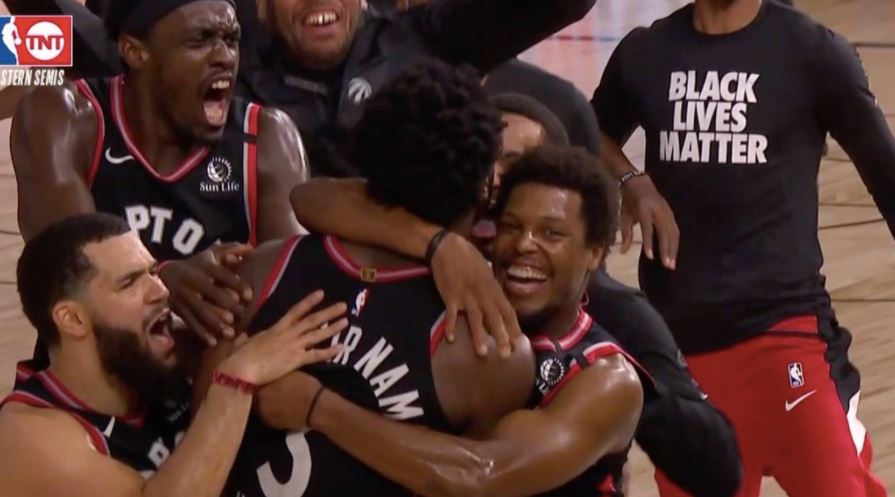 Bubble Raps – Raptors win at the buzzer off OG's miracle triple
The High 5 – Round 2 – Game 3
The High 5 is where I review the last week of Toronto Raptors basketball including how the team did, who were the impact players as well as some news and notes from around the league.
The Thumb – How was the game?
The Raptors spent the last few days seething in anger and scouring over game tape to find a way to solve the Celtic puzzle. The chances of a team coming back from 3 – 0 is extremely low, so taking Game 3 was incredibly important. Tatum seems to be Toronto's number 1 problem, but Marcus Smart is not far behind, both have been masterful in Round 2. The Raptors defense is known to pack the paint and encourage 3 pointers, but this has worked out perfectly for a team like Boston, who thrives on the perimeter. If there was ever a time for the Raptors to rekindle their old form, this was that game.
Series record (1 – 2)
Toronto Raptors v Boston Celtics – W (104 – 103)
The Raptors have been playing on their heels all series. They desperately needed a jump start and the ever-reliable Lowry answered the call. He carried the offensive load in the first half, committing himself to attacking the rim while playing tight defense. However, Kemba Walker thwarted his efforts with an explosive first quarter of his own. Tatum then picked up the slack to push the Celtics to a 10-point lead by halftime. Toronto found some momentum when they implemented their zone defense as Lowry and VanVleet started to heat up. Their 3 pointers finally started to fall and suddenly they looked like the defending champs again. This was edge of your seat basketball with big plays happening every trip down the floor. Both squads fought tooth and nail, but the Raptors finally earned a massive win when OG calmly hit a corner triple with .5 on the clock. This was a thrilling finish to a tightly contested game.
The Index – The Leader – Player of the Game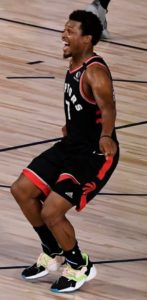 Kyle Lowry
Kyle Lowry, Toronto's most competitive player, carried himself with a look of determination and urgency not yet seen in this series. He attacked at every opportunity, building a head of steam and running through anyone in his way. Lowry did most of his work in the paint, using his assets and ball hawking his way to multiple opportunities. Kyle was a man possessed playing desperate basketball. He stepped up just when the Raptors needed him the most.
| | | | | | | | | |
| --- | --- | --- | --- | --- | --- | --- | --- | --- |
|   | Points | Rebounds | Assists | Steals | Blocks | FG | 3PT | FT |
| v Celtics | 31 | 6 | 8 | 2 | 0 | 13/23 | 2/8 | 3/4 |
| | | | | | | | | |
| Series Avg | 21 | 5.6 | 7.6 | 2.3 | 0.3 | 23/51 | 3/20 | 15/21 |
| 3 game | | | | | | 45% | 15% | 71% |
| Season Avg | 19.4 | 5 | 7.5 | 1.4 | 0.4 | 41.6% | 35.2% | 85.7% |
| | | | | | | | | |
Honourable Mention: F. VanVleet
The Middle – The Enemy – Best Opposing Player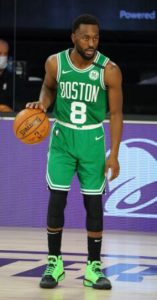 Kemba Walker
With Tatum and Smart stealing all the limelight, Kemba innocuously stepped up to make his presence felt. He knocked down 17 points in the first quarter, including a buzzer beating 3, essentially throwing a wrench in Nurse's defensive strategy. He gave way for Tatum to take over but, struck again with a triple just before the halftime buzzer. Walker had his best game of the series; he was slinging daggers from all over the court and was clutch down the stretch. Kemba has never played on such a successful team and, now that he's had a taste of winning, he's starving for more.
| | | | | | | | | |
| --- | --- | --- | --- | --- | --- | --- | --- | --- |
|   | Points | Rebounds | Assists | Steals | Blocks | FG | 3PT | FT |
| K. Walker | 29 | 3 | 3 | 3 | 0 | 9/15 | 4/7 | 7/7 |
Honourable Mention: J. Brown
The Ring – The X Factor – Standout Performance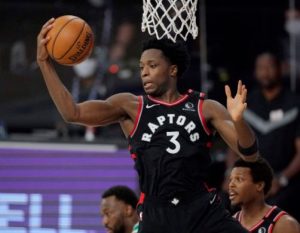 OG Anunoby
OG is subtly putting together a strong series. He was again a defensive presence, picking up boards (10), blocking shots (2), and coming away with 3 steals. While some other players on his squad look rattled, OG has shown excellent poise and composure. Although he has played solid defense, he hadn't done much offensively, that was until he hit the biggest shot of the series for the Raptors with a monster game winning triple. He caught and shot the ball with less than a second in the game and converted it like he had done it a million times before. Walking away with his coolly composure until he was mobbed by his teammates was the icing on the cake.
Honourable Mention: F. VanVleet
The Pinky – The Unsung Hero – Key Contributor
Fred VanVleet
VanVleet fought through a frustrating 41 minutes to finally find some of his offensive range. He played hard nose basketball but couldn't get the benefit of the whistle on most of his drives. Luckily his jumper started to fall giving Toronto a much-needed shot in the arm. If Fred can shoot with any semblance of consistency, this series will look completely different.
Honourable Mention: N. Powell, P. Siakam
Around the League
Canadian Content – In one of the most surprising moves of the year, the Brooklyn Nets have named Canadian icon, Steve Nash, as their new head coach. Nash comes with a well-respected reputation but very little coaching experience, he signed a 4-year deal and will have to lean heavily on lead assistant John Lucas for guidance.
Always a bridesmaid – Speaking of John Lucas, he seems poised for another head coaching job, however opportunities keep passing him by. At least behind Nash, he will become the highest paid assistant coach in the league.
ROY – Congratulations to Memphis guard, Ja Morant, for being named the NBA's rookie of the year. He has made himself the corner of the franchise and will dominate the highlight reels for years to come.
C.R.E.A.M. – Donovan Mitchell has been one of the stars of this year's season and, after his incredible Round 1 performance, he will finalize a 5-year deal worth up to $170 million to remain as the future in Utah.
Just Fine – Clipper bad boy Marcus Morris was hit with a $35000 fine for smacking Luka Doncic in the head during their opening round match up. Boston's Marcus Smart was also served a $5000 fine after his Game 2 flop against the Raptors.
Maple Leaf Pride – Shout outs to OKC's Lu Dort and Denver's Jamal Murray for their star making performances in Round 1. Dort's rise seemingly came out of no where, whereas Murray's has been more prophetic as his stock has been ascending steadily throughout his career. Both players represented Canada proudly.

Photos Courtesy: Nathaniel S. Butler/Kevin C. Cox/Getty Images
Up Next
Despite the euphoric feeling that must come from finally getting a win in a difficult series, the Raptors are already looking ahead to Game 4. Though they have looked better with each passing game, there are improvements to be made. This win should give them confidence heading into Saturday nights contest.