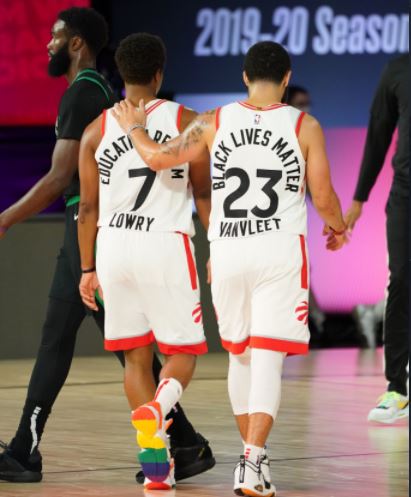 Bubble Raps – Toronto feels the burn as a red-hot Smart steals the win for the Celtics
The High 5 – Round 2 – Game 2
The High 5 is where I review the last week of Toronto Raptors basketball including how the team did, who were the impact players as well as some news and notes from around the league.
The Thumb – How was the game?
The Raptors were served a large plate of humble pie after Game 1. Their shooters were ice cold, they could not hit any of their usual looks and Boston's clever guards made mince meat of Toronto's defense. It was a truly uninspiring performance and obvious that Toronto had to reassess their strategy. Luckily, Coach Nurse and his team have built their reputation on innovation.
 Series record (0-2)
Toronto Raptors v Boston Celtics – L 102 – 99
Toronto started the game with renewed purpose. They set the tone early by feeding Siakam, making him the trigger man for their offense. VanVleet also looked better, he carved out space for comfortable looks which he finally started to convert. Toronto's shooters found a bit of rhythm, but it was OG Anunoby who made the most impact for his squad. Boston took a modest lead into the break but in the third, the Raptors finally started to assert themselves. The fourth quarter turned into a nail biter when Marcus Smart went supernova from distance, smashing the floodgates with a tidal wave of triples to snatch the lead from Toronto. From there, the Celtics did just enough to keep the game out of reach. This was a heartbreaking defeat, one that pushes Toronto's backs to the wall.
The Index – The Leader – Player of the Game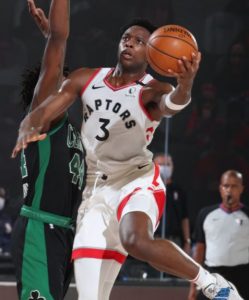 OG Anunoby
OG quietly made his mark by connecting on 4 triples early in the game. In the second half, he mixed things up with gorgeous baseline cuts and rim runs. His offensive punch translated to his defense as he started to get his hands in passing lanes to force deflections. OG's physicality helped him bully opponents which could become key in and increasingly physical series. His two-way game certainly surprised the Celtics. Nick Nurse may have stumbled onto something special in Anunoby. Let's see how he is used going forward.
| | | | | | | | | |
| --- | --- | --- | --- | --- | --- | --- | --- | --- |
|   | Points | Rebounds | Assists | Steals | Blocks | FG | 3PT | FT |
| v Celtics | 20 | 7 | 0 | 1 | 0 | 7/12 | 4/6 | 2/3 |
| | | | | | | | | |
| Series Avg | 16 | 7 | 0 | 0.5 | 1 | 11/18 | 5/9 | 5/7 |
| 2 game |   |   |   |   |   | 61% | 55% | 71% |
| Season Avg | 10.6 | 5.3 | 1.6 | 1.4 | 0.7 | 50.5% | 39% | 70.6% |
| | | | | | | | | |
Honourable Mention: F. VanVleet
The Middle – The Enemy – Best Opposing Player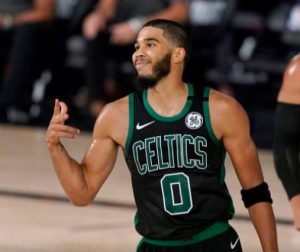 Jayson Tatum
It is easy to see why Jayson Tatum is the future of the Celtics. He is a phenomenal offensive player with a loaded toolbox and tough defensive instincts. His height, athleticism, 6'9" wingspan and high basketball IQ makes him a Coaches dream. Tatum never looked out of control; his points were effortlessly smooth.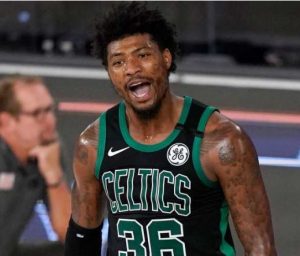 Marcus Smart
Smart was unbelievable from the perimeter in the fourth. He singlehandedly changed the complexion of the game when he started launching haymakers from deep, each one hitting Toronto like a punch to the face. Smart has been fantastic in Hayward's absence and has been the most impactful player of the series.
| | | | | | | | | |
| --- | --- | --- | --- | --- | --- | --- | --- | --- |
|   | Points | Rebounds | Assists | Steals | Blocks | FG | 3PT | FT |
| J. Tatum | 34 | 8 | 6 | 1 | 0 | 8/17 | 4/7 | 14/14 |
| M. Smart | 19 | 3 | 1 | 0 | 2 | 6/13 | 6/11 | 1/1 |
Honourable Mention: K. Walker, J. Brown
The Ring – The X Factor – Standout Performance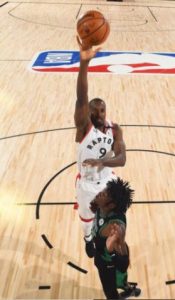 Serge Ibaka
Serge Ibaka has been the best bench player for both teams. Though he has made his name off his defense, it was his shooting that gave Toronto some relief after he started the game 4 of 4 from the field. Overall, he went 3/5 from deep which was a godsend for Toronto's struggling shooters. Serge chipped in on D by swatting away a couple of shots. He has been locked in since Game 1 and may be the key to solving the front court battle.
Honourable Mention: F. VanVleet
The Pinky – The Unsung Hero – Key Contributor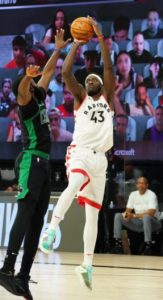 Pascal Siakam
Toronto knows they can't win this series with a mild Siakam, so they took extra efforts to get him the ball early and often. He responded with a stronger display of energy and confidence. Siakam needs to adjust to Boston's D and use his poise, skill and patience to get buckets without working so hard. Though he doesn't look completely like his old self, he showed flashes of his deft offensive touch with a bushel of nice drives and a deep 3 at the halftime buzzer. Toronto desperately needs more of this.
Honourable Mention: K. Lowry
News and Notes
Warm and Fuzzy – Social media is circulating a heartwarming video of Fred VanVleet being reunited with his kids. In the now viral clip, his son is heard saying, "I love you daddy" in the cutest way possible. Considering how much Fred's game improved after the birth of his child, this should amount to at least a few games of elite play. If that isn't motivation, I don't know what is.
Around the League
Welcome fam! – After weeks apart, the NBA is finally allowing players to have their families join them in the bubble. Each player will be able to have one guest attend their games going forward.
MIP – New Orleans forward Brandon Ingram won the 2019-20 Most Improved Player award. The former lottery pick is finally living up to expectations.
Goodbye Coach – The basketball world was dealt another devastating blow with the sudden passing of legendary Georgetown coach John Thompson. Coach Thompson is known for being a positive role model for generations of players and students. Chiefly among them, Allen Iverson, who credits Coach Thompson for saving his life. Coach Thompson's signature shoulder towel serves as a reminder to always work hard.

Photo Courtesy: CSN/Georgetown University
 Up Next
The Raptors have some soul searching to do if they want to get back into this series. Though they have been in this position before, they now must overcome a rolling Celtics squad without a generational talent like Kawhi Leonard. Toronto is yet to play any where near their best, they will need to find their game quickly or this series will be over.