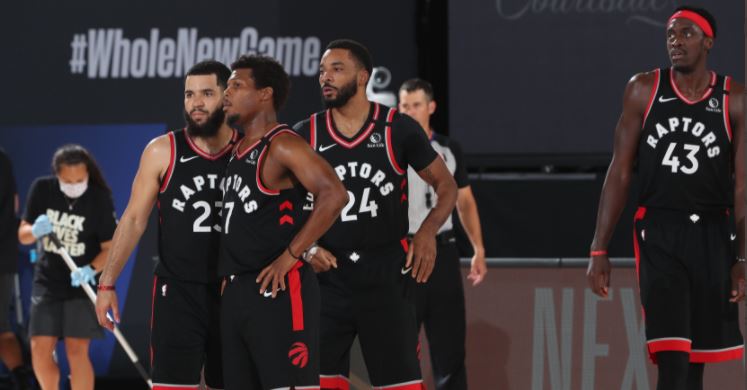 Bubble Raps – The Raptors even up the series with a decisive Game 4 victory
The High 5 – Round 2 – Game 4
The High 5 is where I review the last week of Toronto Raptors basketball including how the team did, who were the impact players as well as some news and notes from around the league.
The Thumb – How was the game?
The Raptors escaped Game 3 off OG's historic buzzer beater. That shot gave Toronto new life and, for 24 hours, flooded social media with a mix of slow-motion replays and Kyle Lowry celebration videos. If Marcus Smart did not turn into Steph Curry in the fourth quarter of Game 2, Toronto would be in command of this series. Boston still looks formidable but, the cracks in their armour are showing and the Raptors have been improving each game.
Series record (2 – 2)
Toronto Raptors v Boston Celtics – W 100 – 93
The Celtics were obviously frustrated at how Game 3 ended. Their series win was all but assured until the coolest player on the floor, OG Anunoby, shattered their dreams. Lowry applied the same game plan as he did in Game 3 and attacked with great results. He, VanVleet and Siakam kept the ball moving and played with unending energy. Toronto's 3-point efficiency on a whole ticked upwards, creating easier looks for their offense. Boston fought them to a draw heading into the break but, in the third, Toronto extended a modest lead. Nick Nurse rolled out a laundry list of defensive strategies, including the infamous 'Box and 1', to try and contain Tatum. Toronto executed in the fourth and down the stretch, Tatum did all he could but Siakam matched him punch for punch. Toronto played an excellent game and earned a hard-fought win. There is blood in the water and the Raptors are circling.
The Index – The Leader – Player of the Game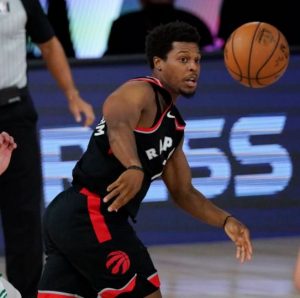 Kyle Lowry
Kyle Lowry mentioned in a post game interview that a close friend told him to "stop waiting", suggesting that he attack with more urgency and aggression. That advice rewarded Kyle with his best game of the playoffs. In Game 4, he repeated that strategy by bullying his way to the rim whenever he wanted, earning himself rebounding opportunities and multiple trips to the line. As his confidence grew, so did his influence on the game. Kyle not only put up points, he also played solid D, grabbed boards and picked up a pair of vintage charges in the process. Don't look now, but Kyle is in a groove. 
| | | | | | | | | |
| --- | --- | --- | --- | --- | --- | --- | --- | --- |
|   | Points | Rebounds | Assists | Steals | Blocks | FG | 3PT | FT |
| v Celtics | 22 | 11 | 7 | 2 | 2 | 5/16 | 4/10 | 8/8 |
| | | | | | | | | |
| Series Avg | 21.5 | 7 | 7.5 | 2.25 | 0.75 | 28/67 | 7/30 | 23/29 |
| 4 game | | | | | | 42% | 23% | 79% |
| Season Avg | 19.4 | 5 | 7.5 | 1.4 | 0.4 | 41.6% | 35.2% | 85.7% |
| | | | | | | | | |
Honourable Mention: F. VanVleet, P. Siakam
The Middle – The Enemy – Best Opposing Player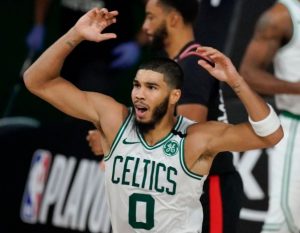 Jayson Tatum
The Celtics hot shooting has become streaky, leaving Jayson Tatum to carry the offensive load. Tatum is talented enough to score whenever necessary, but the Raptors were making life as difficult for him as they could, hounding him every time he touched the ball. To Tatum's credit, he stayed aggressive and did not settle for jump shots. He did his damage from midrange and earned a game high in points and a team high in rebounds. Tatum was excellent but he needed his teammates to take off some of the pressure.
| | | | | | | | | |
| --- | --- | --- | --- | --- | --- | --- | --- | --- |
|   | Points | Rebounds | Assists | Steals | Blocks | FG | 3PT | FT |
| J. Tatum | 24 | 10 | 3 | 0 | 0 | 10/18 | 1/6 | 3/5 |
Honourable Mention: K. Walker, J. Brown
The Ring – The X Factor – Standout Performance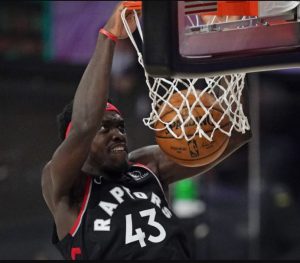 Pascal Siakam
After a few lackluster games, Pascal was heavily criticized for not stepping up as a "superstar". It must have given him great relief to finally make a dent on the scoreboard again (23 points). He played lockdown defense and earned a double double with his 11 rebounds. His second half was better than the first, he looked more comfortable and got easy baskets off friendly rims and soft jumpers. The Raptors desperately needed him to be a scoring threat, and Pascal stepped up with his best effort. Siakam is working his way through growing pains.
Honourable Mention: S. Ibaka, F. VanVleet
The Pinky – The Unsung Hero – Key Contributor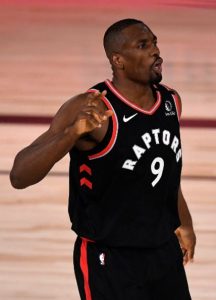 Serge Ibaka
Serge Ibaka played inspired minutes off the bench, he wasted no time to make an impact. In his opening stretch, he hit 2 triples, had a massive block and a big follow up dunk. He was engaged, fist pumping after every defensive stand. His hot shooting continued throughout the game (18 points) which was a relief as Gasol did not contribute any offense from the centre position. A few games ago, I wrote that Serge may be the key to solving the front court battle, he certainly played the part tonight.
Honourable Mention: F. VanVleet
News and Notes
Ma Fuzzy Blocks – With his two blocks in Game 3, Serge jumped over Kevin McHale for 8th spot on the All time NBA Playoff blocks leaders list. He is now chasing Patrick Ewing for the 7th
Around the League
No love for the coaches – Some NBA coaches have voiced displeasure about not being able to have their families with them in the bubble. This is a surprising decision as players and even officials can have someone at games to support them.
Trez Bien – Congrats to Clippers forward, Montrezl Harrell, for being named the NBA's 6th man of the year. He beats out teammate Lou Williams for the honour. Nice shoes.

Photo Courtesy; @alleniverson/Twitter
Up Next
The Celtics are starting to wear down whereas the Raptors have only gotten stronger as the series has gone on. As well as Toronto has played, its safe to say, there is still another level they can reach. It's now the Celtics turn to adjust or else they may find themselves suddenly down 3 – 2. Game 5 will be on Monday night.