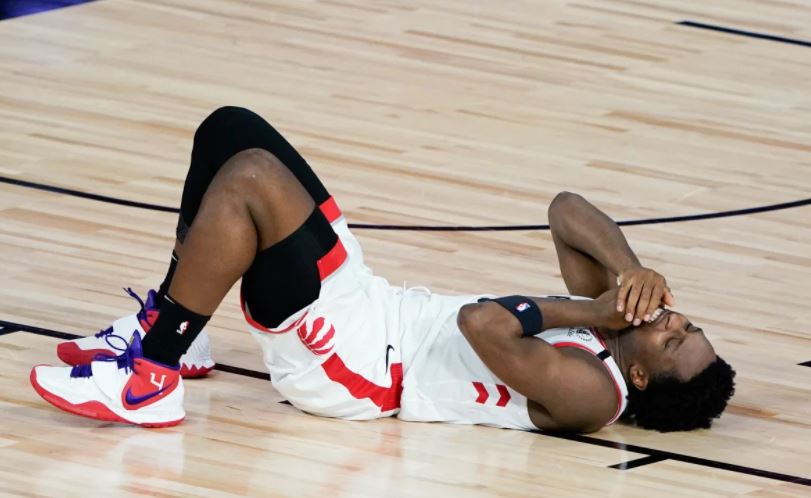 Bubble Raps – The Raptors begin Round 2 with an uninspiring loss to the Celtics
The High 5 – Round 2 – Game 1
The High 5 is where I review the last week of Toronto Raptors basketball including how the team did, who were the impact players as well as some news and notes from around the league.
The Thumb – How was the game?
After a brutal week off the court and a player's boycott, the NBA resumed games on Saturday. Credit to the players, they have shown more leadership than any other entertainment body and have, at times, looked more competent than the people who should be in charge. Fred VanVleet and Norm Powell lit the fuse by speaking so vehemently about the issues in the wake of Jacob Blake's murder, but no one could have predicted the firestorm that would follow. It is becoming harder to invest in the sport when there are so many larger issues going on but, one can only hope, that with added attention and leverage, there can finally be real change, not in the future; now.
For better or worse, the games continue…
Series record (0-1)
Toronto Raptors v Boston Celtics – L 112 -94
The Raptors and Celtics were one of the most anticipated remaining playoff matchups, and yet with such heavy emotions, it was hard to feel any excitement for this game. The boycott provided Lowry extra days to rest his sore ankle with hopes that he could track the savvy Kemba Walker. Jaylen Brown immediately impressed with strong energetic minutes while saddling Siakam with 3 quick fouls. This effectively cancelled out Toronto's biggest weapon as Siakam was ineffective for the rest of the game. The Celtics aggressiveness turned out to be a massive hurdle for Toronto to overcome as they struggled to put together any offense. Boston kept scoring at will, cutting their way to the rim with ease while the Raptors stood with their palms raised, looking at the officials to bail them out. This was a terrible performance from Toronto but a spectacular game from Boston.
The Index – The Leader – Player of the Game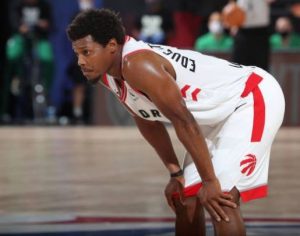 Kyle Lowry
Ever the pit bull, Kyle Lowry never relented with his never say die attitude. He shook off his lingering foot injury and although, he did not have a great game by any means, he gritted his way to team highs in points, assists and free throws. Kyle was tenacious but at times sloppy. He earned this honour because he never gave up and continue to push the action, even when going 1 on 5.
| | | | | | | | | |
| --- | --- | --- | --- | --- | --- | --- | --- | --- |
|   | Points | Rebounds | Assists | Steals | Blocks | FG | 3PT | FT |
| v Celtics | 17 | 6 | 8 | 1 | 0 | 5/12 | 1/5 | 6/9 |
| | | | | | | | | |
| Series Avg | 17 | 6 | 8 | 1 | 0 | 5/12 | 1/5 | 6/9 |
| 1 game |   |   |   |   |   |   |   |   |
| Season Avg | 17.6 | 3.8 | 6.6 | 1.9 | 0.3 | 41.3% | 39% | 84.8% |
| | | | | | | | | |
Honourable Mention: F VanVleet, OG Anunoby
The Middle – The Enemy – Best Opposing Player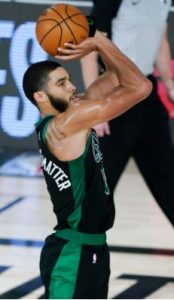 Jayson Tatum
Tatum had a slow start, but he got hot quickly to lead the Celtics in scoring and minutes. Tatum has a silky-smooth game, many like to make the comparisons between him and Siakam. Where Siakam has in raw athleticism, Tatum has in polished fundamentals. He made everything look easy and, for at least one game, he was much better than his counterpart.
Marcus Smart
Smart played exceptional defense on VanVleet and Lowry, making the game uncomfortable for them whenever they had the ball. He would crowd their space to a frustrating degree, forcing off balanced shots. His 21 points to match Tatum for team high honours was salt in the wounds.
| | | | | | | | | |
| --- | --- | --- | --- | --- | --- | --- | --- | --- |
|   | Points | Rebounds | Assists | Steals | Blocks | FG | 3PT | FT |
| J Tatum | 21 | 9 | 2 | 1 | 0 | 9/18 | 2/5 | 1/1 |
| M Smart | 21 | 6 | 4 | 1 | 0 | 6/10 | 5/9 | 4/4 |
Honourable Mention: D. Theis, K. Walker, J. Brown
The Ring – The X Factor – Standout Performance
Serge Ibaka
Serge Ibaka did his best to stabilize the front court by matching some of Boston's athleticism. He nailed a couple of big 3s and scored some gimmies by running in transition. Serge did an excellent job on the glass, but he had some brutal passes leading to turnovers and his offense suffered when he hesitated with the ball. Ibaka was lively and led his team in rebounding off the bench.
Honourable Mention: F. VanVleet
The Pinky – The Unsung Hero – Key Contributor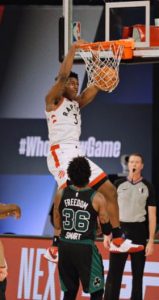 OG Anunoby
OG did not have any plays called for him, but he found ways to remain effective by being active on the boards and striking off broken action. He had flashes of elite defense and provided strong glass work. He did an excellent job relocating to make himself an option, but he could not put together any stretch of minutes significant enough to influence the game.
Honourable Mention: none
News and Notes
Pursuing Fred – Rumours are circulating over the availability of Fred VanVleet's services for this upcoming season. New York, Phoenix and Detroit are all in the market for a number 1-point guard. Expect the Raptors to make a very competitive offer to keep him.
Around the League
WWKD – JR. Smith gave some love to the newest Basketball God, Kobe Bryant, by writing WWKD on one of his shoes, which stood for "What would Kobe do". On his other shoe: "Shoot".
Say What? – A few articles ago I wrote about Pacers Coach Nate McMillan being honoured with a new contract extension. Only days later, in a puzzling move, the Pacers fired Coach McMillan after they were swept by the Miami Heat in the 1st
Revolving Door – Within minutes of being eliminated, the Philadelphia 76ers sacked their head coach Brett Brown. Tyronn Lue has been rumoured as a leading candidate to fill the vacancy. Although Jason Kidd may have something to say about that.
Goodbye, Mr. Robinson – The basketball world mourned the loss of "Uncle" Cliff Robinson who passed at only 53 years of age. His Portland teams filled up much of my childhood memories and his iconic sweatband look will never be forgotten. He joins Chadwick Boseman as the second loss of significant importance this week.

Photo Courtesy: @CoupNBA/Twitter

Bigger than Basketball – The NBA has returned with a renewed approach to social justice reform. The league stands united and has a plan of action in place. The boycott got everyone's attention, now its time for action leading to change.
Up Next
The Raptors will want to forget this game as quickly as possible, but there are some lessons to learn from this defeat. Specifically, how to adjust to Boston's dynamic wings and how to find easier scoring opportunities for Toronto's heavy hitters. Their chance for revenge will be on Tuesday.