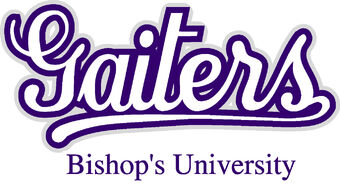 Keeping Up With The U SPORTS Classes: How Bishop's is Building off Previous Experience for Future Success
Past experiences can often be the foundation for future success. You know the cliché sports sayings about the struggle before the reward. Here's the thing about clichés, they often come from a place of truth.
Sure, losing their first Final 8 game since 2015 in blowout fashion to the UBC Thunderbirds earlier this year wasn't in the initial plan, but Bishop's Gaiters' head coach Rod Gilpin is a big believer in using the past to guide future actions.
Even though Bishop started conference play nationally ranked and finished the season as RSEQ champions and Final 8 participants, their journey was far from linear. The team lost back-to-back games four times, lost six straight around the holidays and struggled in four games against Laval, the RSEQ's worst team in 2019-20.
Despite these struggles, the Gaiters still found a way to will themselves to Ottawa for the Final 8. All it took was an upset victory over Concordia in the RSEQ semi-finals and Joany Castor Thadal hitting a buzzer beater in the conference finals to send them to the Nation's Capital.
Part of how they did it was health (the team was dealing with major injuries until late January) and part of it was finding a way to get the right bounces in Canada's most competitive league. Unlike other conferences where a winter dry spell could end your season, the RSEQ is so neck to neck every team has a real chance until the final day.
"Nobody is going 15-1 in our league," said Gilpin who just completed his 12th season at Bishop's. "You're a threat to win or lose every game."
This isn't Canada West where you may not see a team for multiple years or the OUA where you'll maybe see a team once a year. In the RSEQ, every team plays each other four times in the regular season. By the time playoffs come, coaches can virtually call the other team's plays for them.
"By the time you get to the second half of the year you don't need a lot of prep," said Gilpin. "There's not a whole lot of secrets."
Year after year, the conference faces major criticism for its performance at National's. Part of the reason for the league's struggles has nothing to do with quality of play, it's lack of National's experience.
It's no secret that National's are a big step up from conference play so to expect a team that hasn't been there in a while to play their best game right off the jump is difficult. Occasionally, we see it with a team like Western who made it to the semi-finals after an 11-year drought. But they're more of the exception than the rule. The vast majority of teams that succeed in National's are the ones that have been there before.
That gap in experience between Bishop's, who hadn't made it to National's since 2015, and to their opponent and regular Nationals' participants UBC was something Gilpin noticed quickly.
"When you go for the first time you have the excitement of being there, playing in that different facility," said Gilpin who has now gone to National's twice. "If we were able to get back there whether it's this year or next year, I think it'll make a big difference. Our guys will just be more comfortable."
From 2013 to 2018, McGill made five Final 8's. The school lost its first three quarter-final matchups and like the Gaiters this past season in two of them lost their consolation game as well. By trips four and five though, they managed to make back-to-back semi-finals trips, validating Gilpin's thoughts on the importance of experience on the national stage.
In a league that's so competitive though, what can the Gaiters do to gain the edge needed to get that experience and ultimately cash in at National's? The first and most obvious answer is to find elite talent and guess what, the Gaiters have one of the country's best players on their roster.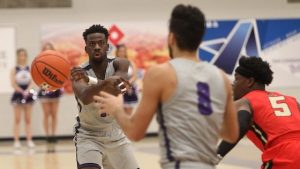 Photo Courtesy: The Bishop's University Gaiters
Last season, Nervens Demosthene simply did things you're not supposed to at the U SPORTS level. On one night in November against Laval, he put up a triple double and quite honestly, it wasn't one of his five best stat sheet stuffing nights of the season. Demosthene is the kind of special player that a program can build around.
"Every coach will say it, players like Nervens make you a better coach," said Gilpin. "The one game he had 39 and I think was close to another triple double and we didn't run a play for him all game."
As any university coach will tell you though, recruiting is the lifeblood of any post-secondary program. How can you find that next Demosthene to pair with him and your other current players to form something special?
For Bishop's, they look for two main things: guys with the potential to develop and guys with the character to turn that potential into a reality. It won't happen for all of their guys, but Gilpin and his staff are big believers in high character players succeeding in their program.
"First and foremost, for our guys we're looking for character," said Gilpin. "Are they guys who are going to be good teammates? Are they good students? It's really important in our community. We're a small community, we have a strong reputation with not just our faculty but everyone."
On the court, the team has found success in more developmental players as opposed to ready-made players. Some schools may look at unrefined skills as a disadvantage, the Gaiters though see it as talent waiting to explode when given an opportunity.
"We've been fortunate to find some under the radar guys who develop into good players," said Gilpin. "I think sometimes those guys need an opportunity. There's a lot of guys that go to schools and don't develop because they don't get that opportunity to play."
Gilpin pointed to a player like Connor Kelly coming out of Brockville as a hidden gem who already in his second season is making a major impact for the Gaiters as a prime example of a player taking advantage of his opportunities in Sherbrooke to play.
This season Bishop's built some useful experience into their program's foundation. They had a player blossom into a star, many other key developmental pieces took major steps and of course a run to National's has the team feeling motivated to prove it wasn't a one-year wonder.
The Gaiters have all the makings of the team that can step forward from the crowded RSEQ pack, we'll see if 2019-20 was an indicator of something special going forward.
The Class
| | | | |
| --- | --- | --- | --- |
| Name | Previous | Position | Hometown |
| Kiano Heath | Ridley College | Forward | Surrey, BC |
Coach's Scouting Report: 6'9, 6'10. Part of both the provincial basketball and rugby programs. He can run, he's very physical. I think he has a ton of potential. He's a guy who'll compete for playing time this first year and play behind some older guys and get better every day in practice.
Coach's Scouting Report: Comes from a really good high school program. He's a guy who'll probably redshirt this year, but we feel he'll develop into a very good university player. Intelligent, skillset, understands the game.
NPH Scouting Report (Mickias Mikre): When it comes to intangibles and leadership qualities, Benedict-Worku. He's got a high motor and plays a disciplined game on both ends. Very vocal on D protecting the backline. Excellent rebounder and willing screen setter that can finish off the roll or pop. 
Name

Previous

Position

Hometown

Obinna Dike Nwagbara

Champlain College

Saint-Lambert

Guard

Montreal, QC
Coach's Scouting Report: Athletic guard, plays with a lot of energy. Good passer, decent shooter, I think he's a guy who were not going to need him to contribute a lot right away but we see him developing into a good useful player as well. 
| | | | |
| --- | --- | --- | --- |
| Name | Previous | Position | Hometown |
| Taylor Roy | Nepean High School | Forward | Ottawa, ON |
Coach's Scouting Report: Good athlete, skilled forward. Good body, he's probably already 6'7, 215. Moves well, athletic, ultimately play 3 or 4. 
| | | | |
| --- | --- | --- | --- |
| Name | Previous | Position | Hometown |
| Matthis Guerut | Concordia (U SPORTS) | Forward | Paris, France |
Coach's Scouting Report: 6'7, 6'8 forward and we expect will probably be a guy who starts for us this year. He's a talented, multi-skilled guy that can do a lot of things. 
| | | | |
| --- | --- | --- | --- |
| Name | Previous | Position | Hometown |
| Michel Hakizimana  | Concordia (U SPORTS) | Forward | Montreal, QC |
Coach's Scouting Report: 6'8, athletic. Really impacts the game from a rebounding and defensive perspective I think he's somebody who will be able to contribute right away.
| | | | |
| --- | --- | --- | --- |
| Name | Previous | Position | Hometown |
| Anthony Sanogo | Concordia (U SPORTS) | Guard | Montreal, QC |
Coach's Scouting Report: 6'3, led the CEGEP league in scoring when he was coming out of CEGEP.