Bubble Raps – Toronto destroys Brooklyn to close out their first series sweep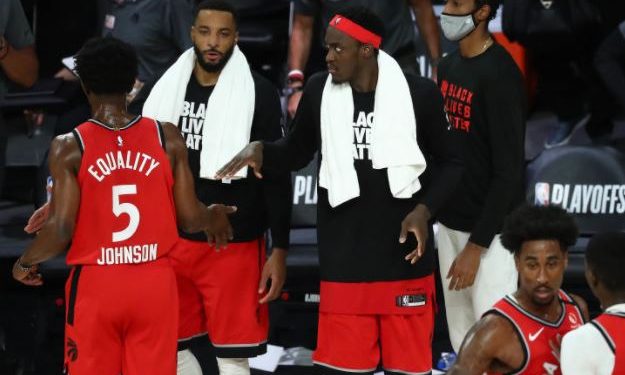 The High 5 – Round 1 – Game 4
The High 5 is where I review the last week of Toronto Raptors basketball including how the team did, who were the impact players as well as some news and notes from around the league.
The Thumb – How was the game?
The Nets had their best shot to beat Toronto in Game 2, but they came up short in the dying minutes. Toronto went on to rip out Brooklyn's heart in Game 3, stomping out hope, optimism and confidence in the process. It is safe to say the outcome of this series had long been decided, the only remaining question was; do the Nets have enough to push the series to a Game 5? With dwindling bodies, fading confidence and a red-hot Raptors squad, Brooklyn looked ready to throw in the towel.
Series record (4-0)
Toronto Raptors v Brooklyn Nets – W 150 -122
The Nets decided that if they were going to go out, they would go out swinging. They were aggressive from the tip, forcing the Raptors to play a quickened pace. Toronto responded in kind but were slowed when Lowry picked up an ankle injury before the end of the 1st. It was a tight contest until Powell and Ibaka subbed in to help establish separation. They carried their strong play throughout the game, giving Toronto's high usage backcourt a welcomed night of light duty. The second half was all Raptors, they buried the Nets in an avalanche of jumpers. Toronto never let up, they maintained their championship mentality, even when up 20 points, they played as if it was Game 7. Respect to the Nets for competing hard but the Raptors were scorching, by the third quarter, it was a blowout.
 The Index – The Leader – Player of the Game
Serge Ibaka
Toronto's emotional leader, Sege Ibaka, was unguardable in the paint. He had a quick trigger finger and cashed in at a high percentage. He earned his paycheck by connecting on short range floaters on one end and swatting away weak layups on the other. Ibaka stretched his game to behind the arc which opened another wrinkle to his offense. Serge was a titan on the glass, securing a double double in only 20 minutes. Ma Fuzzy Chef closed out the series in style with a shooting clinic from the 5 spot.
| | | | | | | | | |
| --- | --- | --- | --- | --- | --- | --- | --- | --- |
|   | Points | Rebounds | Assists | Steals | Blocks | FG | 3PT | FT |
| v Nets | 27 | 15 | 2 | 0 | 2 | 12/14 | 3/3 | 0/0 |
| | | | | | | | | |
| Series Avg | 19.25 | 10.25 | 2 | 0.25 | 1 | 31/49 | 8/14 | 7/7 |
| 4 games |   |   |   |   |   | 63% | 57% | 100% |
| Season Avg | 15.4 | 8.2 | 1.4 | 0.5 | 0.8 | 51.2% | 38.5% | 71.8% |
| | | | | | | | | |
Honourable Mention: N. Powell, P. Siakam
The Middle – The Enemy – Best Opposing Player
Caris LeVert
Caris LeVert did his best James Harden impression by scoring at will in a frenzy of desperate basketball. He did all he could to carry the Nets throughout the night (and the series) with diverse scoring and playmaking abilities. He swiveled his way through Toronto's defense like water through a sieve and he showed excellent elevation and balance on his jumpers. Caris is an exceptional talent, he can help any roster he plays for but against the Raptors, he was a man in the ocean trying to hold back the tide.
| | | | | | | | | |
| --- | --- | --- | --- | --- | --- | --- | --- | --- |
|   | Points | Rebounds | Assists | Steals | Blocks | FG | 3PT | FT |
| v TOR | 35 | 6 | 6 | 2 | 0 | 11/23 | 6/9 | 7/10 |
Honourable Mention: J. Allen
The Ring – The X Factor – Standout Performance
Norm Powell
Norm Powell has quietly emerged over these last few games as a reliable tertiary option. Powell is the perfect teammate to have when going on a run because he excels at building momentum. Norm subbed in late in the first, splashed a couple of triples and picked up a steal in the open floor to help Toronto gain control. He is one of the best at recognizing his opportunities, he attacked efficiently with a mixed bag of tricks and showed no fear on his drives. Game highlights included a couple of corner threes and a handful of silky layups and nasty dunks. Powell scored a team high 29 off the bench. The real Playoff P plays for the North.
Honourable Mention: S. Ibaka, P. Siakam
The Pinky – The Unsung Hero – Key Contributor
Pascal Siakam
Pascal Siakam had another star making performance, emerging as an important piece to Toronto's offensive approach. His ability to find his teammates as well as get off any shot he wanted made him a dangerous weapon and a key factor in Toronto's series dominance. He had to pick up the slack for an injured Lowry, but that was no problem for New Mexico's finest. He finished his night with a quiet 20 and 10.  Spicy P is starting to heat up, the Raptors are going to need him at his best against Boston's talented wings.
Honourable Mention: OG Anunoby, T. Davis
News and Notes
Sweet Sweepers – This was the first time Toronto swept an opponent in team history.
Bench Battle – Toronto's bench annihilated Brooklyn's outscoring them 100 – 45. Ouch!
Say Sorry – Golden State team president, Rick Welts, tweeted a sincere apology to Raptors president Masai Ujiri for what happened to him after the Raptors won their title at Oracle Arena. Masai is finally getting the support and acknowledgment he should have received months ago.
Deserving Honours – Toronto's Coach, Nick Nurse, was named this season's Coach of the Year. He received 90 first place votes, beating out his contemporaries by a wide margin. His ability to get the most of his players has been nothing short of remarkable.
Around the League
The VanVleet effect – Utah's Mike Conley Jr. has taken longer than expected to adjust to his role with his team. However, he looked like a star when he exploded for 27 points on Friday night, only days after the birth of his second child. His drastic increase in production have many remembering when VanVleet took a similar leap after the birth of his child in last years playoffs.
All Class – Recently fired Pelican's coach, Alvin Gentry, treated a group of team reporters out to dinner while saying his goodbyes. This was a classy gesture that not many would have done.
Happy Birthday Kobe – Today would have been Kobe Bryant's 42nd birthday. Let's never forget Mamba Mentality. Rest in Power.
Up Next
The competition for the Toronto Raptors will be significantly greater when they face the Boston Celtics in Round 2. The Celtics are talented, deep and incredibly well coached. They are a tough nosed team that plays hard on both sides of the ball. Toronto has the edge in size and experience, but the Celtics will be ready to give Coach Nurse and the Raptors all they can handle. Make no mistake, Round 2 will be a war.