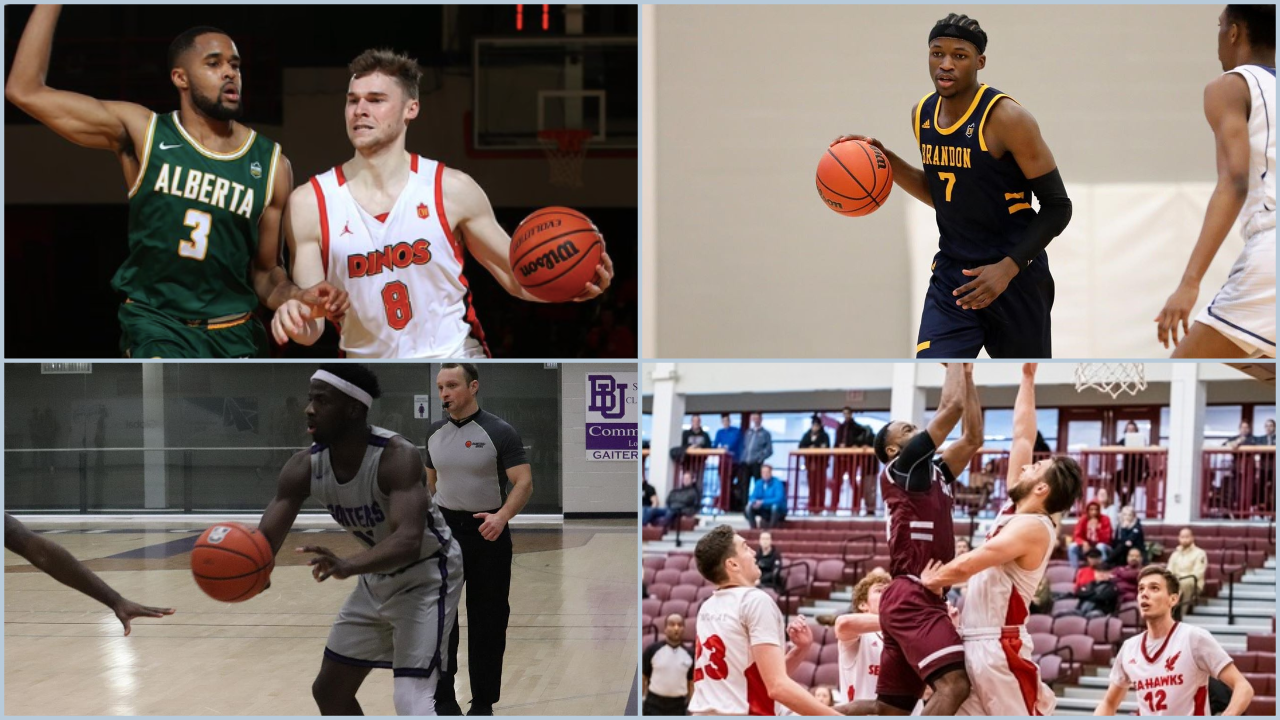 Golden Bears have a championship on their mind while Roker, Tsegakele, Henry and Demosthene make plays when it matters most
With a maximum of four games remaining in the OUA and the other conferences just as close to wrapping their regular season, it's officially the witching hour in USports basketball. Each game matters that much more as seeding is on the line more than ever, let's check in and see who's where after another fantastic week of hoops! 
Canada West- Golden Bears have historic weekend against Dinos while Browne, Kellum, Bains and Tsegakele prove they're playoff ready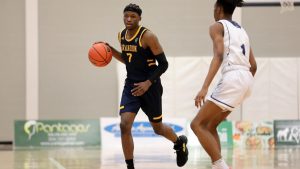 Photo Courtesy: Milana Paddock 
The capital of Alberta had a good weekend. If beating the Flames in hockey's version of the 'Battle of Alberta' wasn't enough for Edmontonians, then surely they were satisfied with a weekend sweep by their Alberta Golden Bears of the Calgary Dinos men's basketball team. The first win was historic as even though star Brody Clarke fouled out, Adam Paige and the rest of the Golden Bears handed the Dinos their first conference loss in 39 outings. Alberta continued its winning ways in game two where Clarke rebounded from a tough first outing with a game-high 28-points. If the two wins weren't enough, Alberta takes over the number one seed in the conference, which gives them home court throughout the playoffs. Out in Victoria, the Vikes and Manitoba Bisons were also jockeying for playoff positioning. After a game one win, the Vikes were on their way to a second win before a 31-16 fourth quarter from Rashawn Browne and James Wagner stole a road win. Browne and the Vikes Scott Kellum duelled all weekend long, leaving no question who the two best players on the floor this weekend were. Another two players who dominated a playoff positioning battle came in the UFV Thompson Rivers match up, unfortunately for the WolfPack, both played for the Cascades. Parm and Sukhjot Bains have been making it look easy since the semester turned and have now led their team to a nine-game winning streak. At the start of 2020 it seemed like UFV would be in a fight to make the playoffs but now just a month later, they sit firmly in a position to host a first-round playoff game. Next week's game will be interesting as they will welcome Regina to Abbotsford, a potential first round playoff match up. The playoff battle UFV avoided is exactly what Brandon is in the middle of, luckily for the Bobcats, they have a potential star on their roster. Anthony Tsegakele made everyone forget how freshman are supposed to play this weekend as the Quebecer averaged a ludicrous 26.5 points and 14.5 rebounds per game to help the Bobcats extend their season saving win streak to four.
OUA- Western squanders opportunity while Epistola, Henry, Kokko, Traylor and Gray make it feel like the year of the guard in Ontario
HALF | Joseph gets it go at the buzzer! Still got a half of hard work ahead of us #CARvsWES #FearTheConspiracy

RAVENS – 53

MUSTANGS – 35 pic.twitter.com/pCeShMZXGv

— Carleton Ravens Basketball (@CURavensBBall) February 1, 2020
At the end of the games Saturday, it marked the two-week deadline for the end of the regular season in the OUA. The team who had the most to gain in terms of a pre-playoffs statement was the Western Mustangs. Julian Walker did everything he could, but the Mustangs succumbed to the dreaded back-to-back from the teams of the nation's capital. Even with the help of being at home in London, Calvin Epistola and Lloyd Pandi were among the OttawaU and Carleton stars that were too much for the Mustangs to handle. Luckily, next week Western will get another shot at a nationally ranked opponent with Lakehead coming to town. Lakehead is coming off an inconsistent weekend on the road in Toronto as the 4-14 Varsity Blues gave them everything they could handle. The two games were decided by a total of six points, the difference came in the form of star power on the Thunderwolves side where Isaiah Traylor reminded the world why it's so important to have a star. Lakehead's main offensive catalyst was once again special, averaging 24.5 points per game on the weekend. Ryerson knows a thing or two about star power in the back court as Wednesday and Saturday continued the semester long Tevaun Kokko show. The Rams guard is now the OUA's leader in both scoring (23.9 points per game) and three-point percentage (46%), showing off his full offensive arsenal in two blowout home wins over rivals McMaster and Brock. What may be most impressive is Kokko's first performance helped stop Marauders star Jordan Henry from a nearly perfect weekend. In two games, Henry had 46-points at Ryerson and followed it up with 22 more against York in a win, good for 34 per game! It's safe to say the OUA is full of elite guard play when I can talk about players like Henry, Epistola, Kokko and Traylor all being elite before I even get to Kadre Gray. For Gray's Laurentian squad, it was a methodical weekend at home in Sudbury. The nationally ranked Voyageurs were able to pick up wins over Algoma and Guelph although next week is the main focus. Gray's Voyageurs will head to Kingston to take on a Queen's team that sits just one game behind them in the standings and has won four in a row.
AUS- Roker and Nava are the definition of a dynamic duo while Gibson out-duels Long when it matters most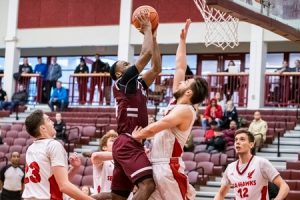 Photo Courtesy: Saint Mary's Huskies Athletics
It was a noteworthy weekend for the StFX X-Men. On Friday, the Atlantic's second seed blew out Acadia with Azaro Roker and Avan Nava carrying the way. Roker and Nava would also prove to be too much for Cape Breton's defence the next night. In a double-overtime thriller that saw the home side Capers stave off defeat to end regulation and the first overtime, ultimately the X-Men were the better team. Roker would finish with 30-points and 20-rebounds while Nava dropped 25-points and the game-winning layup. Not to be forgotten, Osman Omar and Izaiah Ugoalah were each fantastic in defeat. It was the Capers second defeat of the weekend since the night before, Dalhousie flexed their team depth with four players in double figures in the victory. The Tigers will turn their focus to Wednesday and a date with the only team to beat them, the StFX X-Men. Another rematch going down next week will be from Saturday's UNB UPEI clash. Varsity Reds Star Chris Spurrell poured in 21-points off the bench in the win for the third-place team in the conference. The fourth-place team is now Saint Mary's after an impressive weekend at home against Cole Long and Memorial. Although Long was impressive, it was Qyemah Gibson who made the plays when it mattered most. After a solid game one, Gibson was a different player in the clutch in game two compared to those he shared the floor with. The native of the Bahamas scored fifteen points in the fourth quarter and overtime alone to help lead the Huskies to victory.
RSEQ- Demosthene and Simon define domination while Citadins make it look easy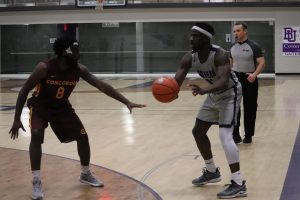 Photo Courtesy: Clare Webb
Another week, another surprising result in the RSEQ. Even with both games in Sherbrooke and the home Bishop's Gaiters coming off a big sweep of UQAM the week before, Concordia was still the favourite to win both games. After one game, it appeared as though the favourites would roll thanks to a 34-point 14-rebound outing for Stingers star Olivier Simon. Nervens Demosthene did his usual stat sheet stuffing in game one but it was clear that his 22 points, 11 rebounds and five assists wouldn't be enough to overcome the Stingers. So, Demosthene did what he's done all year and produced an otherworldly moment by dropping 29 points, nine rebounds and 10 assists to lead the Gaiters to the upset. Demosthene's near triple-double wasn't the only story as Simon was shut down in game two, producing just six points in the defeat. The other matchup in Quebec this week managed to do something unusual: go as expected. Sidney Tremblay-Lacombe gave everything he had for Laval but Alix Lochard, Karim Sabban and the UQAM Carabins were just simply on another level from the Rouge-et-Or.
Upset Special- Bishop's shocks Concordia
Demosthene does it all as @GaiterHoops shoot their way past Stingers on Saturday #GaiterNation https://t.co/trGJ3G69aY

— #GaiterNation (@BishopsGaiters) February 2, 2020
 This season in Quebec has to be defined by its randomness. One game a team looks like a title contender and the next they don't show up against a team we didn't think was good. Take this game where just two days before, Concordia cruised to a win but then everything changed. Granted, it helps when a guy like Nervens Demosthene makes Russell Westbrook's stat lines look average but still, Concordia should've won this game. Instead, much like their star Olivier Simon, they didn't put up even close to a good enough effort and headed home to Montreal with a loss that could cost them home court in the playoffs.
Player of the Week- Azaro Roker (StFX) 24 points, 15.5 rebounds and 1.5 assists on 63.3 fg% (in wins over Acadia and Cape Breton)
Congrats to Azaro Roker – Subway Player of the Game in the X-Men's 117-116 2OT win over CBU! He had a monster double-double game with 30 PTS & 20 RB! #SubwayFuel #goxgo pic.twitter.com/pGEe8j0hBa

— StFX Athletics (@StFXAthletics) February 2, 2020
 If there's anything I am sucker for, it's a huge performance in a clutch situation. So, when Azaro Roker put up a 30/20 game in a double-overtime win, it nearly locked this week's player of the week. Roker was phenomenal when it mattered most and although some guys stats may have been superior, the difficulty factor of doing it in two wins that could prove gigantic in seeding was too much to overlook.
Runners up: Canada West- Anthony Tsegakele (Brandon) / OUA- Jordan Henry (McMaster) / RSEQ- Nervens Demosthene (Bishop's)
Azaro Roker picks up Subway Player of the Game in StFX's 96-59 win over Acadia! #goxgo #subwayfuel pic.twitter.com/rBvptkRYSm

— StFX Athletics (@StFXAthletics) February 1, 2020
Why we love USPORTS- Alberta beats Calgary in game one
16 and 1

Took down the previously undefeated Dinos tonight. 70-69.

Looking forward to Saturday night down in Calgary! #BeTheRoar #GreenandGold pic.twitter.com/aS6cfaVU5W

— Golden Bears Basketball (@UofABearsBball) January 31, 2020
Although the game was close enough either side could win, it felt like the basketball gods were once again favouring the Dinos. Brody Clarke had fouled out and to make matters worse, Ezeoha Santiago had just nailed the definition of a clutch three to give the Dinos the lead with under a minute to go. Yet somehow, after two seismic defensive stops, the Golden Bears Adam Paige made a move to get to the foul line and sink free throws that ended a win streak of over two years. A rivalry win only possible in U SPORTS, as two teams with all kinds of ties got together and of course, the one who had gone under the radar all season came out on top.
Game of the week- Capital Hoops Classic
It's officially Capital Hoops week!! 🧢🏀

🚨 CONTEST 🚨 Post one of your pictures from a past Capital Hoops in your Instagram story to win a $10 gift card to @CraftOttawa – the official Ravens pre/post game headquarters! Must tag @CURavens + @CraftOttawa to qualify. pic.twitter.com/Sss44qeGB8

— Carleton Ravens (@CURavens) February 3, 2020
 It's the biggest regular season game of the year featuring two perennial powers that are as strong as ever in 2019-20; need I say more?
 USPORTS National Top 10 
🏀 U SPORTS Top 10: @CURavens 1⃣@AUS_SUA | @CanadaWest | @OUAsport | @RSEQ1 | @CanBball #ChaseTheGlory | #ViserHaut

🔗EN: https://t.co/Od2ZxSCAq3 /🔗FR: https://t.co/wkWadsXSjh pic.twitter.com/XbLPjS2aeU

— U SPORTS (@USPORTSca) February 4, 2020
Although Dalhousie has had an outstanding year, I'm not sure what the argument having them over Alberta is after this past week. The Golden Bears have the two best wins of anyone in the top ten and played their first fourteen games without their best player. With all due respect to a Tigers team that has as much depth as anyone, Alberta has earned the number two ranking of the team they swept this past week. Otherwise of note is Ryerson passing Manitoba, putting five OUA teams in the top eight of the country. Two of those teams are of course Ottawa and Carleton who play this week in a game everyone in the country will be watching.