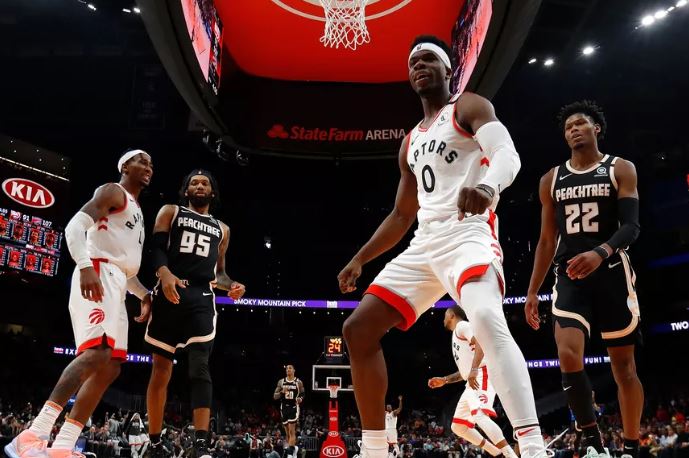 11 Straight: Terence Davis II puts an exclamation point on a perfect week
The High 5 – Week in Review – Week 15
The High 5 is where I review the last week of Toronto Raptors basketball including how the team did, who were the impact players as well as some news and notes from around the league.
The Thumb – How was the week?
The NBA remains in tatters after the sudden loss of Kobe Bryant. Tributes have poured in from all over the world, from every walk of life, to pay their respects to one of the most influential voices of our generation. Emotions still wash over us like waves, swaying between the magnificent poetry of his legacy and the tragic weight of reality. But the best way to honour Kobe, is to endure, to succeed, and to channel Mamba Mentality with pride, respect and determination in all that we do. The Raptors join their peers, and millions around the globe, in honouring their fallen brother.
Week record (4 – 0) Overall Record (36 – 14)
Atlanta Hawks v Toronto Raptors – W 130 – 114
It was back to business for the Raptors when they welcomed the Hawks to the Scotiabank Arena on Tuesday night. The franchise aired a touching tribute to Kobe before the game where emotions still loomed heavy. The Raps were clicking from the jump, they had no trouble running with the Hawks with their defence creating opportunities. They forced Trae Young into 7 turnovers and held him to only 18 points, a significant improvement from their last meeting. Toronto picked up yet another injury as Gasol pulled up lame with hamstring tightness in the first half. This opened the door for Ibaka to have a big night and Chris Boucher to make a springy return to action. Siakam led the scoring, VanVleet hit clutch shots and KLOE flirted with a triple double, setting a new franchise high in assists in the process. Toronto led wire to wire in a much needed feel good victory.
Toronto Raptors @ Cleveland Cavaliers – W 115 -109
Toronto crashed into Cleveland on Thursday riding a tsunami of momentum. They received another boost when just before tip, Kyle Lowry was honoured with his 6th straight All-Star selection. This matchup had the makings of a trap game, but to Toronto's credit, they stayed locked in and carried a lead throughout most of the night. Ibaka helmed the center spot and led the charge with 26 points, he was cooking from the mid range with deadly efficiency. Lowry had 23 in support, VanVleet served up 12 dimes and Siakam had a great two-way performance with 19 points and a team high 5 steals. The Cavs ate into Toronto's lead late, closing the gap to 1 point, but Powell had an exceptional final minute where he scored 8 consecutive points to put the game out of reach.
Toronto Raptors @ Detroit Pistons – W 105- 92
It was a quick turn around for the Raptors as they found themselves in the Motor City, aka Toronto West, to take on the puzzling Pistons on Friday night. The Raptors were led by Siakam, who is quickly regaining his scoring touch. He finished with a game high 30 points. Ibaka continued his hot play with 21 of his own while VanVleet was 2 rebounds and an assist shy of a triple double. Detroit posed little resistance against Toronto's vaulted offense, the Raptors got out early and never looked back. They were supported by thousands of fans who serenaded the Pistons faithful with chants of "We the North". With this win, Coach Nurse and his staff will now represent the Eastern Conference, and coach Team Giannis at the All Star game.
Chicago Bulls v Toronto Raptors – W 129 – 102
The Raptors and Bulls locked horns to close out the week on 'Superbowl' Sunday afternoon. It would be easy for the Raps to overlook the Bulls. Like a boat without a rudder, they have been drifting aimlessly throughout the season. However, if nothing else, they still play hard and they proved it by trading blows with Toronto and taking a small lead into the break. In the second half, Ibaka woke up the crowd with a pair of big time blocks and rim runs to wrestle the lead back from Chicago. Terence Davis followed up by catching fire from deep where he connected on 6 of his 7 attempts. The Raptors were simply too much for Chicago. The Bulls stood no chance against the defending champs as they matched a franchise best 11 wins in a row.
The Index – The Leader – Player of the Week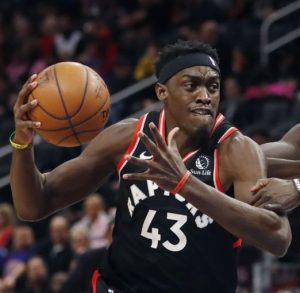 Pascal Siakam
In what was widely considered a down week, Siakam was surprisingly able to net the Eastern Conference Player of the Week honours. He followed that up with an even stronger performance this week, inching ever closer to peak Pascal. Siakam is going through another adjustment to his game, he has recognized that teams are planning for him and that he needs a second and third option to counter double and triple teams. He has elevated his court vision and he is becoming savvier with when and how he attacks the rim. Altogether, Pascal is having a fantastic year.
| | | | | | | | | |
| --- | --- | --- | --- | --- | --- | --- | --- | --- |
|   | Points | Rebounds | Assists | Steals | Blocks | FG | 3PT | FT |
| v Hawks | 24 | 9 | 2 | 0 | 1 | 8/20 | 2/8 | 6/10 |
| v Cavs | 19 | 5 | 2 | 5 | 1 | 5/12 | 1/3 | 8/10 |
| v Pistons | 30 | 7 | 4 | 0 | 1 | 12/18 | 2/4 | 4/5 |
| v Bulls | 17 | 9 | 5 | 0 | 0 | 6/14 | 0/2 | 5/5 |
| | | | | | | | | |
| Week Avg | 22.5 | 7.5 | 3.25 | 1.25 | 0.75 | 31/64 | 5/17 | 23/30 |
| |   |   |   |   |   | 48% | 29% | 77% |
| Season Avg | 23.8 | 7.6 | 3.4 | 1.0 | 0.9 | 46.2% | 37% | 79.6% |
| | | | | | | | | |
Honourable Mention: Serge Ibaka, Kyle Lowry
The Middle – The Enemy – Best Opposing Player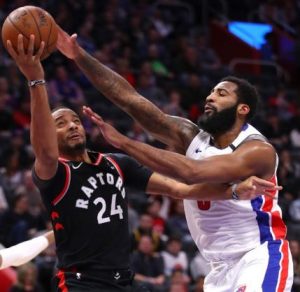 Andre Drummond
The Big Penguin has been putting up big numbers in a largely forgettable season for the Pistons. Drummond is a borderline All-Star, but without support, his high numbers just turn into empty stats. Still, its hard to ignore such a beautiful line as he did serious work on the glass against Toronto. In the right situation, Andre could shine, but he is limited as right now he and Rose are the only real threats on Coach Casey's roster.
| | | | | | | | | |
| --- | --- | --- | --- | --- | --- | --- | --- | --- |
|   | Points | Rebounds | Assists | Steals | Blocks | FG | 3PT | FT |
| v TOR | 20 | 20 | 1 | 1 | 0 | 7/12 | 0/0 | 6/12 |
Honourable Mention: John Collins (ATL). Kevin Love (CLE)
The Ring – The X Factor – Standout Performance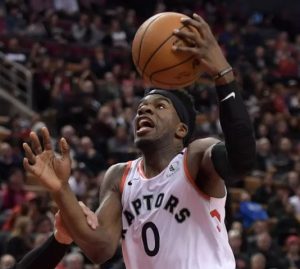 Terence Davis II v Chicago Bulls
With Powell out of the lineup, there were minutes to be had and Davis, not one to shy away from opportunity, stepped up to fill the void left at the wing spot. Terence's reliable defense and energy earned him an extended run where he showed how deft of a scorer he actually is. He played an excellent game and led all players with a career high 31 points in only 28 minutes.
Honourable Mention: Davis v Hawks, Powell v Cavs
The Pinky – The Unsung Hero – Key Contributor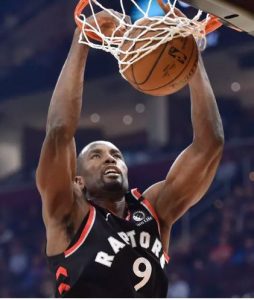 Serge Ibaka
Serge Ibaka is a consummate professional who has the ability to adapt to any situation he's thrown into. He has seamlessly taken over full time center responsibilities with Gasol out of the line up and he consistently provides scoring from the midrange and at the rim. His rebounding is vital, and his defense intimidates the opposition whenever they think to approach the paint. Most recently he is upped his 3-point efficiency which has opened another wrinkle to Toronto's offense. Serge keeps ascending while the Raptors stay hot.
Honourable Mention: Terence Davis II, Chris Boucher
News and Notes
Dime Man – Kyle Lowry has passed former Raptors PG Jose Calderon to become the franchise leader in total assists. Just another chapter in his storybook career.
6 for the 6 – Lowry now holds the most All-star selections in franchise history with 6. This beats out Chris Bosh and Vince Carter who sit at 5 a piece. This is incredible considering he did not make the All-Star team for the first 8 seasons of his career.
Road Warriors – The Raps set a new franchise record when they secured their 9th road win in a row after their victory in Cleveland.
The ow in Powell – Norm Powell broke his finger against the Pistons on Friday night. This man can't stay healthy.
So Fuzzy – Ibaka is in a class by himself. He is the only player with at least 1500 blocks and 500 made triples.
Around the League
More than a Number – Players all over the league are either giving up their numbers (or keeping them) to honour Kobe Bryant. This is happening with players that wore either 8 or 24.
What's in a rule? – The NBA released its new All-Star format for this year's game. The structure is confusing, but it incorporates a lot of charity and even a tribute to Kobe. You just need a calculator on hand when you watch the game.
Up Next
Toronto will welcome the Indiana Pacers on Wednesday night for what will no doubt be a competitive game. They will then travel to Indiana for a quick Friday night rematch at the Banker's Life Fieldhouse. Immediately after, it's a plane ride back to Toronto to prep for the Brooklyn Nets for the second half of a back to back on Saturday night.