We make art – The Raptors create a masterpiece with their 14th straight win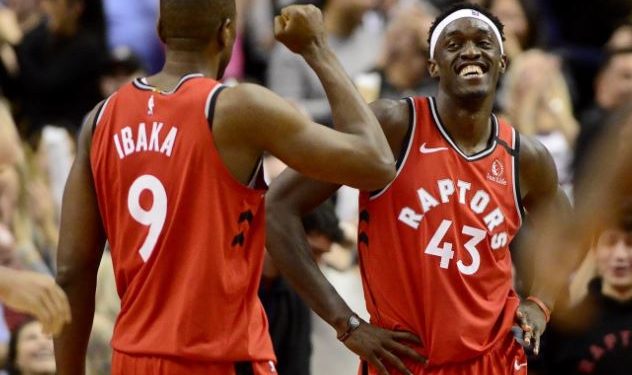 The High 5 – Week in Review – Week 16
The High 5 is where I review the last week of Toronto Raptors basketball including how the team did, who were the impact players as well as some news and notes from around the league.
The Thumb – How was the week?
Even with an 11-game win streak, the Raptors still entered the week as one of the least talked about teams in the league. They have been setting records, earning accolades and climbing the ranks but still find themselves behind the likes of the 76ers, Heat and the Celtics when it comes to national relevancy. That suits Coach Nurse just fine because while the league sleeps on the 6, the Raptors keep racking up the wins.
Week record (3 – 0) Overall Record (39 – 14)
Indiana Pacers v Toronto Raptors – W 119 – 118
The Pacers visited the Raptors for the first game of a home and home on Wednesday night. Toronto may be one of the hottest teams in the league, but the Pacers are incredibly competitive and have forced their way into the top tier of the Eastern Conference. Toronto played well early, but Indiana turned up the intensity and took a commanding 19-point lead. The Raptors could have conceded, but one of their hallmarks is their resiliency and 'never say die' attitude. Behind Lowry's leadership, they mounted a furious comeback to cut Indiana's lead to single digits with under a minute to play. As the seconds ticked away, the ball swung around the perimeter until finding its way to Ibaka who cashed in on a heavily contested triple. Like an explosion the Scotiabank Arena erupted. Ibaka, Lowry and Siakam combined to score 87 points to lead Toronto to another dramatic victory.
Toronto Raptors @ Indiana Pacers – W 115 -106
After losing a heartbreaker on Wednesday, the Pacers were out for revenge when they hosted the Raptors on Friday night. The Pacers got a lift from their home crowd, but the Raps played with poise and confidence and were able to calm Indiana's energy. Ibaka and Lowry went to work in the 2nd quarter with great decisions, they teamed to carve up the paint with their dangerous pick and roll game. However, as per usual, the Raptors suffered another injury when Kyle collided with Serge causing whiplash and forcing him out of the game. In his absence, Terence Davis II stepped up to stick it to those who doubted him with a massive fourth quarter full of momentum swinging moments. Indiana tried to keep pace, but they had no one that could cover Toronto's fleet footed forwards, the Raptors had an answer for everything. With 6 players scoring 15 plus points, the Raps simply overwhelmed the Pacers to push their win streak to 13.
Brooklyn Nets v Toronto Raptors – W 119 -118
The Raptors were without their All-Star point guard for Saturday's game but, the way they're playing, it didn't matter. Terence Davis II earned the start and wasted no time making an impact as he carried over his hot play from the night before. He is quickly becoming a fan favourite with his infectious personality and endless hustle. It was a tight game until Coach Nurse rolled out a group of scrappy bench players that helped Toronto gain separation. They ratcheted up their defensive intensity to force opportunities with their bigs feasting on Brooklyn's paltry frontline defenders, particularly Taurean Prince. Fred VanVleet led Toronto in scoring, but the Nets rallied behind Caris LeVert to tie the game with a minute on the clock. In the end, Toronto's defense held fast as the Raptors survived for their 14th straight victory.
The Index – The Leader – Player of the Week
Serge Ibaka
Ibaka had a magnificent week, especially against the formidable Pacers front court. He commanded Toronto's defensive effort while teaming up with Lowry to do serious damage in the midrange. He made great decisions and he has made a significant improvement in his 3-point efficiency. Ibaka is setting a fantastic example for the younger players. His unyielding energy and defensive hustle are in large part why he is so well revered around the league. Serge hit big shots all week but non bigger than his game winning 3 on Wednesday. Put that moment in his career highlight package.
| | | | | | | | | |
| --- | --- | --- | --- | --- | --- | --- | --- | --- |
|   | Points | Rebounds | Assists | Steals | Blocks | FG | 3PT | FT |
| v Pacers | 30 | 7 | 3 | 1 | 0 | 13/21 | 2/7 | 2/2 |
| v Pacers | 22 | 10 | 3 | 0 | 0 | 9/17 | 3/5 | 1/2 |
| v Nets | 12 | 6 | 2 | 0 | 1 | 5/9 | 1/3 | 1/2 |
| | | | | | | | | |
| Week Avg | 21.3 | 7.6 | 2.6 | 0.33 | 0.33 | 27/47 | 6/15 | 4/6 |
| |   |   |   |   |   | 57% | 40% | 0.66 |
| Season Avg | 16.0 | 8.0 | 1.4 | 0.5 | 0.8 | 52% | 39.8% | 74.3% |
| | | | | | | | | |
Honourable Mention: Pascal Siakam, Fred VanVleet
The Middle – The Enemy – Best Opposing Player
Caris LeVert
LeVert was the most dangerous Net on the floor on Saturday night. His game may be understated playing behind Dinwiddie and Irving but, when given the opportunity, he can shine. He showed off his versatility, giving Toronto all they could handle from the midrange and especially from beyond the arc. Caris was a problem for Raptor defenders, he hit timely shots down the stretch and came up with huge baskets to erase an 18-point deficit. He set a new career high and had an outstanding game but would have traded it all for a win.
| | | | | | | | | |
| --- | --- | --- | --- | --- | --- | --- | --- | --- |
|   | Points | Rebounds | Assists | Steals | Blocks | FG | 3PT | FT |
| v TOR | 37 | 3 | 4 | 1 | 0 | 12/18 | 6/7 | 7/7 |
Honourable Mention: Malcom Brogdon (IND)
The Ring – The X Factor – Standout Performance
Fred VanVleet v Brooklyn Nets
VanVleet has given the Raptors a taste of their future whenever he takes the reigns as Toronto's premier guard. Without KLOE, he seamlessly took control of his squad against a good opponent. Despite his stature, Fred got to the rim with ease and he made defenders pay whenever they sagged off him. Fouls limited his first half, but Fred was still able to lead the Raps with 29 points (10 in the 4th quarter) and 6 assists. His offense was paramount to Toronto's victory.
Honourable Mention: Terence Davis II v Pacers, Serge Ibaka v Pacers (Gm 1)
The Pinky – The Unsung Hero – Key Contributor
Terence Davis II
Since being snubbed from the Rising Star game at this year's All-Star festivities, Terence Davis II has been on a tear. He has always been reliable for spot minutes here and there but when given extended burn he has produced like a seasoned vet. Davis is a cerebral player with fantastic instincts that helps him be in the right spots at all times. He is a reliable defender and a deadly 3-point shooter who shows no fear in the open floor. On a team of experienced champions, the undrafted rookie is forcing his way into the rotation.
Honourable Mention: OG Anunoby, Fred VanVleet
News and Notes
Put Some Respeck On His Name – Nick Nurse earned Coach of the Month honours after leading his squad to a 12 – 3 record in the month of January.
We're going Streaking – The Raptors are scorching hot at the moment with their best record through 53 games. Their 14 straight wins are not only a franchise best, but it also ties a Canadian sports record.
And Counting – Kyle Lowry has now moved into 3rd place among Toronto's all-time leading scorers. Only Chris Bosh and DeMar DeRozan sit ahead of him on that list.
Drip Game – With Serge Ibaka and OG Anunoby's scarf feud going viral, GQ's recent feature on Pascal Siakam, and pregame photos looking like the runway at the Met Gala, Toronto is becoming the most fashionable team in the NBA.
Around the League
No Trading Places – There were a handful of moves throughout the NBA, but the Raptors opted to stand pat with the bodies that they have. There was nothing out there that would have upgraded their current roster.
Canadian Content – OKC guard Shai Gilgeous-Alexander will replace Derrick Rose in the Skills competition at All-Star weekend. The young Canadian will have the support of Thunder fans and everyone North of the border.
Up Next
The Raptors will welcome KAT, D'Angelo Russell and the new look Timberwolves to the Scotiabank Arena on Monday night. On Wednesday, they travel to Brooklyn for a rematch with the Nets who may have Kyrie Irving back in the lineup. From there, it's onto All-Star weekend where the Raptors can enjoy a well-deserved break from action. Pascal Siakam, Kyle Lowry, Coach Nurse and his staff will head to the Windy City where they will proudly represent the Raptors (and Canada) at this year's All-Star celebration.