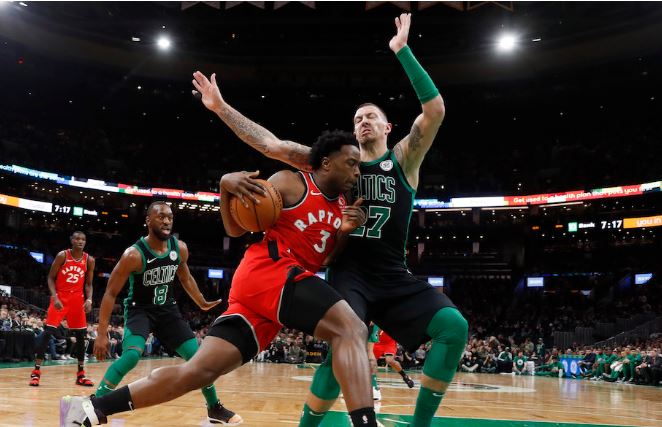 Kyle Lowry on another level, Raptors get Christmas revenge in Boston
The High 5 – Week in Review – Week 10
The High 5 is where I review the last week of Toronto Raptors basketball including how the team did, who were the impact players as well as some news and notes from around the league.
The Thumb – How was the week?
The Raptors entered the week riding a tidal wave of momentum as one of the NBA's hottest teams. Toronto's favourite son, Kyle Lowry, is playing on another level. He dragged his undermanned squad to 5 straight victories, including a historic comeback against the Mavericks, and was rewarded by being named the Eastern Conference Player of the Week. Coach Nurse is still without half his team but the remaining few have been fighting like battle tested soldiers. Regardless of the positive emotions, Toronto needed all the help they could get this week as they went up against 3 very dangerous teams.
 Week record (1 – 4) Overall Record (22 – 11)
Toronto Raptors v Indiana Pacers– L 120 – 115
Less than 24 hours after one of the greatest wins in franchise history, the Raptors were back at it on Monday night against the upstart Pacers in Indiana. The Pacers were also on their second half of a back to back, meaning both teams played with heavy legs. However, it was the Raptors that showed their fatigue as they once again struggled to manufacture efficient offense. In contrast, the Pacers looked sharp, zipping the ball all over the floor and taking every open jumper that Toronto would concede. The Raptors were down 10 at halftime, but they battled back behind Lowry's tenacity to take a lead into the fourth. For the second game in a row, Lowry played like a man on fire, he showed incredible confidence and egged on the crowd after every big play. VanVleet followed suit with a double-double of his own (21, 11) while Hollis-Jefferson provided excellent minutes off the bench. TJ Warren had a nifty 24, 8, and 6 for the Pacers and Domantas Sabonis controlled the middle with 17 rebounds. This game went into overtime after Lowry missed a chance to win it in regulation by inches. In the extra frame, Aaron Holiday came out of no where to drop devastating haymakers from deep, all but ending Toronto's hopes for victory. Tough loss, the Raptors played extremely hard to the very last second.
Boston Celtics v Toronto Raptors – L 118 – 102
After years of being overlooked, the Raptors finally had an opportunity to play in their 2nd ever Christmas day game. Christmas games are among the most important in the regular season as they showcase the NBA's best on a national stage. The building was buzzing with anticipation before tip and the Raptors were ready to put on a show. The Celtics recovered after the Raps got out to a quick 10-0 lead with a big run of their own to take control of the game. Toronto got positive production off their bench, most notably from Chris Boucher, who helped keep the game within reach with his frenetic style of play. However, the Celtics were relentless with their balanced attack. Kemba Walker was a terror from distance, he lit up Toronto for 5 deep 3- pointers, usually off a well-set screen. Jaylen Brown was uber efficient from the field, earning every cent of his lucrative contract. Toronto left a handful of shots at the rim and committed several careless, momentum swinging turnovers which severely hampered their ability to make a comeback. The Raptors take it on the chin in a game that really wasn't ever that close.
 Toronto Raptors v Boston Celtics – W 113 – 97
Toronto limped into the unwelcoming TD Garden to take on the Boston Celtics on Saturday night. The Celtics, winners of 5 straight, sit on top of the Atlantic division and were looking to gain separation from the pack with a big win over a division rival. What immediately stood out was how much more focused Toronto looked compared to their Christmas day game. They showed better energy from the start and were able to sustain it throughout the night. Kemba Walker carried Boston's offense with 30 points, but Lowry matched that with 30 of his own. Kyle managed to get the most of his rag-tag group of bench players; they created offense out of defensive stops and excelled in transition. Ibaka and Hollis-Jefferson played a much-needed physical game with the latter fouling out early in the fourth. In fact, the Raptors were incredibly aggressive, significantly out fouling the Celtics as a team 32 to 17. Kyle and Serge worked the pick and role efficiently while VanVleet chipped in with dissecting layups. Patrick McCaw, another standout player, managed the point guard responsibilities for long stretches well and knocked down open jumpers. The Raptors made excellent decisions with the ball and no one ever played outside their role. They had a plan and stuck to it to earn an impressive victory.
Oklahoma City Thunder v Toronto Raptors – L 98-97
While the Raptors battled toe to toe against the Boston Celtics, the OKC Thunder were laying in wait in Toronto preparing for their Sunday evening game. All signs pointed to a franchise rebuild for the Thunder after their offseason trades, but those plans have been significantly accelerated behind the veteran leadership of Chris Paul and the dynamic growth of Canadian Shai Gilgeous-Alexander. Chris Paul is a first ballot hall of famer while Shai is a budding superstar that will no doubt be a cornerstone of the Thunder franchise for years to come. Although Shai used his unique skill set to go off for 20 first half points, it was a slow-paced game with neither team able to establish any rhythm. The second half became a guard battle as Lowry and VanVleet traded baskets with Paul and Gilgeous-Alexander. Terrence Davis and Chris Boucher added some much-needed energy and scoring off the bench while Ibaka did an excellent job holding Steven Adams off the glass. However, the Thunder stayed persistent and had an answer every time Toronto made a big play, stunting their momentum. In the end, OKC did just enough to eek out a slim victory ending the Raptors week with a disappointing loss.
The Index – The Leader – Player of the Week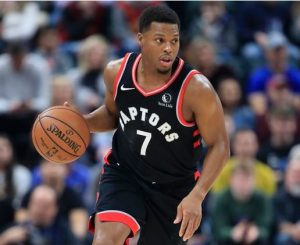 Kyle Lowry
Toronto has been getting good production up and down their lineup but, make no mistake, the reason why the Raptors have remained competitive despite all their injuries is because of Kyle Lowry. He has been outstanding not only in his own game but in his ability to make his teammates better, he has turned relatively unknown players into household names. KLOE's compete level is off the charts, he plays with the energy and resolve of someone half his age. Though Lowry has been producing similar numbers throughout his time in Toronto, it feels that he has been much more clutch this year with stretches of truly elite basketball and lights out shooting. Lowry should undoubtably be included among the leagues best point guards.
| | | | | | | | | |
| --- | --- | --- | --- | --- | --- | --- | --- | --- |
|   | Points | Rebounds | Assists | Steals | Blocks | FG | 3PT | FT |
| @ Pacers | 30 | 6 | 9 | 1 | 0 | 10/21 | 5/12 | 5/6 |
| v Celtics | 14 | 4 | 8 | 2 | 1 | 4/13 | 3/7 | 3/4 |
| @ Celtics | 30 | 4 | 7 | 2 | 0 | 10/17 | 5/10 | 5/6 |
| v Thunder | 20 | 3 | 5 | 1 | 1 | 6/13 | 2/6 | 6/6 |
| | | | | | | | | |
| Week Avg | 23.5 | 4.25 | 7.25 | 1.5 | 0.5 | 30/64 | 15/35 | 19/22 |
| |   |   |   |   |   | 47% | 43% | 86% |
| Season Avg | 20.8 | 5.0 | 7.6 | 1.2 | 0.3 | 42.5% | 37.3% | 85.8% |
| | | | | | | | | |
Honourable Mention: Serge Ibaka, Fred VanVleet
The Middle – The Enemy – Best Opposing Player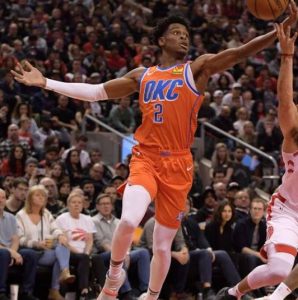 Shai Gilgeous – Alexander – OKC Thunder
Shai Gilgeous – Alexander had a spectacular game on Sunday night for the Thunder. The young Canadian showed poise and composure that you wouldn't expect from a player in his second year. Shai slowed the game and played it at his own pace. He used his explosive first step and deceptive length to get to the basket like a hot knife through butter. The Raptor defenders had a difficult time staying in front of him which gave him opportunities to create for his teammates once he penetrated the lane. Shai is arguably the best Canadian player in the NBA right now. He was cooking on home soil, came up huge down the stretch and looked like a star.
| | | | | | | | | |
| --- | --- | --- | --- | --- | --- | --- | --- | --- |
|   | Points | Rebounds | Assists | Steals | Blocks | FG | 3PT | FT |
| v TOR | 32 | 7 | 2 | 3 | 0 | 12/21 | 3/5 | 5/6 |
Honourable Mention: Jaylen Brown (BOS), Kemba Walker (BOS), Aaron Holiday (IND)
The Ring – The X Factor – Standout Performance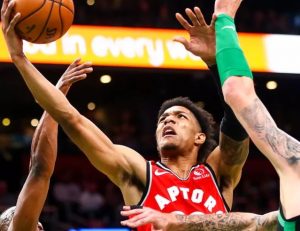 Patrick McCaw @ Boston Celtics
Many people question Coach Nurse's decision to start Patrick McCaw and play him heavy minutes. His defensive contributions are not obvious, and his offensive production is nothing to write home about. However, he turned some heads with an outstanding two-way game against the Celtics on Saturday night. He played strong D and was given the reigns to the offense which allowed Lowry and VanVleet to play off ball for long stretches. McCaw went 8/12 from the floor for 18 points which included a couple of triples to go with 7 boards and 8 assists. The scouting report indicates that McCaw is a low percentage shooter, but he proved some doubters wrong with a nice offensive output to go with a little bit of swag.
Honourable Mention: Serge Ibaka @ Pacers, Fred VanVleet v Celtics
The Pinky – The Unsung Hero – Key Contributor
Serge Ibaka
Serge Ibaka will never be the most creative player, but when paired up with a basketball genius like Kyle Lowry, Ibaka can turn into one of the most efficient centres in the league. Ibaka and Lowry have been working the two-man game for consistent production which has helped Serge build confidence in his jumper. Despite his added workload, he runs the floor well and plays with a high level of energy which helps lift his teammates. Ma Fuzzy centre is balling right now, he has stepped up huge in the face of frontcourt injuries to help shoulder the scoring load and to anchor Toronto's smothering defense.
Honourable Mention: Chris Boucher, Rondae Hollis-Jefferson
News and Notes
30 Piece – Toronto's historic 30-point comeback surpasses their previous record (25 points), which was set against the Detroit Pistons on December 11, 2010.
More Records – Kyle Lowry eclipsed the 9000-point mark as a member of the Raptors. He joins DeMar DeRozan, Chris Bosh and Vince Carter in that exclusive club.
Technical Earned – Coach Nick Nurse leads all coaches (and players) in the NBA with 7 technical fouls. That's a man fighting for calls!
Christmas Kicks – Fred VanVleet wore a pair of beautiful AND1 Attack 2.0 for the Christmas day game. They perfectly captured the season.

Photo Courtesy: Getty Images
Around the League
Goodbye Z-Bo – One of the toughest forwards in the game, Zach Randolph, will call it a career after 17 seasons. The Godfather of Grit and Grind will be missed.
Air Slovenia – After weeks of deliberation, Dallas Mavericks guard Luca Doncic has finally decided to sign a shoe deal with Jordan Brand. This is after he tried out some of the hottest sneakers on the market during games and practices.
Up Next
The Raptors will usher in 2020 with a New Years Eve game against the Cleveland Cavaliers. Even with a depleted roster, the Cavs should pose little resistance against the reigning champions. On Thursday, Toronto will have a chance to avenge an overtime loss when they welcome the Miami Heat to Scotiabank Arena. They will then close out their week with a Saturday evening matchup against the Brooklyn Nets at the Barclay Center.