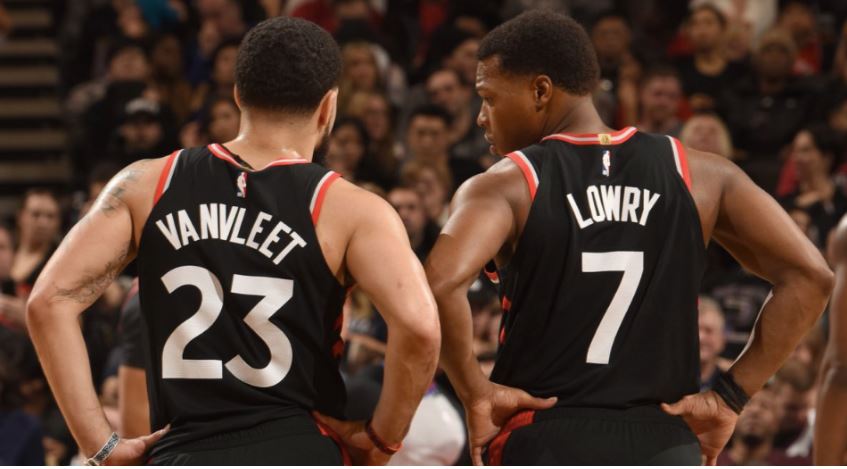 Best backcourt in the East? Lowry and VanVleet make their claim
The High 5 – Week in Review – Week 11
The High 5 is where I review the last week of Toronto Raptors basketball including how the team did, who were the impact players as well as some news and notes from around the league.
The Thumb – How was the week?
After what was arguably the most difficult week in the season, one which included 4 games against playoff contending teams, Christmas, and a couple of double headers, the Raptors were back to a much more manageable 3 game week. Toronto's laundry list of injured players has dominated the storyline for the Raptors this season. Just when the team seems to have turned the corner on their health woes, another injury takes someone out of the lineup. To make matters worse, there is still no definitive timeline for the returns of Siakam, Gasol or Powell. After weeks of playing shorthanded, the quality of Coach Nurse's reserves has started to taper off. This leaves only Kyle Lowry, Fred VanVleet and Serge Ibaka as players that can be relied upon night in and night out to produce. The Raptors needed a boost but, where would it come from? Injuries create opportunities, the question was, who would seize it?
Week record (2 – 1) Overall Record (24 – 12)
Cleveland Cavaliers @ Toronto Raptors – W 117 – 97
The Raptors played their last game of the decade against their once feared rivals, the Cleveland Cavaliers, on New Years Eve. Coach Nurse spun the wheel of roster roulette and, in a surprising move, started Rondae Hollis-Jefferson, opting to bring the struggling OG Anunoby off the bench. To OG's credit, when he was subbed in, he was aggressive and helped Toronto gain a bit of breathing room with quick baskets. Toronto played a familiar game, running on every opportunity, even on made shots. This constant pressure kept the Cavs off balance and created mismatches. Chris Boucher was active on the glass, intimidating players with his length and gobbling up loose balls while Lowry paced the Raptors offense into a comfortable lead. Terrence Davis II had an excellent game off the bench, he shot well from the field including a bushel of 3's and a huge 4th quarter dunk. Serge Ibaka chipped in with a very quiet 20 and 10. The Cavs were sparked by Colin Sexton, who had a decent game, but they were severely outmatched, even against a Raps team at half strength. The Raptors played within their roles, executed efficiently on offense and ushered in the new year with an easy victory.
Toronto Raptors @ Miami Heat – L 84 – 76
Toronto started the new year with a visit to South Beach to face the surging Miami Heat on Thursday night. The Heat have climbed the league rankings, surprising coaches and critics alike, to force their way into the top tier of the conference. They served Toronto a bitter defeat earlier this year and the Raptors were itching to return the favour. Coach Nurse re-inserted OG Anunoby into the starting lineup to match Miami's size and length. Kyle re-assumed his role as floor general while Serge showed beautiful touch, scoring effectively from the midrange. Both teams played excellent defense; open shots were at a premium in what became a low scoring game. Although it's a brand-new year, the Raptors faced the same old issues as their health woes continued. This time, it was Lowry who hobbled his way to the locker room midway through the third with a twisted ankle. He returned shortly after, but his effectiveness was limited. The teams were evenly matched until Miami went on a run behind the hot shooting of rookie Tyler Herro. The Raptors couldn't break Miami's stingy zone D, they were frigid from the floor and only connected on a paltry 6 of their 42 attempts from deep. This was an ugly loss, one that Toronto would quickly like to forget.
Toronto Raptors @ Brooklyn Nets – W 121 – 102
The Brooklyn Nets, losers of their last 4, donned their Bed-Stuy City jerseys to take on the Raptors at the beautiful Barclay Center on Saturday night. The Nets are well coached and employ two of the most athletic centres in the league, but they find themselves on the bottom half of the playoff picture. Jarrett Allen and Deandre Jordan patrolled the paint with stout rim protection on one end and thunderous alley oops on the other. Chris Boucher and Serge Ibaka did an excellent job matching their athleticism and intensity, with the latter feasting on Brooklyn's Taurean Prince. Toronto played with inspired energy, they forced 24 turnovers and took 30 more shots than the Nets, but for most of the game, they couldn't find the bottom of the basket. At one point, they were down 16 and looked defeated. However, midway through the third, Kyle Lowry and Jarrett Allen got tangled which led to a Lowry flagrant and technical foul. That seemed to wake up Toronto as they went on a huge run to take command of the game. Lowry did everything he could to get under Brooklyn's skin, VanVleet was red hot from the field and the rest of the Raptors contributed to extend the lead throughout the fourth. Brooklyn simply had no answer for Toronto's guards. Kyle and Fred silenced the Barclay Center with cold blooded shooting, they managed the offense perfectly and secured their team a decisive win.
The Index – The Leader – Player of the Week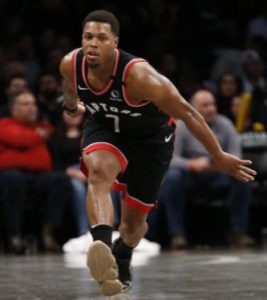 Kyle Lowry
Kyle Lowry assumes a familiar position as Toronto's player of the week. He played like an absolute pest for opponents while still being a leader and role model for his teammates. His numbers may not reflect it, but he was incredibly impactful and brought all sorts of intangibles. Kyle is one of those players that you love to have on your team but would hate to play against. He has no problem getting in the face of defenders, coaches, refs or fans. Lowry seems to play better the more he is tested, he showed excellent resolve this week culminating in an intense, trash talking performance in Brooklyn. This man is an All Star.
| | | | | | | | | |
| --- | --- | --- | --- | --- | --- | --- | --- | --- |
|   | Points | Rebounds | Assists | Steals | Blocks | FG | 3PT | FT |
| v Cavs | 24 | 1 | 8 | 0 | 1 | 7/16 | 4/12 | 6/6 |
| v Heat | 15 | 4 | 8 | 0 | 1 | 4/16 | 2/12 | 5/6 |
| v Nets | 26 | 4 | 5 | 2 | 1 | 6/19 | 5/12 | 9/10 |
| | | | | | | | | |
| Week Avg | 21.6 | 3 | 7 | 0.6 | 1 | 17/51 | 11/36 | 20/22 |
| |   |   |   |   |   | 33% | 31% | 91% |
| Season Avg | 20.7 | 4.8 | 7.5 | 1.1 | 0.4 | 41.9% | 35.7% | 86.9% |
Honourable Mention: Serge Ibaka, Fred VanVleet
The Middle – The Enemy – Best Opposing Player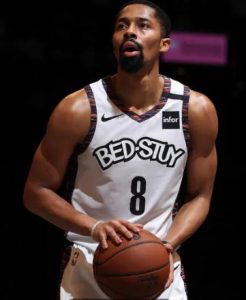 Spencer Dinwiddie – Brooklyn Nets
Brooklyn's self-made man, Spencer Dinwiddie, remains one of the most well rounded, yet underrated players in the league. He has kept Brooklyn competitive despite injuries to their two best players. Spencer led the Nets charge against the Raptors, doing most of his damage from the midrange and at the line. He played with poise, he was never off balance, and he made excellent use of the glass. He showed off solid passing which included a highlight reel, half court, alley oop lob to Jordan. Spencer was thrown into the leading spot due to injury but has proven that he belongs there with each passing game.
| | | | | | | | | |
| --- | --- | --- | --- | --- | --- | --- | --- | --- |
|   | Points | Rebounds | Assists | Steals | Blocks | FG | 3PT | FT |
| v TOR | 23 | 3 | 7 | 0 | 1 | 6/12 | 2/5 | 9/12 |
Honourable Mention: Collin Sexton (CLE), Tyler Herro (MIA)
The Ring – The X Factor – Standout Performance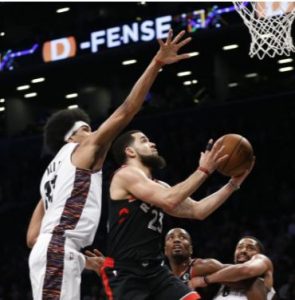 Fred VanVleet v Brooklyn Nets
Like many Raptors, Fred VanVleet had been struggling with his shot. He was still a reliable hand, but the Raptors were sorely missing his 3-point accuracy. He finally shook out of his mini slump against the Nets. Steady Freddy had a brilliant night, especially in the second half, and was a key reason why the Raptors were able to mount such an impressive comeback. His shot looked as deadly as ever, he had a number of beautiful drives, including a high arcing rainbow floater, and he was dishing out dimes left and right. Freddy had 11 assists to go with his game high 29 points. VanVleet's silky cool demeanor was the perfect compliment to Lowry's gritty intensity.
Honourable Mention: Terrence Davis II v Cavs, Serge Ibaka v Nets
The Pinky – The Unsung Hero – Key Contributor
Serge Ibaka
Ma Fuzzy Center has been quietly playing elite level basketball over these last few weeks. With so many injuries, Coach Nurse has asked a lot from his big man and Serge has responded with 5 straight double doubles. This week, he averaged 20 and 10, which is huge for a Raptors team desperate for production. Ibaka's contributions extend well beyond the stat sheets. He is Toronto's emotional and physical leader and has received high praise for his locker room leadership from his teammates. Serge should get a lot of credit for what is shaping up to be an excellent campaign.
Honourable Mention: Chris Boucher, Rondae Hollis-Jefferson
News and Notes
1 Man Block Party – Serge Ibaka finished the decade as the leader in total blocks amongst all players. He sent 1626 shots packing over that span.
Ma Fuzzy Wins – Serge Ibaka also ranked number 3 behind James Harden and LeBron James for players with the most wins for the decade. Ibaka rarely finds himself on losing clubs and always seems to elevate the teams he plays for. The proof is in the numbers.
Move on the Horizon? – With teams already looking to the future, trade winds have begun swirling. The Raptors have been listed among the names interested in Detroit's big man Andre Drummond. The throwback centre has made a career on rebounding and he has the size required to bang against any other big in the NBA.
Around the League
6 Baby – Lou Williams has won the 6th man of the year award 3 times and is generally known as being one of the best players to ever come off the bench. To commemorate this feat, he named his newborn son, "Syx".
Testament to Perseverance – Vince Carter has become the first player ever to play in 4 decades. This is an incredible feat for someone once labelled soft.
Remembering a Legend – Former NBA commissioner David Stern tragically passed on New Years day, unable to recover from a sudden brain hemorrhage suffered almost 3 weeks ago. Stern will be remembered by the way he expanded the league and exponentially grew its popularity. Teams and officials will wear a black band on their jerseys in his honour for the rest of the season.

Photo Courtesy: @jaynycpix/Twitter
Up Next
The Raptors will happily welcome a few days of relief to mend their bumps and bruises before hosting the Portland Trailblazers on Tuesday night in Toronto. The Blazers have struggled to find their footing, but they still have a trio of scorers in Lillard, McCollum and Anthony. On Wednesday, the Raptors will travel to Charlotte to face the Hornets on the second game of their back to back. They close out the week with a visit from DeMar DeRozan and the San Antonio Spurs on Sunday afternoon. That will be an emotional game, its always nice to see the Com10 kid back in the 6.