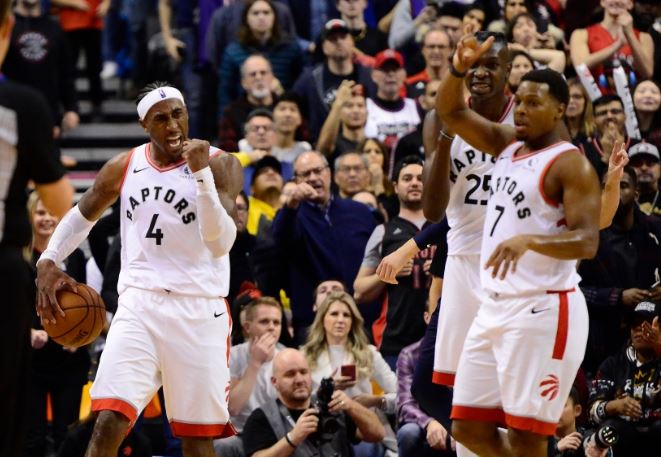 The Raptors still making history
The High 5 – Week in Review – Week 9
The High 5 is where I review the last week of Toronto Raptors basketball including how the team did, who were the impact players as well as some news and notes from around the league.
The Thumb – How was the week?
Instead of having to contend with the top tier of the NBA, the Raptors had somewhat of a reprieve this week as they faced a collection of struggling and very beatable clubs. Provided the Raptors followed the plan as laid out by Coach Nurse, they should come away with a positive if not undefeated record for the week. There is a sense that Toronto is starting to find their groove again. Kyle seems to have re-immersed himself nicely with the lineup, Norm has unlocked another level to his game, Pascal is finding his scoring touch and Ibaka, Gasol and Anunoby continue to bring solid defense. The Raptors were, once again, without Fred VanVleet to start the week, but Coach Nurse had more than enough weapons to make up for the loss (or so he thought). It looked like Toronto had a golden opportunity to start a new winning streak and build some momentum.
Week record (4-0) Overall Record (21-8)
Cleveland Cavaliers @ Toronto Raptors – W 133 – 113
It was not so long ago that the Cavaliers were soundly beating Toronto on a regular basis. Images of Lebron James spinning a ball in Ibaka's face right before knocking down a 3 in the playoffs still haunts me to this day. How times have changed. Now, while Toronto battles for top seeding in the East, the Cavs are looking to move contracts and rebuild for the future. The story of the game was the magnificent play of Pascal Siakam (33 points) and Norm Powell (26 points). Siakam led Toronto in familiar fashion, combining deep 3s (5/8) with blinding attacks to the rim, all the while playing with a huge grin on his face. Powell's evolution into a pure scorer continued as he cashed in on 4 of his 6 shots from deep (11/15 overall) while showing outstanding elevation on his jumpers and drives. The Raptors locked Cleveland down on defense resulting in a handful of fast break opportunities, both OG and Pascal had several leak outs. Toronto gave Cleveland no room to breathe, the Cavs where simply outclassed in all areas of the game. Norm punctuated the night with a massive 3rd quarter ally-oop that rattled the rafters at Scotiabank Arena. Toronto won easily in a contest that was more reminiscent of an extended practice than an actual NBA game.
Toronto Raptors v Detroit Pistons – W 112 – 99
The Raptors visited Detroit to take on a familiar foe in Coach Casey and the feisty Pistons. The Pistons are amid another disappointing season but despite their shortcomings, they always seem to give Toronto a fight. The Raps played well from the tip, OG found his way to the rim often while Siakam shot with confidence, swishing jumpers from all over the floor. The injury bug bit Toronto early when Gasol pulled up lame in the first quarter as he ran back on defense. He immediately went to the locker room and did not return forcing Coach Nurse to adjust his lineups and play small ball for good chunks of the game. Toronto relied on their stubborn team defense to create transition opportunities which kept the Pistons on their heels. After picking up an early technical foul, Lowry settled to manage a sensational game. He put his stamp on the night with a triple double (20/10/10) in his best effort since returning from injury. Ibaka also deserves some praise for how well he played in Gasol's absence, he looked like a star with 25 and 13. Late in the game, Powell partially dislocated his shoulder trying to navigate a Blake Griffin screen sending him to the disabled list alongside Gasol. The Raptors took the win, but injuries resulted in heavy losses.
Washington Wizards @ Toronto Raptors – W 122 – 118
The basketball gods giveth and they taketh away. Just as Toronto turned the corner on their health issues, they were saddled with another rash of injuries. The Raptors are without Marc Gasol, Norm Powell and Pascal Siakam (who aggravated his groin) for an indeterminate amount of time, but they were fortunately able to reintroduce a returning Fred VanVleet into the starting lineup. The Wizards may be the NBA's equivalent of a train wreck, but they are still somehow among the league leaders in scoring behind their lone star, Bradley Beal, and his 27.6 points per game. Beal always plays the Raptors well and this game was no different as he went off for 37 points. Ish Smith, another notable Raptor killer, added 26 points on a perfect night from the floor (9/9). The Raptors countered with a huge game, on both ends, from Serge Ibaka who defended the middle with stellar fundamentals, massive blocks and visceral war cries. Toronto had 6 players score in double figures led by Kyle's 26 and 9. OG fought through a bloody nose and a heap of other knocks while VanVleet nearly had a triple double in his return (18, 9, 8). The Wizards fought back from down 18 to make it a game but the Raptors got it together late to come away with a gritty win.
Dallas Mavericks @ Toronto Raptors – W 110 – 107
On a rare Sunday afternoon in Toronto, the Raptors welcomed the Dallas Mavericks for their second (and last) meeting of the season. The Mavericks are without their best player, Luka Doncic, but since he went down, they have rallied behind their second star Kristaps Porzingis. The Mavericks have incredible length, they clogged up the paint with their massive wingspans which made it difficult for Toronto to get to the rim. The Raptors started hot, but the Mavericks wrestled the lead away and rolled into halftime up 9 off a Porzingis buzzer beater. The Mavs kept the pressure on to start the third, blitzing the Raptors to take command of the game. Credit to Dallas, they looked dangerous with skill, athleticism and balance up and down their roster. Toronto looked flat; they sorely missed their trio of injured players. There was a lack of creativity and basketball acumen on the floor especially compared to the Mavericks 'hive-mind' style of play. That all changed in the 4th quarter when the Raptors finally woke up. Kyle Lowry came alive and led a group of bench players on a massive run to rip back the lead. He went full KLOE in a truly historic performance to ignite an avalanche of a comeback. He nailed a handful of clutch baskets and massive 3 pointers to help erase a 30-point deficit. In the end, the Raptors showed incredible perseverance in the face of adversity resulting in one of the most emotionally satisfying wins of the season. This game tested Toronto's resolve and proved that even when wounded, this team will never give up.
The Index – The Leader – Player of the Week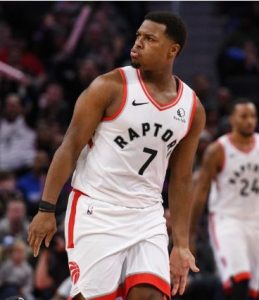 Kyle Lowry
Before his injury, Kyle Lowry was rolling. Despite his age, the seasoned vet was well on his way to another All-Star selection. VanVleet may have taken some of his shine while he was away, but he is back and playing elite basketball once again. Lowry is as bullish as ever, competing for every loose ball, earning possessions off sheer grit and determination. He works the refs like a second coach, he is always in the official's ear after every possession. Some may find this habit annoying, but Toronto needs a player like that, someone to keep the referees honest and his opponents uncomfortable. Lowry is finding his range from deep while orchestrating his deadly offense like a conductor. He has rekindled his chemistry with Ibaka, serving the big man easy looks from the elbow and he is excellent at finding Raptors on the break or sneaking for back door cuts. Kyle's highlights include his triple double against the Pistons, as well as an all world performance on Sunday when he exploded in the fourth to carry the Raptors to an unforgettable win against the Mavs.
| | | | | | | | | |
| --- | --- | --- | --- | --- | --- | --- | --- | --- |
|   | Points | Rebounds | Assists | Steals | Blocks | FG | 3PT | FT |
| v Cavs | 20 | 4 | 11 | 0 | 0 | 6/13 | 3/7 | 5/8 |
| @ Pistons | 20 | 10 | 10 | 2 | 1 | 5/17 | 3/6 | 7/8 |
| v Wizards | 26 | 4 | 9 | 1 | 0 | 7/14 | 3/7 | 9/11 |
| v Mavericks | 32 | 8 | 10 | 0 | 0 | 12/23 | 5/13 | 3/4 |
| | | | | | | | | |
| Week Avg | 24.5 | 6.5 | 10 | .75 | .25 | 30/67 | 14/33 | 24/31 |
| |   |   |   |   |   | 44% | 42% | 77% |
| Season Avg | 19.5 | 4.9 | 7.4 | 1.2 | .40 | 40.6% | 35.6% | 86.9% |
| | | | | | | | | |
Honourable Mention: Serge Ibaka, Fred VanVleet
The Middle – The Enemy – Best Opposing Player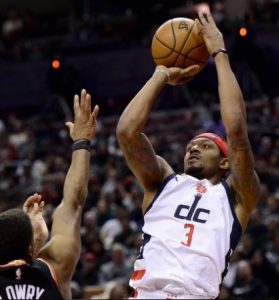 Bradley Beal – Washington Wizards
Washington's lone shining star, Bradley Beal, has a history of burning the Raptors. He built on that reputation with another excellent game on Friday night. Beal is one of the best shooters in the league but what impressed most was his ability to get to the rim. For an undersized player, Beal got to the basket like water through a sieve, silky and smooth. He showed incredible body control, adjusting in the air to finish, and-1. Beal made his paycheck in the midrange and played a great all-around game. He is a hardnosed player who would absolutely shine in a winning situation.
| | | | | | | | | |
| --- | --- | --- | --- | --- | --- | --- | --- | --- |
|   | Points | Rebounds | Assists | Steals | Blocks | FG | 3PT | FT |
| v TOR | 37 | 7 | 6 | 1 | 0 | 12/24 | 3/10 | 10/12 |
Honourable Mention: Ish Smith (Wash), Kristaps Porzingis (Dal)
The Ring – The X Factor – Standout Performance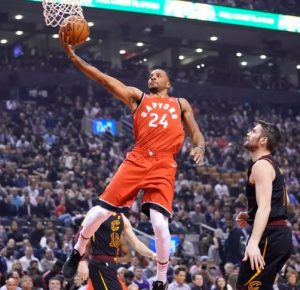 Norman Powell v Cleveland Cavaliers
Norm Powell played his best game of the season against the Cavs. He showed off his deep bag of tricks by doing a little bit of everything, proving that he is much more than just a catch and shoot player. He mixed up his offense to include explosive first steps, soft midrange jumpers, bullseye 3-point shooting and a couple of thunderous dunks. Norm stuffed the stat sheet with a truly spectacular line; 26 points, 6 rebounds, 5 assists, 4 steals and a block on 11/15 from the floor (4/6 from deep). All Star's dream of that kind of efficiency.
Honourable Mention: OG Anunoby v Detroit, Fred VanVleet v Washington, Lowry + Bench v Dallas
The Pinky – The Unsung Hero – Key Contributor
Serge Ibaka
Serge Ibaka runs away with this honour after he caught fire to suddenly become one of Toronto's hottest players. As soon as Gasol went down to injury, the frontcourt responsibilities shifted squarely onto Ma Fuzzy centre's broad shoulders. Serge proceeded to drop 25 and 14 against the Pistons on 10/18 shooting. He was even better against the Wizards as he added 3 massive blocks to go with his 23 and 10 on 7/10 from the floor. Ibaka and Lowry have been excellent together, they are working the pick and roll to perfection. It's a luxury for Nick Nurse to have a starting calibre centre on his bench, ready to step up and compete at a moments notice.
Honourable Mention: Fred VanVleet
News and Notes
Double up – Kyle Lowry currently sits #3 on the Raptors all time double-double list. Ahead of him: Jonas Valanciunas and Chris Bosh.
Earning Trips – Kyle Lowry has 13 triple doubles in a Raptors uniform. There have only been 25 triple doubles in the history of the franchise.
Scoring Touch – Norm Powell had three games in a row where he scored 20 + points. Before this he had never scored 20 plus points in back to back games.
Get to the Line – There are 14 players in the league that average 25 + points per game. Of those players, Pascal shoots the fewest free throws per game with 4.7.
Around the League
Don't call it a Comeback – Toronto's 30-point comeback against the Mavericks was the largest in franchise history and the NBA's biggest comeback of the decade.
Prison Ball – In an effort to fight negative stigmas against the American justice system, the Sacramento Kings and the Milwaukee Bucks will facilitate and play games in prisons. The "Represent Justice" campaign will not include any regular season games but will instead hold conversations and exhibitions with inmates, coaches and campaign members.
Ma Fuzzy Logo? – The Basketball Africa League unveiled their new league logo. Is it just me or does it look a lot like Serge Ibaka taking a jumper?

Photo Courtesy: @BAL, Harry How/Getty Images
Up Next
The Raptors showed their championship mettle by battling through a gauntlet of a week, but they have no time to rest as the schedule shows them no mercy. Monday night, the Raptors travel to Indiana to face the impressive Pacers. From there, they will welcome the Celtics for a long overdue Christmas day game. This will be the first of a home and home against the Celtics, with the second leg of that matchup coming in Boston on Saturday night. After what will no doubt be a difficult game, the Raptors then have another quick turn around to face the rising Thunder, at home, on Sunday afternoon. This may be the most challenging week of the season to date.