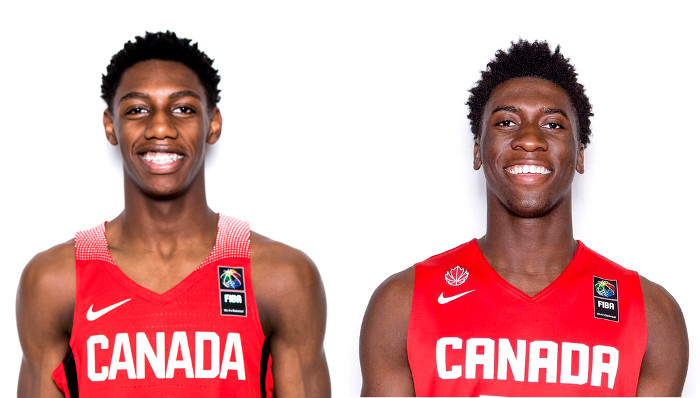 RJ Barrett and Simi Shittu Selected to McDonald's All-American Game
RJ Barrett and Simi Shittu have been selected to the McDonald's All-American game. They become the 9th and 10th Canadian males selected to this prestigious event. 
The Canadians before them include Tristan Thompson (Cleveland Cavaliers), Corey Joseph (Indiana Pacers), Khem Birch (Orlando Magic), Kyle Wiltjer (Olympiacos, Greece), Myck Kabongo (Liga EBA, Spain), Trey Lyles (Utah Jazz), Anthony Bennett (Maine Red Claws), Andrew Wiggins (Minnesota Timberwolves).
Before these two young studs were selected, Andrew Wiggins was the last Canadian name announced as a McDonald's All-American.
In this year's game, regardless of American or Canadian, RJ Barrett is the Big Mac in the McDonald's exposure event.
In fact, we project Barrett to have more "sauce" than Wiggins. Take away Wiggins' athleticism, Barrett is far more skilled at this age then Wiggins was a senior; he's an overall better scorer and passer even at this particular time. In the athleticism category, its not like Barrett is a slouch in this regard either; he has NBA level leaping ability.
When Barrett was first ranked number one in North Pole Hoops national rankings as a ninth grader, the American media and scouts did not take it seriously; until he made his way to Montverde in Florida and started annihilating American competition, then later carrying Team Canada to a World Championship at the U19 level.
The main distinguishing factor for Barrett is the mindset. When someone looks into Barrett's eyes when he's on the hardwood; one can tell he's very analytical, very calculative, yet still allows his instincts to take play when its time to.
Simi Shittu, the Quarter Pounder With Cheese, in this year's McDonald's All-American game has had the greatest year in his development thus far.
This year at Vermont Academy has transcended his game to new levels. The freedom in the offense and allowance to operate with the ball in his hand has added to his value.
Coming into Vanderbilt's best recruiting class in history, he's equipped with perimeter skills and an inside game to often create a mismatch. Shittu is getting closer to his goals as a one and done prospect.
There have been several NBA teams who are seeing him as such. In layman's terms, Barrett is shaping up to be a souped-up version of Wiggins and Shittu a souped-up version of Tristan Thompson.
Meaning, just over a year expect to see these two young men in the NBA after a one season college career.