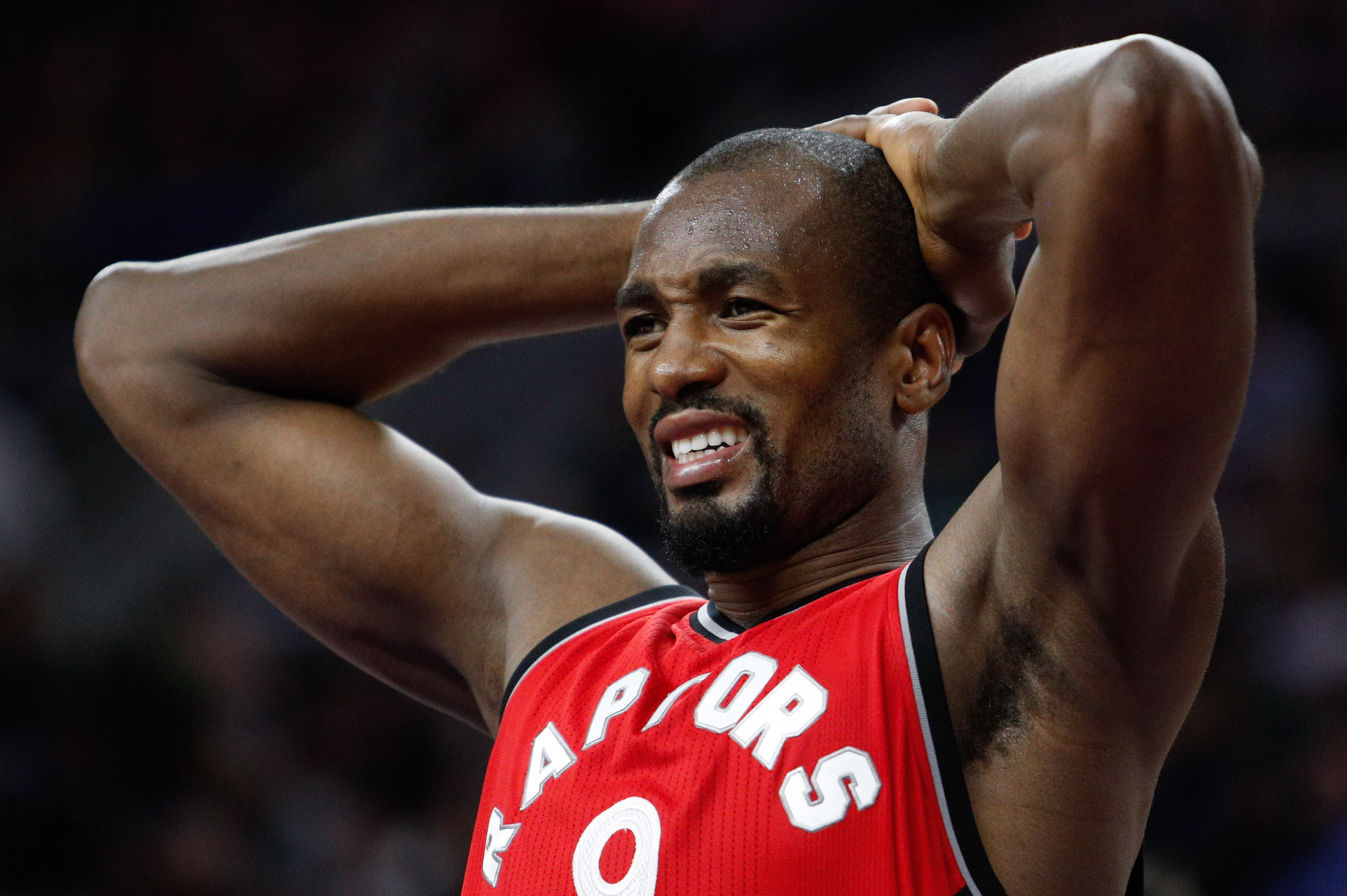 Clippers beat Raptors as Ibaka and Griffin lock horns again
Be it preseason, regular season, or playoffs, life for the Toronto Raptors without Kyle Lowry is difficult.
Toronto trailed by as many as 28 before falling 98-84 to the Los Angeles Clippers at the Stan Sheriff Center in Honolulu, Hawaii.
Lowry was given a rest night while Norman Powell was ruled out with a strained right ankle. Delon Wright was handed starting duties, and the struggle for spacing on the floor was real. A unit that includes Wright, DeMar DeRozan, and Jonas Valančiūnas presents plenty of time for defenders to help and still recover enough to adequately contest poor three-point shooters.
The Clippers were able to get out in transition a ton, bringing out the best of Miloš Teodosić. He had four assists early on, none more spectacular than this underhand full-court throw ahead to Patrick Beverley:
There've been five Milos Teodosic passes this crazy tonight. The Clippers are going to be fun to watch this season. pic.twitter.com/WeD3fDWBRU

— Arash Markazi (@ArashMarkazi) October 4, 2017
Teodosić's ability to get the ball out ahead early and have no desire to dribble when he doesn't need to is a lesson for all young guards, including Wright, who had a first-hand view.
When Wright wasn't watching Teodosić dazzle with his creativity, he was fending off Patrick Beverley for breathing room on the other end. Beverley brings over some much needed toughness and intensity to the Clippers, and couldn't care less that this is the preseason. Again, another valuable lesson for young players trying to make the grade.
A young player still with plenty to absorb is Bruno Caboclo, and he was in line for the bulk of Powell's minutes. This could have been a golden opportunity for him to shine, but he had an almighty struggle in this one. After a couple of early turnovers, he seemed intent on getting rid of the ball as soon as he caught it, earning the distrust of Fred VanVleet. 1:44 into the second quarter, the Raptors were on the break with Jakob Poeltl and Caboclo on either side of VanVleet. The former Wichita State star had the easier pass to Caboclo, but the reluctance from forward to want the ball resulted in a botched bounce pass to Poeltl that went out of bounds.
While Caboclo's physical traits are tantalizing, the mental aspect of his game leaves much to be desired. The coaching staff will be clinging to the hope that these are just part of the growing pains with the Brazilian and that he will eventually figure it out given the necessary hand-holding.
VanVleet needs no such coddling, and continues to be a steady hand with maturity well beyond his years. The absence of Lowry today and the lack of spacing in the starting unit also points to the potential for VanVleet possibly being a preferred option as a starter in the absence of Lowry. VanVleet offers more of a shooting threat to accompany the starters, and over the course of the season, would allow Wright to stay comfortable in his role as the primary backup and play with the units he's most familiar with.
Someone Serge Ibaka has grown familiar with over the years is Blake Griffin. In case you needed a reminder, here's a timeline of the history between the two bigs:
So, when Ibaka came out looking extremely engaged and very intent on going right at Griffin, you had to see something coming after this move:
That something came early in the third quarter, as they jockeyed for position on a DeAndre Jordan free-throw attempt.
https://www.youtube.com/watch?v=SCPyt5HTAYE
I think it's safe to say that these two don't like each other and this may be something to keep an eye during the regular season on Dec. 11 and March 25.
Griffin easily won the matchup tonight with 17-4-3, helping the Clippers break this game wide open with some power moves inside and a three-pointer that's becoming a growing part of his game. Ibaka finished with just seven points on nine shots, including 1-of-5 from deep. He's now 2-for-14 from three in the preseason.
The healthy volume from long distance continued for the Raptors, as they finished with 36 attempts, but only made six. As Dwane Casey stressed after the game, this is a work in progress and there will be growing pains as the team tries to form a new offensive identity.
They'll have their next opportunity to continue to get acclimated in game action against the Portland Trailblazers on Thursday at 10:00pm EST.