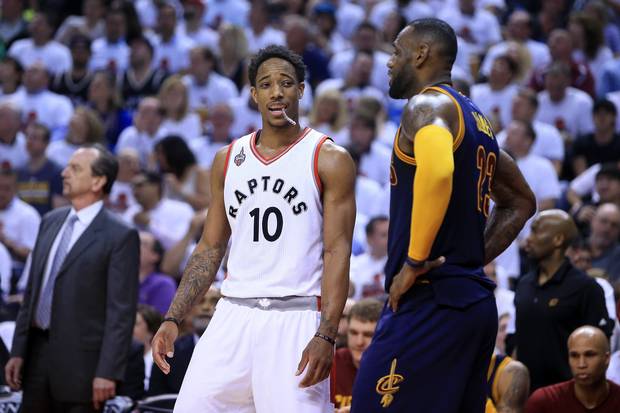 Raptors have it all to do against the Cavaliers
The Toronto Raptors are where they planned on being all along.
After reaching the pinnacle of the franchise's history with an Eastern Conference Finals appearance last year, they arrived at a new measuring stick, LeBron James and the Cleveland Cavaliers.
Gone are the days where regular season success is satisfactory. Heck, even a first-round series against the Milwaukee Bucks was looked at as somewhat of a formality.
The real test begins now, and the Raptors have to translate their on-paper potential to success between the lines. Is this team really in line to pull off a shocking upset?
When Toronto began their series against Cleveland last year, the Cavs were coming off back-to-back sweeps and all kinds of three-point shooting records against the Detroit Pistons and Atlanta Hawks. Come Games 1 and 2, Dwane Casey looked to chase their shooters off the line and challenge them in the paint. They limited the Cavs to just 14 three-point makes from 41 tries, but were carved up inside to the tune of 106 points in the paint and were out-rebounded 113-79. The Raptors lost by a combined total of 50 points.
This, to me, is where Cleveland lost respect for Toronto as an opponent. They had such an easy time of it through the first two games that they didn't come out with the same focus and intensity at the Air Canada Centre. Winning Games 5 and 6 by a combined 64 points served as a cold reminder of how far apart the two teams were in reality. If the Cavaliers were at peak intensity for Games 3 and 4 in Toronto, I'd imagine last year's series would have ended in a sweep.
So, when the Raptors are looked at as a better team than last year, how much better are they in reality?
Through the first round of this year's playoffs, the Raptors have the second-best defensive rating (behind the Golden State Warriors), and the third-best rebound rate (behind the Chicago Bulls and San Antonio Spurs). This is consistent with their regular season, where after the acquisitions of Serge Ibaka and P.J. Tucker, the Raptors finished with the fourth-best defensive rating and the second-best rebound rate.
Defence and rebounding are key components of playoff success, and while the Raptors have better pieces, sustaining their productivity in those areas will be difficult against Cleveland's high-powered offence. From a starting lineup that boasts James, Kyrie Irving, Kevin Love, and J.R. Smith, to a bench unit that surrounds the King with three-point shooters, any mistake the Raptors make will be punished.
James usually creates these mistakes by attracting as many defenders as possible before using his incredible IQ and vision to make the correct read and perfect pass. The best way for Toronto to avoid this is to minimize the amount of times they need to show him multiple bodies by starting one of P.J. Tucker or Norman Powell.
DeMarre Carroll has shown, both with Atlanta Hawks and Toronto, that he doesn't have the strength to keep up with LeBron James. Starting Carroll would automatically imply that Toronto is resigned to showing James multiple bodies on every possession, putting every defender under pressure right from the tip.
Tucker has the strength to physically impose himself against James, and would require the least help of all Toronto's defenders. The question arises on the offensive end, where he would be dared to contribute by the Cavaliers.
That's where Powell offers the best of both worlds as an additional ball handler and scorer that already proved his ability to take advantage of the space created by the hard traps on DeRozan and Lowry against Milwaukee. He has knocked his last nine 3-point attempts in a row, and the Raptors would be wise to ride the hot hand. Despite conceding four inches and 35 pounds to James, he was able to use his 6'11" wingspan and strong base to fare quite well against James in a Nov. 15 match up on the road. The Raptors lost that game 121-117, despite holding a seven-point lead with just over four minutes remaining.
Considering three of the other four defenders on the floor with him will likely be DeMar DeRozan, Jonas Valanciunas, and a Kyle Lowry who has yet to play with his usual sharpness, giving Tucker or Powell the starting job could decrease the dependency on help.
The Bucks series showed just how vital it is for the Raptors to start strong, as they were outscored 60-34 in the first quarter of the two games they lost, but never lost the first quarter in each of their four wins over the Bucks with a total score of 106-88.
This also brings up an important question about Valanciunas, who became somewhat of a specialist against Milwaukee, playing almost exclusively against Greg Monroe after Game 3. Now, he figures to matchup against Thompson, arguably the only big man on the Cavaliers roster that the Lithuanian could create an advantage against. If he can't manage that, he becomes redundant.
Once again, this could force Toronto's hand, making starting Patrick Patterson also a potential necessity. Patterson would be at a disadvantage against Love on the boards, but having Ibaka at centre is when Toronto has played some of their best basketball.
When Ibaka started at the power forward position against the Bucks, Tony Snell was able to drag him out to the perimeter to negate his shot blocking and intimidation at the rim. Matching him up against Kevin Love would bring about the same problem. At centre, he would be up against Thompson, thereby keeping him closer to the basket. A front court of Ibaka, Patterson, and Tucker would ensure that Toronto have three guys that can switch onto anyone, and therefore not only deny the Cavaliers' initial set, but in position to deny their counters as well. This is where Powell is at a disadvantage compared to Tucker, as he would struggle when forced to contend with Love's offence or Thompson on the glass.
On the other end, Kyle Lowry remains the biggest question mark. In Milwaukee's two wins, he averaged 8.5 points on 28.6 percent shooting, four assists, 3.5 rebounds, and a steal. He made just two of his 11 three-point attempts. In Toronto's four wins, Lowry averaged 17.3 points on 48.9 percent shooting, 5.8 assists, 3.8 rebounds, and 2.3 steals. He still struggled from the outside, going 7-for-21 from beyond the arc.
He has yet to have a signature KLOE game, and the Bucks did a good job of taking away a couple of the pet plays designed to get him free. One was the high screen early in the shot clock when Lowry shot 42.1 percent of his three-point attempts from in the regular season (knocking down 45.8 percent of those shots), and the other was the off-the-ball set where he comes from the corner off a stagger screen to receive the ball off a dribble hand-off (DHO).
With teams blitzing and trapping early, there's no opportunity for the high screen that creates room for a three, and Milwaukee was able to counter the stagger screen with quick bigs that blitzed him soon after the DHO. The length of Malcolm Brogdon and the physicality of Matthew Dellavedova was a factor as well, something that Irving and Deron Williams don't offer.
The Raptors will be hoping that Irving and Williams bring out the best in Lowry, as Williams faced Lowry when Toronto faced Brooklyn three years ago, while Irving and Lowry have built up a healthy competition over the past couple of seasons courtesy of their East Finals matchup and time on Team USA.
Speaking of Team USA, backcourt mate DeRozan will need to continue to show that he has become a terrific offensive force. After receiving heavy criticism for Game 3 against the Bucks where he didn't make a field goal, he came roaring back with 27.7 points on 51.7 percent shooting, 5.3 rebounds, 4.7 assists, and 3.3 steals over the next three games. He will need to dominate his matchup with J.R. Smith, who has failed to live up to the defensive standards he set for himself last postseason.
In last year's East Finals, LeBron James took on the DeRozan matchup himself in Game 6 with an opportunity to close out the series, and that's something that could come into play if the Compton native gets off to a hot start.
One player Toronto's backcourt wasn't able to reap the benefits of last postseason was Serge Ibaka. They played the bulk of their minutes with Bismack Biyombo (Valanciunas was injured till Game 5), but Ibaka offers all the positives of Biyombo's defence along with far superior offence. Although Kevin Love struggled for the majority of the Conference Finals last year, having Ibaka this time around will serve as a much needed boost. They'll be hoping to have his outside shot back on track, as he made just seven of his 24 three-point attempts against Milwaukee, after shooting 39.8 percent during the regular season for the Raptors.
Overall, it appears that there is plenty that needs to go right in order for Toronto to give themselves a legitimate chance in this series, and this should serve as a good test of Casey's ability to be proactive and anticipate the problems the Cavaliers could pose. Taking the first punches from a juggernaut like Cleveland will surely leave them in a hole far too deep to dig out off before it's too late.